Monthly Archives:
July 2012
July 25, 2012 by insideout
July 19, 2012 by insideout
A good friend and recent guest at The Captain's Manor Inn took a drive over to the Sydenstricker Glass Gallery in Brewster, Cape Cod to add to her collection.  Lucky us she brought us a beautiful piece from the gallery that is pictured below.  The colors and shape of the glass dish is exquisite.
For some history, in the mid 1960's Bill Sydenstricker developed a new craft that was inspired by research he conducted while at MIT on early Egyptian art.  This new glass design process involves taking two sheets of glass cut to fit a mold made of high fire terra cotta clay and the first sheet is decorated by sifting powdered colored glass through a stencil.  The stencil is then removed and the second sheet of glass is placed over the decorated first piece.  Then both are placed on a mold and put into a 1500 degree kiln for hours where the two pieces of glass fuse and lock in the colored design.
What a beautiful gift.  Thank you Kathy!!!                                            !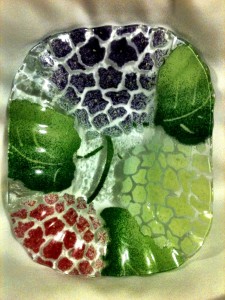 Sydenstryker Glass Plate
July 14, 2012 by insideout
We are pleased to share that we have a new offering thanks to the newly established organization Electric Ride in Falmouth.  We all know that a long bike ride for some is quite enjoyable where for others who love to go and enjoy the scenery and exercise they tire after several miles.  Now there is a solution for that.  Rent an electrically assisted bicycle and enjoy the ride!  What better way to fully conquer our beautiful Shining Sea Bikeway and go the entire 10.7 miles.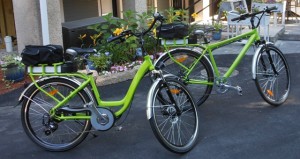 July 7, 2012 by insideout
For a special night out try the Woods Hole History Cruise on the OceanQuest.  The cruises depart on Tues and Wed at 5 pm and on Friday at 6:30 pm.  You will see such sights as the Crane Estate and Nobska Lighthouse as well as learn about the whaling industry, Pirates and more. This trip was awarded the Best of Boston 2011 by Boston Magazine.  Reservations are recommended  1-508-385-7656. www.oceanquest.org