Gluten Free Banana Muffin Recipe
We love this Gluten Free Banana Muffin recipe courtesy of our daughter Laura. I am a breakfast person and love fresh baked goodies especially if they have chocolate in them. So how surprised was I to try these paleo and gluten free muffins and discover they are DELICIOUS, healthier than traditional banana muffins and easy to make.  The fun muffin papers were pretty sweet too 🙂 At our Inn we recognize the difficulties of individuals traveling and needing to deal with dietary restrictions. So please let us know of any food restrictions and we will work with you on breakfast options and afternoon snacks as well.
This recipe makes 6 muffins (easily double to make 12 muffins):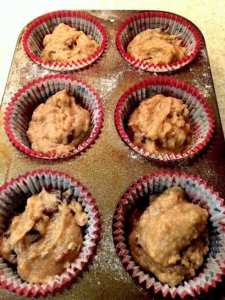 Ingredients:
3/4 teaspoon baking soda
3/4 teaspoon baking powder
1/2 teaspoon kosher salt
1 teaspoon cinnamon
3/4 cup Almond Flour
1/4 cup Coconut Flour
2 Tablespoons melted coconut oil
2 Large Eggs
3 ripe med/large bananas
1/4 maple syrup
1 teaspoon pure vanilla
Add 1/2 cup walnuts or pecans and 1/2 cup chocolate chips
Mix the dry and wet ingredients together and bake at 350 degrees for 30 minutes or more based on if you decide to cook the ingredients as muffins or a loaf of bread.
Grand Marnier French Toast
Grand Marnier French Toast is a twist on an American Favorite Breakfast treat. Many ingredients in the batter are what you would expect however the surprise of the Grand Marnier liqueur is what takes this breakfast to a new level. Another twist is that we offer our guests the option to have this breakfast made with three different types of bread. There is the French Toast bread which is made with maple syrup and brown sugar baked in or the Apple Fritter which has small slice or apple baked in or the Blueberry Struedel with blueberries baked in. Some guests are daring and try one slice of one bread and another slice of a different bread. We hope you enjoy this recipe.
Serves 8
Ingredients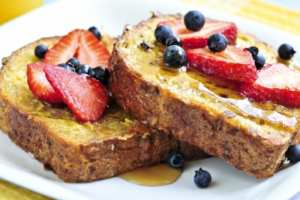 for Grand Marnier French toast
10 eggs
½ cup of Half and Half Cream
1 ¼ tsp Sugar
½ tsp Vanilla
½ tsp Grand Marnier liqueur
1/8 tsp cinnamon
16 slices of bread (we offer guests 3 types of bread – French Toast bread or Apple Fritter or Blueberry Struedel bread
1. Preheat your griddle to 350 degrees
2. Crack your eggs into a bowl and mix with Half and Half Cream.
3. Stir in your Sugar, Vanilla, Cinnamon and Grand Marnier liquer.
4. Pour your mixture into a rectangular baking dish so it is easier to place your bread in for coating.
5. Place your bread slices in the mixture and soak for about 1 minute then flip the slices over and soak for another minute.
6. Coat your griddle with a light spray of canola oil and a little butter.
7. Grill your French toast slices for approximately 4 minutes per side.
8. Plate your French toast and sprinkle with a little confectionary sugar and some fresh berries.
9. Serve the French toast with warm maple syrup.
Cider Poached Apples Breakfast Recipe
Cider Poached Apples with Cinnamon Yogurt and Caramel Sauce Drizzle is a favorite breakfast fruit dish of customers at our Falmouth Cape Cod Bed and Breakfast and we are happy to share the recipe with you. Each breakfast at the Captain's Manor Inn starts with a fruit dish and scone or muffin before we move onto the main entree of the morning. A fresh fruit cup is always a great way to start and yet as the fresh fruit is less abundant in the spring and late fall/winter this is a great fruit alternative. The recipe below can be modified for a smaller or a larger group based on your needs.
We are providing the ingredients and preparation necessary to Serve 8 guests.
Ingredients
½ Gallon Apple Cider
½ bottle Apple Juice
2 cinnamon sticks
4 Apples (peeled, halved, and cored)
½ cup vanilla yogurt
½ teaspoon ground cinnamon
½ cup chopped pecans, candied
½ cup caramel sauce
Preparation:
1. Bring apple cider, apple juice and cinnamon stick mixture to a boil over high heat. Let boil, uncovered about 25 minutes or until the liquid is reduced by about 1/3.
2. Add Apples, cover and simmer about 15 minutes or until desired tenderness. Remove from heat and let cool. Refrigerate the apples in the cooking liquid overnight.
3. Take your ½ cup of chopped pecans and spread in a single layer on a baking sheet. Sprinkle with a little sugar then toast in a preheated oven at 350 F for 8 to 10 minutes. Use immediately or store in a covered container in the refrigerator.
4. Combine yogurt and ground cinnamon in a small bowl. Pour into a cake decorating bag or a squeeze bottle and then drizzle yogurt on each serving plate. Next place a poached half apple on top of the yogurt sauce. Drizzle more yogurt over the top of the apple and drizzle some caramel sauce then sprinkle with toasted pecans.
We hope you enjoy from all the staff at The Captain's Manor Inn in Falmouth, Cape Cod.