March 18, 2017 by Trish Robinson
Looking for accomodations for the Cape Cod Trail Race?  We would be happy to be your hosts. Perhaps you will be as lucky as one of our guests last year. She not only had a top result for her race but also won several of the raffle items at the dinner. Maybe the good night sleep before the race helped…that's our story and we are sticking to it 🙂
About Cape Cod Trail Race:
This is an adult and kid friendly event. Runners can choose from options for 5k, 10K, half or full marathon and 50K.
The course is set up as various loops through forests and fields with primarily smooth surfaces. You can anticipate, as in any natural setting with running trails, some rocky and rooted sections to be aware of. You should also note that there are some short but steep up and downhill sections.
The Run Forward, Give Back theme of the race is very fitting.  Not only do runners have the opportunity to get into the swing of spring running through the Crane Wildlilfe Management Area they also benefit wonderful charities.
This year's charities:
Martin Richard
Hasbro Children's Hospital
Massachusetts Outdoor Heritage Foundation
Cape and Island Police K9 Relief Fund
Calmer Choice
January 21, 2016 by Trish Robinson
We are so pleased to be featured as one of The Top 10 Cultural Hotels in Cape Cod, Massachusetts and the only property located in Upper Cape Cod just over an hour drive from Boston, Massachusetts. The Culture Trip published the winners as part of their work identifying the best global and local travel. In addition to travel information The Culture Trip website is renowned for providing recommendations on food, culture, architecture, photography, design, film and music in addition to travel.
As you read below you will find out more information on Falmouth as well as information on the other lovely hotels recognized as top cultural accommodations in Cape Cod.
Falmouth, Cape Cod
The beauty of Falmouth is the diversity and extensive cultural venues in this picturesque seaside village with 67 miles of coastline. The Captain's Manor Inn is a bed and breakfast located just a short stroll from Falmouth Village with its award winning restaurants and unique and fun boutique shops. Shoppers love to explore the many boutique shops which offer beautiful and affordable women's clothing and accessories as well as well known shops like Black Dog and In the Pink (Lily Pullitzer). There are also menswear shops and jewelry shops as well as shops featuring local art, pottery etc.
Just around the corner is the Falmouth Museums on the Green, the First Congregational Church with a functioning Paul Revere bell and Highfield Hall and Gardens. Highfield Hall and Gardens is a cape cod treasure with its restored mansion and acres of gorgeous sunken gardens and walking trails. Every year Highfield Hall is home to musical events as well as showcasing artworks from around the world. In 2016 Highfield Hall will be the only U.S. location to host the College Women's Association of Japan Print Show. This is the 60th year that the CWAJ has shown their work. Falmouth is also home to the Shining Sea Bikeway which travels through cranberry bogs and along the ocean down to Woods Hole where you can hop the ferry for a trip to Martha's Vineyard.
During the summer Falmouth is home to the College Light Opera at Highfield Theater. The theater goes through a rigorous selection process to choose talented actors, musicians and singers from colleges throughout the country and the world to spend the summer performing 9 musicals during the season.
Guests also enjoy visiting our local artist galleries such as Osborn and Rugh and Karen Rinaldo's Gallery on beautiful Falmouth harbor overlooking Vineyard Sound with Martha's Vineyard on the horizon.
Other Top 10 Cultural Hotels located in mid and outer cape
The other Top 10 Cultural Hotels are beautiful properties located in mid cape and the outer cape. If you were visiting the mid cape you may want to check out 3 properties located in the scenic town of Yarmouth. The Inn at Cape Cod, The Captain Farris House and the Liberty Hill Inn are all unique bed and breakfasts that provide comfortable accommodations and breakfasts. If Hyannis is a town you are interested in staying in check out the Anchor-In located across from Hyannis Harbor.
If you are traveling out to the end of the Cape you have a choice of 5 different properties in the very culturally rich town of Provincetown. Whether you are looking for a small and intimate property or a larger venue you are covered. For a small, intimate property take a look at White Porch Inn, Snug Cottage or Christopher's by the Bay. Larger property options include Crowne Point Historic Inn & Spa and The Brass Key.
We wish you a wonderful getaway wherever you choose to stay and the time to explore and take away wonderful memories of your cape cod vacation.
September 13, 2014 by Trish Robinson
Jazz Stroll 2014 is set for October 3, 2014 in lovely Falmouth Village. This free event takes place at numerous retail and restaurant locations in Queen's Buyway and along Main Street. Groups performing range from duos to trios as well as quartets and even the big band group Stage Door Canteen at Liam Maquire's Irish Pub to close out this fabulous night. You might even choose to enjoy a jam session to be held at Jacks located at 327 Gifford Street.
Make a night of it and come for a stroll where you can mix musical pleasure with dinner and dessert or a little retail therapy while on for your jazz stroll.
This evening is one of many events that make up 2014 Jazzfest. One of this year's highlight performances will be Grammy Winner Catherine Russell who will be performing at Highfield Theater on Saturday, October 4th at 7:30 pm. Russell is celebrated as a genuine jazz and blues singer who can sing virtually anything. Her Grammy was awarded for her featured work on the soundtrack of the HBO series Boardwalk Empire. Catherine has performed with Steely Dan, Paul Simon, David Bowie, Cyndi Lauper and numerous other musical talents.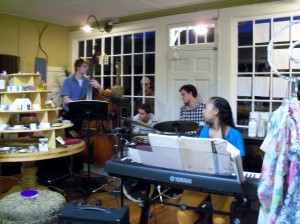 April 12, 2013 by insideout
It's April and Daffodil Days are upon a clear sign of  springtime on the Cape! In Falmouth don't miss  a trip to Spohr Gardens. Less than five minutes away from our Captains Manor Inn,  the garden's  five acres of grassy paths are planted with daffodils, scilla, jonquils, crocuses, and other spring bulbs. Azaleas and rhodendrons follow to round out the season.  While beatiful any time of year, springtime is really when the gardens are in their glory.   Spohr Gardens is a hidden local gem; a beautiful serene oasis just minutes from the ocean. Historic anchors, including one from the HMS Bounty, and a ship's bell are displayed along the waterway. It's a beautiful spot to share a picnic and a great place to take some scenic photos. Grab some coffee or a sandwich from our many Main Street restaurants for a restful picnic on OysterPond surrounded by nature and quiet. There is no charge for admission, though donations are accepted. Daffodil Days: April 20 and 27 10 am to 2 pm
Link to the Gardens: http://www.spohrgardens.org/daffodildays.
April 2, 2013 by insideout
A special weekend full of activities and great food.  We have partnered with Cotuit Cycyling Tours and Woods Hole Inn to create this special weekend with two leisurely bike tours.  Booking is not available online as we have blocked the rooms for this event so please call to book
your reservation 508-388-7336.
Itinerary:
June 20th
3-6:00pm     Check-in to your Inn
5-7:00pm     Wine and Cheese Reception
Evening on your Own
June 21th
8-9:00  Full Breakfast at your Inn
10:00   Falmouth Village Bike Tour Begins
12:00   Lunch
2:00     Cycling Tour Ends
3:00     Afternoon Refreshments at your Inn
6:00     Lobster Taco dinner at Quicks Hole restaurant
Evening on your Own
June 22th
8-9:00  Full Breakfast at your Inn and check out
9:30     Ferry from Woods Hole to Martha's Vineyard
10:15   Arrive in Oaks Bluff and begin cycling tour
12:00   Lunch
2:30     Cycling Tour Ends & Ferry returns to Woods Hole*
*You can return later on your own if you so choose
An additional night accommodation for June 22nd plus breakfast June 23rd can be added to the package
March 26, 2013 by insideout
Remote-controlled sailboats will once again patrol the shores of Eel Pond in Woods Hole the weekend of April 13 and 14th.  Hosted by the Woods Hole Historical Museum, this biennial event celebrates the science and artistry of model boat building.  Historical representations of racing boats, yachts, tug boats, and military vessels are explained with displays, lectures, and hands-on activities.  The Coast Guard will host an exhibit of US Coast Guard vessels, along with a presentation on the history of the Woods Hole Coast Guard.
Models range from a few inches to six feet and showcase the designs of boats and ships of all kinds.  Five to six hundred model boat enthusiasts are expected to attend the event and the village of Woods Hole will graciously offer free parking  for the weekend.
The American Model Yacht Association and the Vintage Model Yacht Group will be exhibiting throughout the village.  Models and model kits will be available for sale during the event, and talks by expert modelers and scientists from the Woods Hole Oceanographic Institution will take place during the weekend.  Admission is $12 per adult and $25.00 for families.
Visit the charming Woods Hole Community Hall and the old fire station, the Woods Hole Oceanographic Exhibit Center, the Woods Hole Public Library, and the Historical Museum.  An easy walking tour of the village includes quaint shops and coffee houses as well as restaurants.  All this is happening just a short ride down Woods Hole road from our inn!  As part of your nautical weekend at the Captain's Manor Inn,  we will include a complimentary bottle of wine with your reservation. For more information on the event go to :  Woods Hole Historical Museum Boat Show link
"There are good ships, and there are wood ships, the ships that sail the sea."
"But the best ships are friendships, and may they always be." Old Irish Saying
January 5, 2013 by insideout
Just a short 1/2 hour drive from The Captain's Manor Inn, Sandwich was the first Cape town settled in 1637 and its name was based on a seaport in Kent, England. What was a small agrarian community changed dramatically when a Boston businessman Deming Jarvis established a glass factory in Sandwich. The Boston and Sandwich glass company grew to be one of the largest glass makers in the nation.
A must see in Sandwich is the Heritage Museum and Gardens. This is the largest public garden in southern New England and it is located on 100 acres of magnificent grounds on the banks of Shawnee pond. This site is especially famous for their Dexter Rhododendrons as well as numerous daylilies, hostas and hydrangeas. In addition the gardens feature nationally recognized specialty gardens, water features and sculpture.
The heritage Museum hosts three gallery buildings with diverse exhibitions. Our particular favorite, housed in a reproduced Shaker Round Stone Barn, is an automobile gallery featuring more than 30 beautifully maintained antique American automobiles. Another fine collection is the American Art & Carousel Gallery which includes an extensive collection of folk art and a working vintage carousel from 1908.
Another site you should visit is the Sandwich Glass Museum. There are displays of more than 6000 different glass pieces created by different glass companies in Sandwich during the 19th and 20th centuries. A highlight of your visit will be the opportunity to view glassblowing demonstrations on site. The glassblowing demonstrations are held daily from 10 AM until 4 PM every hour on the hour.
Other interesting glass shops to visit in Sandwich are listed below:
• McDermott Glass Studio & Gallery (272 Cotuit Road, Sandwich, Ma 02563)
Closed Monday, Gallery Tue-Sun 10-5, Glassblowing Thu-Sat 10-5
• Glass Studio on Cape Cod (470 Route 6A, East Sandwich)
www.glassstudiooncapecod.com
• Pairpoint – Americas Oldest Glass Works (Route 6A Sagamore Ma)
www.pairpoint.com
If you have more time to spare in Sandwich perhaps you would enjoy the Heritage Trail:
December 19, 2012 by insideout
Happy Holidays to all.  Enjoy the beautiful Heritage Museums and Gardens in Sandwich, Cape Cod as they are all dressed up for the holidays.  This reminds me the wonderful lighting displays of Forest Park in Springfield, Massachusetts.  The spirit of the holidays is present both inside the museum and on the grounds.
November 19, 2012 by insideout
We are so fortunate to call Falmouth, Cape Cod home. Together with our fellow innkeepers in the Falmouth Bed and Breakfast Association we recently took the opportunity to showcase Falmouth and some of our associations beautiful bed and breakfast rooms, breakfasts, views, and things to do in the Better Way to Stay campaign spearheaded by the Professional Association of Innkeepers International.
 
The video shoot took place this past spring and the final product has now been created and lives on  YouTube!  We hope you enjoy this 56 second video trip to Falmouth (of course the shooting took place over a very full day…the magic of editing).
October 26, 2012 by insideout
We are happy to be hosting a number of runners this weekend for both the half marathon on Saturday and the full marathon on Sunday.  This year marks the 35th annual occurance of the marathon where Falmouth welcomes runners from around the country and around the world. Today is a picture perfect day and it seems to be the calm before the storm of Sandy which is expected to arrive here on the Cape on Monday.
Best wishes to all the runners !