September 20, 2012 by insideout
The inaugural Cape Cod Brew Fest will be held on September 29, 2012 at the Barnstable County Fairgrounds.  There will host be 30 breweries with over 60 styles of beer to sample from. The event will have two, three-hour sessions from 1:00 – 4:00 p.m and 5:00 – 8:00 p.m. Each session will feature live music.
Barnstable County Fairgrounds
1220 Nathan Ellis Hwy, Route 151
East Falmouth, MA 02536
Visit    www.capecodbrewfest.com  for ticket information
July 14, 2012 by insideout
We are pleased to share that we have a new offering thanks to the newly established organization Electric Ride in Falmouth.  We all know that a long bike ride for some is quite enjoyable where for others who love to go and enjoy the scenery and exercise they tire after several miles.  Now there is a solution for that.  Rent an electrically assisted bicycle and enjoy the ride!  What better way to fully conquer our beautiful Shining Sea Bikeway and go the entire 10.7 miles.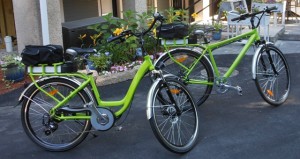 June 15, 2012 by insideout
We had a lot of fun yesterday working with Luke the videographer and Marti Mayne of Maynely Marketing as they came to Falmouth to create a video for the Falmouth bed and breakfast association.  Our video will include footage from several of Falmouth's bed and breakfasts and will be part of a national campaign called a Better Way to Stay.  The campaign is part of an effort by The Professional Association of Innkeepers to educate consumers on the wonderful bed and breakfast options available to travelers.  Some still photos from the video shoot are included here for you.  Special thanks to Jen Chagnon of The Pink Polka Dot and her husband Jared for being great sports as models for the video!!
June 13, 2012 by insideout
We are very happy to share with you the initial photos of our 3 new guestrooms!  Professional photographer Christian Giannelli just visited with us to take these pictures so we can update our website.  In approximately 2 weeks we will have photo galleries for the new guestrooms as well as pictures of the new bistro and the back of the Inn where the addition was done.  In the meantime Christian was good enough to provide a few shots to whet our appetite.  The rooms are available for reservations now.
We hope you enjoy!
May 25, 2012 by insideout
The new custom staircase is complete at The Captain's Manor Inn!!  Mike Corsi did a fantastic job and took great pride in designing this centerpiece for the entrance at the Inn.  We look forward to showing off his work to all our guests who visit Cape Cod this summer.  We hope you enjoy the slideshow of the progress from stair treads to finished product.

We love creative minds and thought you would enjoy this video which is part of a wonderful campaign know as the Better Way To Stay featuring Inns and Bed and Breakfasts.  The Inns of Falmouth Cape Cod will be part of a video later this summer.
Please enjoy and more to be shared in the future .
April 29, 2012 by insideout
The Red Chair has continued on its journey of a Better Way to Stay in Cape Cod and has arrived at The Captain's Manor in in Falmouth.  What a wonderful time visiting some of Cape Cod's great landmarks including lovely Inns , museums, eateries, beaches, and quaint villages such as Falmouth Village's main street.
What I found as we chaperoned the chair is that it is famous !  When we went over to the Queens Buyway shops a local bicycle rider yelled out "Is that THE red chair" and we were happy to reply it sure is!  The next stop was Ben & Bill's Chocolate emporium where one of the staff made a point of going to get the local paper and show the rest of her co-workers the article that had been written.  I had no sooner arrived at Highfield Hall and was taking the chair out for its picture in the sunken garden when two of my favorite people from the Hall, Janet and Pat,  came out and said they were just taking about the Red Chair the other day and saying wouldn't it be great if it made a visit here.  Off to the Visitor Center where the cry went out "The Red Chair is here".  My personal favorite was after taking some great shots over at the Nobska Lighthouse a gentlemen made a point of jogging over from across the street saying he just had to see what the fuss was about with THE Red Chair.
Some of our favorite pictures were at the Nobska Lighthouse and Highfield Hall.  Also check out our full gallery of pictures on facebook and our movie on youtube. 
April 23, 2012 by insideout
What a great morning for a walk.  Decided to go to Woods Hole which is a 3.5 mile walk from the Inn.  Although it was a bit overcast it did not seem to bother the ospreys and other critters out an about.  One of the great things about a walk down to Woods Hole is that once you get there you can turn around and walk on back (after a treat at Pie in the Sky) or you can decide 3.5 miles was enough and hop on the Steamship Authority shuttle bus and hop a ride back to the parking lot just a short half mile stroll from the Inn.  Guess what we did 🙂
April 18, 2012 by insideout
We are excited to share progress on the window art being worked on by Robin Pierson for the Canopy room.  As you will see by the pictures below, Robin has taken the original window and placed the antique style map of Cape Cod within the main panes.  More pictures of progress should follow in the next couple of weeks.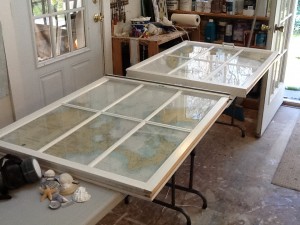 April 11, 2012 by insideout
The construction adventure continues!  The projects of today are trim around the windows, doors etc. and stairway tread installation as well as hardwood flooring.