June 27, 2015 by Trish Robinson
The July 4th Celebration in Falmouth Cape Cod will once again include the annual bike and carriage parade sponsored by the Falmouth Village Association.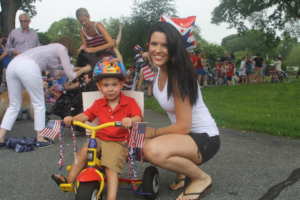 Participants will meet on the Village Green the morning of July 4th and the Parade will begin by heading down Main Street at 10am. Over the years this event has grown in size to several hundred who enjoy celebrating freedom on this special day.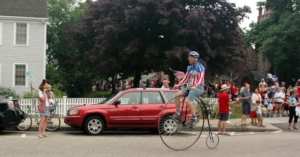 Children of all ages will be wearing their red, white and blue and it is great fun to see the great decorations people have adorned their bicycles and carriages with. From tricycles, to unicycles to tandem bicycles everyone gets in on the fun. After working up an appetite folks love strolling Main Street and stopping for a snack at Ghelfi's Candies and Ice Cream of Cape Cod or Ben and Bill's Chocolate Emporium or for lunch at any number of great eateries like Stone L'Oven, Anejo's Mexican Bistro, Quarterdeck, La Cucina Sul Mare, Pickle Jar Kitchen or Pies ala Mode Cafe.
The fun for our July 4th celebration does not stop with the parade and fun on Main Street. You should head down to Falmouth Heights Beach or Surf Drive Beach later in the evening to take advantage of the spectacular fireworks show set of on the barge out on the Ocean of Vineyard Sound. The Falmouth Bed and Breakfast Association is a proud sponsor of the Fireworks July 4th Celebration.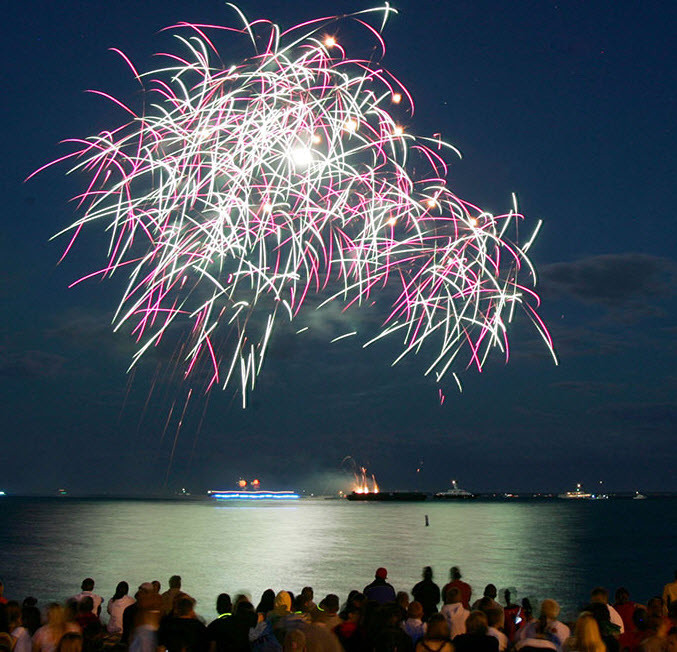 April 29, 2015 by Trish Robinson
Falmouth Village Blooming, a Cape Cod Spring Celebration, will kick off on Friday May 1, 2015 and continue through Sunday May 10, 2015 – the day we celebrate Mothers everywhere.
A highlight of the Falmouth Village Blooming events is the display and judging of the May Baskets that can be found all along Falmouth Village Main Street and Queen Buyway at the many retail shops, restaurants and Bed and Breakfast's that line Main Street.  Several awards are given such as Most Creative however the one most enjoy is the People's Choice Award which is decided based on the many voters who join in on the fun with the Falmouth Village Facebook display of all the participating May Baskets. You can expect more than 30 different participants with unique and creative basket presentations.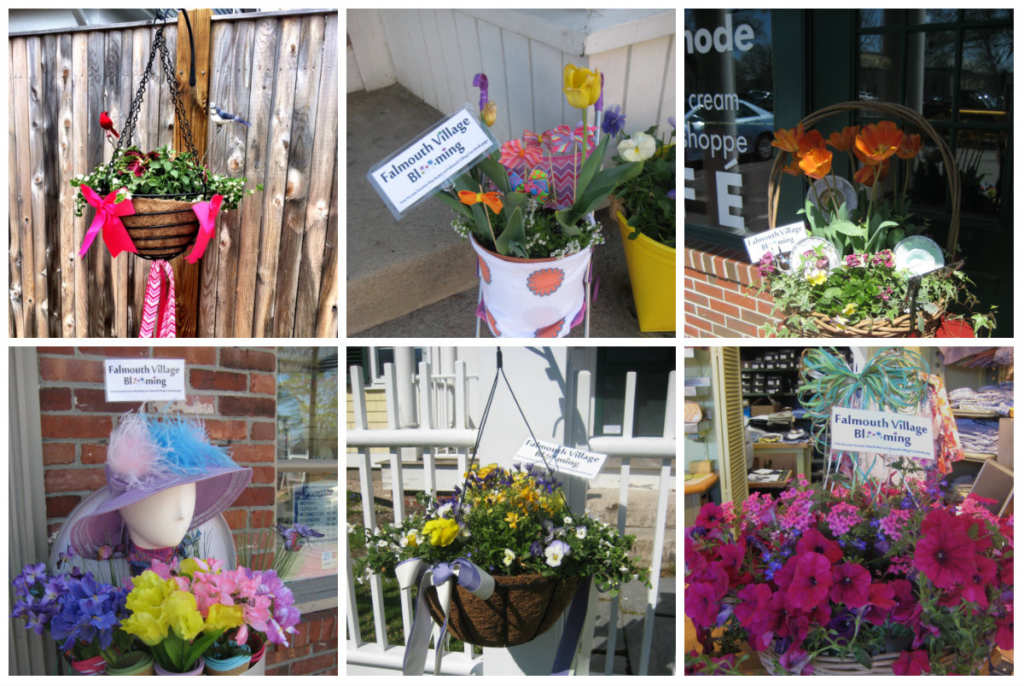 All throughout the May 1st through May 10th timeframe you will find Flower Power Happy Hours at the restaurants and Blooming Bargains at retailers.
For the first weekend of festivities, May 1-3, bring the kids for some special fun as part of Kids Spring Hat Weekend. A number of stores and restaurants will provide the ingredients and instruction for special hat-making projects. Some of the participating stores are Eight Cousins Bookstores, Black Dog, Pies ala Mode and Pickle Jar Kitchen Restaurant.
On May 3rd you might enjoy participating in an Estate Walk at Highfield Hall starting at 12:30. You can start in the gardens where Terry Soares, the Highfield Garden Coordinator will be on hand and then join the estate walk docent who will share stories of the Beebe family who built this beautiful estate.
On May 5th join in the 5th annual Cinco de Mayo celebration courtesy of Anejo Mexican Bistro where the adjoining street is closed to traffic and under a tent you will find freshly prepared $5 burritos as well as margaritas and beer all while enjoying live music. The additional nicety is that all the proceeds go to the ALS Foundation.
Also on May 5th from 6-8 pm you may be inspired to head to Highfield Hall and get your hands dirty while you create your very own May garden basket with your teacher for the event Anna Holmes.
A spring story time event is another kid centric activity that is planned on Saturday May 9th at Eight Cousins bookstore. The feature is the ever popular Guess How Much I Love You. Be sure to get your very own photo with Little Nut Brown Hare who will be on hand for the fun.
Closing out Falmouth Village Blooming are two great gardening events.
First is the Falmouth Bed and Breakfast Association Garden Tour which runs from 1:00 to 3:00 on May 10th.
Last year The Captain's Manor Inn created a brand new leisure garden for guests. This year be sure to visit The Captain's Manor Inn and The Palmer House Inn which are both by the Falmouth Village Green. The Captain's Manor Inn is featuring a new raised bed gardening event with cattle troughs and The Palmer House is doing a herb container garden presentation. The Woods Hole Passage Bed and Breakfast is having a child centered garden project. Several other bed and breakfasts are having tea and cookies on the porch open houses such as Woods Hole Inn and Baileys by the Sea.
Second is the Falmouth Beautification Council Plant Sale from 9 am to 3 pm at Town Hall Square in Falmouth Village. This is a extremely popular annual event where you can find daylilies, shrubs, herbs, annual, perennials, veggies and more. This year some workshops will also be offered for kids and gardeners.
April 24, 2014 by Trish Robinson

Falmouth Village Blooming is a celebration of all that is Spring. The spring celebration kicks off on May 1st with a self guided tour through Falmouth Village to view May Baskets on display.
You have a chance to vote on the Falmouth Village Facebook page for your favorite as participants vie for the People's choice award.
Enjoy Flower Power Happy Hours at participating restaurants from 3- 5 pm during the first two weekends of the May. Throughout the Village be on the lookout for Blooming Bargains at all the participating retail shops.
Some of the very special scheduled events include: Cinco de Mayo celebration at Anejo's Mexican Bistro on May 5th, Ring around the Maypole at Highfield Hall on May 4th, Annual Falmouth Beautification Sale on May 10th, Just for Kids Colonial Gardening at Falmouth Museums on the Green on May 10th and the Falmouth Bed & Breakfast Association Garden Tour on May 10th from 1 – 3 pm.
There is something fun for everyone during Falmouth Village Blooming. For the latest information and schedule click here to go to the Falmouth Village website.
January 24, 2014 by Trish Robinson
Come celebrate St. Patrick's Day in O'Falmouth where everyone has a "bit of the Irish" in them for the St. Patrick's Day weekend.  The fun and activities begin on Friday, March 14th and continue through Monday, March 17th. We encourage you to keep on top of all the activities by liking the Falmouth Village Association facebook page.
We will also share some of the early plans below as we to tell you about The Captain's Manor Inn St. Patrick's Day weekend package.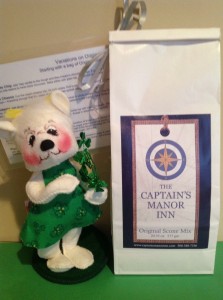 Guests will arrive on Friday, March 15th and find a "Luck of the Irish" welcome basket with a number of goodies waiting in their guestroom. Your innkeepers, Trish and Kevin, will host a wine, beer and snack "Irish Reception" in the Inn's Bistro from 5:30 to 7:00 pm. We encourage everyone to check out Liam Maguire himself serenading diners at Liam Maguire's Irish Pub just a stroll down Main Street from the Inn.
Saturday will be a great day to scavenge for all the great green dot sales found on all variety of retail goods at the unique shops on Main Street in Falmouth Village. On both Saturday and Sunday you can enjoy traditional Irish Music at Liam Maguire's with Rossacroo-Na_Loo starting at 3pm and Shanangan's starting their entertainment set at 9 pm until closing.
Sunday wake up and enjoy a delicious Irish breakfast at The Captain's Manor Inn before heading out to enjoy festivities of the day such as the Irish Step Dancing Demonstration across from the Inn at the Museums on the Green.
Monday there will be a Hat Parade down Main Street sidewalks to the Village Green.
February 5, 2013 by insideout
Cinco de Mayo is synonymous with spring. Even if you can't be in Falmouth for May 5, 2013 you can still celebrate Mexican culture and food during May with our Cinco de Mayo package. Along with your simply elegant guestroom and breakfast,  your  Cinco de Mayo package stay at the Captain's Manor Inn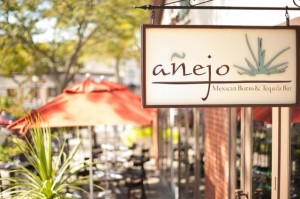 includes a welcome gift basket with such items as salsa, chips, margarita glasses, margarita mix and tequila and a $50 gift certificate for lunch or dinner at Anejo restaurant.
This is a favorite restaurant of many of our guests.  See reviews such as the one below at Tripadvisor:
"I had never had lobster enchiladas before, but these were delicious and so different! The food was great, service was responsive and the atmosphere lively! I would definitely recommend dining here."
Check availability for your May getaway by clicking on this symbol :
After selecting your room you can add the
"Cinco de Mayo  Package" to your guestroom at check out.