February 25, 2017 by Trish Robinson
Landscaping spring project work has begun. For a couple of years we have been looking at the front gardens and doing our best to continue to nurture and pamper the large shrubs in front of the veranda. During this winter it became apparent that it was time to undertake a major project to remove the old, woody shrubs that had very limited life remaining and were short on healthy buds etc.
So Kevin Sr and Jr have started this major project by cutting down the old shrubs and removing stumps etc. We will continue to show progress and new pictures over the months ahead on this page.
We hope you enjoy watching the progress as much as we enjoy sharing 🙂
Pictures
February 24, 2017 by Trish Robinson
Hotels near me in Falmouth Massachusetts include top choices in the 5 different categories outlined below:-
Luxury   2.   Located in Falmouth Village   3.  Located by the Water   4. Romantic  5. Family Friendly
Luxury or Boutique Hotels, Bed and Breakfast or Inns
The Captain's Manor Inn
Originally built in 1849 by a ship captain for his New Orleans bride. This southern plantation style estate has been lovingly restored and expanded by the current owners. Set back from the road this respite property is located on 1.25 acres with gorgeous gardens. Guests enjoy 8 luxurious guestrooms all with private bathrooms with rain showers, luxurious sheets and amenities, free wifi and numerous other comforts. A complimentary full breakfast is served to you each morning and in the Bistro you will find 24/7 coffee and tea as well as home baked goodies each afternoon. Walk from the Inn to any of 20+ restaurants.
Inn on the Sound
A 10 guestroom bed and breakfast located across from Falmouth Heights Beach. Providing a complimentary full breakfast each morning and other amenities. Near the Inn are two restaurants and it is just a short drive to Falmouth Village with additional restaurants and shops.
Woods Hole Inn
This circa 1887 Inn features 14 guestrooms all with private baths and is located across from the Steamship Authority where ferries take passengers and vehicles across Vineyard Sound to Martha's Vineyard. The Inn is conveniently located in Woods Hole Village with various restaurants to enjoy including the award winning Quicks Hole Tavern.
Located in Falmouth Village – Walk to shops, restaurants, beach
The Captain's Manor Inn
Just a 3 minute stroll into Falmouth Village where guests enjoy culinary delights at over 20 different restaurants. Top rated restaurants such as CSalt, Glass Onion, Anejo and La Cucina are a few favorties of locals and visitors alike. In addition there are a number of boutique shops in the village including the famous Black Dog. It's just a one mile walk to the nearest beach. You can grab Inn beach towels and chairs as well as a picnic lunch prepared by the Inn chef for your beach day.
Palmer House Inn
This 17 room Victorian Inn is located just a few minute stroll from Falmouth Village. They provide a complimentary full breakfast each morning to guests.
Inn at Siders Lane
A lovely 3 room Inn is also located just down Main Street from Falmouth Village. A complimentary full breakfast is provided each  morning.
Located by the Water
Sea Crest Beach Hotel
Located on one of the most popular beaches in Falmouth – Old Silver Beach. They have beach access as well as pools. They also have a full service restaurant.
Bailey's By the Sea
This 5 room bed and breakfast is located across the street from Vineyard Sound and just a stroll from Falmouth Heights beach. Enjoy your complimentary full breakfast in the morning on the enclosed porch facing Vineyard Sound.
Beach Breeze Inn
Located on Shore Street just 100 yards from Surf Drive Beach.
Romantic Hotels, Bed and Breakfast or Inns
The Captain's Manor Inn
Featured on the front page of the Boston Globe travel section in the article "Cape Inns Built on Romance". The Inn was also featured as a winner of the "2016 Best of Where to Elope" by wheretoelope.com A number of packages can be added to a reservation to make the occasion extra romantic. Pick one of the premium King guestrooms with a fireplace for even more ambience.
Inn on the Sound
Enjoy watching sunsets over Vineyard Sound. Some guestrooms have a balcony where you can enjoy your breakfast.
Family Friendly Hotels, Bed and Breakfasts or Inns
Holiday Inn
Families enjoy the indoor pool and on-site restaurant. Guestrooms are available with 2 beds for families wanted to share a room.
Shoreway Acres
The expansive grounds include plenty of space for Frisbee, badminton etc. to be enjoyed by families. There is also an indoor pool on the property. A buffet breakfast is offered each morning. Guests are just down the street from Surf Drive beach and walking distance from Falmouth Village.
Woods Hole Passage
Located on Woods Hole Road between Falmouth Village and Woods Hole Village. This comfortable 5 guestroom bed and breakfast is family friendly and provides a complimentary full breakfast each morning.
December 13, 2016 by Trish Robinson
Raspberry Bars at The Captain's Manor Inn are a guest favorite. This past week we had a guests request the recipe so she could make them at home. To serve 15 people, we start with 2 boxes of Krusteaz Raspberry bars and doctor them up a bit to put our own spin on them. To make the bars more substantial we use the shortbread crust from both boxes for the bottom crust, and make our own crumble topping to finish it off. In addition to raspberry filling provided, we add fresh or frozen raspberries to really bring out the raspberry flavors. To make these raspberry bars at home follow the directions below !
Equipment:
Ingredients
2 boxes Krusteaz Raspberry Bar Mix
2 sticks butter
1 cup frozen raspberries
Crumble Top
1 cup all purpose flour
1/2 cup brown suagr
1 teaspoon baking powder
1/2 teaspoon cinnamon
1/4 teaspoon salt
8 Tablespoons unsalted butter. softened
Directions:
Make the crumb topping: Whisk together all dry ingredients then add in softened butter and mix with fork until crumble is formed
Prepare crust from box as directed and press into glass pan coated with cooking spray
Bake for about 12 minutes
Spread raspberry filling all over hot crust and top with frozen raspberries, then the home made crumble
Bake for 26-28 minutes until the crumble is golden and the raspberry filling is bubbling on the sides.
Cool completely before cutting, this pan makes 15 squares
Enjoy heated up or at room temperature !
August 31, 2016 by Trish Robinson
Sweet Fruit Crepes Recipe:
A favorite thing to share with guests this summer at The Captains Manor Inn has been the Sweet Fruit Crepes Recipe. The dish consists of a light and airy crepe filled with a sweet cinnamon cream and topped with a fresh orange berry sauce. This is a restaurant quality dish that can easily be made in your kitchen with a few special tools. For this recipe you will need a blender and specific crepe pans for the best results. Here is how we do it !
Yield: 8 Crepes
Crepe Batter
3 eggs
3/4 cup plus 2 Tablespoon milk
3/4 cup all-purpose flour
5 teaspoons butter, melted
1 Tablespoon sugar
1 teaspoon vanilla extract
1/4 teaspoon salt
Filling
1/2 cup sour cream
1/4 cup mascarpone cheese
Ground cinnamon to taste
Granulated Sugar to taste
Berry Sauce
1/4 cup Orange Marmalade
1 cup fresh berries ( raspberries, blackberries, blueberries)
8 teaspoons sugar
Directions
1.Make the crepe batter. Combine all batter ingredients in a blender for 30 seconds or until smooth. (This can be made the night before and left in the fridge)
2.Make the Cream Filling. Combine sour cream and mascarpone cheese until smooth consistency. Add sugar and ground cinnamon to taste. Set aside.
3.Make the Sauce. In a saucepan heat marmalade until melted. Add berries and sugar until heated through.
4. Make and Assemble the Crepes. Heat butter in crepe pan until almost foaming, then add a ladle full of batter just to spread out on the bottom of the pan. Let cook for 1-2 minutes on each side until there is a touch of color. Transfer crepe to plate and fill with desired amount of cinnamon cream. Top with warm sauce and enjoy!
August 19, 2016 by Trish Robinson
Raspberry White Chocolate Muffins – Recipe
Recently here at the Captains Manor Inn, we tried out a new muffin recipe with one of our staple flavor combinations. Raspberry and white chocolate scones are a sweet treat we serve often with a red wine poached pear as a starter. Since the flavors go so well together we went on a search for a muffin version and found the perfect recipe. The outcome was a perfectly moist muffin with good texture and bursts of raspberry flavor ! This base muffin batter recipe can also be used to make any muffin combinations you can think of.
Yields: 12 muffins
Ingredients
2 cups all-purpose flour, sifted
2 teaspoons baking powder
¼ teaspoon baking soda
¼ teaspoon salt
¾ cup granulated sugar
2 large eggs, slightly beaten
1 cup yogurt or sour cream
⅓ cup canola oil (or vegetable)
1 teaspoon vanilla extract
1 cup raspberries, fresh or frozen
⅔ cup chopped white chocolate
Instructions
Preheat oven to 375F/190C. Butter 12 muffin cups or line them with liner papers.
In a large bowl, mix together flour, baking powder, baking soda, salt, and sugar. Set aside.
In a medium bowl, whisk together eggs, yogurt, oil, and vanilla extract. Pour the egg mixture into the flour mixture and fold with a rubber spatula or wooden spoon just until combined. Do not overmix. The batter should be quite thick and lumpy. Gently fold in raspberries (if using frozen, use them straight from the freezer without thawing) and white chocolate.
Divide the mixture between the muffin cups almost all the way to the top. Bake for 15-20 minutes, until a toothpick inserted into the center of a muffin comes out clean. Allow to cool for 10 minutes, then remove from tin and place on a wire rack to let cool completely.
Muffins are best the same day they are made, but can be frozen in an airtight container for up to 2 months. Thaw on the counter or overnight in the fridge.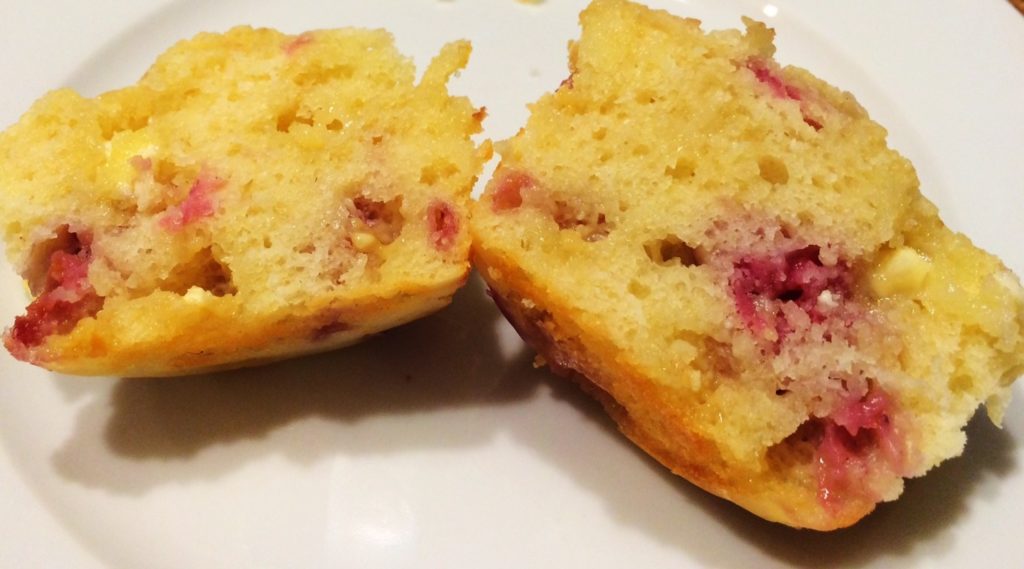 August 3, 2016 by Trish Robinson
These Peach Streusel Muffins are sure to be a hit to bake at home for family or friends. You might even like to bring them for a party. What is so great about these muffins is that they can easily be served as an afternoon snack, which we have done here at The Captains Manor Inn. This is a great way to use up peaches that might be going to the "dark side". The streusel topping is the perfect crunchy addition to the moist and flavorful muffin. Fun Fact: you can substitute other fruits if you are not a peach fan, try apples !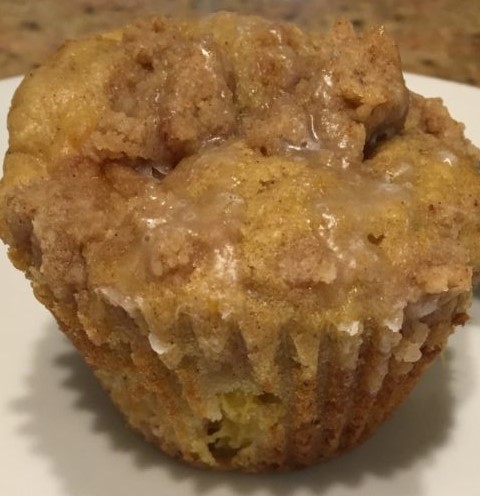 Peach Streusel Muffins
yield: 12 Standard size muffins
Ingredients:
Crumb Topping
-1/3 cup packed light or brown sugar
-1 Tablespoon granulated sugar
-1 teaspoon ground cinnamon
-1/4 cup unsalted butter, melted
-2/3 cup all purpose flour
Muffins
-1/2 cup unsalted butter, softened
-1/2 cup packed light or brown sugar
-1/4 cup granulated sugar
-2 large eggs
-1/2 cup yogurt (greek or regular)
-2 teaspoon vanilla extract
-1 and 3/4 cup all purpose flour
-1 teaspoon baking power
-1 teaspoon baking soda
-1/2 teaspoon ground cinnamon
-1/8 teaspoon allspice
-1/2 teaspoon salt
-3 Tablespoon milk (any kind)
-1 and 1/2 cups peeled, chopped peaches (3 peaches)
Glaze
1 cup confectioners sugar
3 Tablespoon heavy cream (or milk)
1/2 teaspoon vanilla extract
Directions:
First, make the crumb topping: In a medium bowl, combine both sugars, the cinnamon, and melted butter. Using a rubber spatula, stir in the flour. The crumb topping will be thick and crumbly. Set aside.
Preheat oven to 425F degrees. Spray a 12-count muffin pan with nonstick spray. Set aside.
Make the muffins: In a medium bowl using a handheld or stand mixer fitted with a paddle attachment, beat the butter on high speed until smooth and creamy, about 1 minute. Add the brown sugar and granulated sugar and beat on high until creamed, about 2 full minutes. Scrape down the sides and bottom of the bowl as needed. Add the eggs, yogurt, and vanilla extract. Beat on medium speed for 1 minute, then turn up to high speed until the mixture is combined and uniform in texture. Scrape down the sides and bottom of the bowl as needed.
In a large bowl, toss together the flour, baking soda, baking powder, cinnamon, all-spice, and salt. Pour the wet ingredients into the dry ingredients and slowly mix with a whisk. Add the milk, gently whisking until combined and little lumps remain. Fold in the peaches with a wooden spoon or rubber spatula.
Spoon the muffin batter evenly between all 12 muffin tins. There may be enough to make a 13th muffin in a 2nd batch, depending if there were a few extra peach chunks thrown in. Fill the muffin tins until they are full all the way up to the top. Press a handful of the crumb topping into the top of each; crumble it with your hands to make some big chunks.
Bake for 5 minutes at 425F degrees, then keeping the muffins in the oven, lower the oven temperature to 350F degrees and bake for 15-19 more minutes or until a toothpick inserted in the center comes out clean.
Make the glaze: whisk all of the ingredients together and drizzle over warm muffins.
Make ahead tip: Muffins stay soft, fresh, and moist in the refrigerator for up to 5 days. Muffins freeze well for up to 2 months. Thaw overnight in the refrigerator and heat up (if desired) before enjoying.
May 3, 2016 by Trish Robinson
Sharing our 6 Key Bloody Mary Bar Ingredients is our pleasure as we prepare for our new Virgin Mary Breakfast bar debut at The
Captain's Manor Inn on Mother's Day Weekend 2016 right here in Cape Cod.
The Robinson family has long been a fan of a good Virgin or Bloody Mary and we are often known to enjoy one in the comfort of our living room while watching a football game and enjoying potato chips and homemade onion dip or if we are being a little healthier the snack might be tortilla chips and salsa or even raw vegetables and ranch dip.
We are always in search of a really good mix and of course the right condiments.
In our travels we have experienced a host of different condiments and mix blends. In fact, I think Kevin may have a little Canadian heritage because he is known to like to add Clamato juice along with tomato juice when making his drink and in Canada that is a fan favorite known as a Caesar rather than a Bloody Mary.
With a special blend of ingredients and our list of key ingredients we are happy to begin offering a Virgin Mary bar for our guests during Saturday and Sunday breakfast. It goes without saying that you need to start with a good tomato juice for your base and we use Sacramento tomato juice.
Here is our list of 6 key Bloody Mary or Virgin Mary bar ingredients:
1). Salt or Old Bay Seasoning – You need to start by preparing the rim of your glass by first putting some lime juice or lemon juice on the rim then dip the glass rim in either some nice kosher salt or Old Bay Seasoning.
2). Citrus – You have already used a little lemon or lime juice on the rim of your glass and now a couple wedges of lemon or lime will add a little zing to your drink.
3). Veggies – A nice crisp celery stalk for both stirring and munching is a key ingredient.
4). Garnish – Some large queen olives stuffed with pimentos and some petite pearl onions add a nice pop your drink after they have been soaking in the mix for a bit.
5). "Magic Mud" – Recently we found a mix that was created by some expert bartenders who refined it over the years. This mix includes 14 all natural spices and ingredients and while it may not look appetizing (the word mud is in its name) it is absolutely fabulous.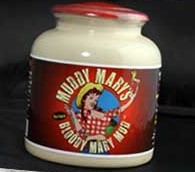 6). Condiment Finish – Many of you know I joke about Kevin being the condiment king and if you saw our refrigerator you would know it to be true. So for our Virgin Mary breakfast bar condiments we will offer Tobasco sauce Worcestershire sauce, A1 steak sauce and even BBQ sauce as a nod to our southern guests.
We look forward to your visit and should you want to take home a bit of "magic mud" known as Muddy Mary's Bloody Mary Mud we have both small and large bottles available in our store.
February 28, 2016 by Trish Robinson
Cape Cod Wine Bed and Breakfast Weekend 2017 will  be here before you know it. The weekend of April 28th-30th promises to be a weekend you won't soon forget. Can you think of a better way to welcome spring than a weekend dedicated to wine, food, and relaxation? Join other wine enthusiasts as you learn about the process of making wine, the art and science behind wine and food pairings and of course, what wine weekend would be complete without tastings?
Friday reception
Here at The Captain's Manor Inn, your Cape Cod Wine Bed and Breakfast Weekend begins with your arrival on Friday. After you've checked in to your room, enjoy a wine reception from 5:30-7pm in our bistro area. Enjoy wonderful wine and light appetizers before heading out to dinner at any of the truly incredible restaurants that are just a stroll away. Be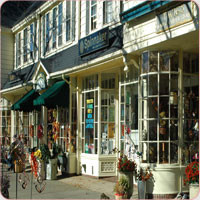 sure to leave some time for shopping as Falmouth's iconic Main Street which is peppered not only with foodie favorite restaurants, but also with incredibly unique shops and boutiques. Take a peak at our Restaurant Page to get the culinary juices flowing!
Saturday activities
Saturday afternoon, the Cape is your oyster! After enjoying a delicious breakfast at the Inn, it's up to you whether you want to head out to drive scenic Route 6A and head to Truro for a wine tasting or perhaps you would like to do a little exercise with a bicycle tour of the town or on the Shining Sea bikeway, or another option might be a short drive to Sandwich to shop for hand blown glass. Regardless of how you spend the afternoon, don't have a big lunch because the Cape Cod Wine Bed and Breakfast Weekend anchor event is Saturday night, and promises to leave all of your senses sated!
Saturday's Wine Dinner
For Saturday's wine dinner we will head to the Woods Hole Village just 3 miles down the road to the award winning Quick's Hole Tavern.
You will have the opportunity to  enjoy course after course of food made with the freshest locally sourced ingredients and expertly paired with perfect companion wines.  Meet others interested in spending a weekend dedicated to amazing wine, food and conversation and perhaps you'll leave not only full, but with a few new friends with whom you can enjoy a good bottle of wine and great conversation!
Menu:
A selection of Cheese and Charcuterie served on a distinctive wooden platter
Spring Pea Soup with Mint and olive oil
 a choice of:
 Seared Cod with chirizo, roasted fingerling potatoes, in a fennel and tomato broth OR
 Pan Roasted Chicken with local mushrooms, grilled asparagus, and a lemon sabayon
 finish your meal with a desert of a Bag of Quicks Hole's famous donuts with dipping sauce for each table to share.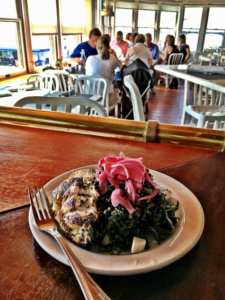 Bid adieu to cold winter days with an entire weekend filled with things you love. Your package includes two nights, three days plus a welcome wine reception Friday and Wine Pairing Dinner event on Saturday at The Captain's Manor Inn. Rates below include your guestroom, full  breakfast each morning, wine and appetizer reception, afternoon baked goodies and your cape cod wine dinner at Quick's Hole Tavern (dinner tax and tip not included)
Rates:
$618 +tax double occupancy Queen room
$638 + tax double occupancy king room
$678 + tax premium king room (fireplace in room)
$718 + tax Forbes Cupola Suite –  If you've yet to stay in the Forbes Cupola Suite, it's our newly renovated, most unique room at the Inn. As the only two story suite, once you travel up the private staircase accessible only from your room you'll find yourself in the Cupola sitting room surrounded by rich architectural history, and the best views from the Inn!
Just book your room and add the Wine Bed and Breakfast package at check out.
We would love to have you for this year's Cape Cod Wine Bed and Breakfast Weekend. Rooms will sell quickly, so if you're interested in a weekend you won't soon forget, please call soon! We look forward to seeing you!
January 21, 2016 by Trish Robinson
We are so pleased to be featured as one of The Top 10 Cultural Hotels in Cape Cod, Massachusetts and the only property located in Upper Cape Cod just over an hour drive from Boston, Massachusetts. The Culture Trip published the winners as part of their work identifying the best global and local travel. In addition to travel information The Culture Trip website is renowned for providing recommendations on food, culture, architecture, photography, design, film and music in addition to travel.
As you read below you will find out more information on Falmouth as well as information on the other lovely hotels recognized as top cultural accommodations in Cape Cod.
Falmouth, Cape Cod
The beauty of Falmouth is the diversity and extensive cultural venues in this picturesque seaside village with 67 miles of coastline. The Captain's Manor Inn is a bed and breakfast located just a short stroll from Falmouth Village with its award winning restaurants and unique and fun boutique shops. Shoppers love to explore the many boutique shops which offer beautiful and affordable women's clothing and accessories as well as well known shops like Black Dog and In the Pink (Lily Pullitzer). There are also menswear shops and jewelry shops as well as shops featuring local art, pottery etc.
Just around the corner is the Falmouth Museums on the Green, the First Congregational Church with a functioning Paul Revere bell and Highfield Hall and Gardens. Highfield Hall and Gardens is a cape cod treasure with its restored mansion and acres of gorgeous sunken gardens and walking trails. Every year Highfield Hall is home to musical events as well as showcasing artworks from around the world. In 2016 Highfield Hall will be the only U.S. location to host the College Women's Association of Japan Print Show. This is the 60th year that the CWAJ has shown their work. Falmouth is also home to the Shining Sea Bikeway which travels through cranberry bogs and along the ocean down to Woods Hole where you can hop the ferry for a trip to Martha's Vineyard.
During the summer Falmouth is home to the College Light Opera at Highfield Theater. The theater goes through a rigorous selection process to choose talented actors, musicians and singers from colleges throughout the country and the world to spend the summer performing 9 musicals during the season.
Guests also enjoy visiting our local artist galleries such as Osborn and Rugh and Karen Rinaldo's Gallery on beautiful Falmouth harbor overlooking Vineyard Sound with Martha's Vineyard on the horizon.
Other Top 10 Cultural Hotels located in mid and outer cape
The other Top 10 Cultural Hotels are beautiful properties located in mid cape and the outer cape. If you were visiting the mid cape you may want to check out 3 properties located in the scenic town of Yarmouth. The Inn at Cape Cod, The Captain Farris House and the Liberty Hill Inn are all unique bed and breakfasts that provide comfortable accommodations and breakfasts. If Hyannis is a town you are interested in staying in check out the Anchor-In located across from Hyannis Harbor.
If you are traveling out to the end of the Cape you have a choice of 5 different properties in the very culturally rich town of Provincetown. Whether you are looking for a small and intimate property or a larger venue you are covered. For a small, intimate property take a look at White Porch Inn, Snug Cottage or Christopher's by the Bay. Larger property options include Crowne Point Historic Inn & Spa and The Brass Key.
We wish you a wonderful getaway wherever you choose to stay and the time to explore and take away wonderful memories of your cape cod vacation.
June 29, 2015 by Trish Robinson
Chocolate Covered Coconut Macaroons are a great afternoon goodie to enjoy here at the Inn.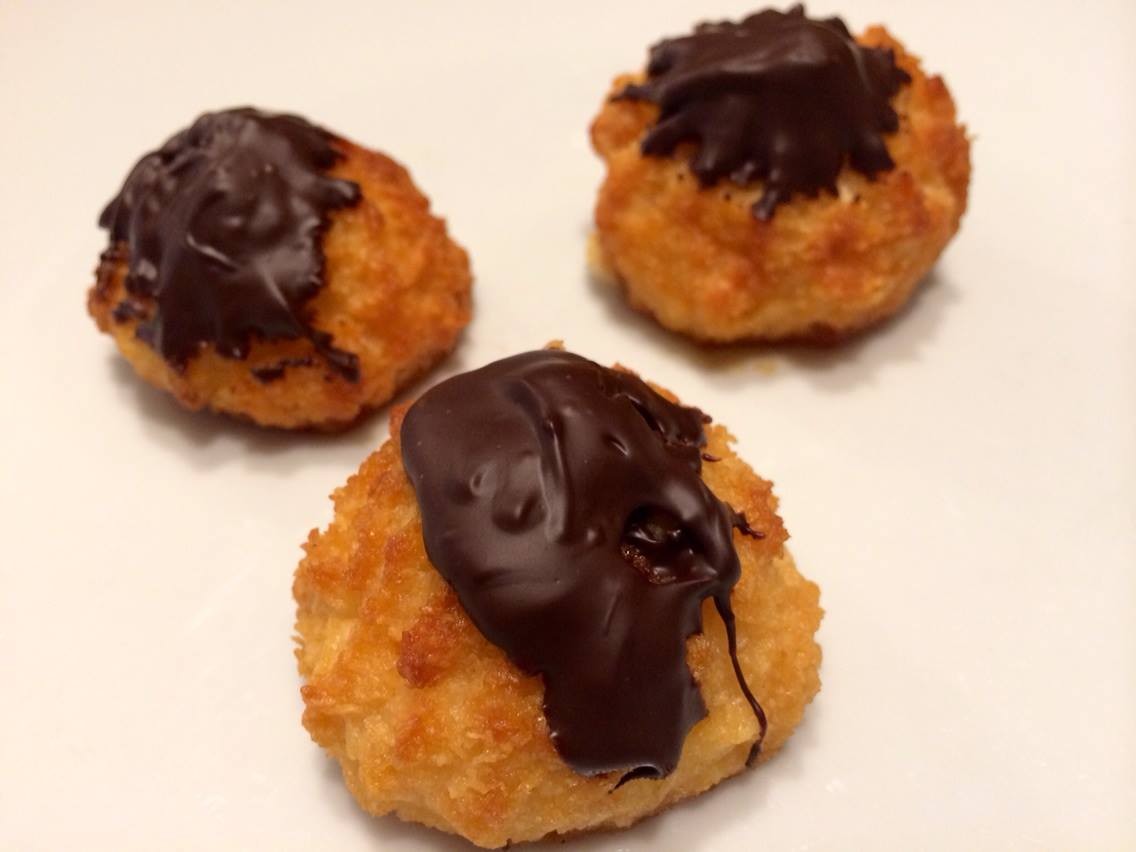 The recipe is fairly simple with only a few key ingredients.
We hope you enjoy the recipe.
Servings: 2 dozen macaroons
Prep Time: 20 Minutes
Cook Time: 25 Minutes
Total Time: 45 Minutes
Ingredients
• One 14-ounce bag sweetened shredded coconut (such as Baker's Angel Flake)
• 7/8 cup (a scant cup) sweetened condensed milk
• 1 teaspoon vanilla extract
• 2 large eggs whites
• 1/4 teaspoon salt
• 4 ounces semi-sweet chocolate or dark chocolate – best quality such as Ghirardelli (We use local chocolate at Ghelfi's on Main Street)
Instructions
1. Preheat the oven to 325°F. Set oven racks in the upper and lower thirds of the oven. Line two baking sheets with parchment paper.
2. In a medium bowl, mix together the shredded coconut, sweetened condensed milk and vanilla extract then set aside.
3. In the bowl of an electric mixer, beat the egg whites and salt until stiff peaks form.
4. Use a large rubber spatula to fold the egg whites into the coconut mixture.
5. Using two spoons, form heaping tablespoons of the mixture into mounds on the prepared baking sheets, spacing about 1 inch apart.
6. Bake for about 25 minutes, until the tops are lightly golden and the bottoms and edges are deeply golden.
7. If dipping the macaroons in chocolate, we melt the chocolate in a double boiler over simmering water. If you do not have a double boiler you can melt the chocolate in a microwave-safe bowl at medium power, stopping and stirring at 30 second intervals, until just smooth and creamy.
8. Dip the tops of the macaroons in the chocolate, letting any excess drip back into the bowl, and return to the lined baking sheets. Place the macaroons in the refrigerator for about 10 minutes to allow the chocolate to set.