March 1, 2015 by Trish Robinson
Cape Cod's Best Bed and Breakfasts were recently identified by the Travel Channel. There are over 250 bed and breakfasts throughout Cape Cod. The Travel Channel article by Christopher Setterlund identified the top ten spanning from Upper Cape Cod through Mid Cape and Lower Cape Cod out to Outer Cape Cod. As members of the Cape Cod Chamber we are very familiar with the wonderful hosts and properties that the Travel Channel identified. Read on to learn a bit about these top ten bed and breakfasts.
The Captain's Manor Inn is honored to be one of these top ten Cape Cod's bed and breakfasts and the only one located in Upper Cape. Located in Falmouth Village, guests love the ability to park the car and stroll to the many boutique shops, restaurants, museums and beaches. Enjoy the Shining Sea bike path and the many walkable gardens and museums in town or perhaps a game of golf, fishing, kayaking, or sunset cruises are on your list. Explore our day trips page for ideas ranging from day tripping to Martha's Vineyard to sailing off for a whale watch.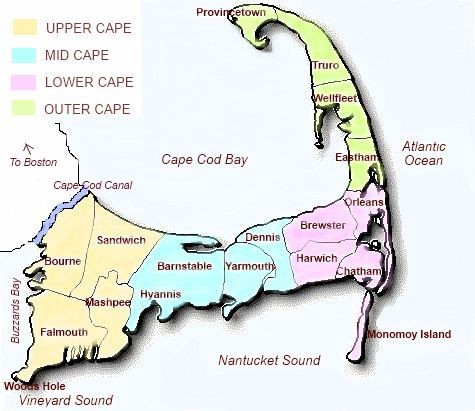 We are also thrilled that The Platinum Pebble Boutique Inn is named as one of the top ten Cape Cod bed and bre

akfasts by the Travel Channel. In 2014 The Captain's Manor Inn partnered with The Platinum Pebble to offer our 2 for 1 package that has been extremely popular with our international guests and our domestic guests. We essentially ease the planning of your Cape Cod vacation by creating a week long package where you spend 3 days at each of our two Inns and during your stay you will day trip to Martha's Vineyard, Nantucket, Heritage Museums and Gardens, plus enjoy a Whale Watch adventure and bike the Shining Sea Bikeway and the Cape Cod Rail Trail. All your ferry and admission tickets are included as part of the package. By staying at The Captain's Manor Inn in Upper Cape Cod (near Martha's Vineyard) and Lower Cape Cod (near Nantucket Island) guests of the 2 for 1 package essentially see all of Cape Cod and the Islands during their week long stay.
The other lovely bed and breakfasts named by the Travel Channel span from Mid Cape to Outer Cape.
In the Mid Cape you will find Captain David Kelly House located in Centerville. Rick and Tom have been welcoming guests to their bed and breakfast since 2009. Their breakfasts are entertaining and delicious. One of our favorite places to enjoy while in Centerville is the renowned Four Seas Ice Cream which is not far from Craigville beach.
Another wonderful bed and breakfast in Mid Cape is Liberty Hill Inn which is located in Yarmouth Port. The Inn is set back from historic route 6A on a little hill. It is always great fun to drive Route 6A and enjoy the many unique antique shops along the route and view beautiful historic Cape Cod homes.
A third bed and breakfast in Mid Cape honored in the Travel Channel top ten Cape Cod bed and breakfasts is the Lamb & Lion located in Barnstable. Ali and Tom have exceptional hospitality experience and their Lamb & Lion Inn is located along the scenic and historic 6A and is a renowned pet friendly bed and breakfast.
As you travel east in Cape Cod you will now move from Mid Cape to Lower Cape Cod. In addition to The Platinum Pebble Boutique Inn there are 3 other Lower Cape Cod bed and breakfasts honored by the Travel Channel in their Cape Cod's Best Bed and Breakfasts selection for 2015.
First we travel to the Old Harbor Inn in Chatham Cape Cod.  Chatham is a quintessential Cape Cod town with a walkable village style center. Some of the favorite spots we like to visit in Chatham are the working Fish Pier and the Chatham Lighthouse Beach and Lighthouse.
Next as you traverse the Lower Cape would be Brewster by The Sea Inn and Spa located in the historic Sea Captain's town of Brewster. A thoroughly enjoyable activity to undertake in Brewster is to bike along the Rail to Trail Bike path which spans 22 miles through Dennis in Lower Cape Cod to Wellsfleet in  Outer Cape Cod. After your bike extravaganza you can enjoy a treatment in Brewster by the Sea Inn and Spa's fully licensed Spa.
Another of the top bed and breakfasts as noted by the Travel Channel in Lower Cape Cod is A Little Inn on Pleasant Bay. This Orleans Bed & Breakfast sits between the historic villages of Chatham & Orleans right at what many refer to as the "elbow" of Cape Cod. Located on Pleasant Bay in Orleans the Inn has beautiful water views and a small beach as well as a dock.
We now leave the Lower Cape to head to the Outer Cape. There are two remaining Bed and Breakfasts to talk about in the Travel Channel designation of top ten Cape Cod bed and breakfasts. These two bed and breakfasts are located in Eastham and Provincetown.
In Eastham you will find the Whalewalk Inn and Spa.The property was originally built in 1830 for a renowned whaling captain and was subsequently a farm before it was purchased and turned into a bed and breakfast in 1953. A highlight of the marshes and open waters that surround Eastham is that they provide some of the best kayaking and canoeing on the Cape.
A short 10 minute drive from the Whalewalk Inn on the way towards the Outer Cape is the famous National Seashore. The Cape Cod National Seashore was created on August 7, 1961 by President John F. Kennedy. This national treasure encompasses over 43,000 acres on the Atlantic Ocean side of Cape Cod and in addition to beachfront includes ponds and woods.
Last but not least is the 8 Dyer Hotel bed and breakfast in Provincetown. Brandon and Steve are your hosts at this beautiful and intimate bed and breakfast located in walking distance of such landmarks as the Pilgrim Monument and the Provincetown Art Association and Museum. It is also just a short walk to the famous Provincetown Commercial Street. Brandon is a chef trained at the Culinary Institute of America so you can expect a yummy breakfast.
We hope you have the chance to visit several of Cape Cod's best bed and breakfasts.
February 20, 2015 by Trish Robinson
What is the best place to watch sunset in Cape Cod is a question we are asked frequently by our guests. After a day filled with activities ranging from shopping the boutique shops in Falmouth Village to exploring the wonders of Spohr Garden or the acres of walking paths in Beebe woods or biking the scenic 11 mile Shining Sea Bikeway it is time to kick back and relax while watching the sunset in the distance. There are any number of locations to choose from that we are happy to share. Falmouth is surrounded by 68 miles of coastline so as you can imagine there are countless opportunities to stroll any number of Falmouth beaches and stop to watch a beautiful sunset. We are happy to share some suggested sunset locations and will highlight the top two locations in a little more detail as well as a sailing option.
One of those spots is Surf Drive Beach which is located just a short mile stroll from The Captain's Manor Inn and is located on Vineyard Sound. Surf Drive Beach is popular as it is just south of Falmouth Village and its many boutique shops and great restaurants. Surf Drive Beach is a long more narrow beach for strolling and tends to be quieter than some other beach options. Surf Drive Beach faces Vineyard Sound you can watch the Island Queen Ferry and the Steamship Authority ferry as they traverse Vineyard Sound to transport visitors back and forth between Falmouth and Martha's Vineyard.  The beach also features calm waves and rock jetties to explore with the Nobska Lighthouse visible to the East.
Another spot to view a spectacular sunset is Old Silver Beach. Of all the Falmouth beaches, Old Silver is the most popular for those seeking a wide and long beach with fine white sand. It is a more active beach due to its popularity with families and children as it is on the Buzzards Bay side and therefore has a bit warmer water (in the 70's) and very calm wave activity.
Two Best Places to watch sunset
So now lets talk about the two best places to watch sunset in Falmouth, Cape Cod. It is a toss up on which of these two is the number 1 best sunset location in falmouth as personal preference will determine so we suggest you explore each one of the two during your getaway to Falmouth. Both of the top two place to watch sunset shared below are also two of the most popular locations for couples to get engaged.
The Knob is an excellent sunset spot and it is best known for its tranquil setting. The Knob is a top attraction in Falmouth at any time of day as reflected on Tripadvisor. The land was donated as a sanctuary by Cornelia Carey in the 1970's. We love sharing a map with guests to guide them to this hidden gem near Quissett Harbor. A trail extends from the Harbor to the Knob overlook and is just under a mile in total length. The trail is very easy to navigate and you can expect to experience numerous bird calls as over 100 species of birds have been logged in The Knob area. The remarkable views from atop The Knob include Buzzards Bay, the Elizabeth Islands and sometimes as far as Rhode Island. You do not have to complete the walk to the end of The Knob to experience a beautiful sunset as you can stop once you reach the beach area and just pick a spot to sit down and relax as the sun sets.
The other outstanding sunset spot is known for the expanse of ocean you can see with Martha's Vineyard in the distance during a sunset. This spot is Nobska lighthouse which overlooks Vineyard Sound and the uninhabited Nonamessett Island (the most easterly of the Elizabeth Islands). A wonderful 1 minute youtube video was recently shared on YouTube.The lighthouse is located at the spot near where Buzzards Bay and Vineyard Sound meet in the Woods Hole village of Falmouth, Cape Cod. The lighthouse has been in this spot since being built in 1828. A short drive from The Captain's Manor Inn, you will arrive at the lighthouse. There is limited parking on site and further down the beach are some other parking options. The views from the lighthouse are just spectacular during the day as well as for sunset. Sitting atop a bluff provides a wide angle of viewing for all the sailing kayaking, ferrying etc. that take place on the beautiful Vineyard Sound.
When you plan your Cape Cod getaway it will be our pleasure to help you plan to watch a beautiful sunset from land or you may opt for a sunset cruise leaving Falmouth Harbor to sail Vineyard Haven.
January 31, 2015 by Trish Robinson
The Pink Polka Dot is located at 45 North Main Street in the Queens Buyway shopping venue of Falmouth Village.
Year Established – The Pink Polka Dot was established in 2009 by Jennifer Chagnon.
The story behind the name/logo – Jen knew she wanted to do wedding planning yet she knew she did not want a name with wedding in it because she did not want to limit herself to just wedding or event planning. Jen had always loved the color pink and there was a store she loved as a kid in Florida called the Purple Turtle. After a bit of brainstorming she decided to create a name with her favorite color in the name and hence The Pink Polka Dot. Jen also designed the logo for the store.


Why This Dream – Jen has always loved planning events. While in college she planned events for her sorority as well as large events like concerts for the student activity office. Jen graduated from Embry-Riddle Aeronautical University and is a licensed pilot. She began her career in the world of aviation insurance. When she planned her wedding the idea crystalized that this was something she wanted to do full time and get out of the corporate cubical lifestyle. She also loved the idea of doing everything in a small business from product selection to marketing and sales and being her own boss.
Fan Favorite Items – A lot of customers come year round to purchase cards at the store. Some customers will come in and purchase 20 or 30 cards at a time and stock up. The Pink Polka Dot carries a lot of very unique artisan cards that are hand made and can not be found anywhere else locally. A favorite happening for Jen is when it is really quiet in the store and she will hear a customer over viewing the cards start laughing at a saying captured in a card and then say "these are the best cards".
Unique Offering – The Pink Polka Dot offers personalized stationery as well as personalized invitations. There really isn't any other location in upper cape cod where you can get personal invitations created based on your color scheme and interest for as few as ten custom invitations to several hundred custom invitations. They provide custom birthday party invitations, retirement invitations, wedding invitations, baby shower invitations etc.
The store also offers a wedding boutique area with numerous ideas and gifts for bridesmaids and groomsmen. The wedding planning area at the store has a wide display of items such as favors and invitations as well as a sample table setting reflecting how you can carry your design color and theme through to your table setting and linens starting from your wedding invitation.
A new line of product they will be carrying in 2015 will be custom stamps such as address stamps and embossers.
Interesting Trivia –
The Pink Polka Dot has achieved the award for The Knot Best of Wedding Planning for 2012,2013,2014 and 2015 and was inducted into The Knot Best of Weddings Hall of Fame in 2015.
The floor in The Pink Polka Dot is the dance floor from the old Hunt Club which was a night club in Falmouth in the 1970's.
The Pink Polka dot was the wedding planner for a Kennedy wedding in Hyannisport in 2012.
General Information
– The Pink Polka Dot is open year round with summer hours daily of 10-6. Winter hours are Monday – Saturday 10-5:30 and on Sunday from 11-3. Winter hours are Monday-Saturday 10-5:30 and closed on Sunday.
January 24, 2015 by Trish Robinson
Homespun Garden is a gift shop in Cape Cod located at 174 Main Street in Falmouth Village. Parking is available on Main Street as well as across
from the store at Town Hall Square or in the large parking lot accessed off of Library Lane which runs between Main Street and Katherine Lee Bates Road.
Year Established – The Homespun Garden store was purchased by its new owner Susan in 2011. Susan had come from the corporate world
and had dreamed for some time of opening a gift shop.
The story behind the name/logo – The previous owner of the store had focused on a lot of garden items such as silk floral arrangements. Susan has diversified the offerings in the shop and moved from a garden shop to more of a gift shop. The store has a diverse selection of fashion items (Wallaroo hats-UPF 50+, scarves-cashmere and alpaca, gloves), jewelry, bath and body, home décor, cards and gifts for the pet lover and their pet.
Fan Favorite Items –
As part of the bath and body offering, Inis fragrance is one customer favorite. Inis is an exciting Irish Cologne for Women and Men known as a scent that embodies the coolness, clarity and purity of the sea.
The Solmate socks at Homespun are so popular that Susan has to continually reorder them to keep them in stock. The socks are multi-patterned and colorful mismatched socks for children, adults, and babies. Read more about them in the unique offering section below.
Other fan favorites are the various items that Susan offers that are made on Cape Cod by local artisans. Some examples are handmade ceramic ornaments by Lori Dawn, beach windows by Robin Paris and also Cape Cod made candles and diffusers, hand etched wine glasses, and jewelry.
Unique Offering
– Susan showcases a number of items that are created from recycled/repurposed materials.
We talked about one fan favorite being the solmate socks. These made in the U.S.A socks are knit from the repurposing of recycled cotton yarn. By using this recycle yarn the amount of cotton waste sent to landfills is reduced. Their yarns also reduce the amount of water, land use, pesticides and herbicides used to grow new cotton fibers as well as eliminates the need for harmful chemicals to dye virgin cotton yarn. The sock designing, knitting, and finishing final touches are completed at small, family-owned businesses in Vermont, North Carolina, and Oregon. Fingerless gloves from SolMate Socks are also available and come in a variety of vibrant patterns. They too are from 100% recycled cotton yarn and made in the USA.
Other popular items using recycled materials are the handmade ceramic and sea glass pottery items and the colorful fish mobiles in the store.
Interesting Trivia
– Based on customer interest and request Susan will be expanding the faith based gift section in the store in 2015.
General Information
–
Homespun Garden is open year round with summer hours daily of 10-6. Winter hours are Monday – Friday 10-5 and on Sunday from 11-6. To reach the store by phone please call (508) 457-4441.
January 10, 2015 by Trish Robinson
The Tuscany guestroom renovation is underway. We thought it would be fun to share some pictures from when we first purchased the Inn 5 years ago , the initial renovations we made and the ones underway now.
2010
When we purchased the Inn the Tuscany room had a Queen bed a sink in the corner or the room next to a closet. As you can see from the closet there was some very old wallpaper one the walls in the closet.
There was a very small bathroom which had a toilet and a small shower with a flexible plastic accordian style door in  a very compact space.
Our first renovations during the spring of 2010 included a new carpet , a new Queen bed, replacement of the louver bathroom door with a solid wood door that we found at the New Bedford Antique and Renovation warehouse, new reclining Queen Anne chairs, and a number of other little changes.
2012
When we did the new 3000 square foot addition in 2012 to add 3 guestrooms we also increased the Tuscany bathroom by more than twice its original size and put a shower/tub combination in the large bathroom and another sink in the large bathroom plus kept the original sink in the corner of the guestroom. We also replaced the Queen bed with a King bed.
2015
We are now in the process of painting the walls in the Tuscany room however we are keeping some of the trompe l'oeil murals. For example, the brick around the closet door and entrance door, the special mural on the exterior of the bathroom entrance and if you look closely you will see two of the original butterflies on one of the guestroom walls. We have also decided to replace the tub/shower combination with a large custom rainshower with a glass door system. That work will begin in late February.
We will update the blog post with new pictures as we get further along.
December 22, 2014 by Trish Robinson
Cider Poached Apples with Cinnamon Yogurt and Caramel Sauce Drizzle is a favorite breakfast fruit dish of customers at our Falmouth Cape Cod Bed and Breakfast and we are happy to share the recipe with you. Each breakfast at the Captain's Manor Inn starts with a fruit dish and scone or muffin before we move onto the main entree of the morning. A fresh fruit cup is always a great way to start and yet as the fresh fruit is less abundant in the spring and late fall/winter this is a great fruit alternative. The recipe below can be modified for a smaller or a larger group based on your needs.
We are providing the ingredients and preparation necessary to Serve 8 guests.
Ingredients
½ Gallon Apple Cider
½ bottle Apple Juice
2 cinnamon sticks
4 Apples (peeled, halved, and cored)
½ cup vanilla yogurt
½ teaspoon ground cinnamon
½ cup chopped pecans, candied
½ cup caramel sauce
Preparation:
1. Bring apple cider, apple juice and cinnamon stick mixture to a boil over high heat. Let boil, uncovered about 25 minutes or until the liquid is reduced by about 1/3.
2. Add Apples, cover and simmer about 15 minutes or until desired tenderness. Remove from heat and let cool. Refrigerate the apples in the cooking liquid overnight.
3. Take your ½ cup of chopped pecans and spread in a single layer on a baking sheet. Sprinkle with a little sugar then toast in a preheated oven at 350 F for 8 to 10 minutes. Use immediately or store in a covered container in the refrigerator.
4. Combine yogurt and ground cinnamon in a small bowl. Pour into a cake decorating bag or a squeeze bottle and then drizzle yogurt on each serving plate. Next place a poached half apple on top of the yogurt sauce. Drizzle more yogurt over the top of the apple and drizzle some caramel sauce then sprinkle with toasted pecans.
We hope you enjoy from all the staff at The Captain's Manor Inn in Falmouth, Cape Cod.
October 26, 2014 by Trish Robinson
Trick or Treat in Falmouth Village was celebrated in grand fashion with the 17th annual Trick or Treat stroll along Main Street on Saturday October 25th. Hundreds of youngsters and their parents came dressed for the occasions in costumes ranging from policemen and fireman to goblins, witches and beloved characters like Elsa of Frozen. We had parents dressed as superheros and sports figures as they escorted their little ones along the street. Restaurants and Retail shops alike offered up goodies to the trick or treaters.
Patches the firedog and Olivia as red riding hood led the parade down Main Street in Falmouth Village.
Eight Cousins Bookstore had Ladybug Girl and Sara the good witch to hand out fun pencils for their treat.
Thank you to the Falmouth Village Association for sponsoring such a family friendly and fun event!
October 24, 2014 by Trish Robinson
Falmouth Village Scarecrows make their appearance again this Fall and Halloween season on iconic Main Street. Over 20 different creative oversize scarecrows are located on the lamposts in front of restaurants, retail shops, the local fire station and several bed and breakfasts in Falmouth Village. The scarecrows went up on October 15th and will remain until late November.
Each year the members of the Falmouth Village Association enjoy showcasing their talents in coming up with a scarecrow character to represent their unique business.
This year some of the unique characters include an oompa loompa scarecrow from Willy Wonka and the chocolate factory located in front of Ghelfi's Candies, a cocktail serving scarecrow in front of the Quarterdeck restaurant, a leprechaun in front of Liam Maguire's Irish Pub, and Popeye the Sailor Man in front of The Captain's Manor Inn. We encourage you to take a stroll along Main Street and enjoy the fun and creative scarecrow's while you stop in to shop at our local shops and restaurants.
September 13, 2014 by Trish Robinson
Jazz Stroll 2014 is set for October 3, 2014 in lovely Falmouth Village. This free event takes place at numerous retail and restaurant locations in Queen's Buyway and along Main Street. Groups performing range from duos to trios as well as quartets and even the big band group Stage Door Canteen at Liam Maquire's Irish Pub to close out this fabulous night. You might even choose to enjoy a jam session to be held at Jacks located at 327 Gifford Street.
Make a night of it and come for a stroll where you can mix musical pleasure with dinner and dessert or a little retail therapy while on for your jazz stroll.
This evening is one of many events that make up 2014 Jazzfest. One of this year's highlight performances will be Grammy Winner Catherine Russell who will be performing at Highfield Theater on Saturday, October 4th at 7:30 pm. Russell is celebrated as a genuine jazz and blues singer who can sing virtually anything. Her Grammy was awarded for her featured work on the soundtrack of the HBO series Boardwalk Empire. Catherine has performed with Steely Dan, Paul Simon, David Bowie, Cyndi Lauper and numerous other musical talents.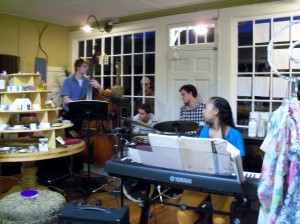 August 28, 2014 by Trish Robinson
A Falmouth historic walk is enhanced this year with the beautiful ceramic birdhouses created by Falmouth High School students in collaboration with the Falmouth Museums on the Green.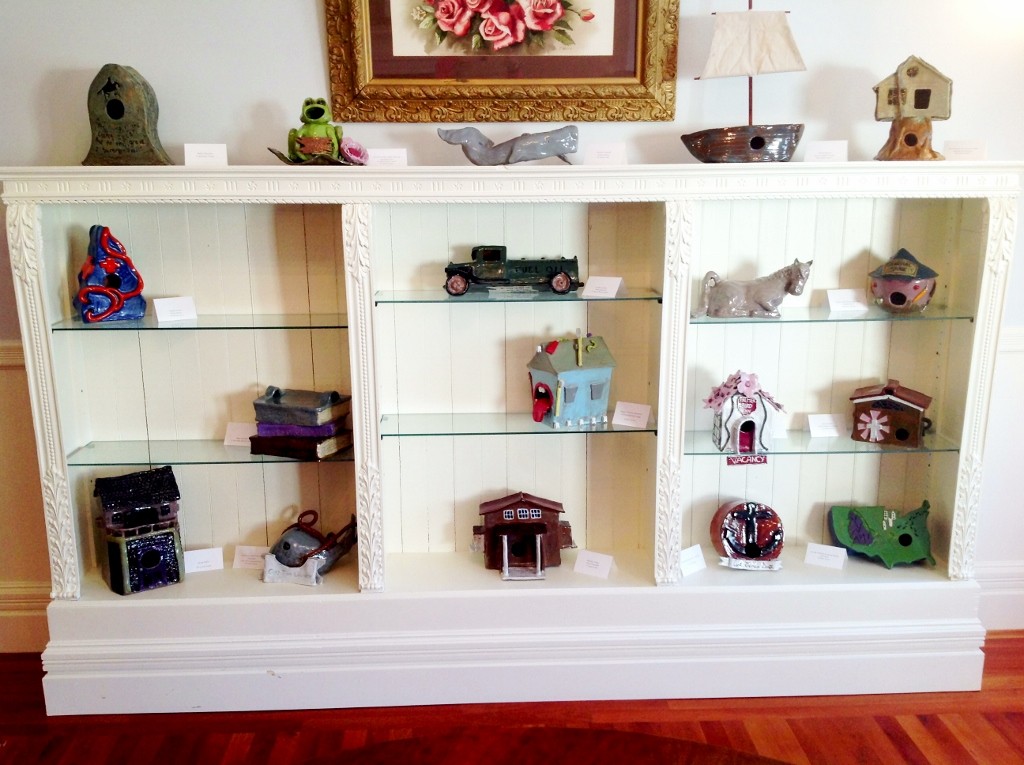 This is a self guided tour through historic Falmouth Village and 28 different homes have these unique birdhouses located in trees in their front yards. Each of the birdhouses was painstakingly created and inspired by architectural, cultural or historic significance of the particular house they selected.
The Captain's Manor Inn is proud to be a part of this endeavor. We are listed as number 12 on the tour and are under the name of Mostly Hall. The Inn was dubbed Mostly Hall back in the 1800's when a young man visiting the home with his mother said "look ma, it's mostly hall" upon stepping into the grande entrance. The name became part of town lore and the house is actually on the National Historic Registry under the name of Mostly Hall.
We share some pictures below and a video of students who made a birdhouse: http://youtu.be/BoNLHNVH2OM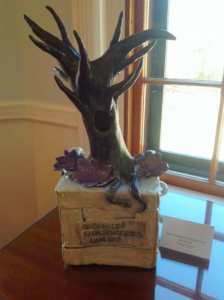 To the left is a picture of the ceramic birdhouse for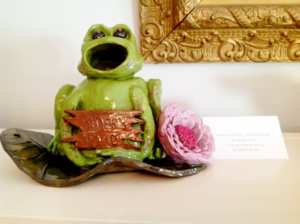 The Captain's Manor Inn (aka Mostly Hall)
and to the right is the ceramic birdhouse for
the Consider Hatch house. Below is a picture
of the ceramic birdhouse for St. Barnabas
Church.