December 22, 2014 by Trish Robinson
Cider Poached Apples with Cinnamon Yogurt and Caramel Sauce Drizzle is a favorite breakfast fruit dish of customers at our Falmouth Cape Cod Bed and Breakfast and we are happy to share the recipe with you. Each breakfast at the Captain's Manor Inn starts with a fruit dish and scone or muffin before we move onto the main entree of the morning. A fresh fruit cup is always a great way to start and yet as the fresh fruit is less abundant in the spring and late fall/winter this is a great fruit alternative. The recipe below can be modified for a smaller or a larger group based on your needs.
We are providing the ingredients and preparation necessary to Serve 8 guests.
Ingredients
½ Gallon Apple Cider
½ bottle Apple Juice
2 cinnamon sticks
4 Apples (peeled, halved, and cored)
½ cup vanilla yogurt
½ teaspoon ground cinnamon
½ cup chopped pecans, candied
½ cup caramel sauce
Preparation:
1. Bring apple cider, apple juice and cinnamon stick mixture to a boil over high heat. Let boil, uncovered about 25 minutes or until the liquid is reduced by about 1/3.
2. Add Apples, cover and simmer about 15 minutes or until desired tenderness. Remove from heat and let cool. Refrigerate the apples in the cooking liquid overnight.
3. Take your ½ cup of chopped pecans and spread in a single layer on a baking sheet. Sprinkle with a little sugar then toast in a preheated oven at 350 F for 8 to 10 minutes. Use immediately or store in a covered container in the refrigerator.
4. Combine yogurt and ground cinnamon in a small bowl. Pour into a cake decorating bag or a squeeze bottle and then drizzle yogurt on each serving plate. Next place a poached half apple on top of the yogurt sauce. Drizzle more yogurt over the top of the apple and drizzle some caramel sauce then sprinkle with toasted pecans.
We hope you enjoy from all the staff at The Captain's Manor Inn in Falmouth, Cape Cod.
October 26, 2014 by Trish Robinson
Trick or Treat in Falmouth Village was celebrated in grand fashion with the 17th annual Trick or Treat stroll along Main Street on Saturday October 25th. Hundreds of youngsters and their parents came dressed for the occasions in costumes ranging from policemen and fireman to goblins, witches and beloved characters like Elsa of Frozen. We had parents dressed as superheros and sports figures as they escorted their little ones along the street. Restaurants and Retail shops alike offered up goodies to the trick or treaters.
Patches the firedog and Olivia as red riding hood led the parade down Main Street in Falmouth Village.
Eight Cousins Bookstore had Ladybug Girl and Sara the good witch to hand out fun pencils for their treat.
Thank you to the Falmouth Village Association for sponsoring such a family friendly and fun event!
October 24, 2014 by Trish Robinson
Falmouth Village Scarecrows make their appearance again this Fall and Halloween season on iconic Main Street. Over 20 different creative oversize scarecrows are located on the lamposts in front of restaurants, retail shops, the local fire station and several bed and breakfasts in Falmouth Village. The scarecrows went up on October 15th and will remain until late November.
Each year the members of the Falmouth Village Association enjoy showcasing their talents in coming up with a scarecrow character to represent their unique business.
This year some of the unique characters include an oompa loompa scarecrow from Willy Wonka and the chocolate factory located in front of Ghelfi's Candies, a cocktail serving scarecrow in front of the Quarterdeck restaurant, a leprechaun in front of Liam Maguire's Irish Pub, and Popeye the Sailor Man in front of The Captain's Manor Inn. We encourage you to take a stroll along Main Street and enjoy the fun and creative scarecrow's while you stop in to shop at our local shops and restaurants.
September 13, 2014 by Trish Robinson
Jazz Stroll 2014 is set for October 3, 2014 in lovely Falmouth Village. This free event takes place at numerous retail and restaurant locations in Queen's Buyway and along Main Street. Groups performing range from duos to trios as well as quartets and even the big band group Stage Door Canteen at Liam Maquire's Irish Pub to close out this fabulous night. You might even choose to enjoy a jam session to be held at Jacks located at 327 Gifford Street.
Make a night of it and come for a stroll where you can mix musical pleasure with dinner and dessert or a little retail therapy while on for your jazz stroll.
This evening is one of many events that make up 2014 Jazzfest. One of this year's highlight performances will be Grammy Winner Catherine Russell who will be performing at Highfield Theater on Saturday, October 4th at 7:30 pm. Russell is celebrated as a genuine jazz and blues singer who can sing virtually anything. Her Grammy was awarded for her featured work on the soundtrack of the HBO series Boardwalk Empire. Catherine has performed with Steely Dan, Paul Simon, David Bowie, Cyndi Lauper and numerous other musical talents.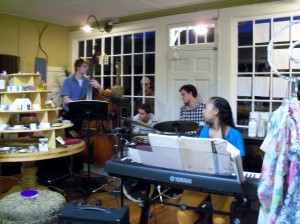 August 28, 2014 by Trish Robinson
A Falmouth historic walk is enhanced this year with the beautiful ceramic birdhouses created by Falmouth High School students in collaboration with the Falmouth Museums on the Green.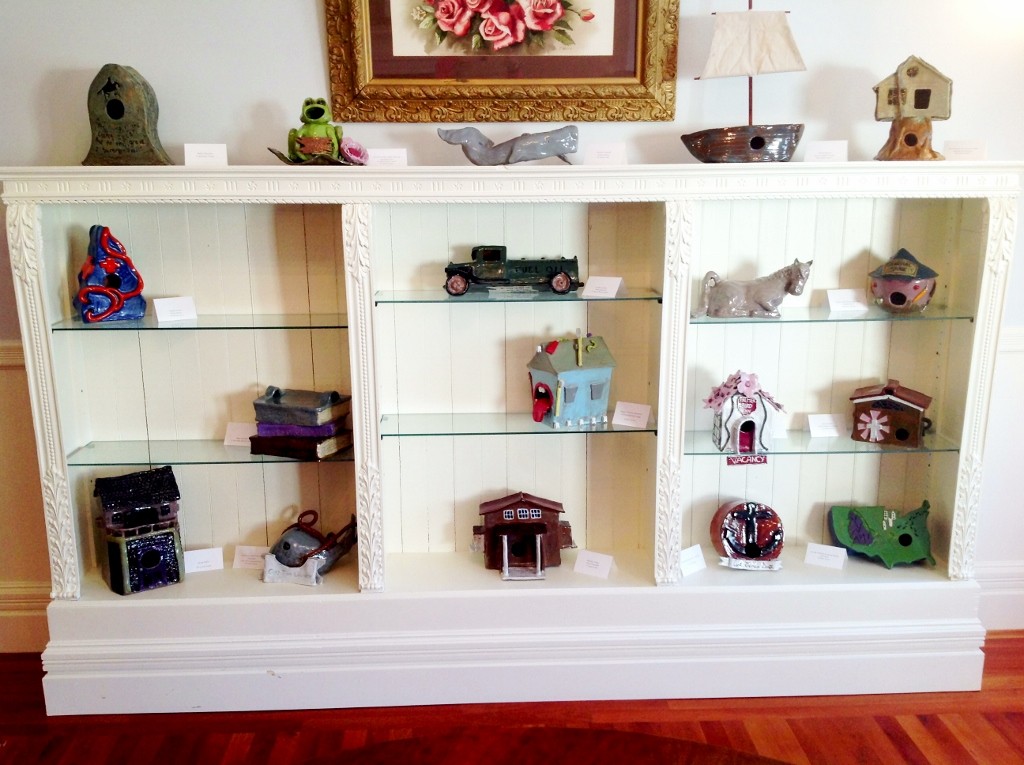 This is a self guided tour through historic Falmouth Village and 28 different homes have these unique birdhouses located in trees in their front yards. Each of the birdhouses was painstakingly created and inspired by architectural, cultural or historic significance of the particular house they selected.
The Captain's Manor Inn is proud to be a part of this endeavor. We are listed as number 12 on the tour and are under the name of Mostly Hall. The Inn was dubbed Mostly Hall back in the 1800's when a young man visiting the home with his mother said "look ma, it's mostly hall" upon stepping into the grande entrance. The name became part of town lore and the house is actually on the National Historic Registry under the name of Mostly Hall.
We share some pictures below and a video of students who made a birdhouse: http://youtu.be/BoNLHNVH2OM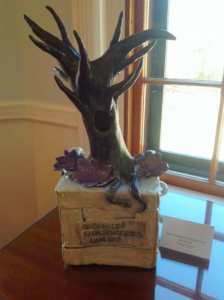 To the left is a picture of the ceramic birdhouse for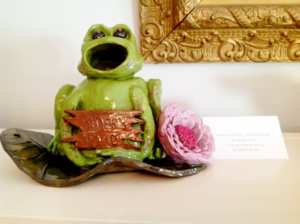 The Captain's Manor Inn (aka Mostly Hall)
and to the right is the ceramic birdhouse for
the Consider Hatch house. Below is a picture
of the ceramic birdhouse for St. Barnabas
Church.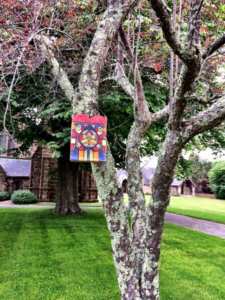 July 29, 2014 by Trish Robinson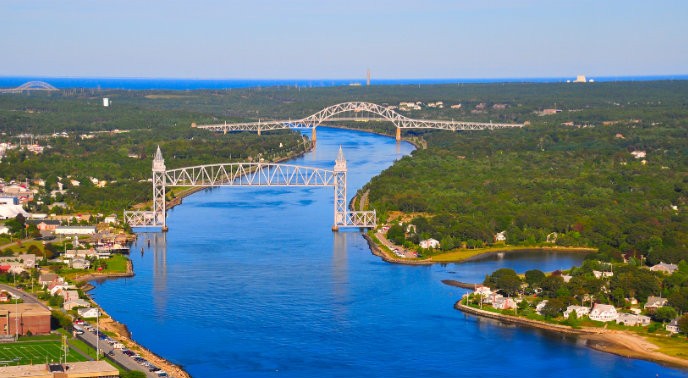 Cape Cod Canal Centennial Celebration activities are well underway with concerts, boat parades, maritime exhibits, fireworks, tall ships and more!
There have been a lot of events that have been underway since July 25th with major activities today which marks the official US Army Corps and Canal Centennial Dedication Ceremonies.
You can tour the T S Kennedy ship today from 9am to 5 pm at the Massachusetts Maritime Academy.T S Kennedy was originally built in 1964 and renamed T S Kennedy in 2001 in honor of the Kennedy family. The T S Kennedy served for over 20 years including several tours to the Persian Gulf as part of the First Gulf War and in 2001 it was moved to Buzzards Bay, MA for use as the training ship for the Massachusetts Maritime Academy. Most recently the ship was deployed to New York Harbor in support of Hurricane Sandy relief efforts with a mission of housing first responders and FEMA personnel.
You can also tour the tall ship Kalmar Nyckel from 9am to 5 pm today and the Schooner Mystic Tall Ships all tours are at the Massachusetts Maritime Academy.
At 4 pm the Tugboat parade begins and will wind through the entire Cape Cod Canal and about 12 tugboats are expected to participate.
The official Canaliversary celebration also starts at 4 pm with concerts , games , antique cars and more culminating in a spectacular fireworks show over the railroad bridge starting around 9 pm. David Mugar and B4 productions who have put on some of the most fabulous fireworks shows will be producing the show.
For complete up to date information visit www.capecodcanalcentennial.org
July 22, 2014 by Trish Robinson
Falmouth Commodores are set to play the Bourne Braves at their home field of Guv Fuller. The Field is located on Main Street in Falmouth behind the Gus Canty Community Center.
July 20, 2014 by Trish Robinson
Falmouth Commodores take on the Wareham Gateman at their home field in Falmouth. The Guv Fuller Field is located behind the Gus Canty Community Center on Main Street.
July 19, 2014 by Trish Robinson
Falmouth Commodores take on the Orleans Firebirds at Guv Fuller Field which is located behind Gus Canty Community Center on Main Street in Falmouth Cape Cod.
July 16, 2014 by Trish Robinson
Falmouth Commodores take on the Chatham Anglers at Guv Fuller Field located on Main Street in Falmouth behind the Gus Canty Community Center.