May 10, 2014 by Trish Robinson
Falmouth Bed and Breakfast Garden Tour as part of Falmouth Village Blooming Events will be held from 1-3 pm on May 10th Mother's Day Weekend. Four Inns will participate in the free garden tour. The Captain's Manor Inn will be transforming a large garden bed from barren ground to a full garden with assistance from Iscape Landscaping and Property Management and Brick Kiln Farm both of which are local Falmouth companies. The Palmer House will be conducting a session on creating a container herb garden. Bailey's by the Sea will hold a garden open house. The Woods Hole Passage Bed and Breakfast will hold a garden tour and build your own fairy tree house for children.
May 10, 2014 by Trish Robinson
Small Visions by artist Shirah Neuman will be on display at the Falmouth Museums on the Green from May 10th – June 21st.
May 4, 2014 by Trish Robinson
Family Maypole Celebration promises to be a fabulous time for family members of all ages. After a long cold winter and early spring this weekend promises to bring some sunshine and warmer weather. Enjoy crafts, music and games as well as meet artist Alfie Glover and admire The Spirits of the Garden sculpture! The Maypole Dance will take place at 3:00 pm. For more information go to www.highfieldhall.org
April 24, 2014 by Trish Robinson

Falmouth Village Blooming is a celebration of all that is Spring. The spring celebration kicks off on May 1st with a self guided tour through Falmouth Village to view May Baskets on display.
You have a chance to vote on the Falmouth Village Facebook page for your favorite as participants vie for the People's choice award.
Enjoy Flower Power Happy Hours at participating restaurants from 3- 5 pm during the first two weekends of the May. Throughout the Village be on the lookout for Blooming Bargains at all the participating retail shops.
Some of the very special scheduled events include: Cinco de Mayo celebration at Anejo's Mexican Bistro on May 5th, Ring around the Maypole at Highfield Hall on May 4th, Annual Falmouth Beautification Sale on May 10th, Just for Kids Colonial Gardening at Falmouth Museums on the Green on May 10th and the Falmouth Bed & Breakfast Association Garden Tour on May 10th from 1 – 3 pm.
There is something fun for everyone during Falmouth Village Blooming. For the latest information and schedule click here to go to the Falmouth Village website.
March 27, 2014 by Trish Robinson
Highfield Hall Garden Programs start on May 17th from 10-11:30 am with a special lecture by Louis Raymond. His lecture is titled Plays Well with Plants: Creating a Garden of a Lifetime. Louis is a professional landscape designer located in Rhode Island and he has had his work highlighted in major publications as well as being featured on various national and local television shows.
Following the Louis Raymond lecture there is a special fund raising luncheon opportunity being offered at an elegant home in Gansett where you can view gardens especially designed by Mr Raymond. The fund raising for this special event will benefit the plantings and gardens of Highfield Hall.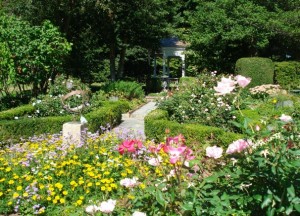 On June 21st the next presentation at Highfield Hall will be held and will be given by rose expert Gretchen Ward Warren. Her presentation is titled Historic Roses of Woods Hole and she will share the remarkable history of the rambler rose varieties which were developed in Woods Hole over a century ago by Michael Walsh. She will also share historic photographs of the rose garden on the Fay estate in Woods Hole where Michael Walsh was the Head Gardener.
March 12, 2014 by Trish Robinson
Cape Cod Hurricane Photos from 1944 were part of a number of recently discovered historic photos many featuring The Captain's Manor Inn formerly known as Mostly Hall. We came across a number of very impressive photos while working with the Falmouth Historical Society and we are going to be doing a few postings so we can share with you a little bit of Falmouth history.
In this posting we are sharing pictures of some of the devastation on Cape Cod here at the Captain's Manor Inn during the 1944 Hurricane. This storm carried winds peaking at 145 miles per hour and as a category 2 storm. Because the storm was so massive in both its size and intensity it was given the title the Great Atlantic Hurricane and it was the first storm to get a name by the National Hurricane Center then based in Miami and known as the Miami Hurricane Warning Office. One sad fact is that the storm was famous for sinking what was known as the lightship LV Vineyard Sound killing all 12 men who were on board.
February 22, 2014 by Trish Robinson
Master chefs teach at Highfield Hall this spring for the sixth year running. During the months of April through June, a number of local and not so local chefs will be on hand at Highfield, teaching the art of cooking.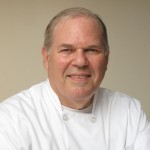 One of the exciting offerings is with Personal Chef, Alan Zox. Allen's recipes will focus on vegetables and are very much in sync with America's growing interest in learning to eat less meat. This is a three-part series or you can opt to register for a single class. The classes include demonstrations, tastings and product information. You will learn how to make featured recipes from the award winning cookbook, Jerusalem . Classes are held at 3 PM on April 2, April 23, and May 14.
Highfield is thrilled to have Chef Jean-Jacques Paimblanc  demonstrate some of his favorite dishes on April 6 at 1 PM. Chef Paimblanc is a founder of the certificate program in the culinary arts at Boston University along with Julia Child and Jacques Pepin.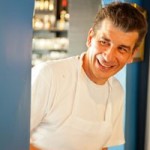 Join admirers of Chef Frederic  Feufeu for a delectable experience. Chef Feufeu is the owner of Blue, an award winning restaurant in Mashpee Commons just a 20 minute drive from Falmouth. This April 27th at 1 pm will mark Chef Feufue's sixth teaching appearance at Highfield.
During June there are three offerings with different experts in the Seafood Specialties Series.
On Sunday, June 1st at 3 pm a Seafood Specialties Series will be conducted. Linda Depres will be your teacher. Linda spent 40 years in our own Woods Hole at the National Marie Fisheries Service as a fishery biologist. She will provide you with insight into how to choose the seafood you purchase and answer any questions you might have on the art of cooking with fish. This cla
ss includes wine tastings along with the seafood offerings.
Come to cook on June 8th at 3 pm with Elaine and Karin Tammi who have shared their extensive experience in the cookbook Scallops.  The class will provide instruction, tastings and a wine pairing focused on all you need to know about preparing and cooking scallops.
The third in the Seafood Specialties Series will be held on June 15th at 3 pm with David Shahzade  the owner of Falmouth Fish, a highly regarded local fish market in Falmouth for over 25 years. This class will include seafood and wine tasting and David will talk about endangered species and local seafood.
For more information or to register for any of these foodie events please click here.
February 4, 2014 by Trish Robinson
The carriage house construction is well underway here at The Captain's Manor Inn in beautiful Cape Cod. We are hopeful for an April 1 completion in line with the contract and yet it could be April Fools on us. That being said we are very much looking forward to completion of the Carriage House at which time Kevin and I will move over from the Inn to the Carriage House and the current apartment in the Inn will become available for an Assistant Innkeeper that we plan to hire this Spring.
The carriage house doors have been crafted to look authentic and we are in the process of looking for antique hinge hardware to finish them off. We made a trip to New Bedford to the Salvage Warehouse where they have incredible artifacts from old houses, barns and buildings that have either been demolished or remodeled. We have not found the hardware yet but we keep looking. Take a look at where we are now and how we got there.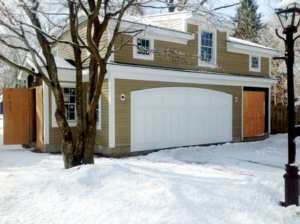 February 1, 2014 by Trish Robinson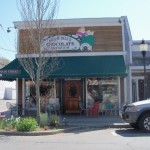 National Chocolate Month is February and it is a time to celebrate for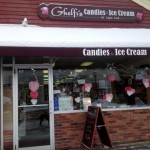 all of us chocoholics! Pretty much a day does not go by that I don't have a little bit of chocolate. We are lucky here in Falmouth, Cape Cod that just a short stroll down from The Captain's Manor Inn on Main Street in Falmouth Village are two great places to satisfy your chocolate cravings.
You may stop in at Ben and Bill's Chocolate Emporium or Ghelfi's Candies or like many guests visit and sample both. At Ben and Bill's many of our guests love the mocha chip ice cream which has the largest pieces of chocolate you can enjoy. A favorite of guests who frequent Ghelfi's Chocolates are there different flavored salted caramels from milk chocolate to dark or white chocolate and even crème brulee.
You don't have to wait for Valentine's Day to search for that special chocolate treat any time this month will do. The healthy benefits of chocolate are being lauded in all sorts of magazines such as Women's Health, and even the Wall Street Journal had a story.
Chocolate is even being talked about as a superfood. Of course for us chocoholics, National Chocolate Month is not even enough. So if you need a reason to justify why you are eating chocolate why not follow the national chocolate day calendar.
THE YEAR IN CHOCOLATE HOLIDAYS

January 3:               National Chocolate-Covered Cherries Day
January 8:               National English Toffee Day
January 10:             National Bittersweet Chocolate Day
January 27:             National Chocolate Cake Day
February:                National Chocolate Lovers Month
February 1:             National Dark Chocolate Day
February 14:           National Cream-Filled Chocolates Day
February 19:           National Chocolate Mint Day
February 28:           National Chocolate Soufflé Day
March (week 3)       American Chocolate Week
March 19:               National Chocolate Caramel Day
March 24:               National Chocolate-Covered Raisins Day
April 21:                 National Chocolate-Covered Cashews Day
May:                      National Chocolate Custard Month
May 1:                   National Chocolate Parfait Day
May 2:                   National Chocolate Mousse Day
May 3:                   National Chocolate Custard Day
May 12:                 National Nutty Fudge Day
May 15:                 National Chocolate Chip Day
June 3:                  National Chocolate Macaroon Day
June 7:                  National Chocolate Ice Cream Day
June 16:                Fudge Day
June 26:                National Chocolate Pudding Day
June 22:                National Chocolate Eclair Day
July 7:                   Chocolate Day
July 8:                   National Milk Chocolate with Almonds Day
July 28:                 National Milk Chocolate Day
August 4:              National Chocolate Chip Day
August 10:            S'mores Day
August 20:            National Chocolate Pecan Pie Day
September 12:      National Chocolate Milkshake Day
September 13:      International Chocolate Day
September 22:      National White Chocolate Day
September 27:      National Chocolate Milk Day
October:               National Caramel Month (with Chocolate)
October 18:           National Chocolate Cupcake Day
October 28:           National Chocolate Day
November 7:         National Bittersweet Chocolate with Almonds Day
December 12:       National Cocoa Day
December 16:       National Chocolate-Covered Anything Day
December 28:        National Chocolate Day
December 29:        National Chocolate Day
Source: National Confectioners Association, Foodimentary, CandyUSA.com.