September 23, 2016 by Trish Robinson
When looking for a unique vacation activity, a helicopter tour of Cape Cod could be the perfect choice. From way up high you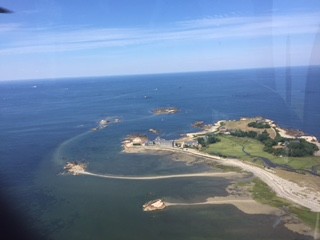 are able to see the beauty of Cape Cod from a view not many get to witness. Tours of Boston are also a very popular choice. Recent guests here at The Captain's Manor Inn went to see for themselves and reported it was an amazing experience.
One of the best Places to set out on a tour is Ryan Rotors in Plymouth, MA. Ryan's Rotors has a variety of 5 different tours, each unique in their own way. If you do not like what you see while researching their options, it is possible to create your own custom tour with them. Below is a list of the tours they offer:
Life's a Beach Tour
Canal Cruise
Cranberry Harvest and Fall Foliage Tour: True New England fall experience
Sunset Tour: Customizable to where you want to watch the sunset
Boston Tour: 60 Minutes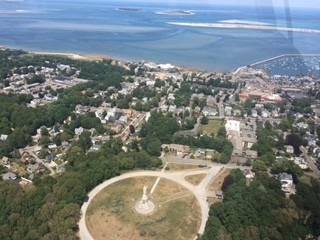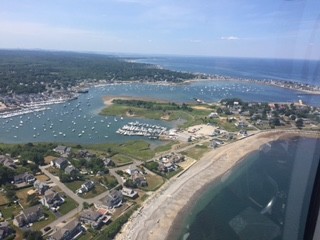 The company that our guests used was Heliops, which is Boston's longest operating charter company. Although Heliops offers less variety of tours, they come highly recommended! Here you can do a Boston tour, South Shore tour, or design a custom
tour of your own !
With the summer coming to an end and the warm beach days dwindling, I could not think of a better Cape Cod adventure to go on! The month of September is starting to become the unofficial fourth month of summer on Cape Cod. Vacationers favor coming in September because of the drop in population, and doing a helicopter tour of Cape Cod can be a great way to spend quality time with loved ones while taking in amazing sights. Below are some pictures of the tour our generous guests provided us with.
August 14, 2016 by Trish Robinson
Dine like a local when you visit us on Cape Cod! There's not much in life that's better than good food. Well, maybe the beach. Lucky for you, our little part of the world has both. We're going to give you the low down on how to chow down in Falmouth and beyond just like we do.
Outdoor Dining
Añejo Mexican Bistro and Tequila Bar (pronounced Ah-nyay-ho)
BEST spot in Falmouth to people watch. Situated right smack dab in the middle of Main Street, their large outdoor patio looks out onto the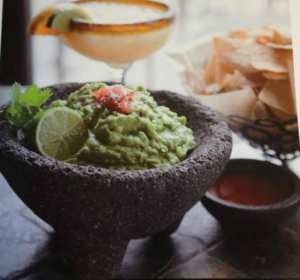 summer bustle taking place on the downtown sidewalks. Cape Cod Magazine voted Añejo best Mexican food AND best margaritas on Cape Cod and we couldn't agree more. We'll start with drinks. If you're in the mood for a margarita (and when are you not) we recommend the house – it's simple and clean the way the margarita gods intended. El Jimador Blanco, Patron Citronge, organic sugar cane and squeezed lime. Not overly sweet, just the way we like it. If you are in the mood for sweet (and a little spicy) try their blood orange margarita made with jalapeño infused tequila. Olé! The menu for lunch and dinner is fantastic. Don't leave without trying one of their tortas, everything needs a side of a lá carte guacamole and throw in some Mexican street corn for good measure – you will not be disappointed. The kicker? It's o.2 miles away. A beautiful 5 minute walk is all that stands between you and the best Mexican food on the Cape when you stay with us! Local Tip: If you head in for a margarita and the place is packed (which it can be on a summer evening) grab a drink at the bar and head out the side door – they've got couches, tables and lights in the side ally between the restaurant and Twigs (an adorable local shop). Sip in peace!
Out-Of-This-World Food
Are you in the mood to be dazzled? Then The Glass Onion is the choice for you. Steps away from your room at The Captain's Manor Inn, you will be amazed at the artful combination of flavors the chef prepares. We recommend the lobster strudel for an appetizer. In case that name alone didn't completely sell you, in addition to lobster, you'll be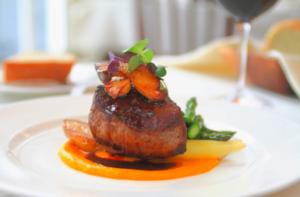 snacking on mascarpone, oven dried tomatoes (which have a roasted sweetness unlike anything else), and of course, what vacation appetizer is complete without a lobster butter drizzle? Is your mouth watering yet? Because we haven't even gotten to the entree! You can choose between filet, shrimp, duck, house made gnocchi, lobster (because there is officially no such thing as too much lobster when you're on Cape Cod) or a nightly special. Whatever you do, leave room for dessert. The Glass Onion has been hand making small batch ice cream for years and with flavors like peach pie and guava… it cannot be missed. If you've overdone it at dinner and simply can't fit another thing… don't worry. We've got you covered.
If you head in during normal business hours and ask the hostess, you can purchase ice cream in a cone and enjoy it on their back patio! So just head back the next day, refreshed and re-hungry!
Summer Vibe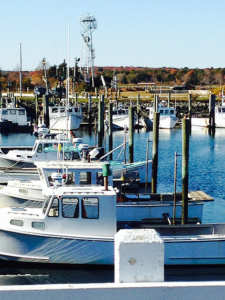 The Pilot House is situated on the Canal in the Sandwich Marina. Beautiful water views combined with a nice big yard and great food will create a memorable afternoon! We recommend heading over for a late lunch or early dinner to take full advantage of the well placed adirondack chairs. Order a cocktail from the outdoor bar, hunker down and enjoy. Don't feel like moving but you're getting hungry? No worries! The waiters and waitresses are happy to bring you menus and you can dine where you sit! If you haven't worked up an appetite yet, you'll notice ring toss, corn hole, and more! Feel free to walk around the spacious lawn and enjoy. Most days there's live music to add to the summer time vibe! This place is perfect for a mouth watering fried seafood plate, crab cakes, calamari, mussels and more! As we mentioned, this restaurant is in Sandwich with is just under a 30 minute drive. If you'd like to test it out before you commit – head over to The Quarterdeck on our very own Main Street (a 10 minute walk from the Inn). Both restaurants are owned by the same family, and both serve delicious Cape Cod fare! Local Tip: Have you been wondering where to get a good lobster roll? Look no further. You've found it.
Take-Out on the Beach
The British Beer Company (The BBC to locals)
Are you in the mood to dine with your toes in the sand? We've got you covered. The local British Beer Company is located directly across the street from Falmouth Heights Beach. As soon as you walk in you'll be transported to a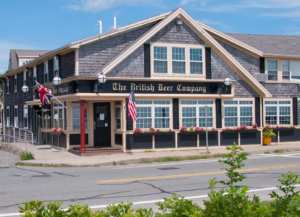 London pub. The decor, the music, soccer on the tele… it's foggy London town! If you're a beer drinker, saddle up to the bar. The BBC boasts one of the best beer lists in town. The taps are ever changing and the bartenders are super friendly and helpful. If you describe what kind of beer you typically prefer, they'll be able to suggest something new to try. If you're not a beer drinker, you don't have to feel left out. They've got a great selection of wine and offering of specialty cocktails. As you sip your pint at the bar, have a look at the menu. This is the British Beer Company, so dishes like fish and chips and bangers and mash are unbeatable. But they've got a wide selection of pizza, burgers, sandwiches and more. Finish your drinks, ask for your food to go and head across the street to the beach. If you time it right, you can watch the sun set as you enjoy a little British food as you sit on the shores of New England. Local Tip: After you're done eating, head back over to the BBC – it's one of the best spots for live music in an intimate setting in Falmouth!
Wood's Hole
Are you in the mood for a beautiful drive down to Wood's Hole? Then be sure to stop into Quicks Hole Tavern for a bite. Open year round and a favorite for Vineyard ferry commuters, Quicks Hole Tavern has everything you could ask
for all wrapped up into a beautiful seaside view. It's one of our favorite places to sit and watch the ferry come in and out. They serve lunch in their upstairs dining room, fine dining on the second floor, and the first floor pub is open seven days a week offering a pub menu. What more could you ask for? The best part about this restaurant besides the views, the cocktails, the ambiance (okay there are a lot of bests) is the inventiveness of the menu. You can try Avocado Toast with chili spiced deviled eggs as an appetizer, whisky rubbed salmon and a bag of donuts for dessert! Whatever you're in the mood for, you will not be disappointed… or bored! This is a great place to head after a nice hike down to The Knob. Local Tip: You've got to try the "Pig Candy," an appetizer made with house-smoked pork shoulder braised in maple syrup and house spices, served on guava puree with celery sprout garnish. It's been described as 'addictive' and we can't agree more!
Again, these are just a few of our favorites. Just to give you a little taste of the local flavor. There are plenty more local favorites, and we'll be happy to share them all with you! But this is just enough to get you started so you can dine like a local when you come to visit!
August 3, 2016 by Trish Robinson
These Peach Streusel Muffins are sure to be a hit to bake at home for family or friends. You might even like to bring them for a party. What is so great about these muffins is that they can easily be served as an afternoon snack, which we have done here at The Captains Manor Inn. This is a great way to use up peaches that might be going to the "dark side". The streusel topping is the perfect crunchy addition to the moist and flavorful muffin. Fun Fact: you can substitute other fruits if you are not a peach fan, try apples !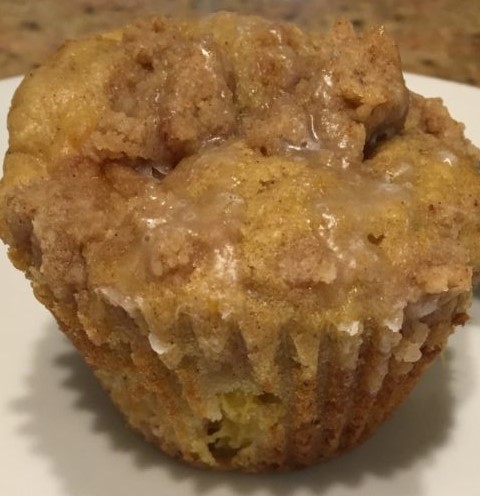 Peach Streusel Muffins
yield: 12 Standard size muffins
Ingredients:
Crumb Topping
-1/3 cup packed light or brown sugar
-1 Tablespoon granulated sugar
-1 teaspoon ground cinnamon
-1/4 cup unsalted butter, melted
-2/3 cup all purpose flour
Muffins
-1/2 cup unsalted butter, softened
-1/2 cup packed light or brown sugar
-1/4 cup granulated sugar
-2 large eggs
-1/2 cup yogurt (greek or regular)
-2 teaspoon vanilla extract
-1 and 3/4 cup all purpose flour
-1 teaspoon baking power
-1 teaspoon baking soda
-1/2 teaspoon ground cinnamon
-1/8 teaspoon allspice
-1/2 teaspoon salt
-3 Tablespoon milk (any kind)
-1 and 1/2 cups peeled, chopped peaches (3 peaches)
Glaze
1 cup confectioners sugar
3 Tablespoon heavy cream (or milk)
1/2 teaspoon vanilla extract
Directions:
First, make the crumb topping: In a medium bowl, combine both sugars, the cinnamon, and melted butter. Using a rubber spatula, stir in the flour. The crumb topping will be thick and crumbly. Set aside.
Preheat oven to 425F degrees. Spray a 12-count muffin pan with nonstick spray. Set aside.
Make the muffins: In a medium bowl using a handheld or stand mixer fitted with a paddle attachment, beat the butter on high speed until smooth and creamy, about 1 minute. Add the brown sugar and granulated sugar and beat on high until creamed, about 2 full minutes. Scrape down the sides and bottom of the bowl as needed. Add the eggs, yogurt, and vanilla extract. Beat on medium speed for 1 minute, then turn up to high speed until the mixture is combined and uniform in texture. Scrape down the sides and bottom of the bowl as needed.
In a large bowl, toss together the flour, baking soda, baking powder, cinnamon, all-spice, and salt. Pour the wet ingredients into the dry ingredients and slowly mix with a whisk. Add the milk, gently whisking until combined and little lumps remain. Fold in the peaches with a wooden spoon or rubber spatula.
Spoon the muffin batter evenly between all 12 muffin tins. There may be enough to make a 13th muffin in a 2nd batch, depending if there were a few extra peach chunks thrown in. Fill the muffin tins until they are full all the way up to the top. Press a handful of the crumb topping into the top of each; crumble it with your hands to make some big chunks.
Bake for 5 minutes at 425F degrees, then keeping the muffins in the oven, lower the oven temperature to 350F degrees and bake for 15-19 more minutes or until a toothpick inserted in the center comes out clean.
Make the glaze: whisk all of the ingredients together and drizzle over warm muffins.
Make ahead tip: Muffins stay soft, fresh, and moist in the refrigerator for up to 5 days. Muffins freeze well for up to 2 months. Thaw overnight in the refrigerator and heat up (if desired) before enjoying.
July 28, 2016 by Trish Robinson
Blog by Lauren LaScalia (sous-chef at Captain's Manor Inn)
Whale Watching in Provincetown, Cape Cod is the perfect summer outing. Over the fourth of July weekend, I ventured  down route 6 to Provincetown. I was excited to check out a place I had never been to but had heard so much about. Immediately when I entered the heart of town, I felt the infectious energy and excitement of the people walking down Commercial Street. We decided to park, explore, and grab some lunch to take on our whale watching excursion on the Dolphin Fleet IX.
Lunch in Provincetown
The Canteen restaurant came highly recommended from a friend. We walked by their intriguing shack building and were excited to try it out. I went with my friend's recommendation and got the cod bahn mi sandwich. This delicious sandwich is composed of pickled fresh cod, cucumbers, and carrots topped with garlic aioli and sirracha on perfectly toasted ciabatta bread. It definitely lived up to the hype. This lunch was very fresh and vibrant to eat on a hot day in the sun. With lunch in tow, we headed to the Dolphin Fleet Dock to board the boat we would spend the next couple hours on.
Whale Sightings
We were early to board the boat so we got first pick of some great seats at the front of the boat. Once the boat started moving, I purchased a very appropriate Cisco Brewery Whales Tale Pale ale to enjoy for our ride out to sea. About one hour into the trip we arrived at the perfect spot to see some whales. I had heard it might be likely we would not see one so I was extremely excited at my first sighting.  Three whales even swam right under us and came out the other side. I had never seen anything like it. I was now really starting to appreciate the fact I was witnessing an endangered species in their own natural habitat. At the end our host of the trip told the group we had seen around 30 whales!
Why Provincetown?
The Perks of this day trip to Provincetown included great food, art and picturesque shops, and most of all the amazing whales we saw. Below are some pictures from our trip.

Photo Credit : Stephen Atkinson
July 22, 2016 by Trish Robinson
Blog by Lauren LaScalia (sous-chef at Captain's Manor Inn)
It's that time again, your Barnstable County Fair on Cape Cod has come to town!
Every July at the Cape Cod Fair grounds vendors of all sorts pile onto the grounds ready to set up shop for the week. The Barnstable county fair is always fun for all ages. With plenty of rides, games, music, and even a demolition derby, there is something for everyone to enjoy.
The Demolition Derby
Being a newbie to the county fair scene, I could not wait to go on Derby night to watch all the car commotion. Personally, I couldn't believe this type of activity was even safety approved, but it sure was fun to watch ! All different types of beat up cars with special numbers on them were in a serious fight and the crowd was loving it. We skipped out early from the derby to avoid the crowds and made our way to some rides.
Rides for the Adventurous
I cannot lie and say I am a huge fan of amusement rides, however I will support the people I am at the fair with and watch them have fun ! We walked
around to all the different types and ended on one I will gladly participate in, the Ferris Wheel. We hopped into our four seater and up we went. It was amazing to check out the fair scene from that high. You can really get a good picture of how big of an event this really is from the top of the Ferris Wheel. After everyone had their ride fun it was time for my favorite part, the classic fair food !
 Classic County Fair Food
With so many options for food, I was overwhelmed. Did I want a blooming onion, corn dog, cotton candy? I had heard a lot about and was told I must try a very special food vendor called "Steak on a Stick. We circled the Fair grounds twice looking for it, but with no luck! They must have taken the year off. We ultimately settled on a blooming onion and a corn dog from the neighboring stand. It was just as delicious as I imagined. I realized while I was eating, the main reason I wanted to come to the fair was for the food.
Falling right in the middle of summertime, the Barnstable County Fair is always great fun for you to enjoy with friends or family. You need to know that although the Fair might cause traffic around the area, it is definitely worth the adventure. For the kids there are plenty of age appropriate activities. Some of the children friendly activities are a petting zoo, horseback riding, and fair games. Not to worry..for adults there is the Demolition Derby, live music. Take note that for the first time ever this year they will be selling beer. You can enjoy the fair over the weekend from 12 pm – 10 pm and 12pm- 9pm on Sunday, don't miss out on this classic Cape Cod event ! You can see a schedule of events at the fair here. Also below are some pictures from our time at the fair.
Photo Credit: Stephen Atkinson
July 19, 2016 by Trish Robinson
Beach like a local when you're on Cape Cod!
Falmouth is home to over 60 miles of coast. That's a lot of beach! In the summer, most of these miles are filled with sun seekers looking for a classic Cape Cod experience. Well we're going to let you in on something. There are actually two classic Cape Cod experiences. One, of course, is to pack up the car, head out early, find sticker parking and wade through the crowds in the sand. And there is nothing wrong with this option… however… sometimes (namely in high tourist season) many Cape Codders prefer the eliteness of the elusive "Secret Cape Cod Beach."
There are many secret beaches on Cape Cod. In fact, there are many secret beaches right here in Falmouth! So we don't lose our good standing in the local community we will only divulge a few. BUT, if you come and stay with us… we just may be willing to share a few more. So long as you promise not to tell 🙂
Great Sippewissett Marsh Beach
Don't let the name fool you. Yes this beach abuts a march (which is absolutely gorgeous). When your back is to the marsh, it looks like a Grecian island. This beach has the best of everything. You can set up camp in front of the rolling waves. Or you can elect to treck around the protected peninsula and cross the stream where the marsh meets the canal. The unique landscape creates your very own lazy river that empties into the sea, It's truly a sight to behold. You could spend all day bopping from biome to biome all within one spot. Bring your floats, and let the ocean river carry you to relaxation, You may be wondering how to get there… it's tricky but that is by design, First step – ditch the vehicle and grab your bike! After all, is there anything more Cape Cod than biking to a beach? Take the Shining Sea Bike Path to Chapoquoit Road in Falmouth. Now take one quick left hand turn and you'll find yourself on a dirt path to paradise. Simply ride your bike down the path until it opens up onto the marsh. Kick stands down, now head in on foot. Take your time and pick your spot… there's nothing but beach! Great for: Swimming, floating on a raft, all day picnicking, beach games, cooler friendly.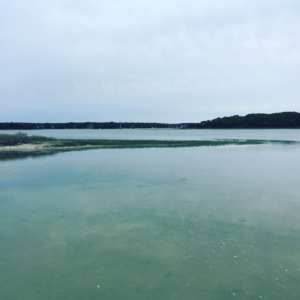 The Secret Chappy Beach
Locals and tourists alike love Chappy Beach. BUT, if you truly want to beach like a local, you need to know about the secret Chappy Beach. This one you can drive to if you please, but Shining Sea Bike Path will get you there no problem. Regardless of how you get there, just get there. And when you're finally facing the wide open ocean and the throngs of people… turn around. Cross the parking lot. Cross the road. You'll see a small opening in the dunes and the grass. What's that? It's a path. Scoot down the path and you'll be met with your own private beach! This locale is perfect for fishing, lounging, reading, or soaking in the rays. It's super quiet and a perfect place to take a bottle of wine as the sun comes down and watch the horseshoe crabs and plovers dart about their land. Great for: fishing, lounging reading, evening stroll.
Waquoit Bay Secret Beach
This is another marsh meets beach gem stone. Except, you can drive here. Just outside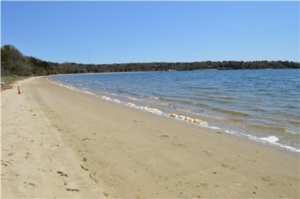 of Falmouth, technically within the confines of Mashpee, you'll find Waquoit Bay National Estuary which is absolutely gorgeous. Amazing for bird watching, sun bathing, swimming, hiking, watching the sunset and plenty more! After cruising down Will's Work Rd, the path will turn to a dirt road, so it helps if you have an able vehicle. Drive down until you can't drive any further and throw it in park. Hop out and melt away into the sounds of the sea shore. You'll see more birds here than at any other beach on this part of the Cape. It's amazing! Great for: bird watching, swimming, hiking, watching the sun set, evening stroll, sunrise hike.
BONUS Points Beach:
If you're looking to go for a beautiful evening walk and perhaps would just like to dip your toes in the water, the Shining Sea Bike Path will have just what you need. If you take it up to mile 7.5, and take a left onto Chase Rd. you'll see an absolutely iconic view of our little part of the world. You can absolutely hit all of these spots in a day – all but Waquoit are accessible via the bike path. So when you stay with us, we invite you to be a local on your vacation. And here's how to beach like one!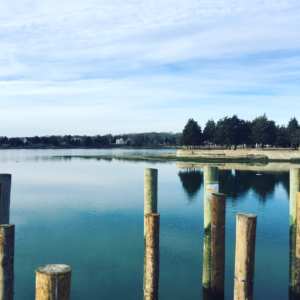 July 10, 2016 by Trish Robinson
Get away to Cape Cod and have your own drone adventure on Cape Cod with Sky Flik. Working with Sky Flik we created a video of The Captain's Manor Inn and favorite Falmouth Cape Cod landmarks. We thoroughly enjoyed the experience. Now we have a number of great stills photos and a video for potential guests to get a realistic view of our Inn and the Falmouth area. During your next visit to Cape Cod why not add our drone adventure package to your stay? Scroll down our blog to see still pictures from our drone adventure and read about some of Falmouth's favorite landmarks.  In our slightly less than 3 minute drone video you will see aerial views of our grounds, Falmouth Village, Nobska Lighthouse, the Shining Sea Bikeway and The Knob.
Drone Footage of Captain's Manor Inn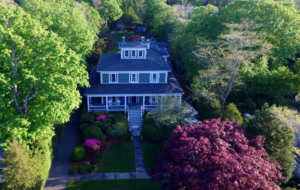 We had a gorgeous spring day for our drone adventure in Cape Cod as we took the footage for the grounds of the Inn and the surrounding area. Our desire was to show the expanse of the grounds because often guests are surprised at the depth of the gardens.  Jason piloted the drone as if you were driving down the driveway to the back gardens and gazebo to provide a true feel of the space. One of our favorite clips is where the drone is returning from Falmouth Village and you get a great view of Siders Pond and you can see how close we are to the ocean.
Shining Sea Bikeway
For bikers, joggers, and walkers the Shining Sea Bikeway is a treasure. You just take a left out of our driveway and then a few houses down take another left to get to the bikeway. We love to walk south on the bikeway to Woods Hole. A nice stop along the way is the Salt Pond bird sanctuary just to your left on the bikeway. Stroll the winding paths around Salt Pond then then hop back on the bikeway headed to Woods Hole.
Drone video
This 11 mile flat bikeway is great in terms of its varied scenery. Heading south you will pass several ponds and you will hug the ocean facing Martha's Vineyard. Your reward at the end could be a baked goodie at Pie in the Sky or a lobster taco at Quicks Hole Taqueria in Woods Hole. When you head north on the bikeway you will traverse beautiful marshes and cranberry bogs.
The Knob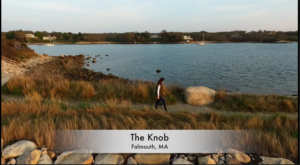 The knob is a tranquil area that has been preserved for Falmouth natives and visitors alike and where you can view incredible sunsets. It was a gift to the Salt Pond Bird Sanctuaries by Cornelia L. Carey in the early 1970s. For many Falmouth natives and visitors alike The Knob remains a bit of a hidden gem. At one time The Knob was part of a 16-acre property purchased by Carey's family in 1877. You can still see some of the former resort buildings that made up the Quissett Harbor House, was a popular resort for nearly a century which closed in 1975.
From our Inn you take a right out of the driveway, then a left onto Woods Hole Road and at your first light take a right onto Quisset Harbor road. At the end of the road you are across from Quisset harbor where you will find about 20 parking spaces. Park your car and you will see the entrance path to The Knob. Walk along the harbor, next to Little Sandy, the first of the three beaches along The Knob.
Your scenic walk on the trail is just under one mile from the start to The Knob overlook. At the end of your walk you will be treated to fabulous views of Buzzards Bay atop The Knob. Based on the weather and how clear the sky is you may also see the Elizabeth Islands to the south.
For the nature lover and romantic we highly recommend a visit to the Knob to view the sunset.
 Nobska Lighthouse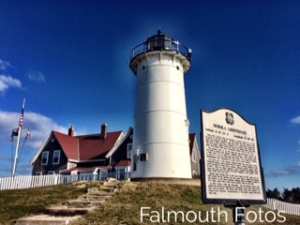 Nobska Lighthouse was established in 1828 to protect sailors in Vineyard Sound and Buzzards Bay.
Just a few miles from our Inn, Nobska lighthouse stands on a bluff overlooking Vineyard Sound. From the bluff you can view Martha's Vineyard, the Elizabeth Islands, and Woods Hole Passage. From 1828 until 1939 the Nobska Point Lighthouse was operated by the U.S. Lighthouse Service. In 1939 the U.S. Lighthouse service merged with the U.S. Coast Guard. The US Coast Guard's Commanding Officer was in residence at the lightkeepers cottage on property until 2013.
In 2014, based on the need for significant repair, the Coast Guard started looking for bidders to assume responsibility for the lighthouse, tower, and land surrounding the structures. There were contingencies to include that the property would continue to belong to the federal government and therefore must be open to the public for free. Through a lot of work and cooperation the Town of Falmouth was the successful bidder. The Town gave responsibility for restoration, maintenance and operation as a museum to the Friends of Nobska Light. The Friends plan to complete restoration work and open the museum and tower not later than 2020.
Drone video
July 5, 2016 by Trish Robinson
Lets revisit Diners, Drive ins, and Dives in Falmouth
It has been just over a year since Guy Fieri hopped in his red Camaro and traveled to Falmouth. Now with the busy summer season kicking off, we suggest a revisit of Diners, Drive ins, and Dives trip to Falmouth, Massachusetts. "Triple D", as the show is affectionately known is a travel food show. The host is celebrity chef Guy Fieri who travels all over the country to explore the delicious hot spots where the locals go. Last May Falmouth was bussing and excited awaiting Guy's rumored visit.  Guy and his film crew picked 4 restaurants in Falmouth for his TV show.
The Pickle Jar Kitchen
Guy picked one of our favorite lunch spots that we recommend to our guests, The Pickle Jar Kitchen. The PJK is just a couple minute walk down to Falmouth Village from our inn They have been offering breakfast and lunch since 2013 for both the on and off season. If you want breakfast it is important to get their before 11 am when they switch and only offer their equally delicious lunch menu.  Guy focused on the famous fried pickle chips, and the open face BBQ pulled pork on a fresh cheddar scallion scone. Yum ! Just last month two of our guests did a day trip with an overnight stay specifically for the pickle chips!
Parkside Market
The next stop on the Falmouth Food tour was just down the street from Pickle Jar. This second stop is also a breakfast and lunch joint named Parkside Market. Parkside is the sister restaurant to Waterside Market  located across the water on Martha's Vineyard island. Guy really seemed to love their Tex Mex breakfast plate. The Tex Mex includes 2 eggs over sweet corn cakes, house pico, black bean hummus and avocado. If you are going there for lunch, I suggest you try the highlighted sandwich, the CAB- chicken, avocado, bacon, melted cheddar, and ranch on fresh baked ciabatta bread. To this day I'm still not sure if it is pronounced C-A-B or just the word CAB, but either way it is one of my favorite sandwiches in Falmouth !
Shuckers
For the folks who come to Cape Cod for the Lobster, Guy took Diners, Drive ins, and Dives down the street to Woods Hole. While there they visited a local  favorite, Shuckers World Famous Raw Bar. Owner Kevin Murphy showed Guy how he makes the lobster baked cod entrée. Guy was definitely impressed with the light and fresh taste of the local seafood. In addition, the segment highlighted the experience that comes with lunch or dinner at Shuckers. That experience is enjoying classic Cape Cod Cuisine with views of the water that can't be beat.
Dana's Kitchen
Last but not least, Triple D traveled off the beaten path in Falmouth to a local favorite, Dana's Kitchen. This family run spot offers homemade sweet and savory dishes created by Dana, and her husband Art. Dana and Art met at The Culinary Institute of America. Guy got a taste of two lunch favorites, the Portuguese kale soup and their signature soft shell crab sandwich, he seemed to be very pleased with both !
In recent years, the impact of travel food shows has been huge. These shows give travelers the inside scoop on the food scene of their destination before they even get in a car or on a plane. Cape Cod and more specifically Falmouth is one of the countries most popular summer destinations, so it was only a matter of time before Diners, Drive ins and Dives explored what this town has to offer foodies of all kind! The spotlight Triple D has put on Falmouth has brought guests to town just to try the dishes Guy raved about!
June 17, 2016 by Trish Robinson
Beer Bed and Breakfast Cape Cod celebrates its 3rd year over the November 4-6, 2016 weekend. We are happy to be a part of this November tradition.
Welcome Reception
Your Captain's Manor Inn Beer Bed and Breakfast weekend starts with light hors d'oeuvres and beer in our Bistro on Friday
night from 5-6:30pm. Then take a stroll into town and enjoy dinner at any of our fabulous foodie restaurants. Whether you are in the mood for seafood, italian, mexican, thai, or fine or casual dining you will  find it in Falmouth Village.  Visit our restaurant page to read about some of our guests favorite restaurants.
Saturday morning you will be treated to a multi-course breakfast. After breakfast you may choose to explore Falmouth Village or bike the Shining Sea Bikeway. If you are feeling more adventurous you might hike one of our many scenic trails. When you arrive back at the Inn we will have fresh baked goodies and refreshing drinks for you to enjoy at your leisure.
Beer Tasting Menu
Saturday evening you will  enjoy the highlight of the weekend at Quicks Hole Tavern an award winning restaurant in Woods Hole While dining, can enjoy beautiful views of the sunset and the Martha's Vineyard ferry while savoring your special Beer tasting dinner. The menu for your evening will include four local craft beers, lobster taco bites, a mini kale salad with corn, black beans and a cilantro cumin dressing, plus slow roasted chicken tacos on a locally made corn tortilla with shredded cabbage, freshly grated sharp cheese, pico de gallo and queso fresco. To top off your beer and light tasting menu you will be treated to a desert specialty of Quick's Hole Tavern namely their famous "bag of donuts".
Your Weekend Souvenir
Sunday morning you'll enjoy another multi-course breakfast. As a souvenir of your Cape Cod Bed and Breakfast weekend getaway you will take home a custom Captain's Manor Inn beer tankard.
The beauty of Falmouth is that it is truly a year round community. Other parts of the Cape have stores and restaurants that close after Columbus day. Our shops and restaurants in Falmouth Village and Woods Hole are open for business. In fact October and early November are becoming increasingly popular as times to get away and enjoy Cape Cod. During late fall, the crowds have thinned out and there is still plenty to do from hiking all the great trails in the area to starting your Holiday shopping at the unique shops in town and of course enjoying top restaurants without the wait you would have in the summer.
All inclusive pricing includes your guestroom, breakfasts, Friday reception, Saturday dinner and Tankard souvenirs. A Queen guestroom is $449 plus tax and a King guestroom is $489 plus tax. We do have 3 premium King guestrooms with fireplaces ($529 plus tax) and a 2 story suite ($569 plus tax) if you would like to upgrade.
Check availability and book online click the button below. Then select your room and add on the Beer, B&B weekend package.

June 15, 2016 by Trish Robinson
Wine and Music Wednesdays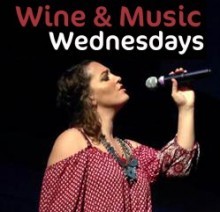 Wine and Music Wednesdays happen every third Wednesday of the month at the Cotuit Center for the Arts. The first event was held in March of 2010 and it has grown each year in popularity. Held in the gallery, wine and music Wednesdays are an open house from 6pm-7:30pm with wine tasting and live music. Cotuit Center for the Arts was founded in 1993 and has worked since to create a welcoming environment for artists, performers, and audiences to appreciate and partake in the creation of art. The center offers a variety of educational programs, performances and exhibitions.
This is the perfect stop on your way to dinner; have a drink while looking at beautiful art which will make fantastic dinner conversation. Tickets are $10 and available only at the door.