February 16, 2016 by Trish Robinson
Cape Cod's Jazz Scene
Cape Cod's jazz scene is unlike that of any other area.
Current 2016 Jazz events:
Pre-Season Social!
This Thursday, February 18th, 7-9 PM 
Come to our second social at Quicks Hole Tavern featuring Scott Shetler (clarinet, mandolin, sax, vocals), Bruce Millard (guitar, mandolin) Joe Sutton (guitar, vocals),  and Woods Hole Jazz founder Tom Renshaw (bass).   Enjoy a rousing evening of blues, swing, and gospel in an informal atmosphere. No cover. Tips appreciated.
Thursday, March 3rd – Vocalist/Trumpeter Christine Fawson with Phil Wilson
The talented and entertaining Fawson brings her Berklee mentor, legendary trombonist and Grammy-nominee Phil Wilson. $25, $20 in advance. Learn more.
Wednesday, March 23rd – Dave Zinno Quartet Bassist Dave Zinno returns to Woods Hole with top trumpeter Jason Palmer, Tim Ray (piano), and Steve Langone (drums).
Thursday, April 14th – Nadia Washington (vocals, guitar) One of NYC's top up-and-coming vocalists, a blend of rock star Janis Joplin and jazz queen Nina Simone.
Tuesday, April 26th – Frank Wilkins with Toni Lynne Washington An encore performance by Boston's Queen of the Blues.
Sunday, June 26th – Kate McGarry 
A 2013 Grammy nominee for Best Jazz Vocal album, McGarry effortlessly blends styles with a repertoire that ranges from jazz classics to broadway to folk.
2015 Jazz Fest Falmouth – September 26 – October 4
Enjoy lectures, recitals, concerts, jam sessions, a jazz brunch and a jazz stroll during the eight day celebration presented by Arts Falmouth. The jazz stroll will take place on Friday, October 2nd and promises to be a night full of great music. Downtown Falmouth will come alive on Friday night. The shops and restaurants from Queen's Buyway and along Main Street will showcase an assortment of groups ranging from classic swing to avant-garde with a little blues thrown in. Just wander in and out;  it's all free.  The 2015 line up features both local favorites and award winning ensembles. Each performance time is staggered giving you an opportunity to hear a variety of jazz styles throughout the evening. Click here for the 2015 Jazz Stroll lineup.
September 26:  Robert Wyatt on Louis Armstrong
September 27:  Pianist Jon Weber on almost everything else about jazz
September 30:  Toni Lynn Washington, Queen of the Blues
October 2:  Jazz Stroll along Main Street
October 3:  Denise Donatelli in concert at Highfield Theater
October 4:  Goodis & Glenn Jazz Brunch at Persy's
Woods Hole Jazz – September 30 – November 11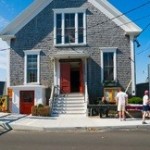 Jazz has been a long standing tradition on Cape Cod and the Woods Hole Community Hall building has been home to jazz music for over thirty-five years. Toni Lynn, known as Boston's "queen of the blues" will be performing in September with the Frank Wilkins Quartet both of whom grew up playing in church so their music has undeniable gospel influences. With one performance per month from September – November, this fall is the perfect time to book a trip. Click here for ticket information and to read more about the musicians.
September 30: Toni Lynn Washington with the Frank Wilkins Quartet
October 20: Donna Byrne
November 11: The Harry Allen Trio
Martha's Vineyard Jazz & Blues Summerfest – September 3-6
Sheila Baptista, founder and producer of the Martha's Vineyard Jazz & Blues Summerfest began the festival in 2008 with only word of mouth marketing and donated a portion of the proceeds to help support regional efforts to spread a vital message regarding breast cancer, early detection, courses of treatment and positive recovery. The festival has grown rapidly each year and has become an event that locals and vacationers alike look forward to each year. The first night is held in Oak Bluffs and the following three nights are held in Edgartown. Click here for ticket information.
September 3: Jazz Giants 25 and Under
September 4: Lisa Fischer, Sharel Cassity, Andrea and James Rohlehr and the Andjam Band
September 5: Women of the World, Sage All Ladies Jazz and Blues
September 6: Nnenna Freelon, Jazz Pianist Yayoi Ikawa, Jazz Gospel Violinist Kersten Stevens
Cape Cod Jazz Festival – September 1 & 2
The twelfth annual Cape Cod Jazz Festival takes place this year at the Wequassett Resort & Golf Club in Chatham. Mary C and the Stellars, performing on September 2 have been featured on MTV, VHI, Bravo, and NBC. Performances are free an open to the public and take place at the resort's garden terrace overlooking Pleasant Bay. Dine alfresco at the resort's restaurant Twenty-Eight Atlantic while you listen to the smooth sounds of the summer.
September 1: The Mark Greel Band
September 2: Mary C and the Stellars
Jazz has been touted as one of America's original art forms, and has been around for over a century. Enjoy the improvisational rhythms and melodies of an American classic on beautiful Cape Cod this fall.
January 18, 2013 by insideout
There's something so appealing about visiting a lighthouse. It may be the magnificent scenery, or the history it represents, or simply the romance of the sea.
From the upper Cape just over the bridge, to the tip of the Cape in Provincetown there are countless lighthouses to be explored. Right in Falmouth, Cape Cod we have our very own Knobska's lighthouse which is one of the most photographed lighthouses in New England.  It has often been the site for a romantic proposal at sunset.
Scroll below the map and read about a suggested scenic lighthouse day trip.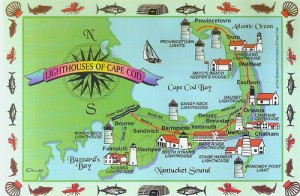 A Day trip of lighthouse sightseeing could go like this:
After breakfast at the Captain's Manor Inn drive down Mill Road to Surf Drive and take a right driving along the beautifully scenic Vineyard Sound until you reach Knobska Lighthouse.  Feel free to park and explore. Free guided tours are available on certain dates during the year.
After leaving Knobska Lighthouse we suggest you head down Rt 28 towards Chatham at the "elbow" of Cape Cod.  Once in Chatham head down Main Street to the Lighthouse.  This is an active lighthouse managed by the U.S. Coast Guard and was originally built in 1877.
Your next suggested lighthouse stop is in the town Eastham which is part of the National Seashore. Some fascinating history comes with Nauset Lighthouse. The lighthouse was originally built in 1887 and was in Chatham. It was moved from Chatham to Eastham in 1923 to replace what was known as the Three Sisters Lighthouses. Since that time the Three Sisters Lighthouses have been restored. A little trivia is that the Nauset lighthouse is the logo for the Cape Cod Chips company.
After your visit to the Nauset seashore we suggest you head towards Provincetown at the tip of Cape Cod. There are three lighthouses in Provincetown. At this outermost tip you will find the Wood End and Longpoint Lighthouses which were built in 1872 and 1875 respectively.  Race Point Lighthouse was the first lighthouse to be built at the end of the Cape in 1816. Of the three lighthouses only Race Point is opened to the public during the summer season.
Now it is time to head back to relax at the Inn and if you feel so inclined you may stop at one more lighthouse which is located in Truro. What makes this lighthouse really special is that it was the first lighthouse built in Cape Cod and it was ordered so by George Washington in 1797.
When you arrive back at The Captain's Manor Inn it should be just in time to enjoy a glass of wine on the veranda before taking a stroll into Falmouth Village to enjoy dinner at one of our many wonderful restaurants.
June 22, 2011 by insideout
For a couple of weeks in late June and early July, over 14,000 lavender plants at Cape Cod Lavender Farm burst into purple bloom.  Come stay at The Captain's Manor Inn and venture off to visit this beautiful spot. The farm is on 20 secluded acres, and surrounded by 60 acres of conservation land.  We have had guests who want to take a day trip to Chatham or Provincetown, make the farm a stop on the way to those towns or on the way back to our Falmouth Cape Cod bed and breakfast.
The Cape Cod Lavender Farm is one of only two such farms in Massachusetts — the other is  located in Franklin County and is a smaller lavender farm.  "Lavender tourism" started in the late 1990s in the United States.
Some of the products sold at the Lavender Farm include lavender chocolate ($2.75), lavender shortbread ($8.25) and lavender-lemon marmalade ($8) a jar, lavender soap ($7.50 a bar), hand cream ($7.50), candles ($18), herbes de Provence — a mixture of herbs for cooking sold for $14.95 for eight ounces — and the fresh and dried bunches, $10, and buds, $12 for a half-pound bag.