July 10, 2016 by Trish Robinson
Get away to Cape Cod and have your own drone adventure on Cape Cod with Sky Flik. Working with Sky Flik we created a video of The Captain's Manor Inn and favorite Falmouth Cape Cod landmarks. We thoroughly enjoyed the experience. Now we have a number of great stills photos and a video for potential guests to get a realistic view of our Inn and the Falmouth area. During your next visit to Cape Cod why not add our drone adventure package to your stay? Scroll down our blog to see still pictures from our drone adventure and read about some of Falmouth's favorite landmarks.  In our slightly less than 3 minute drone video you will see aerial views of our grounds, Falmouth Village, Nobska Lighthouse, the Shining Sea Bikeway and The Knob.
Drone Footage of Captain's Manor Inn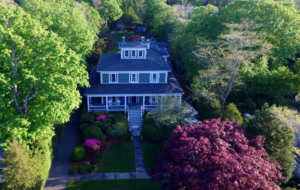 We had a gorgeous spring day for our drone adventure in Cape Cod as we took the footage for the grounds of the Inn and the surrounding area. Our desire was to show the expanse of the grounds because often guests are surprised at the depth of the gardens.  Jason piloted the drone as if you were driving down the driveway to the back gardens and gazebo to provide a true feel of the space. One of our favorite clips is where the drone is returning from Falmouth Village and you get a great view of Siders Pond and you can see how close we are to the ocean.
Shining Sea Bikeway
For bikers, joggers, and walkers the Shining Sea Bikeway is a treasure. You just take a left out of our driveway and then a few houses down take another left to get to the bikeway. We love to walk south on the bikeway to Woods Hole. A nice stop along the way is the Salt Pond bird sanctuary just to your left on the bikeway. Stroll the winding paths around Salt Pond then then hop back on the bikeway headed to Woods Hole.
Drone video
This 11 mile flat bikeway is great in terms of its varied scenery. Heading south you will pass several ponds and you will hug the ocean facing Martha's Vineyard. Your reward at the end could be a baked goodie at Pie in the Sky or a lobster taco at Quicks Hole Taqueria in Woods Hole. When you head north on the bikeway you will traverse beautiful marshes and cranberry bogs.
The Knob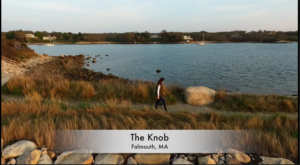 The knob is a tranquil area that has been preserved for Falmouth natives and visitors alike and where you can view incredible sunsets. It was a gift to the Salt Pond Bird Sanctuaries by Cornelia L. Carey in the early 1970s. For many Falmouth natives and visitors alike The Knob remains a bit of a hidden gem. At one time The Knob was part of a 16-acre property purchased by Carey's family in 1877. You can still see some of the former resort buildings that made up the Quissett Harbor House, was a popular resort for nearly a century which closed in 1975.
From our Inn you take a right out of the driveway, then a left onto Woods Hole Road and at your first light take a right onto Quisset Harbor road. At the end of the road you are across from Quisset harbor where you will find about 20 parking spaces. Park your car and you will see the entrance path to The Knob. Walk along the harbor, next to Little Sandy, the first of the three beaches along The Knob.
Your scenic walk on the trail is just under one mile from the start to The Knob overlook. At the end of your walk you will be treated to fabulous views of Buzzards Bay atop The Knob. Based on the weather and how clear the sky is you may also see the Elizabeth Islands to the south.
For the nature lover and romantic we highly recommend a visit to the Knob to view the sunset.
 Nobska Lighthouse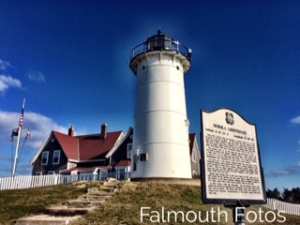 Nobska Lighthouse was established in 1828 to protect sailors in Vineyard Sound and Buzzards Bay.
Just a few miles from our Inn, Nobska lighthouse stands on a bluff overlooking Vineyard Sound. From the bluff you can view Martha's Vineyard, the Elizabeth Islands, and Woods Hole Passage. From 1828 until 1939 the Nobska Point Lighthouse was operated by the U.S. Lighthouse Service. In 1939 the U.S. Lighthouse service merged with the U.S. Coast Guard. The US Coast Guard's Commanding Officer was in residence at the lightkeepers cottage on property until 2013.
In 2014, based on the need for significant repair, the Coast Guard started looking for bidders to assume responsibility for the lighthouse, tower, and land surrounding the structures. There were contingencies to include that the property would continue to belong to the federal government and therefore must be open to the public for free. Through a lot of work and cooperation the Town of Falmouth was the successful bidder. The Town gave responsibility for restoration, maintenance and operation as a museum to the Friends of Nobska Light. The Friends plan to complete restoration work and open the museum and tower not later than 2020.
Drone video
March 27, 2016 by Trish Robinson
Cape Cod Renovations of some nature always seem to be on our agenda at The Captain's Manor Inn. During this off season we tackled the plan of creating a two story suite. For a couple of years we had wanted to find a way to incorporate the wonderful cupola on the top of the Inn as part of  the Forbes guestroom. We could not be happier with the results. The project included moving a wall to include the original 1800's staircase into the room so guests could head up to their private reading/tv room getaway. We were also able to enlarge the bedroom and upgrade from a Queen to a King bed. During the renovation process we even uncovered a piece of the original wallpaper. Our firsts guests said they feel like they are up in the trees and love the 360 degree views.  A two story suite in Cape Cod is a rarity and we have been excited to create this special romantic getaway.
We also decided to do some further renovation to the Tuscany guestroom. Just two years ago we enlarged the bathroom and made some other changes.  We had not yet repainted the room in its entirety as there were a number of Tromp L'oeil murals in the room by a well known Romanian artist. After much deliberation we decided it was time to completely renovate the room. So we have repainted the room, added new chairs, taken out a corner sink in the room and added a desk. Last but not least we changed the bed from a iron King bed to a four poster King Cherry wood bed. We hope you enjoy the pictures of both projects below:
Cape Cod Renovations creating our Forbes Cupola Suite:
Cape Cod Renovations of the Tuscany Guestroom:
June 28, 2015 by Trish Robinson
Highfield Hall Open House will begin at 12:30pm and go until 3:00pm. Enjoy a narrated estate walk at 12:30 where you will learn about the glorious grounds of the Highfield Hall estate.
A highlight of the Highfield Hall open house will be the fairy houses that you will find throughout the property. In fact from 12:30pm to 1:30 pm there will be a Fairy House Making Workshop.
There will also be an artists reception from 1 – 3:00 where the work of three distinct mediums will be showcased to include Glass: by Bryan Randa's ; Paper Nests: Huguette May drawings and photographs; and Cut Paper: Selections from The Guild of American Papercutters.
For more information on this or other events at Highfield Hall click here.
July 23, 2014 by Trish Robinson
Falmouth Commodores take on the Brewster Whitecaps at their home field in Falmouth Cape Cod. The Guv Fuller Field is located on Main Street behind the Gus Canty Community Center.
July 20, 2014 by Trish Robinson
Falmouth Commodores take on the Wareham Gateman at their home field in Falmouth. The Guv Fuller Field is located behind the Gus Canty Community Center on Main Street.
June 6, 2014 by Trish Robinson
One Night Wonder Getaways are those rare open single nights especially on a weekend and during the summer in Cape Cod. Perhaps you have a chance for one night, just the two of you, away from the kids or maybe you need to make a business trip to Falmouth and only need to be in town for one night. We may have that one night getaway available and you can enjoy a respite with us in quaint Falmouth Village.
If you find you are looking for just that single night …. check what we have available below and then
Many weekdays in April, May and October are available for 1 day just check the availability calendar.
Specific Special One Night Wonders:
Thursday October 6th: K.L. Bates (Premium King Guestroom)
Sunday October 9th: Forbes Cupola Suite (2 Story King Guestroom)
Monday October 10th: K.L. Bates  (Premium King Guestroom)
Thursday October 13th: Nye (Queen Guestroom)
Thursday October 13th: Canopy (King Guestroom)
Saturday October 15th: Lawrence (Queen Guestroom)
Sunday October 16th: Hatch (Premium King Guestroom)
Thursday October 20th: Hatch (Premium King Guestroom)
April 5, 2014 by Trish Robinson
Come to the Highfield Hall Open House and celebrate spring! This free event is open to the public and offers a variety of activities for all ages. Refreshments are being offered courtesy of Atria Woodbriar who is the sponsor of the open house and the spring art exhibitions at Highfield Hall.
Family Fun events from 11:30 am until 1:00 pm include a self-guided Highfield architecture scavenger hunt and fun crafts to make with children's program teachers.
At 12:30 pm docents Jean Wentzell and Bobbi Miner will host an estate walk of the Highfield property where you can learn about the Beebe family and the expansive property they owned in Falmouth.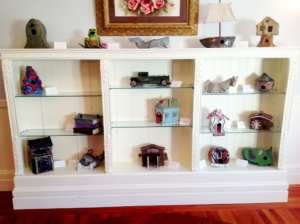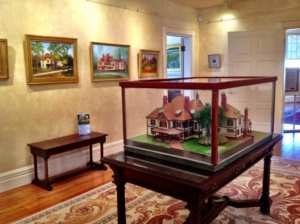 From 1:00pm until 3:00 pm there will be an artist reception for the spring exhibits as well as a painting demonstration, music and refreshments. The artist exhibitions include A House for all Seasons, Ambient Light Domestic interiority, Fragment House and All around the House. A lovely collaboration between Falmouth High School ceramic students and Falmouth Museums on the Green resulted in the exhibition entitled If These Houses Could Talk.
At 2:00 pm enjoy a poetry reading from the new book, Domestic Interiors and then at 3:00 pm relax to Robert Wyatt performing his favorite songs of spring on the grand piano.
March 27, 2014 by Trish Robinson
Highfield Hall Garden Programs start on May 17th from 10-11:30 am with a special lecture by Louis Raymond. His lecture is titled Plays Well with Plants: Creating a Garden of a Lifetime. Louis is a professional landscape designer located in Rhode Island and he has had his work highlighted in major publications as well as being featured on various national and local television shows.
Following the Louis Raymond lecture there is a special fund raising luncheon opportunity being offered at an elegant home in Gansett where you can view gardens especially designed by Mr Raymond. The fund raising for this special event will benefit the plantings and gardens of Highfield Hall.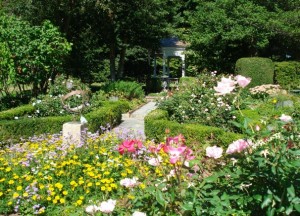 On June 21st the next presentation at Highfield Hall will be held and will be given by rose expert Gretchen Ward Warren. Her presentation is titled Historic Roses of Woods Hole and she will share the remarkable history of the rambler rose varieties which were developed in Woods Hole over a century ago by Michael Walsh. She will also share historic photographs of the rose garden on the Fay estate in Woods Hole where Michael Walsh was the Head Gardener.
February 1, 2014 by Trish Robinson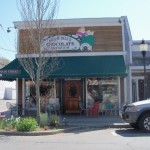 National Chocolate Month is February and it is a time to celebrate for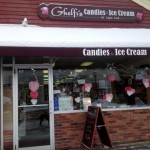 all of us chocoholics! Pretty much a day does not go by that I don't have a little bit of chocolate. We are lucky here in Falmouth, Cape Cod that just a short stroll down from The Captain's Manor Inn on Main Street in Falmouth Village are two great places to satisfy your chocolate cravings.
You may stop in at Ben and Bill's Chocolate Emporium or Ghelfi's Candies or like many guests visit and sample both. At Ben and Bill's many of our guests love the mocha chip ice cream which has the largest pieces of chocolate you can enjoy. A favorite of guests who frequent Ghelfi's Chocolates are there different flavored salted caramels from milk chocolate to dark or white chocolate and even crème brulee.
You don't have to wait for Valentine's Day to search for that special chocolate treat any time this month will do. The healthy benefits of chocolate are being lauded in all sorts of magazines such as Women's Health, and even the Wall Street Journal had a story.
Chocolate is even being talked about as a superfood. Of course for us chocoholics, National Chocolate Month is not even enough. So if you need a reason to justify why you are eating chocolate why not follow the national chocolate day calendar.
THE YEAR IN CHOCOLATE HOLIDAYS

January 3:               National Chocolate-Covered Cherries Day
January 8:               National English Toffee Day
January 10:             National Bittersweet Chocolate Day
January 27:             National Chocolate Cake Day
February:                National Chocolate Lovers Month
February 1:             National Dark Chocolate Day
February 14:           National Cream-Filled Chocolates Day
February 19:           National Chocolate Mint Day
February 28:           National Chocolate Soufflé Day
March (week 3)       American Chocolate Week
March 19:               National Chocolate Caramel Day
March 24:               National Chocolate-Covered Raisins Day
April 21:                 National Chocolate-Covered Cashews Day
May:                      National Chocolate Custard Month
May 1:                   National Chocolate Parfait Day
May 2:                   National Chocolate Mousse Day
May 3:                   National Chocolate Custard Day
May 12:                 National Nutty Fudge Day
May 15:                 National Chocolate Chip Day
June 3:                  National Chocolate Macaroon Day
June 7:                  National Chocolate Ice Cream Day
June 16:                Fudge Day
June 26:                National Chocolate Pudding Day
June 22:                National Chocolate Eclair Day
July 7:                   Chocolate Day
July 8:                   National Milk Chocolate with Almonds Day
July 28:                 National Milk Chocolate Day
August 4:              National Chocolate Chip Day
August 10:            S'mores Day
August 20:            National Chocolate Pecan Pie Day
September 12:      National Chocolate Milkshake Day
September 13:      International Chocolate Day
September 22:      National White Chocolate Day
September 27:      National Chocolate Milk Day
October:               National Caramel Month (with Chocolate)
October 18:           National Chocolate Cupcake Day
October 28:           National Chocolate Day
November 7:         National Bittersweet Chocolate with Almonds Day
December 12:       National Cocoa Day
December 16:       National Chocolate-Covered Anything Day
December 28:        National Chocolate Day
December 29:        National Chocolate Day
Source: National Confectioners Association, Foodimentary, CandyUSA.com.
July 23, 2013 by insideout
Highfield Hall is one of Falmouth's great treasures.  It was preserved thanks to the determination of some of Falmouth's most dedicated citizens who cared deeply about the history and beauty of the Beebe family mansion.  While visiting Cape Cod you should plan to tour this beautifully restored estate.  The expansive grounds feature a restored victorian sunken garden and acres of walking trails.  The interior of the Beebe family mansion has also been lovingly restored with historic details preserved wherever possible.  Just to the left of the front foyer you can tour what was an old parlor and now hosts an exhibit of the history of the Beebe family and Highfield Hall.
Currently there is a fabulous mosaic exhibit underway that will continue through September 1, 2013.  The exhibit is called Signatures and features the work of 15 extremely talented mosaic artists. The artwork on display is rich in color and detail and includes everything from landscape to floral and portrait mosaics.
Below are pictures of some of the mosaics on display at Highfield Hall.
For more art exhibition information at Highfield Hall click here.