April 9, 2013 by insideout
A nice half day trip while staying at The Captain's Manor Inn is exploring Woods Hole Village a mere 3 miles down the road.  This   quaint seaside village and is home to the internationally acclaimed Woods Hole Oceanographic Institute (nicknamed WHOI) and the Marine Biological Laboratory (MBL) which is an international center for research, education, and training in biology.
Take a leisurely walk or bike ride down the Shining Sea Bikeway or hop on the Falmouth SWOOSH trolley to travel the 3 miles to the Village.  Enjoy a walk down Water Street for some window shopping or to check out the famous popovers at Pie in the Sky Bakery or the lobster tacos at Quicks Hole.
Some of must sees are:
Woods Hole Oceanographic Institution
MBL's Marine Resources Facility
March 20, 2013 by insideout
DJ's Wings is a welcome new addition to our restaurant choices in Falmouth.  A true sports bar, with seven large flat screen tv's and individual screens in the booths(!) on the sports-bar side to round out our viewing choices. The food was delivered crisp and hot; we tried both the medium-hot chicken wings and the barbequed ribs. Seats in the bar side were full; a great renovation on the site of an old favorite (the Hearth and Kettle was in this spot for years).  If you are feeling competitive and like your wings hot, try the "Angry Wing Challenge". You have to eat "10 wings from hell" in ten minutes and lick your fingers.  If you win you get a T-shirt and your photo is posted on the "Wall of Flame." You also get your wings for free. Lose and you pay $9.99 for the wings and a photo on the "Wall of Shame".
The restaurant side of the bar is decorated in football style, painted green with yard-line markers. A great place for couples, families, and sports lovers, the menu is extensive and includes salads, wraps, and sandwiches as well as their famous wings and ribs.  Local sports fans will love the atmosphere. Prices are reasonable; a sampler of wings and a sampler of ribs cost about $15.00.
March 14, 2013 by insideout
Another great day trip while staying at the Captain's Manor Inn is the seaside venue of Newport, Rhode Island. Newport is best known for its extraordinary mansions which visitors can tour thanks to the work of the Preservation Society of Newport County. The Preservation Society includes 10 historic properties, as well as the Newport mansions store and the Green Animals Topiary Garden.
Our suggestion for your Newport daytrip is to enjoy your full breakfast at the Inn before you head off on your hour plus drive to Newport. Upon arriving in Newport purchase your Museum admission ticket and prepare to be awed by magnificent architecture and historic furnishings. Based on personal experience and great guest feedback we suggest your best properties to view would be the Breakers, the Marble House, and the Elms. A wonderful feature for these properties are the audio tours so you can enjoy the mansions at your own pace with narration available in English, French, German and Spanish. After viewing three of the properties most guests feel it's time to explore other Newport offerings.
Some suggestions include the themes glassblowing studio and gallery featuring handblown glass and the opportunity to make your own ornament or paperweight if you call ahead and schedule.
Click here to read a fantastic blog with great pictures on glass blowing at the Thames.
If you like art, perhaps a tour of the Newport Art Museum is on your to do list. If history is an interest you might visit the Touro synagogue completed in 1763 and the oldest synagogue in America. When it's time for lunch or dinner Newport's harbor area is the place to go where there are countless options for dining on the pier. Another activity after a break to eat is the 90 minute 1-mile walking tour of historic Newport www.toursforcurious people.com.
After your full day of visiting historic Newport head on back to the Captain's Manor Inn and enjoy a nice glass of wine on the veranda or in your room as you unwind.
February 26, 2013 by insideout
Birding in Falmouth goes on year round. This picture was in our Falmouth Enterprise paper this week after being snapped in the backyard of a North Falmouth home. Read more below on what one of our guest's captured during her Falmouth birding.
The downy woodpecker is the smallest of woodpeckers found in North America.  All year long it is a common sight in Falmouth where it can be heard and seen drilling into dead limbs as well as utility poles and other man-made objects.  You can identify this woodpecker as male due to its unique red patch on the back of its crown.
One of our birding guests this past season was kind enough to document the numerous birds she heard and or saw while staying at the Inn:
Mourning Dove, Red-bellied woodpecker, Downy woodpecker, Northern flicker, Blue jay, American crow, American kestrel, Black capped chickadee,
Tufted titmouse, American robin, Gray catbird, American goldfinch, White breasted nuthatch and Red breasted nuthatch.
Thank you Elaine!
To read about the wonderful birding in Falmouth please go to www.falmouthbirds.com.
February 14, 2013 by insideout
Wishing you and yours a wonderful Valentine's Day.  Here in Cape Cod we just finished cleanup from Nemo and we had another 2-6 inches last night depending on where you were on the Cape.  When is Spring arriving ???
We were very pleased to have the K.L. Bates room
highlighted in an article
by Bed & Breakfast expert Marti Mayne.
Her article is titled "Best Inn Rooms for Romance on Valentine's Day and Beyond."
To read the article and see the various Inns cited please CLICK HERE.
September 20, 2012 by insideout
The inaugural Cape Cod Brew Fest will be held on September 29, 2012 at the Barnstable County Fairgrounds.  There will host be 30 breweries with over 60 styles of beer to sample from. The event will have two, three-hour sessions from 1:00 – 4:00 p.m and 5:00 – 8:00 p.m. Each session will feature live music.
Barnstable County Fairgrounds
1220 Nathan Ellis Hwy, Route 151
East Falmouth, MA 02536
Visit    www.capecodbrewfest.com  for ticket information
August 2, 2012 by insideout
While enjoying breakfast on the veranda yesterday our guests had the pleasure of seeing a majestic hawk sitting in a tree in the back gardens watching the activity at the Inn.  After a mad dash for the camera we were able to capture this shot of our visitor.  It may be the new baby doves or the baby rabbits that caught his attention.  We are just brimming with wildlife

    See the hawk in the picture below sitting in the V of the branches in the center of the photo.
July 25, 2012 by insideout
July 19, 2012 by insideout
A good friend and recent guest at The Captain's Manor Inn took a drive over to the Sydenstricker Glass Gallery in Brewster, Cape Cod to add to her collection.  Lucky us she brought us a beautiful piece from the gallery that is pictured below.  The colors and shape of the glass dish is exquisite.
For some history, in the mid 1960's Bill Sydenstricker developed a new craft that was inspired by research he conducted while at MIT on early Egyptian art.  This new glass design process involves taking two sheets of glass cut to fit a mold made of high fire terra cotta clay and the first sheet is decorated by sifting powdered colored glass through a stencil.  The stencil is then removed and the second sheet of glass is placed over the decorated first piece.  Then both are placed on a mold and put into a 1500 degree kiln for hours where the two pieces of glass fuse and lock in the colored design.
What a beautiful gift.  Thank you Kathy!!!                                            !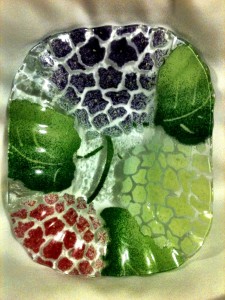 Sydenstryker Glass Plate
July 14, 2012 by insideout
We are pleased to share that we have a new offering thanks to the newly established organization Electric Ride in Falmouth.  We all know that a long bike ride for some is quite enjoyable where for others who love to go and enjoy the scenery and exercise they tire after several miles.  Now there is a solution for that.  Rent an electrically assisted bicycle and enjoy the ride!  What better way to fully conquer our beautiful Shining Sea Bikeway and go the entire 10.7 miles.