July 7, 2012 by insideout
For a special night out try the Woods Hole History Cruise on the OceanQuest.  The cruises depart on Tues and Wed at 5 pm and on Friday at 6:30 pm.  You will see such sights as the Crane Estate and Nobska Lighthouse as well as learn about the whaling industry, Pirates and more. This trip was awarded the Best of Boston 2011 by Boston Magazine.  Reservations are recommended  1-508-385-7656. www.oceanquest.org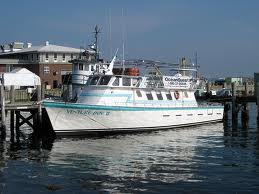 June 18, 2012 by insideout
An excellent couple of events are planned to benefit Highfield Hall and celebrate wonderful architecture on Cape Cod.  Starting with an Architect's Preview Salon on Thursday, July 19th from 5 pm to 7 pm you will enjoy a cocktail reception with the architects and explore their design approaches to architecture on Cape Cod.  The tickets for this event are $25.  On Friday,July 20 from 10 am until 4 pm there will be a rain or shine event where ten unique architecture-designed homes will be featured on a house tour in Falmouth.  You are also invited to enjoy beautiful gardens at these homes.  For your tax deductible $75 ticket you will receive a brochure describing each property and a map so that you may complete the 10 home tour on your schedule between the hours of 10 am and 4 pm. Reservations for both events can be made by contacting Highfield Hall at 508-495-1878, ext 303 or on-line at www.highfieldhall.org.
Featured architects for the events are  Kit Wise, (Wise Surma Jones Architects) , Jill Neubauer  (Jill Neubauer Architects), Denise Bonoli (Denise Bonoli, Architect), John Dvorsack (John Dvorsack, Architect), Mark Hutker (Hutker Architects), Greg Jones (Wise Surma Jones Architects),. Landscapes at several of the homes  include work by Mary LeBlanc (Mary LeBlanc Landscape Design) and Stephen Stimson (Stephen Stimson Associates).
Photo of Dvorsach designed home is credited to John Moore
June 15, 2012 by insideout
We had a lot of fun yesterday working with Luke the videographer and Marti Mayne of Maynely Marketing as they came to Falmouth to create a video for the Falmouth bed and breakfast association.  Our video will include footage from several of Falmouth's bed and breakfasts and will be part of a national campaign called a Better Way to Stay.  The campaign is part of an effort by The Professional Association of Innkeepers to educate consumers on the wonderful bed and breakfast options available to travelers.  Some still photos from the video shoot are included here for you.  Special thanks to Jen Chagnon of The Pink Polka Dot and her husband Jared for being great sports as models for the video!!
May 25, 2012 by insideout
The new custom staircase is complete at The Captain's Manor Inn!!  Mike Corsi did a fantastic job and took great pride in designing this centerpiece for the entrance at the Inn.  We look forward to showing off his work to all our guests who visit Cape Cod this summer.  We hope you enjoy the slideshow of the progress from stair treads to finished product.

May 16, 2012 by insideout
We love creative minds and thought you would enjoy this video which is part of a wonderful campaign know as the Better Way To Stay featuring Inns and Bed and Breakfasts.  The Inns of Falmouth Cape Cod will be part of a video later this summer.
Please enjoy and more to be shared in the future .
April 18, 2012 by insideout
We are excited to share progress on the window art being worked on by Robin Pierson for the Canopy room.  As you will see by the pictures below, Robin has taken the original window and placed the antique style map of Cape Cod within the main panes.  More pictures of progress should follow in the next couple of weeks.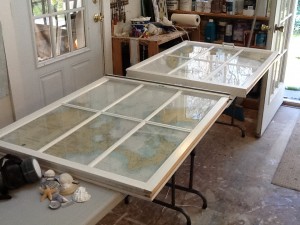 April 4, 2012 by insideout
The weather has been beautiful the past couple of days here at The Captain's Manor Inn which is helping us to get some important outdoor work completed on the new construction.  The finishing touches are being done on the new main entrance stairs to the veranda and Kevin has been very busy creating the new brick patio at the base of the stair entrance.  Needless to say his back and knees are a bit sore!
Hope you enjoy these pictures of the progess.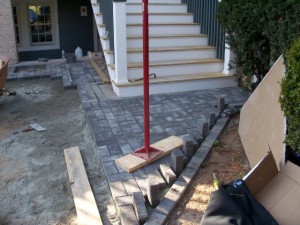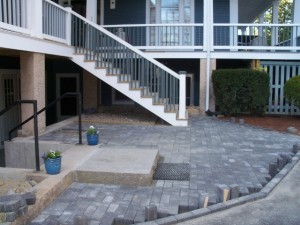 March 30, 2012 by insideout
Hard to believe that less than 60 days are left until we reopen the Inn.  The tiling of all the new bathrooms is well underway and the crown molding and wood trim is in process.  The Bates room is a fun room to capture as it progresses. We posted a short video below that we hope you enjoy

March 12, 2012 by insideout
Progress continues with the rough in for the electrical and plumbing/heating complete.  It is incredible to see the amount of wire and piping that is going into the addition.
Our plumbing and heating professional is someone we used when we lived in Western Massachusetts and we are so pleased that he traveled out with his team to do our work.  He is a great professional and a patriot as you will see from his truck.
Look at the intricate valves for all the plumbing lines for the new bathrooms and heating systems in the addition!!!