February 13, 2017 by Trish Robinson
A greek restaurant is coming to Falmouth Village and we couldn't be happier. The original Estia opened in Mashpee Commons in November 2014. Another location will open in 2017 just walking distance from the Inn
Estia Greek Restaurant
Owners Mr. and Ms. Markantonis, who are Greek, developed the entire Estia menu for their Mashpee location themselves. We are looking forward to what they will develop for Falmouth. Most noteworthy is that we hear a cornerstone of the Mashpee location, the restaurant's anthracite coal oven, will also be in Falmouth.
The claim to fame of this rare cooking style is the specialized style of pizza created because the oven heats up to 1,000 degrees Fahrenheit compared to a traditional gas or wood oven which only reaches about 600 degrees.
Some other customer favorite foods are:
Beet and Goat Cheese Salad
Kabobs with chicken, steak, shrimp or veggie combinations
Seafood estia dinner with side salad
Lamb loin chops
Falmouth Village Foodie Options
Falmouth Village's Main Street is an incredible foodie adventure with something for everyone.
The range of culinary options includes:
Italian (La Cucina and Osteria La Civetta)
Seafood/American (Quarterdeck)
Pizza and other Italian options (Simply Divine)
Fine Dining (The Glass Onion)
Pub/American (Liam Maguire's Irish Pub  and Bear and Boots Gastropub)
Mexican (Anejo Mexican Bistro)
Gourmet Sandwiches and more (Bean and Cod and Molly's Tea Room)
Baked Goodies and French Pastries (Pies ala Mode and Maison Villate
Hearty American Breakfast/Lunch (Country Fare Restaurant)
Guy Fiere's Diners, Drive Ins and Dive Favorites (Pickle Jar Kitchen and Parkside Restaurant)
Thai (Bancock Cuisine)
Indian (Golden Swan)
Chinese and Hibachi (Min's Kitchen and Garden Gourmet)
American Diner Food (Betsy's Diner)
January 21, 2017 by Trish Robinson
Drink Like a Local
Yes, here on Cape Cod we are famous for the Cape Codder. We're happy to tell you where you can go to get one. In fact it would actually be harder to tell you a place that you can't get one on Cape. We also want to share more. Specifically the amazing beer, wine and cocktail selections available right in our backyard as well as the ones that are worth the drive!
Attention: Beer Drinkers!
Father's Kitchen and Tap House, East Sandwich: This is a fairly new addition to our little part of the Cape and we have welcomed them with open arms for a reason! And that reason is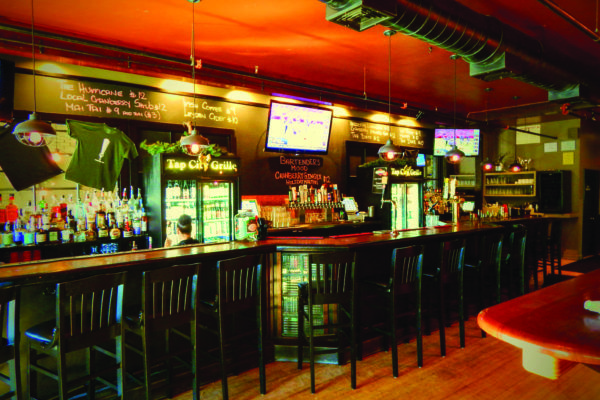 beer. Father's offers 42 amazing beers on tap both local and from afar. Our favorite thing to do there? A flight. Belly up to the bar and ask for a flight sheet. You'll be able to take a look at a description of every beer. Most beers are offered in a full pour, half pour, or a flight. The bar tenders are also super helpful and knowledgeable. If you know you like IPA's but aren't sure if a Pale Ale would excite and delight your taste buds, just ask them. They're happy to help steer you in the right direction and can also make some suggestions about new fun and interesting beers to try!
Bonus: Great food! Insider Tip:
A recommendation is for you to try the peanut butter pizza. No, it's not dessert (though you can totally order it as dessert) – but it is incredible. And it goes great with beer!
British Beer Company, Falmouth, Hyannis and Sandwich: When beer is right in the name of the restaurant, is there really more explanation necessary? With 14 locations around MA, we're lucky enough to have three right here on Cape Cod. This means no matter where your Cape Cod travels take you, you're never very far away  a good beer. In addition to a bunch of great beers on tap, depending on location, they also have beers on cask and will fill growlers! Check out each individual website or Facebook page for live music, trivia, and more!
Devil's Purse Brewery, West Dennis: This is a Cape Cod gem. If you're looking for an amazing local brew born from an incredible local story, look no further than Devil's Purse. Matt and Mike, owners and operators began what would later become Devil's Purse on a total whim. They made a batch of beer from a beer making kit one of them had gotten as a wedding gift nearly 10 years prior and as they say, the rest is history. Well, the rest was a ton of hard work, trial and error, grit and determination – but their efforts taste amazing! At the brewery, you can do tastings, buy beer and swag and of course, chat with Matt and Mike – they're always there. Mark our words, this brewery is going to blow up and when it does, how cool would it be to say "I knew about Devil's Purse back when it was just Matt and Mike, brewing and chatting all day long!"
Insider Tip:
Ask the guys for restaurant recommendations in the area if you're in around meal time. They have tried everywhere and will be able to give you a great heads up – and killer hole in the wall places are their specialty!
Calling All Cocktail Lovers!
The Landing, Woods Hole: Talk about a drink with a view! At The Landing you can sip your cocktails as your legs dangle off the dock. Of course they have a full bar, but there's one cocktail you simply can't leave the Cape without trying and it's called a Greyhound. You may have heard of it; you may have even had one before… but you haven't really had one if you haven't had one from The Landing. The ingredients are simple, and sometimes simple makes the best drink. It's fresh squeezed grapefruit juice, vodka and maybe a splash of soda water. The key to this drink lies within the fresh squeeze. They have this antique looking Greyhound-specific contraption with one purpose: to squeeze grapefruits. Watching the bartenders (who probably have huge muscles after the summer's up) squeeze fruit after fruit all for your drink is one of the coolest things to see.
Pan D'Avignon, Hyannis:  Don't be fooled by this restaurant's unassuming exterior. We and many others view Pan D'Avignon as one of the best French restaurants on the Cape. Their martini menu is something to go back for. One of the most interesting elements of the decor is the exposed (giant) wine cellar. They have some of the best wines on Cape Cod. Half the fun is to watch the sommelier head into the cellar and procure your bottle. BUT, there is one thing in particular that we need to let you in on. That is that this is the place where you can get year round, handmade bleu cheese stuffed olives. This may not sound groundbreaking, but when you add them into your favorite dry cocktail (like.. oh I don't know, maybe a slightly dirty Tito's vodka martini with two bleu cheese stuffed olives… just you know, off the top of my head) you'll understand why they're worth the mention. More of a gin an tonic or wine person? No worries! Order a few olives on the side. The local bleu cheese paired with the saltiness of the olive is something to behold.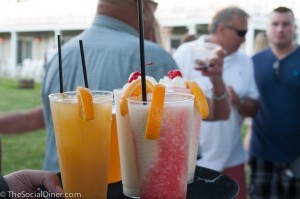 Ocean House, Dennisport: The Ocean House is a fabulous place for dinner and absolutely a favorite for people visiting the Cape. The Ocean House Beach Bar (on the same property) is the place to go for frozen cocktails. Mudslides, Daquaris, Pina Coladas – you name it, they've got it. They'll even do one of my best friend's favorites a Miami Vice which is 50% Pina Colada, 50% Strawberry Daquari and 100% delish! They frequently offer live music right on the lawn, which always makes your sipping experience that much more enjoyable!
The Beachcomber, Wellfleet: Lunch, dinner, late night menu – regardless of the time of day, The Beachcomber is sure to have the food and beverages you're looking for to really enjoy your time on the Cape. Their raw bar is stocked from local fisherman, and you can really taste the difference. Like any good bar and restaurant on the beach, the comber has frozen beverages, beers galore, wine and an extensive cocktail list.
Insider Tip:
They've got something no one else does. And it's called a Goombay Smash. Their website divulges that it includes rums, juices and a myers float. BUT, no one can come close to reconstructing this masterpiece. One sip, and you'll understand why there have been over 3 million sold!
December 13, 2016 by Trish Robinson
Raspberry Bars at The Captain's Manor Inn are a guest favorite. This past week we had a guests request the recipe so she could make them at home. To serve 15 people, we start with 2 boxes of Krusteaz Raspberry bars and doctor them up a bit to put our own spin on them. To make the bars more substantial we use the shortbread crust from both boxes for the bottom crust, and make our own crumble topping to finish it off. In addition to raspberry filling provided, we add fresh or frozen raspberries to really bring out the raspberry flavors. To make these raspberry bars at home follow the directions below !
Equipment:
Ingredients
2 boxes Krusteaz Raspberry Bar Mix
2 sticks butter
1 cup frozen raspberries
Crumble Top
1 cup all purpose flour
1/2 cup brown suagr
1 teaspoon baking powder
1/2 teaspoon cinnamon
1/4 teaspoon salt
8 Tablespoons unsalted butter. softened
Directions:
Make the crumb topping: Whisk together all dry ingredients then add in softened butter and mix with fork until crumble is formed
Prepare crust from box as directed and press into glass pan coated with cooking spray
Bake for about 12 minutes
Spread raspberry filling all over hot crust and top with frozen raspberries, then the home made crumble
Bake for 26-28 minutes until the crumble is golden and the raspberry filling is bubbling on the sides.
Cool completely before cutting, this pan makes 15 squares
Enjoy heated up or at room temperature !
August 25, 2016 by Trish Robinson
Jam Like a Local
Although we're entering the final stretch of the summer, the music is nowhere near over! Our little piece of Cape Cod absolutely loves live music – and you can actually catch amazing music all year round. We're going to queue you in to where you can catch killer tunes this time of year. Whether you're into jazz, beach rock, or acoustic piano… we've got the spot for you!
Grumpy's Pub:
Grumpy's is the go-to spot in Falmouth for late night tunes and brews. Once you're inside you won't be able to tell if you're still on beachy Cape Cod or if you've been transported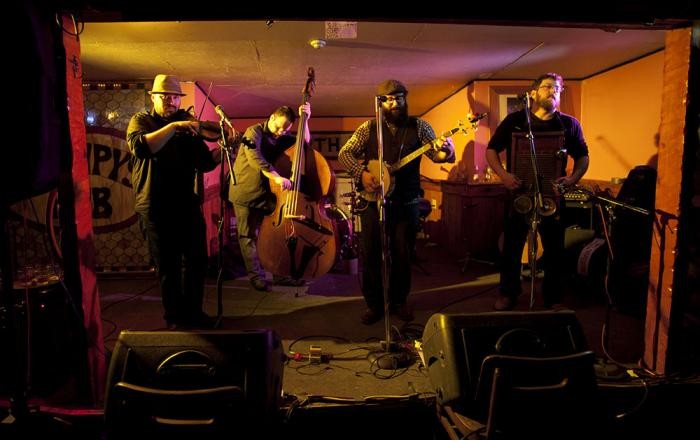 to a killer dive bar in Boston. The best thing about it (besides the inexpensive Narragansett cans) is the proximity from the dance floor to the stage. You feel like you're grooving right along with the bands! Check out their Facebook Page for an updated schedule, or just pop in any Friday or Saturday night to peep what they've got going on! There is occasionally a cover charge, but it's always worth it. Grumpy's books all types of rock, jam, blues, funk and eclectic bands. Another great perk – you can walk back to the Inn in only 2 minutes!  Insider Tip: This may sound a bit weird to non-Cape-Codders… but there's a food cart out front of Grumps that sells lobster rolls… and they're delicious. Don't believe us? Try them!
La Cucina:
Sunday nights at La Cucina are smooth, smooth, smooth! This is the place to be for a delicious Italian meal, an unbeatable glass of vino and of course, some of the best easy listening music around. You can choose to dine inside or outside (depending on how close up you'd like to be to the tunage). This is one of our favorite places to wrap up a weekend. Every Sunday beginning at 7pm, La Cucina comes alive with music! Insider Tip: The house made limoncello is absolutely out of this world and nothing goes better with smooth jazz than smooth limoncello!
Liam's:
With a name like Liam Maguire's Irish Pub, we bet you can guess what kind of music you're in for! One thing that's probably different from most of the Irish pubs you're used to, though –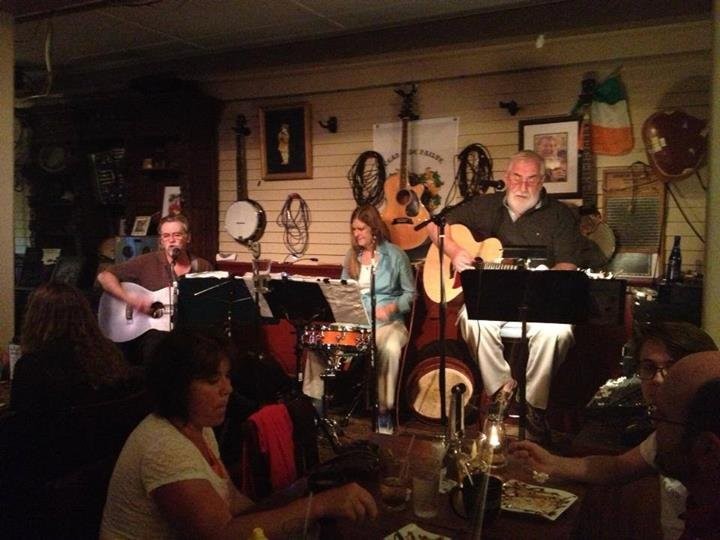 at this Liam's pub, it's Liam himself that plays the music many nights! This is a man with some serious stories, and some serious soul. It's such a treat to head to Liam's for a night full of Guinness, pot pie, and Irish tunes. But wait! There's more! Liam's also hosts karaoke on Tuesdays and Trivia on Wednesdays in addition to live music Thursday-Sunday. For an updated listing of what's going on when, check out their website.
Bear in Boots:
This is a must-experience in Falmouth. The music is great, the food is great, but it's the musical ambiance at Bear in Boots that really takes the scratch-made cake. Let's back up. Everything at Bear in Boots is scratch-made. Everything. Even the ketchup for pete's sake! So, it's no surprise that the musical experience is exactly what you'd expect from a restaurant that takes the time and care to make each and everything they serve – from the bread and butter to the cocktail mixers. The folks at Bear in Boots knew that in order to have the kitchen space required to prep everything in house, they would need to take a little from the dining area. BUT, they were not about to sacrifice music, so they installed a loft! A musician climbs up a little ladder to a loft space equipped with a piano and just enough room for a guitarist. The coolest part? They take requests. But no, you don't yell your request up at the loft through the dining room… that would be a bit uncivilized. When you've got a hankering for a specific jam, you simply write it on a slip of paper, attach it to the pulley system and the musician will hoist it up and play your tune! I mean, if you'll be here on an anniversary weekend and you have a special song with your special someone, is there a cooler way to hear it played!? Insider Tip:
That homemade ketchup we mentioned before… you can buy it by the bottle! Perfect gift for that someone who has everything.
Raw Bar/Boat House:
These two spots are right next to each other on the water in Falmouth. There are so many advantages to two great music destinations being in such close proximity! If one spot is a bit too crowded for you, just bar hop on over to the other! If you're in the mood for a specialty cocktail at one, but dinner at the other – not a problem! These locations offer exactly what you would expect from a music-on-the-water spot… beachy, local, good-time music. At both places you have the option of listening to the music from inside the restaurant or outside; both equipped with water views. Both spots are awesome for live music, a few appetizers and some cold drinks. Insider Tip: the parking spots next to the Raw Bar fill up June 1st and stay full until September. BUT, there's a secret lot! It's right next to Windfall Market, and there's an eensy weensy sign that says 'Raw Bar Parking' that (luckily) lots of people miss 😉
Of the six places mentioned here, you can walk to four of them from the inn. So we invite you to come on down, bring your favorite concert tee-shirt and listed to some great live music the Cape Cod way. To be honest, this blog could go on for miles and these are just a few of the wonderful places close by. If you're in the mood for a trek, whether it be a quick one to Woods Hole (head to the Landing) or a longer one out to Wellfleet (can't miss the Beachcomber) we've got endless recommendations and are happy to help!
August 14, 2016 by Trish Robinson
Dine like a local when you visit us on Cape Cod! There's not much in life that's better than good food. Well, maybe the beach. Lucky for you, our little part of the world has both. We're going to give you the low down on how to chow down in Falmouth and beyond just like we do.
Outdoor Dining
Añejo Mexican Bistro and Tequila Bar (pronounced Ah-nyay-ho)
BEST spot in Falmouth to people watch. Situated right smack dab in the middle of Main Street, their large outdoor patio looks out onto the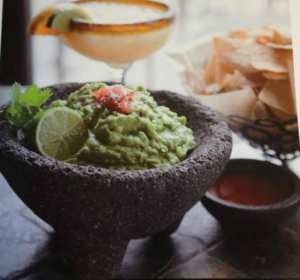 summer bustle taking place on the downtown sidewalks. Cape Cod Magazine voted Añejo best Mexican food AND best margaritas on Cape Cod and we couldn't agree more. We'll start with drinks. If you're in the mood for a margarita (and when are you not) we recommend the house – it's simple and clean the way the margarita gods intended. El Jimador Blanco, Patron Citronge, organic sugar cane and squeezed lime. Not overly sweet, just the way we like it. If you are in the mood for sweet (and a little spicy) try their blood orange margarita made with jalapeño infused tequila. Olé! The menu for lunch and dinner is fantastic. Don't leave without trying one of their tortas, everything needs a side of a lá carte guacamole and throw in some Mexican street corn for good measure – you will not be disappointed. The kicker? It's o.2 miles away. A beautiful 5 minute walk is all that stands between you and the best Mexican food on the Cape when you stay with us! Local Tip: If you head in for a margarita and the place is packed (which it can be on a summer evening) grab a drink at the bar and head out the side door – they've got couches, tables and lights in the side ally between the restaurant and Twigs (an adorable local shop). Sip in peace!
Out-Of-This-World Food
Are you in the mood to be dazzled? Then The Glass Onion is the choice for you. Steps away from your room at The Captain's Manor Inn, you will be amazed at the artful combination of flavors the chef prepares. We recommend the lobster strudel for an appetizer. In case that name alone didn't completely sell you, in addition to lobster, you'll be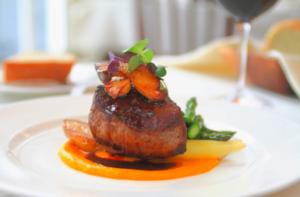 snacking on mascarpone, oven dried tomatoes (which have a roasted sweetness unlike anything else), and of course, what vacation appetizer is complete without a lobster butter drizzle? Is your mouth watering yet? Because we haven't even gotten to the entree! You can choose between filet, shrimp, duck, house made gnocchi, lobster (because there is officially no such thing as too much lobster when you're on Cape Cod) or a nightly special. Whatever you do, leave room for dessert. The Glass Onion has been hand making small batch ice cream for years and with flavors like peach pie and guava… it cannot be missed. If you've overdone it at dinner and simply can't fit another thing… don't worry. We've got you covered.
If you head in during normal business hours and ask the hostess, you can purchase ice cream in a cone and enjoy it on their back patio! So just head back the next day, refreshed and re-hungry!
Summer Vibe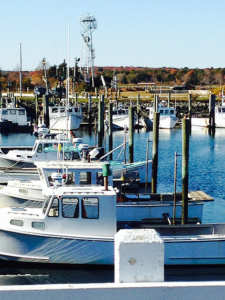 The Pilot House is situated on the Canal in the Sandwich Marina. Beautiful water views combined with a nice big yard and great food will create a memorable afternoon! We recommend heading over for a late lunch or early dinner to take full advantage of the well placed adirondack chairs. Order a cocktail from the outdoor bar, hunker down and enjoy. Don't feel like moving but you're getting hungry? No worries! The waiters and waitresses are happy to bring you menus and you can dine where you sit! If you haven't worked up an appetite yet, you'll notice ring toss, corn hole, and more! Feel free to walk around the spacious lawn and enjoy. Most days there's live music to add to the summer time vibe! This place is perfect for a mouth watering fried seafood plate, crab cakes, calamari, mussels and more! As we mentioned, this restaurant is in Sandwich with is just under a 30 minute drive. If you'd like to test it out before you commit – head over to The Quarterdeck on our very own Main Street (a 10 minute walk from the Inn). Both restaurants are owned by the same family, and both serve delicious Cape Cod fare! Local Tip: Have you been wondering where to get a good lobster roll? Look no further. You've found it.
Take-Out on the Beach
The British Beer Company (The BBC to locals)
Are you in the mood to dine with your toes in the sand? We've got you covered. The local British Beer Company is located directly across the street from Falmouth Heights Beach. As soon as you walk in you'll be transported to a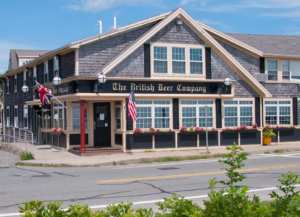 London pub. The decor, the music, soccer on the tele… it's foggy London town! If you're a beer drinker, saddle up to the bar. The BBC boasts one of the best beer lists in town. The taps are ever changing and the bartenders are super friendly and helpful. If you describe what kind of beer you typically prefer, they'll be able to suggest something new to try. If you're not a beer drinker, you don't have to feel left out. They've got a great selection of wine and offering of specialty cocktails. As you sip your pint at the bar, have a look at the menu. This is the British Beer Company, so dishes like fish and chips and bangers and mash are unbeatable. But they've got a wide selection of pizza, burgers, sandwiches and more. Finish your drinks, ask for your food to go and head across the street to the beach. If you time it right, you can watch the sun set as you enjoy a little British food as you sit on the shores of New England. Local Tip: After you're done eating, head back over to the BBC – it's one of the best spots for live music in an intimate setting in Falmouth!
Wood's Hole
Are you in the mood for a beautiful drive down to Wood's Hole? Then be sure to stop into Quicks Hole Tavern for a bite. Open year round and a favorite for Vineyard ferry commuters, Quicks Hole Tavern has everything you could ask
for all wrapped up into a beautiful seaside view. It's one of our favorite places to sit and watch the ferry come in and out. They serve lunch in their upstairs dining room, fine dining on the second floor, and the first floor pub is open seven days a week offering a pub menu. What more could you ask for? The best part about this restaurant besides the views, the cocktails, the ambiance (okay there are a lot of bests) is the inventiveness of the menu. You can try Avocado Toast with chili spiced deviled eggs as an appetizer, whisky rubbed salmon and a bag of donuts for dessert! Whatever you're in the mood for, you will not be disappointed… or bored! This is a great place to head after a nice hike down to The Knob. Local Tip: You've got to try the "Pig Candy," an appetizer made with house-smoked pork shoulder braised in maple syrup and house spices, served on guava puree with celery sprout garnish. It's been described as 'addictive' and we can't agree more!
Again, these are just a few of our favorites. Just to give you a little taste of the local flavor. There are plenty more local favorites, and we'll be happy to share them all with you! But this is just enough to get you started so you can dine like a local when you come to visit!
July 19, 2016 by Trish Robinson
Beach like a local when you're on Cape Cod!
Falmouth is home to over 60 miles of coast. That's a lot of beach! In the summer, most of these miles are filled with sun seekers looking for a classic Cape Cod experience. Well we're going to let you in on something. There are actually two classic Cape Cod experiences. One, of course, is to pack up the car, head out early, find sticker parking and wade through the crowds in the sand. And there is nothing wrong with this option… however… sometimes (namely in high tourist season) many Cape Codders prefer the eliteness of the elusive "Secret Cape Cod Beach."
There are many secret beaches on Cape Cod. In fact, there are many secret beaches right here in Falmouth! So we don't lose our good standing in the local community we will only divulge a few. BUT, if you come and stay with us… we just may be willing to share a few more. So long as you promise not to tell 🙂
Great Sippewissett Marsh Beach
Don't let the name fool you. Yes this beach abuts a march (which is absolutely gorgeous). When your back is to the marsh, it looks like a Grecian island. This beach has the best of everything. You can set up camp in front of the rolling waves. Or you can elect to treck around the protected peninsula and cross the stream where the marsh meets the canal. The unique landscape creates your very own lazy river that empties into the sea, It's truly a sight to behold. You could spend all day bopping from biome to biome all within one spot. Bring your floats, and let the ocean river carry you to relaxation, You may be wondering how to get there… it's tricky but that is by design, First step – ditch the vehicle and grab your bike! After all, is there anything more Cape Cod than biking to a beach? Take the Shining Sea Bike Path to Chapoquoit Road in Falmouth. Now take one quick left hand turn and you'll find yourself on a dirt path to paradise. Simply ride your bike down the path until it opens up onto the marsh. Kick stands down, now head in on foot. Take your time and pick your spot… there's nothing but beach! Great for: Swimming, floating on a raft, all day picnicking, beach games, cooler friendly.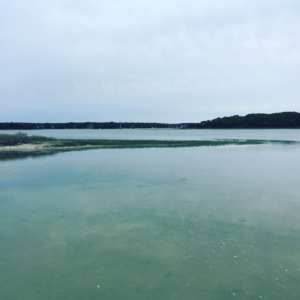 The Secret Chappy Beach
Locals and tourists alike love Chappy Beach. BUT, if you truly want to beach like a local, you need to know about the secret Chappy Beach. This one you can drive to if you please, but Shining Sea Bike Path will get you there no problem. Regardless of how you get there, just get there. And when you're finally facing the wide open ocean and the throngs of people… turn around. Cross the parking lot. Cross the road. You'll see a small opening in the dunes and the grass. What's that? It's a path. Scoot down the path and you'll be met with your own private beach! This locale is perfect for fishing, lounging, reading, or soaking in the rays. It's super quiet and a perfect place to take a bottle of wine as the sun comes down and watch the horseshoe crabs and plovers dart about their land. Great for: fishing, lounging reading, evening stroll.
Waquoit Bay Secret Beach
This is another marsh meets beach gem stone. Except, you can drive here. Just outside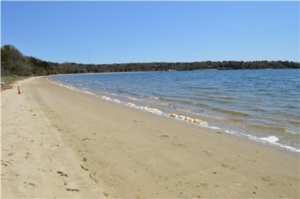 of Falmouth, technically within the confines of Mashpee, you'll find Waquoit Bay National Estuary which is absolutely gorgeous. Amazing for bird watching, sun bathing, swimming, hiking, watching the sunset and plenty more! After cruising down Will's Work Rd, the path will turn to a dirt road, so it helps if you have an able vehicle. Drive down until you can't drive any further and throw it in park. Hop out and melt away into the sounds of the sea shore. You'll see more birds here than at any other beach on this part of the Cape. It's amazing! Great for: bird watching, swimming, hiking, watching the sun set, evening stroll, sunrise hike.
BONUS Points Beach:
If you're looking to go for a beautiful evening walk and perhaps would just like to dip your toes in the water, the Shining Sea Bike Path will have just what you need. If you take it up to mile 7.5, and take a left onto Chase Rd. you'll see an absolutely iconic view of our little part of the world. You can absolutely hit all of these spots in a day – all but Waquoit are accessible via the bike path. So when you stay with us, we invite you to be a local on your vacation. And here's how to beach like one!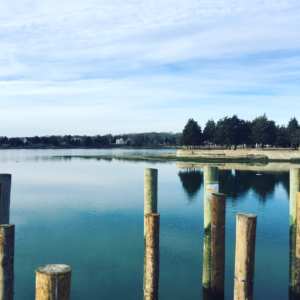 July 5, 2016 by Trish Robinson
Lets revisit Diners, Drive ins, and Dives in Falmouth
It has been just over a year since Guy Fieri hopped in his red Camaro and traveled to Falmouth. Now with the busy summer season kicking off, we suggest a revisit of Diners, Drive ins, and Dives trip to Falmouth, Massachusetts. "Triple D", as the show is affectionately known is a travel food show. The host is celebrity chef Guy Fieri who travels all over the country to explore the delicious hot spots where the locals go. Last May Falmouth was bussing and excited awaiting Guy's rumored visit.  Guy and his film crew picked 4 restaurants in Falmouth for his TV show.
The Pickle Jar Kitchen
Guy picked one of our favorite lunch spots that we recommend to our guests, The Pickle Jar Kitchen. The PJK is just a couple minute walk down to Falmouth Village from our inn They have been offering breakfast and lunch since 2013 for both the on and off season. If you want breakfast it is important to get their before 11 am when they switch and only offer their equally delicious lunch menu.  Guy focused on the famous fried pickle chips, and the open face BBQ pulled pork on a fresh cheddar scallion scone. Yum ! Just last month two of our guests did a day trip with an overnight stay specifically for the pickle chips!
Parkside Market
The next stop on the Falmouth Food tour was just down the street from Pickle Jar. This second stop is also a breakfast and lunch joint named Parkside Market. Parkside is the sister restaurant to Waterside Market  located across the water on Martha's Vineyard island. Guy really seemed to love their Tex Mex breakfast plate. The Tex Mex includes 2 eggs over sweet corn cakes, house pico, black bean hummus and avocado. If you are going there for lunch, I suggest you try the highlighted sandwich, the CAB- chicken, avocado, bacon, melted cheddar, and ranch on fresh baked ciabatta bread. To this day I'm still not sure if it is pronounced C-A-B or just the word CAB, but either way it is one of my favorite sandwiches in Falmouth !
Shuckers
For the folks who come to Cape Cod for the Lobster, Guy took Diners, Drive ins, and Dives down the street to Woods Hole. While there they visited a local  favorite, Shuckers World Famous Raw Bar. Owner Kevin Murphy showed Guy how he makes the lobster baked cod entrée. Guy was definitely impressed with the light and fresh taste of the local seafood. In addition, the segment highlighted the experience that comes with lunch or dinner at Shuckers. That experience is enjoying classic Cape Cod Cuisine with views of the water that can't be beat.
Dana's Kitchen
Last but not least, Triple D traveled off the beaten path in Falmouth to a local favorite, Dana's Kitchen. This family run spot offers homemade sweet and savory dishes created by Dana, and her husband Art. Dana and Art met at The Culinary Institute of America. Guy got a taste of two lunch favorites, the Portuguese kale soup and their signature soft shell crab sandwich, he seemed to be very pleased with both !
In recent years, the impact of travel food shows has been huge. These shows give travelers the inside scoop on the food scene of their destination before they even get in a car or on a plane. Cape Cod and more specifically Falmouth is one of the countries most popular summer destinations, so it was only a matter of time before Diners, Drive ins and Dives explored what this town has to offer foodies of all kind! The spotlight Triple D has put on Falmouth has brought guests to town just to try the dishes Guy raved about!
June 15, 2016 by Trish Robinson
Wine and Music Wednesdays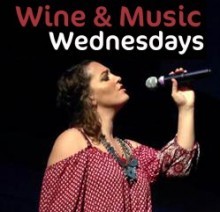 Wine and Music Wednesdays happen every third Wednesday of the month at the Cotuit Center for the Arts. The first event was held in March of 2010 and it has grown each year in popularity. Held in the gallery, wine and music Wednesdays are an open house from 6pm-7:30pm with wine tasting and live music. Cotuit Center for the Arts was founded in 1993 and has worked since to create a welcoming environment for artists, performers, and audiences to appreciate and partake in the creation of art. The center offers a variety of educational programs, performances and exhibitions.
This is the perfect stop on your way to dinner; have a drink while looking at beautiful art which will make fantastic dinner conversation. Tickets are $10 and available only at the door.
June 6, 2016 by Trish Robinson
For many who only know Cape Cod as it relates to sunning on the beach, Cape Cod might not seem like the obvious place for a nature hike, but there are 5 great hiking experiences in upper Cape Cod. Whether you are experienced on the hiking trails or you just want to get some fresh air and a nice walk, there is a trail to meet your needs. Below is information on 5 trails in the upper Cape area rated from under a mile in length to over 3 miles from start to finish.
1. Salt Pond: This trail serves as one of the best places to bird watch in Falmouth. It sits on 35 acres of woods and surrounds the pond itself. As a well maintained, simple trail this is perfect for your afternoon walk. Salt Pond can be accessed right off the shining sea bikeway heading towards Woods Hole. Click here for trail map of Salt Pond.
2. Spohr Gardens: Spohr Gardens stretches across 6 acres of land located on Oyster Pond. The gardens are open year round with a special focus on springtime when daffodils bloom and attract crowds to come out and celebrate. The winding grassy paths make it a perfect trip for people of all ages to enjoy the beautiful sights and activities Spohr Gardens has to offer. Access is available of off Fells road in Falmouth.
3.The Knob: Stretching just under one mile to the top, The Knob is a great excursion with an added bonus of spectacular views of Quisset Harbor and Buzzards Bay. As you are walking up to the knob you may stop to swim and enjoy the beach.  Cornelia L. Carey donated 12 acres including the knob to Salt Pond Areas Bird Sanctuaries in the early 1970s in the hopes that the public would enjoy the beauty of this nature preserve.The Knob is open to the public from sunrise to sunset and is one of the top spots on the upper cape to view incredible sunsets. Click here for some information and a trail map of The Knob. Also check out the great drone video below done by local Falmouth business Skyflik.
4.Beebe Woods: Head to Highfield Hall and Gardens and you will find trails with a little more difficulty than the previous three options. Highfield Hall and Gardens is set in Beebe Woods which consists of 383 acres of land that was donated to the town of Falmouth by the Mr. and Mrs. Josiah K. Lilly, III in 1972. This 383 acres is part of an original 700 acres of property owned by the Beebe family. The trails and setting at Beebe Woods are perfect for any individual in need of some fresh air and a good work out. There and back, Beebe woods is just over 3 miles.  Another Bonus of Beebe Woods is the trails that link to Peterson farm, one of the oldest farms on cape cod. To head out into Beebe woods you must keep a special eye on where you are walking due to many irregular hills and pot holes ! To see and or print a copy of the map of trails for Beebe Woods you can click on this link by The 300 Committee which is a private, non-profit land trust working to preserve and protect natural lands in Falmouth, Massachusetts.Other than the beautiful nature the woods possess, the shining star of the area would be the restored mansion Highfield Hall, which is available for tours.

5. Long Pond: With a total distance of 3.5 miles, Long Pond serves as the most difficult trip of all the trails listed above. To gain access to Long Pond, you may enter by Falmouth High School or Fire tower road, which the trail stretches in between. Once popular with fisherman, unfortunately access to the pond is now off limits. The northern side of this trail consists of many steep slopes keeping walkers, runners, or bikers on their feet! Fun Fact: Long Pond has been the main source of town water since the 1800's.  Click here for link for trail map of Long Pond
With this small list of great hiking trails on Upper Cape Cod, we hope to motivate you to get out there and enjoy the start of summer for some great exercise and awesome sights.
June 2, 2016 by Trish Robinson
There's a new bbq on cape cod, located in the waterfront village of Woods Hole, Falmouth. One of the new trends in the culinary  world is the movement of pop up restaurants. Sugs bbq "popped up" when co-founders Nat and Kristan Chalkley brainstormed with Pie in The Sky owner and friend Erik Gura about bringing Nat's passion for smoking bbq to life. As this exciting new venture for Nat takes off he is serving fresh smoked meats and sides right out of his smoker in the Pie in The Sky courtyard on Saturday and Sunday from 1-8 pm all summer long.
The two shining stars of Sug's menu are his brisket and pork ribs, both smoked over night. Each week Nat will include an additional special such as smoked chicken leg quarters or pulled pork. The featured sides are also not to be forgotten including potato salad, corn bread, and coleslaw. To add even more to this culinary experience, there will be live music from 4-6pm and feel free to byob while dining in the courtyard. Feeling like a little surf to add to your turf? Pie in The sky also has a pop up oyster bar on the other side courtyard.
Sugs co-founder, Kristan Chalkley has been a Pie in The Sky bakery fixture for 10 years, even before Erik purchased the bakery.  Nat and Erik having been friends for years fueled the ties between Sugs and Pie in The Sky. Nat is a successful fisherman and finally this year decided to put a different passion on the forefront. With the help of his wife Kristan, friends, and family this summer was his time. Follow their summer adventure on Sugs instagram page @sugs_bbq.
Photos Credit: Steve Atkinson