June 17, 2016 by Trish Robinson
Beer Bed and Breakfast Cape Cod celebrates its 3rd year over the November 4-6, 2016 weekend. We are happy to be a part of this November tradition.
Welcome Reception
Your Captain's Manor Inn Beer Bed and Breakfast weekend starts with light hors d'oeuvres and beer in our Bistro on Friday
night from 5-6:30pm. Then take a stroll into town and enjoy dinner at any of our fabulous foodie restaurants. Whether you are in the mood for seafood, italian, mexican, thai, or fine or casual dining you will  find it in Falmouth Village.  Visit our restaurant page to read about some of our guests favorite restaurants.
Saturday morning you will be treated to a multi-course breakfast. After breakfast you may choose to explore Falmouth Village or bike the Shining Sea Bikeway. If you are feeling more adventurous you might hike one of our many scenic trails. When you arrive back at the Inn we will have fresh baked goodies and refreshing drinks for you to enjoy at your leisure.
Beer Tasting Menu
Saturday evening you will  enjoy the highlight of the weekend at Quicks Hole Tavern an award winning restaurant in Woods Hole While dining, can enjoy beautiful views of the sunset and the Martha's Vineyard ferry while savoring your special Beer tasting dinner. The menu for your evening will include four local craft beers, lobster taco bites, a mini kale salad with corn, black beans and a cilantro cumin dressing, plus slow roasted chicken tacos on a locally made corn tortilla with shredded cabbage, freshly grated sharp cheese, pico de gallo and queso fresco. To top off your beer and light tasting menu you will be treated to a desert specialty of Quick's Hole Tavern namely their famous "bag of donuts".
Your Weekend Souvenir
Sunday morning you'll enjoy another multi-course breakfast. As a souvenir of your Cape Cod Bed and Breakfast weekend getaway you will take home a custom Captain's Manor Inn beer tankard.
The beauty of Falmouth is that it is truly a year round community. Other parts of the Cape have stores and restaurants that close after Columbus day. Our shops and restaurants in Falmouth Village and Woods Hole are open for business. In fact October and early November are becoming increasingly popular as times to get away and enjoy Cape Cod. During late fall, the crowds have thinned out and there is still plenty to do from hiking all the great trails in the area to starting your Holiday shopping at the unique shops in town and of course enjoying top restaurants without the wait you would have in the summer.
All inclusive pricing includes your guestroom, breakfasts, Friday reception, Saturday dinner and Tankard souvenir. A Queen guestroom is $449 plus tax and a King guestroom is $489 plus tax. We do have 3 premium King guestrooms with fireplaces ($529 plus tax) and a 2 story suite ($569 plus tax) if you would like to upgrade.
Check availability and book online click the button below. Then select your room and add on the Beer, B&B weekend package.

June 1, 2016 by Trish Robinson
The Annual Cape Cod Auto Show at Heritage Museum and Gardens will be held on June 11, 2016 from 9 am until 2 pm. Over 100 cars are expected to be showcased at the event.
The cars are of a wide variety to appeal to all and include hot rods, antique cars, classic autos and even custom cars. Many of the cars at this annual event have historically been in pristine condition but there are also those under restoration that are fun to look at. This year there will be a special exhibit area that will showcase cars that were made in Massachusetts and two cars will also be celebrated this year upon reaching milestones. They are the Toronado and the Continental MKII that are celebrating 50 and 60 years respectively.
A parade of cars will take place at 2 pm but prior to that you can stroll to your hearts content staring at 9 am to view the cars that will be staged at Heritage's Parade Field.
Last year we thoroughly enjoyed the show and love having the chance to share pictures from that year as shown below. If you have a chance to go into the "Driven to Collect" auto show indoors at the Heritage Museum and Gardens you will see our favorite auto ——-
March 1, 2015 by Trish Robinson
Cape Cod's Best Bed and Breakfasts were recently identified by the Travel Channel. There are over 250 bed and breakfasts throughout Cape Cod. The Travel Channel article by Christopher Setterlund identified the top ten spanning from Upper Cape Cod through Mid Cape and Lower Cape Cod out to Outer Cape Cod. As members of the Cape Cod Chamber we are very familiar with the wonderful hosts and properties that the Travel Channel identified. Read on to learn a bit about these top ten bed and breakfasts.
The Captain's Manor Inn is honored to be one of these top ten Cape Cod's bed and breakfasts and the only one located in Upper Cape. Located in Falmouth Village, guests love the ability to park the car and stroll to the many boutique shops, restaurants, museums and beaches. Enjoy the Shining Sea bike path and the many walkable gardens and museums in town or perhaps a game of golf, fishing, kayaking, or sunset cruises are on your list. Explore our day trips page for ideas ranging from day tripping to Martha's Vineyard to sailing off for a whale watch.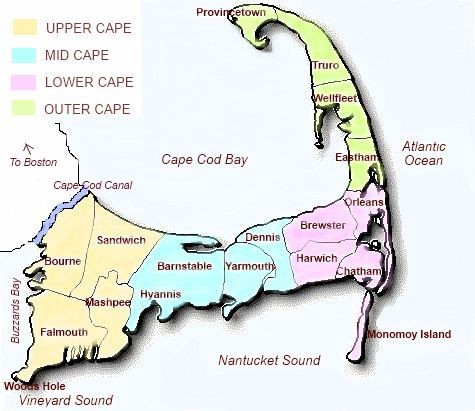 We are also thrilled that The Platinum Pebble Boutique Inn is named as one of the top ten Cape Cod bed and bre

akfasts by the Travel Channel. In 2014 The Captain's Manor Inn partnered with The Platinum Pebble to offer our 2 for 1 package that has been extremely popular with our international guests and our domestic guests. We essentially ease the planning of your Cape Cod vacation by creating a week long package where you spend 3 days at each of our two Inns and during your stay you will day trip to Martha's Vineyard, Nantucket, Heritage Museums and Gardens, plus enjoy a Whale Watch adventure and bike the Shining Sea Bikeway and the Cape Cod Rail Trail. All your ferry and admission tickets are included as part of the package. By staying at The Captain's Manor Inn in Upper Cape Cod (near Martha's Vineyard) and Lower Cape Cod (near Nantucket Island) guests of the 2 for 1 package essentially see all of Cape Cod and the Islands during their week long stay.
The other lovely bed and breakfasts named by the Travel Channel span from Mid Cape to Outer Cape.
In the Mid Cape you will find Captain David Kelly House located in Centerville. Rick and Tom have been welcoming guests to their bed and breakfast since 2009. Their breakfasts are entertaining and delicious. One of our favorite places to enjoy while in Centerville is the renowned Four Seas Ice Cream which is not far from Craigville beach.
Another wonderful bed and breakfast in Mid Cape is Liberty Hill Inn which is located in Yarmouth Port. The Inn is set back from historic route 6A on a little hill. It is always great fun to drive Route 6A and enjoy the many unique antique shops along the route and view beautiful historic Cape Cod homes.
A third bed and breakfast in Mid Cape honored in the Travel Channel top ten Cape Cod bed and breakfasts is the Lamb & Lion located in Barnstable. Ali and Tom have exceptional hospitality experience and their Lamb & Lion Inn is located along the scenic and historic 6A and is a renowned pet friendly bed and breakfast.
As you travel east in Cape Cod you will now move from Mid Cape to Lower Cape Cod. In addition to The Platinum Pebble Boutique Inn there are 3 other Lower Cape Cod bed and breakfasts honored by the Travel Channel in their Cape Cod's Best Bed and Breakfasts selection for 2015.
First we travel to the Old Harbor Inn in Chatham Cape Cod.  Chatham is a quintessential Cape Cod town with a walkable village style center. Some of the favorite spots we like to visit in Chatham are the working Fish Pier and the Chatham Lighthouse Beach and Lighthouse.
Next as you traverse the Lower Cape would be Brewster by The Sea Inn and Spa located in the historic Sea Captain's town of Brewster. A thoroughly enjoyable activity to undertake in Brewster is to bike along the Rail to Trail Bike path which spans 22 miles through Dennis in Lower Cape Cod to Wellsfleet in  Outer Cape Cod. After your bike extravaganza you can enjoy a treatment in Brewster by the Sea Inn and Spa's fully licensed Spa.
Another of the top bed and breakfasts as noted by the Travel Channel in Lower Cape Cod is A Little Inn on Pleasant Bay. This Orleans Bed & Breakfast sits between the historic villages of Chatham & Orleans right at what many refer to as the "elbow" of Cape Cod. Located on Pleasant Bay in Orleans the Inn has beautiful water views and a small beach as well as a dock.
We now leave the Lower Cape to head to the Outer Cape. There are two remaining Bed and Breakfasts to talk about in the Travel Channel designation of top ten Cape Cod bed and breakfasts. These two bed and breakfasts are located in Eastham and Provincetown.
In Eastham you will find the Whalewalk Inn and Spa.The property was originally built in 1830 for a renowned whaling captain and was subsequently a farm before it was purchased and turned into a bed and breakfast in 1953. A highlight of the marshes and open waters that surround Eastham is that they provide some of the best kayaking and canoeing on the Cape.
A short 10 minute drive from the Whalewalk Inn on the way towards the Outer Cape is the famous National Seashore. The Cape Cod National Seashore was created on August 7, 1961 by President John F. Kennedy. This national treasure encompasses over 43,000 acres on the Atlantic Ocean side of Cape Cod and in addition to beachfront includes ponds and woods.
Last but not least is the 8 Dyer Hotel bed and breakfast in Provincetown. Brandon and Steve are your hosts at this beautiful and intimate bed and breakfast located in walking distance of such landmarks as the Pilgrim Monument and the Provincetown Art Association and Museum. It is also just a short walk to the famous Provincetown Commercial Street. Brandon is a chef trained at the Culinary Institute of America so you can expect a yummy breakfast.
We hope you have the chance to visit several of Cape Cod's best bed and breakfasts.
January 5, 2013 by insideout
Just a short 1/2 hour drive from The Captain's Manor Inn, Sandwich was the first Cape town settled in 1637 and its name was based on a seaport in Kent, England. What was a small agrarian community changed dramatically when a Boston businessman Deming Jarvis established a glass factory in Sandwich. The Boston and Sandwich glass company grew to be one of the largest glass makers in the nation.
A must see in Sandwich is the Heritage Museum and Gardens. This is the largest public garden in southern New England and it is located on 100 acres of magnificent grounds on the banks of Shawnee pond. This site is especially famous for their Dexter Rhododendrons as well as numerous daylilies, hostas and hydrangeas. In addition the gardens feature nationally recognized specialty gardens, water features and sculpture.
The heritage Museum hosts three gallery buildings with diverse exhibitions. Our particular favorite, housed in a reproduced Shaker Round Stone Barn, is an automobile gallery featuring more than 30 beautifully maintained antique American automobiles. Another fine collection is the American Art & Carousel Gallery which includes an extensive collection of folk art and a working vintage carousel from 1908.
Another site you should visit is the Sandwich Glass Museum. There are displays of more than 6000 different glass pieces created by different glass companies in Sandwich during the 19th and 20th centuries. A highlight of your visit will be the opportunity to view glassblowing demonstrations on site. The glassblowing demonstrations are held daily from 10 AM until 4 PM every hour on the hour.
Other interesting glass shops to visit in Sandwich are listed below:
• McDermott Glass Studio & Gallery (272 Cotuit Road, Sandwich, Ma 02563)
Closed Monday, Gallery Tue-Sun 10-5, Glassblowing Thu-Sat 10-5
• Glass Studio on Cape Cod (470 Route 6A, East Sandwich)
www.glassstudiooncapecod.com
• Pairpoint – Americas Oldest Glass Works (Route 6A Sagamore Ma)
www.pairpoint.com
If you have more time to spare in Sandwich perhaps you would enjoy the Heritage Trail:
December 19, 2012 by insideout
Happy Holidays to all.  Enjoy the beautiful Heritage Museums and Gardens in Sandwich, Cape Cod as they are all dressed up for the holidays.  This reminds me the wonderful lighting displays of Forest Park in Springfield, Massachusetts.  The spirit of the holidays is present both inside the museum and on the grounds.
Rhododendron Festival
WHEN
Saturday, May 21, 2011 to Monday, May 30, 2011
10:00AM – 5:00PM
WHERE
Throughout the museums and grounds
Visit Heritage Museums & Gardens this May for a celebration of rhododendrons during prime bloom time. This ten-day festival will kick off on Saturday, May 21 with a cooking demonstration by Mary Ann Esposito, host of the PBS series Ciao Italia!
Also featured throughout the festival are book signings by renowned chefs, horticultural walking tours, a plant sale, photography and plein air painting workshops, and horticulture lectures.