February 24, 2017 by Trish Robinson
Hotels near me in Falmouth Massachusetts include top choices in the 5 different categories outlined below:-
Luxury   2.   Located in Falmouth Village   3.  Located by the Water   4. Romantic  5. Family Friendly
Luxury or Boutique Hotels, Bed and Breakfast or Inns
The Captain's Manor Inn
Originally built in 1849 by a ship captain for his New Orleans bride. This southern plantation style estate has been lovingly restored and expanded by the current owners. Set back from the road this respite property is located on 1.25 acres with gorgeous gardens. Guests enjoy 8 luxurious guestrooms all with private bathrooms with rain showers, luxurious sheets and amenities, free wifi and numerous other comforts. A complimentary full breakfast is served to you each morning and in the Bistro you will find 24/7 coffee and tea as well as home baked goodies each afternoon. Walk from the Inn to any of 20+ restaurants.
Inn on the Sound
A 10 guestroom bed and breakfast located across from Falmouth Heights Beach. Providing a complimentary full breakfast each morning and other amenities. Near the Inn are two restaurants and it is just a short drive to Falmouth Village with additional restaurants and shops.
Woods Hole Inn
This circa 1887 Inn features 14 guestrooms all with private baths and is located across from the Steamship Authority where ferries take passengers and vehicles across Vineyard Sound to Martha's Vineyard. The Inn is conveniently located in Woods Hole Village with various restaurants to enjoy including the award winning Quicks Hole Tavern.
Located in Falmouth Village – Walk to shops, restaurants, beach
The Captain's Manor Inn
Just a 3 minute stroll into Falmouth Village where guests enjoy culinary delights at over 20 different restaurants. Top rated restaurants such as CSalt, Glass Onion, Anejo and La Cucina are a few favorties of locals and visitors alike. In addition there are a number of boutique shops in the village including the famous Black Dog. It's just a one mile walk to the nearest beach. You can grab Inn beach towels and chairs as well as a picnic lunch prepared by the Inn chef for your beach day.
Palmer House Inn
This 17 room Victorian Inn is located just a few minute stroll from Falmouth Village. They provide a complimentary full breakfast each morning to guests.
Inn at Siders Lane
A lovely 3 room Inn is also located just down Main Street from Falmouth Village. A complimentary full breakfast is provided each  morning.
Located by the Water
Sea Crest Beach Hotel
Located on one of the most popular beaches in Falmouth – Old Silver Beach. They have beach access as well as pools. They also have a full service restaurant.
Bailey's By the Sea
This 5 room bed and breakfast is located across the street from Vineyard Sound and just a stroll from Falmouth Heights beach. Enjoy your complimentary full breakfast in the morning on the enclosed porch facing Vineyard Sound.
Beach Breeze Inn
Located on Shore Street just 100 yards from Surf Drive Beach.
Romantic Hotels, Bed and Breakfast or Inns
The Captain's Manor Inn
Featured on the front page of the Boston Globe travel section in the article "Cape Inns Built on Romance". The Inn was also featured as a winner of the "2016 Best of Where to Elope" by wheretoelope.com A number of packages can be added to a reservation to make the occasion extra romantic. Pick one of the premium King guestrooms with a fireplace for even more ambience.
Inn on the Sound
Enjoy watching sunsets over Vineyard Sound. Some guestrooms have a balcony where you can enjoy your breakfast.
Family Friendly Hotels, Bed and Breakfasts or Inns
Holiday Inn
Families enjoy the indoor pool and on-site restaurant. Guestrooms are available with 2 beds for families wanted to share a room.
Shoreway Acres
The expansive grounds include plenty of space for Frisbee, badminton etc. to be enjoyed by families. There is also an indoor pool on the property. A buffet breakfast is offered each morning. Guests are just down the street from Surf Drive beach and walking distance from Falmouth Village.
Woods Hole Passage
Located on Woods Hole Road between Falmouth Village and Woods Hole Village. This comfortable 5 guestroom bed and breakfast is family friendly and provides a complimentary full breakfast each morning.
July 14, 2012 by insideout
We are pleased to share that we have a new offering thanks to the newly established organization Electric Ride in Falmouth.  We all know that a long bike ride for some is quite enjoyable where for others who love to go and enjoy the scenery and exercise they tire after several miles.  Now there is a solution for that.  Rent an electrically assisted bicycle and enjoy the ride!  What better way to fully conquer our beautiful Shining Sea Bikeway and go the entire 10.7 miles.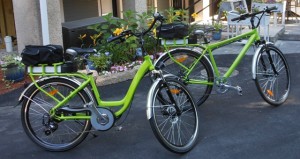 June 13, 2012 by insideout
We are very happy to share with you the initial photos of our 3 new guestrooms!  Professional photographer Christian Giannelli just visited with us to take these pictures so we can update our website.  In approximately 2 weeks we will have photo galleries for the new guestrooms as well as pictures of the new bistro and the back of the Inn where the addition was done.  In the meantime Christian was good enough to provide a few shots to whet our appetite.  The rooms are available for reservations now.
We hope you enjoy!
We love creative minds and thought you would enjoy this video which is part of a wonderful campaign know as the Better Way To Stay featuring Inns and Bed and Breakfasts.  The Inns of Falmouth Cape Cod will be part of a video later this summer.
Please enjoy and more to be shared in the future .
April 29, 2012 by insideout
The Red Chair has continued on its journey of a Better Way to Stay in Cape Cod and has arrived at The Captain's Manor in in Falmouth.  What a wonderful time visiting some of Cape Cod's great landmarks including lovely Inns , museums, eateries, beaches, and quaint villages such as Falmouth Village's main street.
What I found as we chaperoned the chair is that it is famous !  When we went over to the Queens Buyway shops a local bicycle rider yelled out "Is that THE red chair" and we were happy to reply it sure is!  The next stop was Ben & Bill's Chocolate emporium where one of the staff made a point of going to get the local paper and show the rest of her co-workers the article that had been written.  I had no sooner arrived at Highfield Hall and was taking the chair out for its picture in the sunken garden when two of my favorite people from the Hall, Janet and Pat,  came out and said they were just taking about the Red Chair the other day and saying wouldn't it be great if it made a visit here.  Off to the Visitor Center where the cry went out "The Red Chair is here".  My personal favorite was after taking some great shots over at the Nobska Lighthouse a gentlemen made a point of jogging over from across the street saying he just had to see what the fuss was about with THE Red Chair.
Some of our favorite pictures were at the Nobska Lighthouse and Highfield Hall.  Also check out our full gallery of pictures on facebook and our movie on youtube. 
April 11, 2012 by insideout
The construction adventure continues!  The projects of today are trim around the windows, doors etc. and stairway tread installation as well as hardwood flooring.
April 4, 2012 by insideout
The weather has been beautiful the past couple of days here at The Captain's Manor Inn which is helping us to get some important outdoor work completed on the new construction.  The finishing touches are being done on the new main entrance stairs to the veranda and Kevin has been very busy creating the new brick patio at the base of the stair entrance.  Needless to say his back and knees are a bit sore!
Hope you enjoy these pictures of the progess.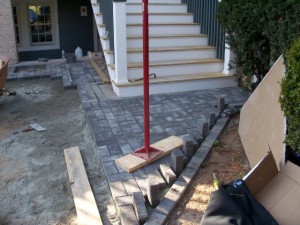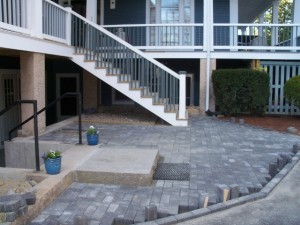 March 30, 2012 by insideout
Hard to believe that less than 60 days are left until we reopen the Inn.  The tiling of all the new bathrooms is well underway and the crown molding and wood trim is in process.  The Bates room is a fun room to capture as it progresses. We posted a short video below that we hope you enjoy 🙂