February 24, 2017 by Trish Robinson
Hotels near me in Falmouth Massachusetts include top choices in the 5 different categories outlined below:-
Luxury   2.   Located in Falmouth Village   3.  Located by the Water   4. Romantic  5. Family Friendly
Luxury or Boutique Hotels, Bed and Breakfast or Inns
The Captain's Manor Inn
Originally built in 1849 by a ship captain for his New Orleans bride. This southern plantation style estate has been lovingly restored and expanded by the current owners. Set back from the road this respite property is located on 1.25 acres with gorgeous gardens. Guests enjoy 8 luxurious guestrooms all with private bathrooms with rain showers, luxurious sheets and amenities, free wifi and numerous other comforts. A complimentary full breakfast is served to you each morning and in the Bistro you will find 24/7 coffee and tea as well as home baked goodies each afternoon. Walk from the Inn to any of 20+ restaurants.
Inn on the Sound
A 10 guestroom bed and breakfast located across from Falmouth Heights Beach. Providing a complimentary full breakfast each morning and other amenities. Near the Inn are two restaurants and it is just a short drive to Falmouth Village with additional restaurants and shops.
Woods Hole Inn
This circa 1887 Inn features 14 guestrooms all with private baths and is located across from the Steamship Authority where ferries take passengers and vehicles across Vineyard Sound to Martha's Vineyard. The Inn is conveniently located in Woods Hole Village with various restaurants to enjoy including the award winning Quicks Hole Tavern.
Located in Falmouth Village – Walk to shops, restaurants, beach
The Captain's Manor Inn
Just a 3 minute stroll into Falmouth Village where guests enjoy culinary delights at over 20 different restaurants. Top rated restaurants such as CSalt, Glass Onion, Anejo and La Cucina are a few favorties of locals and visitors alike. In addition there are a number of boutique shops in the village including the famous Black Dog. It's just a one mile walk to the nearest beach. You can grab Inn beach towels and chairs as well as a picnic lunch prepared by the Inn chef for your beach day.
Palmer House Inn
This 17 room Victorian Inn is located just a few minute stroll from Falmouth Village. They provide a complimentary full breakfast each morning to guests.
Inn at Siders Lane
A lovely 3 room Inn is also located just down Main Street from Falmouth Village. A complimentary full breakfast is provided each  morning.
Located by the Water
Sea Crest Beach Hotel
Located on one of the most popular beaches in Falmouth – Old Silver Beach. They have beach access as well as pools. They also have a full service restaurant.
Bailey's By the Sea
This 5 room bed and breakfast is located across the street from Vineyard Sound and just a stroll from Falmouth Heights beach. Enjoy your complimentary full breakfast in the morning on the enclosed porch facing Vineyard Sound.
Beach Breeze Inn
Located on Shore Street just 100 yards from Surf Drive Beach.
Romantic Hotels, Bed and Breakfast or Inns
The Captain's Manor Inn
Featured on the front page of the Boston Globe travel section in the article "Cape Inns Built on Romance". The Inn was also featured as a winner of the "2016 Best of Where to Elope" by wheretoelope.com A number of packages can be added to a reservation to make the occasion extra romantic. Pick one of the premium King guestrooms with a fireplace for even more ambience.
Inn on the Sound
Enjoy watching sunsets over Vineyard Sound. Some guestrooms have a balcony where you can enjoy your breakfast.
Family Friendly Hotels, Bed and Breakfasts or Inns
Holiday Inn
Families enjoy the indoor pool and on-site restaurant. Guestrooms are available with 2 beds for families wanted to share a room.
Shoreway Acres
The expansive grounds include plenty of space for Frisbee, badminton etc. to be enjoyed by families. There is also an indoor pool on the property. A buffet breakfast is offered each morning. Guests are just down the street from Surf Drive beach and walking distance from Falmouth Village.
Woods Hole Passage
Located on Woods Hole Road between Falmouth Village and Woods Hole Village. This comfortable 5 guestroom bed and breakfast is family friendly and provides a complimentary full breakfast each morning.
July 26, 2015 by Trish Robinson
Sundays at La Cucina Sul Mare feature live acoustic music as well as the most delicious Italian cuisine in Falmouth. Stop in for lighter fare and a fabulous cocktail at the bar; or make a night of it and order everything from appetizers to dessert.  Whether you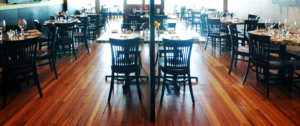 dine in the beautiful restaurant, or al fresco on the breezy patio, you will love the signature dishes – each with an Italian or Mediterranean flare. We recommend the lobster and asparagus ravioli with sautéed sea scallops. This dish is served with a light tomato sherry mascarpone cream sauce and will have you coming back to Falmouth just for another bite!
Donnie Cross and Paul Good will set the tone for a wonderful evening with their acoustic interpretations of old classics. Listen to a sample of the music here. Located in the heart of Main Street, La Cucina Sul Mare is a short walk from The Captain's Manor Inn and the perfect place for a romantic evening complete with great music. Sundays at La Cucina Sul Mare are a best bet for a great night in Falmouth!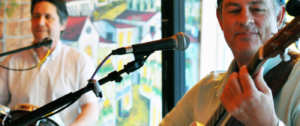 Call ahead seating is always available, call 508-548-5600
October 24, 2014 by Trish Robinson
Falmouth Village Scarecrows make their appearance again this Fall and Halloween season on iconic Main Street. Over 20 different creative oversize scarecrows are located on the lamposts in front of restaurants, retail shops, the local fire station and several bed and breakfasts in Falmouth Village. The scarecrows went up on October 15th and will remain until late November.
Each year the members of the Falmouth Village Association enjoy showcasing their talents in coming up with a scarecrow character to represent their unique business.
This year some of the unique characters include an oompa loompa scarecrow from Willy Wonka and the chocolate factory located in front of Ghelfi's Candies, a cocktail serving scarecrow in front of the Quarterdeck restaurant, a leprechaun in front of Liam Maguire's Irish Pub, and Popeye the Sailor Man in front of The Captain's Manor Inn. We encourage you to take a stroll along Main Street and enjoy the fun and creative scarecrow's while you stop in to shop at our local shops and restaurants.