May 6, 2015 by Trish Robinson
Cape Chic a Cape Cod boutique women's shop is located at 104 Palmer Avenue in the Queens Buyway shopping venue of Falmouth Village.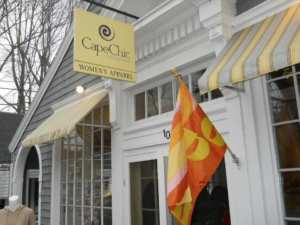 Year Established – Cape Chic was established in April of 2013 by Sandy Mullins.
The story behind the name/logo – Sandy wanted to communicate that her boutique shop would offer chic styling but also that the fashions offered would be casual, comfortable and relaxed for a coastal area. The chic being an easy stylish feel vs. a casual sporty feel. Sandy shared that she wanted customers to enjoy casual comfort while having fun with fashion too.
The logo is very interesting because Sandy held an online tournament to create her logo. She did not know any local artists so by using the tournament she had people from all over the world compete to design her logo. The final logo selected was done by an artist in Italy. The tournament process includes typing up a brief for the artists and then an email blast will go out to designers and you provide a cash prize for the selected winner. The coloring for the logo and store interior was already in her mind from a visit she had made to a vineyard tasting room in Oregon years earlier. The color scheme is beachy, fun, happy but not blue as so many other beach destinations use.
Why This Dream – Sandy had dreamed of this type of a shop since she was a little girl but never really thought of it seriously until she grew up in market research, marketing and brand management in the corporate world. Sandy says that as a brand manager you act a bit like a CEO for the brand you are working on. You lead a number of different departments when you are a brand manager including finance, product development, and information technology so Sandy felt that the broad background in managing those areas and her consumer research background and passion for fashion gave her the background to start her own women's boutique venture here in Cape Cod.
Sandy loves the ocean so she looked at coastal Connecticut and Cape Cod as she selected a final location. Being from Massachusetts, Falmouth became the choice because of Famouth Village and the Main Street walkable community that is thriving. She loved the small town, unique, boutique feel and felt the culture was wonderful in Falmouth Village with events like the JazzFest and all the wonderful restaurants.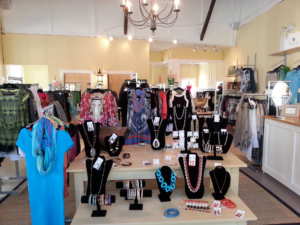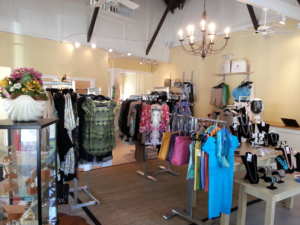 Fan Favorite Items – One of the top fan favorites would be the Nally & Millie apparel. The fabric feel is very comfortable, travels well and the style is figure flattering with fun colorful prints and a great price point for the customer. The jewelry is a very popular accessory selection in Cape Chic. She gets most of her jewelry from New York but also some from Atlanta and the West Coast.
Unique Offering – Coastal Casual Chic is her store tagline. She strives to offer a bit more contemporary feel than some other Cape Cod boutique shops.
Another fan favorite that is unique to Cape Chic in the area are the Jag jeans that Sandy carries. These are a popular pull on jean that are very comfortable and look stylish with an untucked top style that women are wearing and they have still have a full jean look.
Interesting Trivia – Sandy brings her international brand marketing experience to her boutique. She lived in the UK for some time and conducted market research in Germany, Italy, France, and Sweden.
General Information – Cape Chic is open year round with summer hours daily of 10-6. Winter hours are Wednesday – Friday 10-6 and on Sunday from 12-5.
December 3, 2014 by Trish Robinson
Holidays by the Sea is once again promising to be a fun filled weekend in Falmouth Village.
The festivities officially being on Friday December 5th at 5:30 with a carol sing at the iconic Nobska Lighthouse. Hot chocolate and cookies will be on hand to fuel you for participating in the festive seasonal sing along.
At a very reasonable 9:30 am on Saturday December 6th you can join in on the 3rd annual Jingle Jog 5K sponsored by Dunkin Donuts and Anytime Fitness. Festive outfits are actually encouraged for the race and our very own son-in-law donned a Santa outfit a couple of years ago. The Elf Run for participants 12 and under starts at 9:30 and the Jingle Jog for those 13 and over starts at 9:45.
After joining in the race or just cheering on the runners you can head over to Marine Park at Falmouth Harbor to welcome Seafaring Santa! The Falmouth High School Chorus will be on hand singing Christmas carols. All are invited to join in the activities of  the annual children's bike raffle, hot chocolate & treats courtesy of Dunkin' Donuts.
Also on the 6th at noon there is a public viewing of the Nobska Lighthouse which is sponsored by the Coast Guard Auxiliary and goes unti 2 pm. As a little incentive we share that Santa visits at 12:30 pm!
After a little afternoon rest get ready for the Holiday Stroll along Main Street and Queens Buyway. Hop on the trolley to the Falmouth Historical Society for a visit with Santa until 6:30. There will be face painting by Mrs. Claus, along with hot chocolate and cookies. The Falmouth Historical Society will also have additional craft activities for the kids. Take the trolley to the Queen's Buyway, and visit the Petting Zoo! (In the courtyard behind Cape Chic and Pink Polka Dot from 5-6:30) Enjoy live music by the Donnie Cross Trio at Headlines on Main Street. The movie Frozen will also be streaming throughout the evening at Peg Noonan Park. Also keep a look out for Elsa and Anna! The Very Merry Dickens Carolers and the Falmouth High School Band will perform along Main Street. Ride the Trolley down Main Street while the Falmouth High School A Capella Group sings Holiday songs! Just look for the trolley stop signs. Snacks and refreshments can be found at your favorite local shops! Information cards will be available at most Main Street Shops.
The official festivities conclude on Sunday December 7th with the 51st annual parade. The Parade starts at noontime at the Falmouth Mall and proceeds down Main Street to the Village Green. Our parade is Southeastern Massachusetts' largest holiday parade with theme decorated floats, marching bands, live animals, costumed characters and Santa Claus!
March 20, 2013 by insideout
DJ's Wings is a welcome new addition to our restaurant choices in Falmouth.  A true sports bar, with seven large flat screen tv's and individual screens in the booths(!) on the sports-bar side to round out our viewing choices. The food was delivered crisp and hot; we tried both the medium-hot chicken wings and the barbequed ribs. Seats in the bar side were full; a great renovation on the site of an old favorite (the Hearth and Kettle was in this spot for years).  If you are feeling competitive and like your wings hot, try the "Angry Wing Challenge". You have to eat "10 wings from hell" in ten minutes and lick your fingers.  If you win you get a T-shirt and your photo is posted on the "Wall of Flame." You also get your wings for free. Lose and you pay $9.99 for the wings and a photo on the "Wall of Shame".
The restaurant side of the bar is decorated in football style, painted green with yard-line markers. A great place for couples, families, and sports lovers, the menu is extensive and includes salads, wraps, and sandwiches as well as their famous wings and ribs.  Local sports fans will love the atmosphere. Prices are reasonable; a sampler of wings and a sampler of ribs cost about $15.00.