February 16, 2016 by Trish Robinson
Cape Cod's Jazz Scene
Cape Cod's jazz scene is unlike that of any other area.
Current 2016 Jazz events:
Pre-Season Social!
This Thursday, February 18th, 7-9 PM 
Come to our second social at Quicks Hole Tavern featuring Scott Shetler (clarinet, mandolin, sax, vocals), Bruce Millard (guitar, mandolin) Joe Sutton (guitar, vocals),  and Woods Hole Jazz founder Tom Renshaw (bass).   Enjoy a rousing evening of blues, swing, and gospel in an informal atmosphere. No cover. Tips appreciated.
Thursday, March 3rd – Vocalist/Trumpeter Christine Fawson with Phil Wilson
The talented and entertaining Fawson brings her Berklee mentor, legendary trombonist and Grammy-nominee Phil Wilson. $25, $20 in advance. Learn more.
Wednesday, March 23rd – Dave Zinno Quartet Bassist Dave Zinno returns to Woods Hole with top trumpeter Jason Palmer, Tim Ray (piano), and Steve Langone (drums).
Thursday, April 14th – Nadia Washington (vocals, guitar) One of NYC's top up-and-coming vocalists, a blend of rock star Janis Joplin and jazz queen Nina Simone.
Tuesday, April 26th – Frank Wilkins with Toni Lynne Washington An encore performance by Boston's Queen of the Blues.
Sunday, June 26th – Kate McGarry 
A 2013 Grammy nominee for Best Jazz Vocal album, McGarry effortlessly blends styles with a repertoire that ranges from jazz classics to broadway to folk.
2015 Jazz Fest Falmouth – September 26 – October 4
Enjoy lectures, recitals, concerts, jam sessions, a jazz brunch and a jazz stroll during the eight day celebration presented by Arts Falmouth. The jazz stroll will take place on Friday, October 2nd and promises to be a night full of great music. Downtown Falmouth will come alive on Friday night. The shops and restaurants from Queen's Buyway and along Main Street will showcase an assortment of groups ranging from classic swing to avant-garde with a little blues thrown in. Just wander in and out;  it's all free.  The 2015 line up features both local favorites and award winning ensembles. Each performance time is staggered giving you an opportunity to hear a variety of jazz styles throughout the evening. Click here for the 2015 Jazz Stroll lineup.
September 26:  Robert Wyatt on Louis Armstrong
September 27:  Pianist Jon Weber on almost everything else about jazz
September 30:  Toni Lynn Washington, Queen of the Blues
October 2:  Jazz Stroll along Main Street
October 3:  Denise Donatelli in concert at Highfield Theater
October 4:  Goodis & Glenn Jazz Brunch at Persy's
Woods Hole Jazz – September 30 – November 11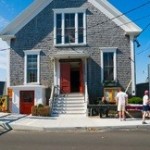 Jazz has been a long standing tradition on Cape Cod and the Woods Hole Community Hall building has been home to jazz music for over thirty-five years. Toni Lynn, known as Boston's "queen of the blues" will be performing in September with the Frank Wilkins Quartet both of whom grew up playing in church so their music has undeniable gospel influences. With one performance per month from September – November, this fall is the perfect time to book a trip. Click here for ticket information and to read more about the musicians.
September 30: Toni Lynn Washington with the Frank Wilkins Quartet
October 20: Donna Byrne
November 11: The Harry Allen Trio
Martha's Vineyard Jazz & Blues Summerfest – September 3-6
Sheila Baptista, founder and producer of the Martha's Vineyard Jazz & Blues Summerfest began the festival in 2008 with only word of mouth marketing and donated a portion of the proceeds to help support regional efforts to spread a vital message regarding breast cancer, early detection, courses of treatment and positive recovery. The festival has grown rapidly each year and has become an event that locals and vacationers alike look forward to each year. The first night is held in Oak Bluffs and the following three nights are held in Edgartown. Click here for ticket information.
September 3: Jazz Giants 25 and Under
September 4: Lisa Fischer, Sharel Cassity, Andrea and James Rohlehr and the Andjam Band
September 5: Women of the World, Sage All Ladies Jazz and Blues
September 6: Nnenna Freelon, Jazz Pianist Yayoi Ikawa, Jazz Gospel Violinist Kersten Stevens
Cape Cod Jazz Festival – September 1 & 2
The twelfth annual Cape Cod Jazz Festival takes place this year at the Wequassett Resort & Golf Club in Chatham. Mary C and the Stellars, performing on September 2 have been featured on MTV, VHI, Bravo, and NBC. Performances are free an open to the public and take place at the resort's garden terrace overlooking Pleasant Bay. Dine alfresco at the resort's restaurant Twenty-Eight Atlantic while you listen to the smooth sounds of the summer.
September 1: The Mark Greel Band
September 2: Mary C and the Stellars
Jazz has been touted as one of America's original art forms, and has been around for over a century. Enjoy the improvisational rhythms and melodies of an American classic on beautiful Cape Cod this fall.
March 1, 2015 by Trish Robinson
Cape Cod's Best Bed and Breakfasts were recently identified by the Travel Channel. There are over 250 bed and breakfasts throughout Cape Cod. The Travel Channel article by Christopher Setterlund identified the top ten spanning from Upper Cape Cod through Mid Cape and Lower Cape Cod out to Outer Cape Cod. As members of the Cape Cod Chamber we are very familiar with the wonderful hosts and properties that the Travel Channel identified. Read on to learn a bit about these top ten bed and breakfasts.
The Captain's Manor Inn is honored to be one of these top ten Cape Cod's bed and breakfasts and the only one located in Upper Cape. Located in Falmouth Village, guests love the ability to park the car and stroll to the many boutique shops, restaurants, museums and beaches. Enjoy the Shining Sea bike path and the many walkable gardens and museums in town or perhaps a game of golf, fishing, kayaking, or sunset cruises are on your list. Explore our day trips page for ideas ranging from day tripping to Martha's Vineyard to sailing off for a whale watch.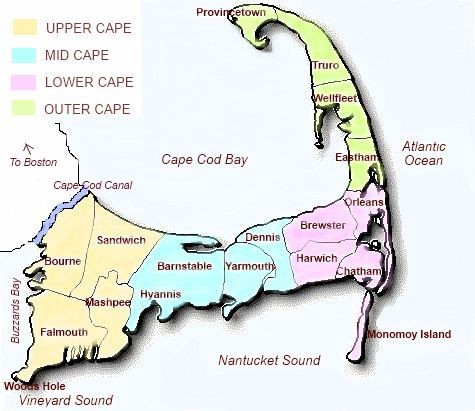 We are also thrilled that The Platinum Pebble Boutique Inn is named as one of the top ten Cape Cod bed and bre

akfasts by the Travel Channel. In 2014 The Captain's Manor Inn partnered with The Platinum Pebble to offer our 2 for 1 package that has been extremely popular with our international guests and our domestic guests. We essentially ease the planning of your Cape Cod vacation by creating a week long package where you spend 3 days at each of our two Inns and during your stay you will day trip to Martha's Vineyard, Nantucket, Heritage Museums and Gardens, plus enjoy a Whale Watch adventure and bike the Shining Sea Bikeway and the Cape Cod Rail Trail. All your ferry and admission tickets are included as part of the package. By staying at The Captain's Manor Inn in Upper Cape Cod (near Martha's Vineyard) and Lower Cape Cod (near Nantucket Island) guests of the 2 for 1 package essentially see all of Cape Cod and the Islands during their week long stay.
The other lovely bed and breakfasts named by the Travel Channel span from Mid Cape to Outer Cape.
In the Mid Cape you will find Captain David Kelly House located in Centerville. Rick and Tom have been welcoming guests to their bed and breakfast since 2009. Their breakfasts are entertaining and delicious. One of our favorite places to enjoy while in Centerville is the renowned Four Seas Ice Cream which is not far from Craigville beach.
Another wonderful bed and breakfast in Mid Cape is Liberty Hill Inn which is located in Yarmouth Port. The Inn is set back from historic route 6A on a little hill. It is always great fun to drive Route 6A and enjoy the many unique antique shops along the route and view beautiful historic Cape Cod homes.
A third bed and breakfast in Mid Cape honored in the Travel Channel top ten Cape Cod bed and breakfasts is the Lamb & Lion located in Barnstable. Ali and Tom have exceptional hospitality experience and their Lamb & Lion Inn is located along the scenic and historic 6A and is a renowned pet friendly bed and breakfast.
As you travel east in Cape Cod you will now move from Mid Cape to Lower Cape Cod. In addition to The Platinum Pebble Boutique Inn there are 3 other Lower Cape Cod bed and breakfasts honored by the Travel Channel in their Cape Cod's Best Bed and Breakfasts selection for 2015.
First we travel to the Old Harbor Inn in Chatham Cape Cod.  Chatham is a quintessential Cape Cod town with a walkable village style center. Some of the favorite spots we like to visit in Chatham are the working Fish Pier and the Chatham Lighthouse Beach and Lighthouse.
Next as you traverse the Lower Cape would be Brewster by The Sea Inn and Spa located in the historic Sea Captain's town of Brewster. A thoroughly enjoyable activity to undertake in Brewster is to bike along the Rail to Trail Bike path which spans 22 miles through Dennis in Lower Cape Cod to Wellsfleet in  Outer Cape Cod. After your bike extravaganza you can enjoy a treatment in Brewster by the Sea Inn and Spa's fully licensed Spa.
Another of the top bed and breakfasts as noted by the Travel Channel in Lower Cape Cod is A Little Inn on Pleasant Bay. This Orleans Bed & Breakfast sits between the historic villages of Chatham & Orleans right at what many refer to as the "elbow" of Cape Cod. Located on Pleasant Bay in Orleans the Inn has beautiful water views and a small beach as well as a dock.
We now leave the Lower Cape to head to the Outer Cape. There are two remaining Bed and Breakfasts to talk about in the Travel Channel designation of top ten Cape Cod bed and breakfasts. These two bed and breakfasts are located in Eastham and Provincetown.
In Eastham you will find the Whalewalk Inn and Spa.The property was originally built in 1830 for a renowned whaling captain and was subsequently a farm before it was purchased and turned into a bed and breakfast in 1953. A highlight of the marshes and open waters that surround Eastham is that they provide some of the best kayaking and canoeing on the Cape.
A short 10 minute drive from the Whalewalk Inn on the way towards the Outer Cape is the famous National Seashore. The Cape Cod National Seashore was created on August 7, 1961 by President John F. Kennedy. This national treasure encompasses over 43,000 acres on the Atlantic Ocean side of Cape Cod and in addition to beachfront includes ponds and woods.
Last but not least is the 8 Dyer Hotel bed and breakfast in Provincetown. Brandon and Steve are your hosts at this beautiful and intimate bed and breakfast located in walking distance of such landmarks as the Pilgrim Monument and the Provincetown Art Association and Museum. It is also just a short walk to the famous Provincetown Commercial Street. Brandon is a chef trained at the Culinary Institute of America so you can expect a yummy breakfast.
We hope you have the chance to visit several of Cape Cod's best bed and breakfasts.
February 20, 2015 by Trish Robinson
What is the best place to watch sunset in Cape Cod is a question we are asked frequently by our guests. After a day filled with activities ranging from shopping the boutique shops in Falmouth Village to exploring the wonders of Spohr Garden or the acres of walking paths in Beebe woods or biking the scenic 11 mile Shining Sea Bikeway it is time to kick back and relax while watching the sunset in the distance. There are any number of locations to choose from that we are happy to share. Falmouth is surrounded by 68 miles of coastline so as you can imagine there are countless opportunities to stroll any number of Falmouth beaches and stop to watch a beautiful sunset. We are happy to share some suggested sunset locations and will highlight the top two locations in a little more detail as well as a sailing option.
One of those spots is Surf Drive Beach which is located just a short mile stroll from The Captain's Manor Inn and is located on Vineyard Sound. Surf Drive Beach is popular as it is just south of Falmouth Village and its many boutique shops and great restaurants. Surf Drive Beach is a long more narrow beach for strolling and tends to be quieter than some other beach options. Surf Drive Beach faces Vineyard Sound you can watch the Island Queen Ferry and the Steamship Authority ferry as they traverse Vineyard Sound to transport visitors back and forth between Falmouth and Martha's Vineyard.  The beach also features calm waves and rock jetties to explore with the Nobska Lighthouse visible to the East.
Another spot to view a spectacular sunset is Old Silver Beach. Of all the Falmouth beaches, Old Silver is the most popular for those seeking a wide and long beach with fine white sand. It is a more active beach due to its popularity with families and children as it is on the Buzzards Bay side and therefore has a bit warmer water (in the 70's) and very calm wave activity.
Two Best Places to watch sunset
So now lets talk about the two best places to watch sunset in Falmouth, Cape Cod. It is a toss up on which of these two is the number 1 best sunset location in falmouth as personal preference will determine so we suggest you explore each one of the two during your getaway to Falmouth. Both of the top two place to watch sunset shared below are also two of the most popular locations for couples to get engaged.
The Knob is an excellent sunset spot and it is best known for its tranquil setting. The Knob is a top attraction in Falmouth at any time of day as reflected on Tripadvisor. The land was donated as a sanctuary by Cornelia Carey in the 1970's. We love sharing a map with guests to guide them to this hidden gem near Quissett Harbor. A trail extends from the Harbor to the Knob overlook and is just under a mile in total length. The trail is very easy to navigate and you can expect to experience numerous bird calls as over 100 species of birds have been logged in The Knob area. The remarkable views from atop The Knob include Buzzards Bay, the Elizabeth Islands and sometimes as far as Rhode Island. You do not have to complete the walk to the end of The Knob to experience a beautiful sunset as you can stop once you reach the beach area and just pick a spot to sit down and relax as the sun sets.
The other outstanding sunset spot is known for the expanse of ocean you can see with Martha's Vineyard in the distance during a sunset. This spot is Nobska lighthouse which overlooks Vineyard Sound and the uninhabited Nonamessett Island (the most easterly of the Elizabeth Islands). A wonderful 1 minute youtube video was recently shared on YouTube.The lighthouse is located at the spot near where Buzzards Bay and Vineyard Sound meet in the Woods Hole village of Falmouth, Cape Cod. The lighthouse has been in this spot since being built in 1828. A short drive from The Captain's Manor Inn, you will arrive at the lighthouse. There is limited parking on site and further down the beach are some other parking options. The views from the lighthouse are just spectacular during the day as well as for sunset. Sitting atop a bluff provides a wide angle of viewing for all the sailing kayaking, ferrying etc. that take place on the beautiful Vineyard Sound.
When you plan your Cape Cod getaway it will be our pleasure to help you plan to watch a beautiful sunset from land or you may opt for a sunset cruise leaving Falmouth Harbor to sail Vineyard Haven.
June 16, 2013 by insideout
It is going to be a great week here on the Cape Cod based on the weather forecast.  What a wonderful time to come stay at The Captain's Manor Inn and enjoy a day trip over to Martha's Vineyard during their restaurant week.
After a refreshing night sleep in our pillowtop beds with luxurious linens wake to a full breakfast out on the veranda before heading over to the Vineyard.  We recommend that you leave your car at the Inn so you do not have to pay for parking at the ferry. Just a 6 minute walk over to the free shuttle which will take you on the 3 mile drive down to the Steamship ferry for your leisurely 45 minute ferry ride over to Martha's Vineyard.  When you arrive at the Vineyard explore the gingerbread houses in Oaks Bluff and the quaint mainstreets of Oak Bluffs, Edgartown and Vineyard Haven.
For a sample day trip itinerary click here for our day trip write up on Martha's Vineyard and for more information on participating restaurants for Martha's Vineyard Restaurant Week click here.
We look forward to welcoming you to Cape Cod during the lovely month of June.
April 2, 2013 by insideout
A special weekend full of activities and great food.  We have partnered with Cotuit Cycyling Tours and Woods Hole Inn to create this special weekend with two leisurely bike tours.  Booking is not available online as we have blocked the rooms for this event so please call to book
your reservation 508-388-7336.
Itinerary:
June 20th
3-6:00pm     Check-in to your Inn
5-7:00pm     Wine and Cheese Reception
Evening on your Own
June 21th
8-9:00  Full Breakfast at your Inn
10:00   Falmouth Village Bike Tour Begins
12:00   Lunch
2:00     Cycling Tour Ends
3:00     Afternoon Refreshments at your Inn
6:00     Lobster Taco dinner at Quicks Hole restaurant
Evening on your Own
June 22th
8-9:00  Full Breakfast at your Inn and check out
9:30     Ferry from Woods Hole to Martha's Vineyard
10:15   Arrive in Oaks Bluff and begin cycling tour
12:00   Lunch
2:30     Cycling Tour Ends & Ferry returns to Woods Hole*
*You can return later on your own if you so choose
An additional night accommodation for June 22nd plus breakfast June 23rd can be added to the package
February 7, 2013 by insideout
We are very excited to promote what we hope to be our first annual June Shining Sea Bike Tour.
We have partnered with Rob Miceli of Cotuit Cycling Tours and our good friend Beth Colt of Woods Hole Inn/Quicks Hole Restaurant to create a unique and special event that offers you both a Falmouth and Martha's Vineyard experience from the unique vantage point of  leisurely biking.
The weekend is packed with fun from the wine and cheese welcome reception to 2 bike tours and a lobster taco dinner at Quicks Hole Restaurant.
For a more complete overview of the June 14-16 weekend please click on the link below and scroll through the pdf flyer:
November 19, 2012 by insideout
We are so fortunate to call Falmouth, Cape Cod home. Together with our fellow innkeepers in the Falmouth Bed and Breakfast Association we recently took the opportunity to showcase Falmouth and some of our associations beautiful bed and breakfast rooms, breakfasts, views, and things to do in the Better Way to Stay campaign spearheaded by the Professional Association of Innkeepers International.
 
The video shoot took place this past spring and the final product has now been created and lives on  YouTube!  We hope you enjoy this 56 second video trip to Falmouth (of course the shooting took place over a very full day…the magic of editing).
July 18, 2011 by insideout
One of the reasons we purchased The Captain's Manor Inn in Falmouth Ma. after looking at Inn properties throughout the East coast was the beauty of Cape Cod and how many things there are to do on the Cape or nearby. One great example is the Newport Jazz Festival seeing as Newport is only an hour and ten minutes from The Captain's Manor Inn in Falmouth Cape Cod.



Why not attend the Newport Jazz Festival on August 5th, 6th and 7th and after the festivities on Sunday head to Falmouth and plan a respite at The Captain's Manor Inn enjoying all there is to offer in Falmouth. While here we encourage you to plan a day trip to Martha's Vineyard. Start early with a full breakfast at 8am at the Inn and then head over to the ferry for your 45 minutes trip to Martha's Vineyard. Enjoy a day of exploration on the Vineyard then take the ferry back and plan on a wine/cheese platter at our Inn before going out to dinner at one of the fine restaurants in walking distance from the Inn.
July 11, 2011 by insideout
The beauty of Cape Cod is how much there is to do on the Cape or nearby. For example, Newport is only an hour a ten minutes from The Captain's Manor Inn in Falmouth Cape Cod.
Why not attend the Newport Folk Festival on July 30th and July 31st and after the festivities on Sunday head to Falmouth and plan to stay a couple of days at The Captain's Manor Inn enjoying all there is to offer in Falmouth.  You could even plan a day trip to Martha's Vineyard.  Come on down to breakfast early say at 8 and then head over to the ferry for your 45 minutes trip to Martha's Vineyard.  Spend the day exploring all there is to see on the Vineyard then take the ferry back and plan on a wine/cheese platter at our Inn before going out to dinner at one of the fine restaurants in walking distance from the Inn.
We hope to see you soon.