August 28, 2014 by Trish Robinson
A Falmouth historic walk is enhanced this year with the beautiful ceramic birdhouses created by Falmouth High School students in collaboration with the Falmouth Museums on the Green.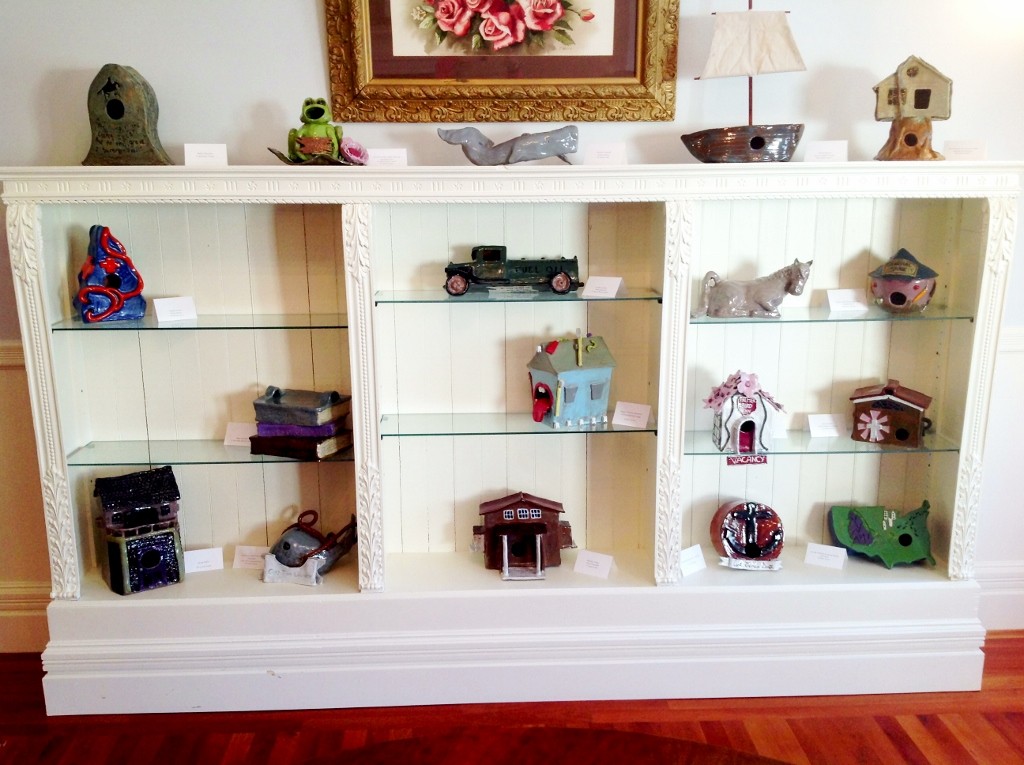 This is a self guided tour through historic Falmouth Village and 28 different homes have these unique birdhouses located in trees in their front yards. Each of the birdhouses was painstakingly created and inspired by architectural, cultural or historic significance of the particular house they selected.
The Captain's Manor Inn is proud to be a part of this endeavor. We are listed as number 12 on the tour and are under the name of Mostly Hall. The Inn was dubbed Mostly Hall back in the 1800's when a young man visiting the home with his mother said "look ma, it's mostly hall" upon stepping into the grande entrance. The name became part of town lore and the house is actually on the National Historic Registry under the name of Mostly Hall.
We share some pictures below and a video of students who made a birdhouse: http://youtu.be/BoNLHNVH2OM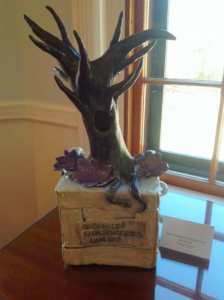 To the left is a picture of the ceramic birdhouse for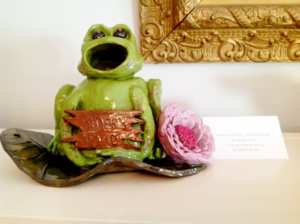 The Captain's Manor Inn (aka Mostly Hall)
and to the right is the ceramic birdhouse for
the Consider Hatch house. Below is a picture
of the ceramic birdhouse for St. Barnabas
Church.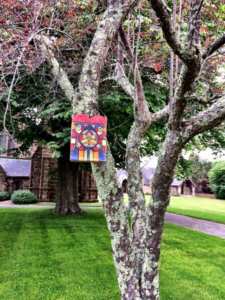 March 12, 2014 by Trish Robinson
Cape Cod Hurricane Photos from 1944 were part of a number of recently discovered historic photos many featuring The Captain's Manor Inn formerly known as Mostly Hall. We came across a number of very impressive photos while working with the Falmouth Historical Society and we are going to be doing a few postings so we can share with you a little bit of Falmouth history.
In this posting we are sharing pictures of some of the devastation on Cape Cod here at the Captain's Manor Inn during the 1944 Hurricane. This storm carried winds peaking at 145 miles per hour and as a category 2 storm. Because the storm was so massive in both its size and intensity it was given the title the Great Atlantic Hurricane and it was the first storm to get a name by the National Hurricane Center then based in Miami and known as the Miami Hurricane Warning Office. One sad fact is that the storm was famous for sinking what was known as the lightship LV Vineyard Sound killing all 12 men who were on board.
December 14, 2010 by insideout
The holidays are always so festive and as newcomers to Falmouth  we were looking forward to seeing the town holiday decorations and adding some of our own.
We decided to concentrate on the entrance to the Inn and a few other areas.
August 7, 2010 by insideout
Gerri and Fred were first time guests of The Captain's Manor Inn as they celebrated their 41st wedding anniversary yet they have been guests for years at the property when it was known as Mostly Hall.  What fun to listen to their experiences and to share with them our future plans for the Inn and hear their ideas.  Their celebration coincided with Kevin and my 28th wedding anniversary so we decided to host a wine and cheese celebration for all our guests.  What a fun time.
Congratulations to Gerri and Fred !
August 7, 2010 by insideout
We just had the pleasure of having Brian and Beth spend their 25th wedding anniversary with us.   Brian and Beth shared fond memories of their stay at what was then Mostly Hall.  They were able to reserve the very same room they had back then (Canopy).    This visit they had the chance to rent bikes and enjoy the Shining Sea bike path and the excellent weather we have been experiencing here on Cape Cod.
Beth had even saved the business card from Mostly Hall back 25 years ago and I was able to scan it so I could post it on the blog.  What fun!
Congratulations Brian and Beth !