July 28, 2016 by Trish Robinson
Blog by Lauren LaScalia (sous-chef at Captain's Manor Inn)
Whale Watching in Provincetown, Cape Cod is the perfect summer outing. Over the fourth of July weekend, I ventured  down route 6 to Provincetown. I was excited to check out a place I had never been to but had heard so much about. Immediately when I entered the heart of town, I felt the infectious energy and excitement of the people walking down Commercial Street. We decided to park, explore, and grab some lunch to take on our whale watching excursion on the Dolphin Fleet IX.
Lunch in Provincetown
The Canteen restaurant came highly recommended from a friend. We walked by their intriguing shack building and were excited to try it out. I went with my friend's recommendation and got the cod bahn mi sandwich. This delicious sandwich is composed of pickled fresh cod, cucumbers, and carrots topped with garlic aioli and sirracha on perfectly toasted ciabatta bread. It definitely lived up to the hype. This lunch was very fresh and vibrant to eat on a hot day in the sun. With lunch in tow, we headed to the Dolphin Fleet Dock to board the boat we would spend the next couple hours on.
Whale Sightings
We were early to board the boat so we got first pick of some great seats at the front of the boat. Once the boat started moving, I purchased a very appropriate Cisco Brewery Whales Tale Pale ale to enjoy for our ride out to sea. About one hour into the trip we arrived at the perfect spot to see some whales. I had heard it might be likely we would not see one so I was extremely excited at my first sighting.  Three whales even swam right under us and came out the other side. I had never seen anything like it. I was now really starting to appreciate the fact I was witnessing an endangered species in their own natural habitat. At the end our host of the trip told the group we had seen around 30 whales!
Why Provincetown?
The Perks of this day trip to Provincetown included great food, art and picturesque shops, and most of all the amazing whales we saw. Below are some pictures from our trip.

Photo Credit : Stephen Atkinson
May 31, 2013 by insideout
A favorite venture for many of our guests is going on a Cape Cod Whale Watching trip.  Our sister and brother-in-law recently visited from North Carolina and that was a must do on their 25 year anniversary trip.
The options are many depending often on how long you have to spend for the day.  For example you can travel to the tip of Cape Cod, Provincetown, and explore the town prior to jumping on the Dolphin Fleet Whale Watch excursion.  The scenic drive to Provincetown is about 2 hours and offers you the chance to see a great deal of Cape Cod on your way to and from the whale atch excursion.  For our International guests who are staying with us for several days will often choose this excursion.
If you have less time to spare or just would like a shorter drive to and from the Whale Watch excursion you can either choose Captain John's out of Plymouth or out of Hyannis Whale Watcher cruises out of Barnstable Harbor in Hyannis.
The picture below was one of MANY that our brother-in-law took while enjoying their whale sightings.
January 18, 2013 by insideout
There's something so appealing about visiting a lighthouse. It may be the magnificent scenery, or the history it represents, or simply the romance of the sea.
From the upper Cape just over the bridge, to the tip of the Cape in Provincetown there are countless lighthouses to be explored. Right in Falmouth, Cape Cod we have our very own Knobska's lighthouse which is one of the most photographed lighthouses in New England.  It has often been the site for a romantic proposal at sunset.
Scroll below the map and read about a suggested scenic lighthouse day trip.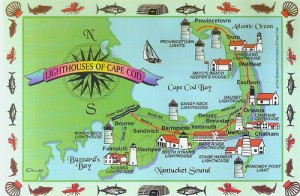 A Day trip of lighthouse sightseeing could go like this:
After breakfast at the Captain's Manor Inn drive down Mill Road to Surf Drive and take a right driving along the beautifully scenic Vineyard Sound until you reach Knobska Lighthouse.  Feel free to park and explore. Free guided tours are available on certain dates during the year.
After leaving Knobska Lighthouse we suggest you head down Rt 28 towards Chatham at the "elbow" of Cape Cod.  Once in Chatham head down Main Street to the Lighthouse.  This is an active lighthouse managed by the U.S. Coast Guard and was originally built in 1877.
Your next suggested lighthouse stop is in the town Eastham which is part of the National Seashore. Some fascinating history comes with Nauset Lighthouse. The lighthouse was originally built in 1887 and was in Chatham. It was moved from Chatham to Eastham in 1923 to replace what was known as the Three Sisters Lighthouses. Since that time the Three Sisters Lighthouses have been restored. A little trivia is that the Nauset lighthouse is the logo for the Cape Cod Chips company.
After your visit to the Nauset seashore we suggest you head towards Provincetown at the tip of Cape Cod. There are three lighthouses in Provincetown. At this outermost tip you will find the Wood End and Longpoint Lighthouses which were built in 1872 and 1875 respectively.  Race Point Lighthouse was the first lighthouse to be built at the end of the Cape in 1816. Of the three lighthouses only Race Point is opened to the public during the summer season.
Now it is time to head back to relax at the Inn and if you feel so inclined you may stop at one more lighthouse which is located in Truro. What makes this lighthouse really special is that it was the first lighthouse built in Cape Cod and it was ordered so by George Washington in 1797.
When you arrive back at The Captain's Manor Inn it should be just in time to enjoy a glass of wine on the veranda before taking a stroll into Falmouth Village to enjoy dinner at one of our many wonderful restaurants.
June 22, 2011 by insideout
For a couple of weeks in late June and early July, over 14,000 lavender plants at Cape Cod Lavender Farm burst into purple bloom.  Come stay at The Captain's Manor Inn and venture off to visit this beautiful spot. The farm is on 20 secluded acres, and surrounded by 60 acres of conservation land.  We have had guests who want to take a day trip to Chatham or Provincetown, make the farm a stop on the way to those towns or on the way back to our Falmouth Cape Cod bed and breakfast.
The Cape Cod Lavender Farm is one of only two such farms in Massachusetts — the other is  located in Franklin County and is a smaller lavender farm.  "Lavender tourism" started in the late 1990s in the United States.
Some of the products sold at the Lavender Farm include lavender chocolate ($2.75), lavender shortbread ($8.25) and lavender-lemon marmalade ($8) a jar, lavender soap ($7.50 a bar), hand cream ($7.50), candles ($18), herbes de Provence — a mixture of herbs for cooking sold for $14.95 for eight ounces — and the fresh and dried bunches, $10, and buds, $12 for a half-pound bag.