September 26, 2015 by Trish Robinson
Jazz Fest Falmouth – September 26 – October 4
Enjoy lectures, recitals, concerts, jam sessions, a jazz brunch and a jazz stroll during the eight day celebration presented by Arts Falmouth. The jazz stroll will take place on Friday, October 2nd and promises to be a night full of great music. Jazz Fest Falmouth will help downtown Falmouth come alive on Friday night. The shops and restaurants from Queen's Buyway and along Main Street will showcase an assortment of groups ranging from classic swing to avant-garde with a little blues thrown in. Just wander in and out;  it's all free.  The 2015 line up features both local favorites and award winning ensembles. Each performance time is staggered giving you an opportunity to hear a variety of jazz styles throughout the evening. Click here for the 2015 Jazz Stroll lineup.
September 26:  Robert Wyatt on Louis Armstrong
September 27:  Pianist Jon Weber on almost everything else about jazz
September 30:  Toni Lynn Washington, Queen of the Blues
October 2:  Jazz Stroll along Main Street
October 3:  Denise Donatelli in concert at Highfield Theater
October 4:  Goodis & Glenn Jazz Brunch at Persy's
July 8, 2015 by Trish Robinson
The Falmouth Arts and Crafts Festival annual extravaganza will be held July 8th from 10am until 6pm. This special annual event is celebrating 35 years on Main Street in the iconic cape cod location of Falmouth Village. There will be over 160 artisans showcasing and
selling their wonderful wares and the many boutique shops along Falmouth Village's Main Street will be open and offering specials for this annual event. Restaurants will be well stocked and looking forward to satisfying that healthy appetite you will create from walking and exploring all that Main Street and the Falmouth Arts and Crafts Festival has to offer.
You can be sure to find fine pottery, jewelry, cape cod cloth belts, paintings, blown glass, mirror art, leather goods, children's hand made toys, unique bird houses and planters, milled lavender soaps and gifts, woodcrafts and so much more.
Be sure to check out the special offerings from Falmouth's own Main Street stores like The Black Dog, Soft as a Grape, Homespun Gardens, Treasure Chest, Port Cargo and more.
Stroll down Main Street and explore Queens Buyway for special items at stores like Vagabond View, Cape Chic, and The Pink Polka Dot.
Only held once a year make sure you do not miss this!!
May 6, 2015 by Trish Robinson
Cape Chic a Cape Cod boutique women's shop is located at 104 Palmer Avenue in the Queens Buyway shopping venue of Falmouth Village.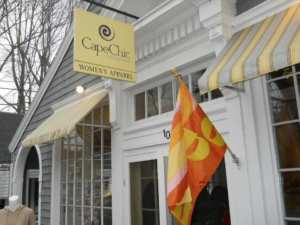 Year Established – Cape Chic was established in April of 2013 by Sandy Mullins.
The story behind the name/logo – Sandy wanted to communicate that her boutique shop would offer chic styling but also that the fashions offered would be casual, comfortable and relaxed for a coastal area. The chic being an easy stylish feel vs. a casual sporty feel. Sandy shared that she wanted customers to enjoy casual comfort while having fun with fashion too.
The logo is very interesting because Sandy held an online tournament to create her logo. She did not know any local artists so by using the tournament she had people from all over the world compete to design her logo. The final logo selected was done by an artist in Italy. The tournament process includes typing up a brief for the artists and then an email blast will go out to designers and you provide a cash prize for the selected winner. The coloring for the logo and store interior was already in her mind from a visit she had made to a vineyard tasting room in Oregon years earlier. The color scheme is beachy, fun, happy but not blue as so many other beach destinations use.
Why This Dream – Sandy had dreamed of this type of a shop since she was a little girl but never really thought of it seriously until she grew up in market research, marketing and brand management in the corporate world. Sandy says that as a brand manager you act a bit like a CEO for the brand you are working on. You lead a number of different departments when you are a brand manager including finance, product development, and information technology so Sandy felt that the broad background in managing those areas and her consumer research background and passion for fashion gave her the background to start her own women's boutique venture here in Cape Cod.
Sandy loves the ocean so she looked at coastal Connecticut and Cape Cod as she selected a final location. Being from Massachusetts, Falmouth became the choice because of Famouth Village and the Main Street walkable community that is thriving. She loved the small town, unique, boutique feel and felt the culture was wonderful in Falmouth Village with events like the JazzFest and all the wonderful restaurants.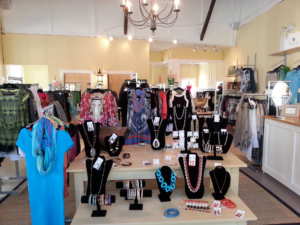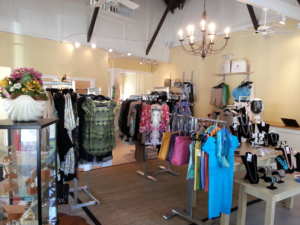 Fan Favorite Items – One of the top fan favorites would be the Nally & Millie apparel. The fabric feel is very comfortable, travels well and the style is figure flattering with fun colorful prints and a great price point for the customer. The jewelry is a very popular accessory selection in Cape Chic. She gets most of her jewelry from New York but also some from Atlanta and the West Coast.
Unique Offering – Coastal Casual Chic is her store tagline. She strives to offer a bit more contemporary feel than some other Cape Cod boutique shops.
Another fan favorite that is unique to Cape Chic in the area are the Jag jeans that Sandy carries. These are a popular pull on jean that are very comfortable and look stylish with an untucked top style that women are wearing and they have still have a full jean look.
Interesting Trivia – Sandy brings her international brand marketing experience to her boutique. She lived in the UK for some time and conducted market research in Germany, Italy, France, and Sweden.
General Information – Cape Chic is open year round with summer hours daily of 10-6. Winter hours are Wednesday – Friday 10-6 and on Sunday from 12-5.
January 31, 2015 by Trish Robinson
The Pink Polka Dot is located at 45 North Main Street in the Queens Buyway shopping venue of Falmouth Village.
Year Established – The Pink Polka Dot was established in 2009 by Jennifer Chagnon.
The story behind the name/logo – Jen knew she wanted to do wedding planning yet she knew she did not want a name with wedding in it because she did not want to limit herself to just wedding or event planning. Jen had always loved the color pink and there was a store she loved as a kid in Florida called the Purple Turtle. After a bit of brainstorming she decided to create a name with her favorite color in the name and hence The Pink Polka Dot. Jen also designed the logo for the store.


Why This Dream – Jen has always loved planning events. While in college she planned events for her sorority as well as large events like concerts for the student activity office. Jen graduated from Embry-Riddle Aeronautical University and is a licensed pilot. She began her career in the world of aviation insurance. When she planned her wedding the idea crystalized that this was something she wanted to do full time and get out of the corporate cubical lifestyle. She also loved the idea of doing everything in a small business from product selection to marketing and sales and being her own boss.
Fan Favorite Items – A lot of customers come year round to purchase cards at the store. Some customers will come in and purchase 20 or 30 cards at a time and stock up. The Pink Polka Dot carries a lot of very unique artisan cards that are hand made and can not be found anywhere else locally. A favorite happening for Jen is when it is really quiet in the store and she will hear a customer over viewing the cards start laughing at a saying captured in a card and then say "these are the best cards".
Unique Offering – The Pink Polka Dot offers personalized stationery as well as personalized invitations. There really isn't any other location in upper cape cod where you can get personal invitations created based on your color scheme and interest for as few as ten custom invitations to several hundred custom invitations. They provide custom birthday party invitations, retirement invitations, wedding invitations, baby shower invitations etc.
The store also offers a wedding boutique area with numerous ideas and gifts for bridesmaids and groomsmen. The wedding planning area at the store has a wide display of items such as favors and invitations as well as a sample table setting reflecting how you can carry your design color and theme through to your table setting and linens starting from your wedding invitation.
A new line of product they will be carrying in 2015 will be custom stamps such as address stamps and embossers.
Interesting Trivia –
The Pink Polka Dot has achieved the award for The Knot Best of Wedding Planning for 2012,2013,2014 and 2015 and was inducted into The Knot Best of Weddings Hall of Fame in 2015.
The floor in The Pink Polka Dot is the dance floor from the old Hunt Club which was a night club in Falmouth in the 1970's.
The Pink Polka dot was the wedding planner for a Kennedy wedding in Hyannisport in 2012.
General Information
– The Pink Polka Dot is open year round with summer hours daily of 10-6. Winter hours are Monday – Saturday 10-5:30 and on Sunday from 11-3. Winter hours are Monday-Saturday 10-5:30 and closed on Sunday.
December 3, 2014 by Trish Robinson
Holidays by the Sea is once again promising to be a fun filled weekend in Falmouth Village.
The festivities officially being on Friday December 5th at 5:30 with a carol sing at the iconic Nobska Lighthouse. Hot chocolate and cookies will be on hand to fuel you for participating in the festive seasonal sing along.
At a very reasonable 9:30 am on Saturday December 6th you can join in on the 3rd annual Jingle Jog 5K sponsored by Dunkin Donuts and Anytime Fitness. Festive outfits are actually encouraged for the race and our very own son-in-law donned a Santa outfit a couple of years ago. The Elf Run for participants 12 and under starts at 9:30 and the Jingle Jog for those 13 and over starts at 9:45.
After joining in the race or just cheering on the runners you can head over to Marine Park at Falmouth Harbor to welcome Seafaring Santa! The Falmouth High School Chorus will be on hand singing Christmas carols. All are invited to join in the activities of  the annual children's bike raffle, hot chocolate & treats courtesy of Dunkin' Donuts.
Also on the 6th at noon there is a public viewing of the Nobska Lighthouse which is sponsored by the Coast Guard Auxiliary and goes unti 2 pm. As a little incentive we share that Santa visits at 12:30 pm!
After a little afternoon rest get ready for the Holiday Stroll along Main Street and Queens Buyway. Hop on the trolley to the Falmouth Historical Society for a visit with Santa until 6:30. There will be face painting by Mrs. Claus, along with hot chocolate and cookies. The Falmouth Historical Society will also have additional craft activities for the kids. Take the trolley to the Queen's Buyway, and visit the Petting Zoo! (In the courtyard behind Cape Chic and Pink Polka Dot from 5-6:30) Enjoy live music by the Donnie Cross Trio at Headlines on Main Street. The movie Frozen will also be streaming throughout the evening at Peg Noonan Park. Also keep a look out for Elsa and Anna! The Very Merry Dickens Carolers and the Falmouth High School Band will perform along Main Street. Ride the Trolley down Main Street while the Falmouth High School A Capella Group sings Holiday songs! Just look for the trolley stop signs. Snacks and refreshments can be found at your favorite local shops! Information cards will be available at most Main Street Shops.
The official festivities conclude on Sunday December 7th with the 51st annual parade. The Parade starts at noontime at the Falmouth Mall and proceeds down Main Street to the Village Green. Our parade is Southeastern Massachusetts' largest holiday parade with theme decorated floats, marching bands, live animals, costumed characters and Santa Claus!
September 13, 2014 by Trish Robinson
Jazz Stroll 2014 is set for October 3, 2014 in lovely Falmouth Village. This free event takes place at numerous retail and restaurant locations in Queen's Buyway and along Main Street. Groups performing range from duos to trios as well as quartets and even the big band group Stage Door Canteen at Liam Maquire's Irish Pub to close out this fabulous night. You might even choose to enjoy a jam session to be held at Jacks located at 327 Gifford Street.
Make a night of it and come for a stroll where you can mix musical pleasure with dinner and dessert or a little retail therapy while on for your jazz stroll.
This evening is one of many events that make up 2014 Jazzfest. One of this year's highlight performances will be Grammy Winner Catherine Russell who will be performing at Highfield Theater on Saturday, October 4th at 7:30 pm. Russell is celebrated as a genuine jazz and blues singer who can sing virtually anything. Her Grammy was awarded for her featured work on the soundtrack of the HBO series Boardwalk Empire. Catherine has performed with Steely Dan, Paul Simon, David Bowie, Cyndi Lauper and numerous other musical talents.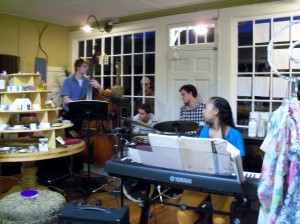 April 29, 2012 by insideout
The Red Chair has continued on its journey of a Better Way to Stay in Cape Cod and has arrived at The Captain's Manor in in Falmouth.  What a wonderful time visiting some of Cape Cod's great landmarks including lovely Inns , museums, eateries, beaches, and quaint villages such as Falmouth Village's main street.
What I found as we chaperoned the chair is that it is famous !  When we went over to the Queens Buyway shops a local bicycle rider yelled out "Is that THE red chair" and we were happy to reply it sure is!  The next stop was Ben & Bill's Chocolate emporium where one of the staff made a point of going to get the local paper and show the rest of her co-workers the article that had been written.  I had no sooner arrived at Highfield Hall and was taking the chair out for its picture in the sunken garden when two of my favorite people from the Hall, Janet and Pat,  came out and said they were just taking about the Red Chair the other day and saying wouldn't it be great if it made a visit here.  Off to the Visitor Center where the cry went out "The Red Chair is here".  My personal favorite was after taking some great shots over at the Nobska Lighthouse a gentlemen made a point of jogging over from across the street saying he just had to see what the fuss was about with THE Red Chair.
Some of our favorite pictures were at the Nobska Lighthouse and Highfield Hall.  Also check out our full gallery of pictures on facebook and our movie on youtube. 
October 3, 2011 by insideout
What a wonderful event !  The 2011 Jazzfest in Falmouth ran from September 20th until October 2nd.  My personal favorite part was the Jazz Stroll on Friday, September 30 th from 6-10pm.  This free event included 12 different groups performing at various indoor and outdoor venues at Queen's Buyway and along Main Street.  The picture below is of the group Rosemary Ramos Trio who played at Bojangles retail store just around the corner from The Captain's Manor Inn.  What a talented young group of people!