January 10, 2015 by Trish Robinson
The Tuscany guestroom renovation is underway. We thought it would be fun to share some pictures from when we first purchased the Inn 5 years ago , the initial renovations we made and the ones underway now.
2010
When we purchased the Inn the Tuscany room had a Queen bed a sink in the corner or the room next to a closet. As you can see from the closet there was some very old wallpaper one the walls in the closet.
There was a very small bathroom which had a toilet and a small shower with a flexible plastic accordian style door in  a very compact space.
Our first renovations during the spring of 2010 included a new carpet , a new Queen bed, replacement of the louver bathroom door with a solid wood door that we found at the New Bedford Antique and Renovation warehouse, new reclining Queen Anne chairs, and a number of other little changes.
2012
When we did the new 3000 square foot addition in 2012 to add 3 guestrooms we also increased the Tuscany bathroom by more than twice its original size and put a shower/tub combination in the large bathroom and another sink in the large bathroom plus kept the original sink in the corner of the guestroom. We also replaced the Queen bed with a King bed.
2015
We are now in the process of painting the walls in the Tuscany room however we are keeping some of the trompe l'oeil murals. For example, the brick around the closet door and entrance door, the special mural on the exterior of the bathroom entrance and if you look closely you will see two of the original butterflies on one of the guestroom walls. We have also decided to replace the tub/shower combination with a large custom rainshower with a glass door system. That work will begin in late February.
We will update the blog post with new pictures as we get further along.
April 18, 2012 by insideout
We are excited to share progress on the window art being worked on by Robin Pierson for the Canopy room.  As you will see by the pictures below, Robin has taken the original window and placed the antique style map of Cape Cod within the main panes.  More pictures of progress should follow in the next couple of weeks.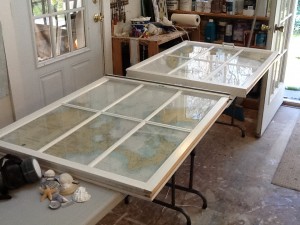 November 29, 2011 by insideout
The work on the Main Hall of The Captain's Manor Inn is underway.  The back set of stairs and the "necessary room" (also know has a half bathroom) have been removed as we prepare for the work to open the existing Inn to the new expansion area.
Wow what a difference and what a mess!!!!  Dust everywhere 🙂
January 25, 2011 by insideout
Please click  below to see a You tube video on the latest renovation update for the Lawrence bathroom.
January 18, 2011 by insideout
We are very happy to have begun the renovations to the Lawrence bathroom.  The Lawrence room is so beautiful with 14 foot tall ceilings and lovely furnishings that it was crying out for that new bathroom and we just could not get to it before we opened for our first season last May.  So we are busy working on it now.  Or I should say Kevin is working and I am consulting 🙂
Some pictures of the work in process, mainly the demolition are below: