February 24, 2017 by Trish Robinson
Hotels near me in Falmouth Massachusetts include top choices in the 5 different categories outlined below:-
Luxury   2.   Located in Falmouth Village   3.  Located by the Water   4. Romantic  5. Family Friendly
Luxury or Boutique Hotels, Bed and Breakfast or Inns
The Captain's Manor Inn
Originally built in 1849 by a ship captain for his New Orleans bride. This southern plantation style estate has been lovingly restored and expanded by the current owners. Set back from the road this respite property is located on 1.25 acres with gorgeous gardens. Guests enjoy 8 luxurious guestrooms all with private bathrooms with rain showers, luxurious sheets and amenities, free wifi and numerous other comforts. A complimentary full breakfast is served to you each morning and in the Bistro you will find 24/7 coffee and tea as well as home baked goodies each afternoon. Walk from the Inn to any of 20+ restaurants.
Inn on the Sound
A 10 guestroom bed and breakfast located across from Falmouth Heights Beach. Providing a complimentary full breakfast each morning and other amenities. Near the Inn are two restaurants and it is just a short drive to Falmouth Village with additional restaurants and shops.
Woods Hole Inn
This circa 1887 Inn features 14 guestrooms all with private baths and is located across from the Steamship Authority where ferries take passengers and vehicles across Vineyard Sound to Martha's Vineyard. The Inn is conveniently located in Woods Hole Village with various restaurants to enjoy including the award winning Quicks Hole Tavern.
Located in Falmouth Village – Walk to shops, restaurants, beach
The Captain's Manor Inn
Just a 3 minute stroll into Falmouth Village where guests enjoy culinary delights at over 20 different restaurants. Top rated restaurants such as CSalt, Glass Onion, Anejo and La Cucina are a few favorties of locals and visitors alike. In addition there are a number of boutique shops in the village including the famous Black Dog. It's just a one mile walk to the nearest beach. You can grab Inn beach towels and chairs as well as a picnic lunch prepared by the Inn chef for your beach day.
Palmer House Inn
This 17 room Victorian Inn is located just a few minute stroll from Falmouth Village. They provide a complimentary full breakfast each morning to guests.
Inn at Siders Lane
A lovely 3 room Inn is also located just down Main Street from Falmouth Village. A complimentary full breakfast is provided each  morning.
Located by the Water
Sea Crest Beach Hotel
Located on one of the most popular beaches in Falmouth – Old Silver Beach. They have beach access as well as pools. They also have a full service restaurant.
Bailey's By the Sea
This 5 room bed and breakfast is located across the street from Vineyard Sound and just a stroll from Falmouth Heights beach. Enjoy your complimentary full breakfast in the morning on the enclosed porch facing Vineyard Sound.
Beach Breeze Inn
Located on Shore Street just 100 yards from Surf Drive Beach.
Romantic Hotels, Bed and Breakfast or Inns
The Captain's Manor Inn
Featured on the front page of the Boston Globe travel section in the article "Cape Inns Built on Romance". The Inn was also featured as a winner of the "2016 Best of Where to Elope" by wheretoelope.com A number of packages can be added to a reservation to make the occasion extra romantic. Pick one of the premium King guestrooms with a fireplace for even more ambience.
Inn on the Sound
Enjoy watching sunsets over Vineyard Sound. Some guestrooms have a balcony where you can enjoy your breakfast.
Family Friendly Hotels, Bed and Breakfasts or Inns
Holiday Inn
Families enjoy the indoor pool and on-site restaurant. Guestrooms are available with 2 beds for families wanted to share a room.
Shoreway Acres
The expansive grounds include plenty of space for Frisbee, badminton etc. to be enjoyed by families. There is also an indoor pool on the property. A buffet breakfast is offered each morning. Guests are just down the street from Surf Drive beach and walking distance from Falmouth Village.
Woods Hole Passage
Located on Woods Hole Road between Falmouth Village and Woods Hole Village. This comfortable 5 guestroom bed and breakfast is family friendly and provides a complimentary full breakfast each morning.
August 14, 2016 by Trish Robinson
Dine like a local when you visit us on Cape Cod! There's not much in life that's better than good food. Well, maybe the beach. Lucky for you, our little part of the world has both. We're going to give you the low down on how to chow down in Falmouth and beyond just like we do.
Outdoor Dining
Añejo Mexican Bistro and Tequila Bar (pronounced Ah-nyay-ho)
BEST spot in Falmouth to people watch. Situated right smack dab in the middle of Main Street, their large outdoor patio looks out onto the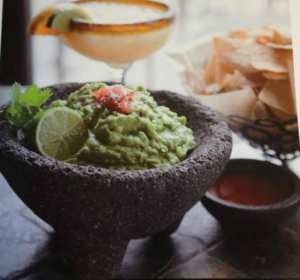 summer bustle taking place on the downtown sidewalks. Cape Cod Magazine voted Añejo best Mexican food AND best margaritas on Cape Cod and we couldn't agree more. We'll start with drinks. If you're in the mood for a margarita (and when are you not) we recommend the house – it's simple and clean the way the margarita gods intended. El Jimador Blanco, Patron Citronge, organic sugar cane and squeezed lime. Not overly sweet, just the way we like it. If you are in the mood for sweet (and a little spicy) try their blood orange margarita made with jalapeño infused tequila. Olé! The menu for lunch and dinner is fantastic. Don't leave without trying one of their tortas, everything needs a side of a lá carte guacamole and throw in some Mexican street corn for good measure – you will not be disappointed. The kicker? It's o.2 miles away. A beautiful 5 minute walk is all that stands between you and the best Mexican food on the Cape when you stay with us! Local Tip: If you head in for a margarita and the place is packed (which it can be on a summer evening) grab a drink at the bar and head out the side door – they've got couches, tables and lights in the side ally between the restaurant and Twigs (an adorable local shop). Sip in peace!
Out-Of-This-World Food
Are you in the mood to be dazzled? Then The Glass Onion is the choice for you. Steps away from your room at The Captain's Manor Inn, you will be amazed at the artful combination of flavors the chef prepares. We recommend the lobster strudel for an appetizer. In case that name alone didn't completely sell you, in addition to lobster, you'll be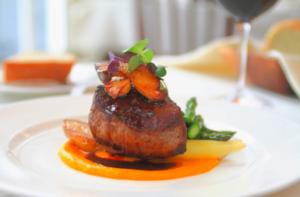 snacking on mascarpone, oven dried tomatoes (which have a roasted sweetness unlike anything else), and of course, what vacation appetizer is complete without a lobster butter drizzle? Is your mouth watering yet? Because we haven't even gotten to the entree! You can choose between filet, shrimp, duck, house made gnocchi, lobster (because there is officially no such thing as too much lobster when you're on Cape Cod) or a nightly special. Whatever you do, leave room for dessert. The Glass Onion has been hand making small batch ice cream for years and with flavors like peach pie and guava… it cannot be missed. If you've overdone it at dinner and simply can't fit another thing… don't worry. We've got you covered.
If you head in during normal business hours and ask the hostess, you can purchase ice cream in a cone and enjoy it on their back patio! So just head back the next day, refreshed and re-hungry!
Summer Vibe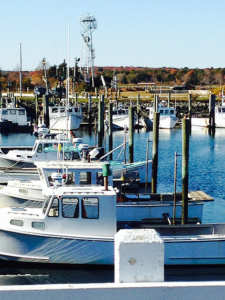 The Pilot House is situated on the Canal in the Sandwich Marina. Beautiful water views combined with a nice big yard and great food will create a memorable afternoon! We recommend heading over for a late lunch or early dinner to take full advantage of the well placed adirondack chairs. Order a cocktail from the outdoor bar, hunker down and enjoy. Don't feel like moving but you're getting hungry? No worries! The waiters and waitresses are happy to bring you menus and you can dine where you sit! If you haven't worked up an appetite yet, you'll notice ring toss, corn hole, and more! Feel free to walk around the spacious lawn and enjoy. Most days there's live music to add to the summer time vibe! This place is perfect for a mouth watering fried seafood plate, crab cakes, calamari, mussels and more! As we mentioned, this restaurant is in Sandwich with is just under a 30 minute drive. If you'd like to test it out before you commit – head over to The Quarterdeck on our very own Main Street (a 10 minute walk from the Inn). Both restaurants are owned by the same family, and both serve delicious Cape Cod fare! Local Tip: Have you been wondering where to get a good lobster roll? Look no further. You've found it.
Take-Out on the Beach
The British Beer Company (The BBC to locals)
Are you in the mood to dine with your toes in the sand? We've got you covered. The local British Beer Company is located directly across the street from Falmouth Heights Beach. As soon as you walk in you'll be transported to a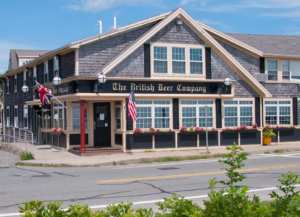 London pub. The decor, the music, soccer on the tele… it's foggy London town! If you're a beer drinker, saddle up to the bar. The BBC boasts one of the best beer lists in town. The taps are ever changing and the bartenders are super friendly and helpful. If you describe what kind of beer you typically prefer, they'll be able to suggest something new to try. If you're not a beer drinker, you don't have to feel left out. They've got a great selection of wine and offering of specialty cocktails. As you sip your pint at the bar, have a look at the menu. This is the British Beer Company, so dishes like fish and chips and bangers and mash are unbeatable. But they've got a wide selection of pizza, burgers, sandwiches and more. Finish your drinks, ask for your food to go and head across the street to the beach. If you time it right, you can watch the sun set as you enjoy a little British food as you sit on the shores of New England. Local Tip: After you're done eating, head back over to the BBC – it's one of the best spots for live music in an intimate setting in Falmouth!
Wood's Hole
Are you in the mood for a beautiful drive down to Wood's Hole? Then be sure to stop into Quicks Hole Tavern for a bite. Open year round and a favorite for Vineyard ferry commuters, Quicks Hole Tavern has everything you could ask
for all wrapped up into a beautiful seaside view. It's one of our favorite places to sit and watch the ferry come in and out. They serve lunch in their upstairs dining room, fine dining on the second floor, and the first floor pub is open seven days a week offering a pub menu. What more could you ask for? The best part about this restaurant besides the views, the cocktails, the ambiance (okay there are a lot of bests) is the inventiveness of the menu. You can try Avocado Toast with chili spiced deviled eggs as an appetizer, whisky rubbed salmon and a bag of donuts for dessert! Whatever you're in the mood for, you will not be disappointed… or bored! This is a great place to head after a nice hike down to The Knob. Local Tip: You've got to try the "Pig Candy," an appetizer made with house-smoked pork shoulder braised in maple syrup and house spices, served on guava puree with celery sprout garnish. It's been described as 'addictive' and we can't agree more!
Again, these are just a few of our favorites. Just to give you a little taste of the local flavor. There are plenty more local favorites, and we'll be happy to share them all with you! But this is just enough to get you started so you can dine like a local when you come to visit!
April 3, 2016 by Trish Robinson
Stress relief is a weekend away when you book at The Captain's Manor Inn! Perhaps it's the long, cold winter that's gotten you down? Maybe it's the never-ending to-do list, or the long hours atwork; regardless of where your stress is coming from, we've got the solution to get rid of it! Are you coming in from the city? Then we suggest you bypass the stress of driving, and take the Peter Pan Bus line from Boston or Providence. Your relaxing weekend can begin with the opportunity to dive into that novel you've been meaning to read, or catch up with friends and family on social media, all while you're in transit to beautiful Cape Cod. The best part about the Peter Pan Bus? Your destination is a short walk away from the inn! Of course if walking isn't your idea of relaxation, you could take a taxi or an Uber, but you might enjoy stretching your legs and taking in the sights on your walk to relaxation!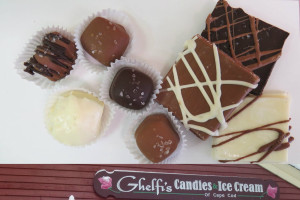 Once you arrive at the Inn, any remaining stress from the city will melt away the second you enter. In addition to complimentary gourmet breakfast, afternoon snack and round the clock access to beverages, you'll receive a bottle of wine and gourmet chocolates from Ghelfi's Candies of Cape Cod that you can enjoy in a number of relaxing locations at the Inn. Enjoy your wine on the porch, bistro, or dining room or perhaps you'd rather recline on a lounge chair on the acre plus of serene, private grounds.
When you choose the solo stress relief package, you'll be able to choose between a reflexology or massage treatment. Both reflexology and massage are ancient relaxation and stress relief traditions that have withstood the test of time. An ancient Japanese belief is that the body and mind are interconnected and one cannot be completely relaxed if the other is not. Either of these two treatments will simultaneously relax your body, and your mind.
Spend your day doing whatever it is that relaxes you. Perhaps you'd like to stroll down to Eight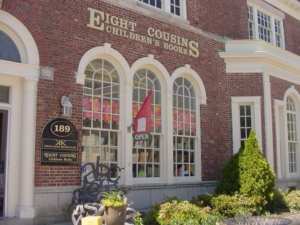 Cousins, our locally owned and operated book shop and choose a new book? You can take your book to the park or beach and get lost in the pages. Didn't bring a beach chair or a towel? No problem! Simply borrow one from the Inn!
If your idea of relaxing is fine dining, then you have certainly come to the right place. Steps away from the Inn are the best restaurants in Falmouth. Whether you're feeling Mexican, Italian, or fusion, Main Street and Queens Buyway will have what you're looking for. We love The Glass Onion for cocktails and dinner. Check out their menu here.
After an incredibly relaxing day followed by an incredibly relaxing evening, we invite you to prepare for the most restful sleep of your life. Atop your bed will be a Lavender Bear from Cape Cod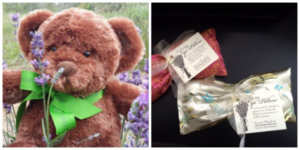 Lavender Farm as well as a silky eye mask filled with lavender. Are you sensing a theme? Traced back to 2,500 years ago, lavender has long been used to fight stresses of the body and the mind. Lavender was even used to tame lions and tigers in ancient times! A recent study showed that breathing in the scent of lavender while sleeping increases the amount of time you spend in deep (slow wave) sleep. Of course sleeping on luxury linens helps too!
Stress is an easy thing to get and a difficult thing to lose, but a weekend at our peaceful inn will have you feeling good as new. Click here to book now!
April 18, 2011 by insideout
When you stay at our Cape Cod bed and breakfast you will find an abundant number of wonderful restaurants to choose from in Falmouth, Ma.  We hope you find the link to a walking map below these pictures helpful.   Some pictures of our favorites are shown below the map.  Our guests love the convenience of leaving their car at the Inn and walking to dinner.

Click here to View Falmouth Village Restaurants in a larger map