January 21, 2017 by Trish Robinson
Drink Like a Local
Yes, here on Cape Cod we are famous for the Cape Codder. We're happy to tell you where you can go to get one. In fact it would actually be harder to tell you a place that you can't get one on Cape. We also want to share more. Specifically the amazing beer, wine and cocktail selections available right in our backyard as well as the ones that are worth the drive!
Attention: Beer Drinkers!
Father's Kitchen and Tap House, East Sandwich: This is a fairly new addition to our little part of the Cape and we have welcomed them with open arms for a reason! And that reason is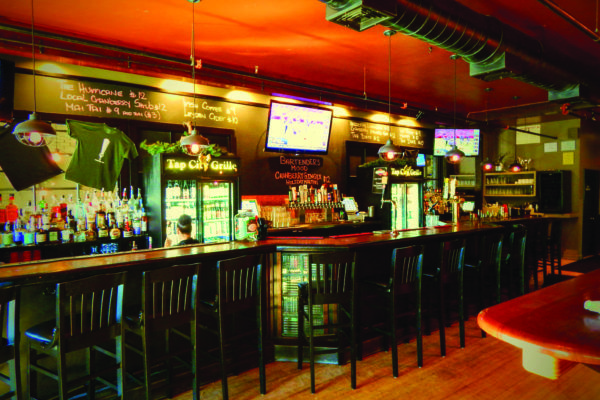 beer. Father's offers 42 amazing beers on tap both local and from afar. Our favorite thing to do there? A flight. Belly up to the bar and ask for a flight sheet. You'll be able to take a look at a description of every beer. Most beers are offered in a full pour, half pour, or a flight. The bar tenders are also super helpful and knowledgeable. If you know you like IPA's but aren't sure if a Pale Ale would excite and delight your taste buds, just ask them. They're happy to help steer you in the right direction and can also make some suggestions about new fun and interesting beers to try!
Bonus: Great food! Insider Tip:
A recommendation is for you to try the peanut butter pizza. No, it's not dessert (though you can totally order it as dessert) – but it is incredible. And it goes great with beer!
British Beer Company, Falmouth, Hyannis and Sandwich: When beer is right in the name of the restaurant, is there really more explanation necessary? With 14 locations around MA, we're lucky enough to have three right here on Cape Cod. This means no matter where your Cape Cod travels take you, you're never very far away  a good beer. In addition to a bunch of great beers on tap, depending on location, they also have beers on cask and will fill growlers! Check out each individual website or Facebook page for live music, trivia, and more!
Devil's Purse Brewery, West Dennis: This is a Cape Cod gem. If you're looking for an amazing local brew born from an incredible local story, look no further than Devil's Purse. Matt and Mike, owners and operators began what would later become Devil's Purse on a total whim. They made a batch of beer from a beer making kit one of them had gotten as a wedding gift nearly 10 years prior and as they say, the rest is history. Well, the rest was a ton of hard work, trial and error, grit and determination – but their efforts taste amazing! At the brewery, you can do tastings, buy beer and swag and of course, chat with Matt and Mike – they're always there. Mark our words, this brewery is going to blow up and when it does, how cool would it be to say "I knew about Devil's Purse back when it was just Matt and Mike, brewing and chatting all day long!"
Insider Tip:
Ask the guys for restaurant recommendations in the area if you're in around meal time. They have tried everywhere and will be able to give you a great heads up – and killer hole in the wall places are their specialty!
Calling All Cocktail Lovers!
The Landing, Woods Hole: Talk about a drink with a view! At The Landing you can sip your cocktails as your legs dangle off the dock. Of course they have a full bar, but there's one cocktail you simply can't leave the Cape without trying and it's called a Greyhound. You may have heard of it; you may have even had one before… but you haven't really had one if you haven't had one from The Landing. The ingredients are simple, and sometimes simple makes the best drink. It's fresh squeezed grapefruit juice, vodka and maybe a splash of soda water. The key to this drink lies within the fresh squeeze. They have this antique looking Greyhound-specific contraption with one purpose: to squeeze grapefruits. Watching the bartenders (who probably have huge muscles after the summer's up) squeeze fruit after fruit all for your drink is one of the coolest things to see.
Pan D'Avignon, Hyannis:  Don't be fooled by this restaurant's unassuming exterior. We and many others view Pan D'Avignon as one of the best French restaurants on the Cape. Their martini menu is something to go back for. One of the most interesting elements of the decor is the exposed (giant) wine cellar. They have some of the best wines on Cape Cod. Half the fun is to watch the sommelier head into the cellar and procure your bottle. BUT, there is one thing in particular that we need to let you in on. That is that this is the place where you can get year round, handmade bleu cheese stuffed olives. This may not sound groundbreaking, but when you add them into your favorite dry cocktail (like.. oh I don't know, maybe a slightly dirty Tito's vodka martini with two bleu cheese stuffed olives… just you know, off the top of my head) you'll understand why they're worth the mention. More of a gin an tonic or wine person? No worries! Order a few olives on the side. The local bleu cheese paired with the saltiness of the olive is something to behold.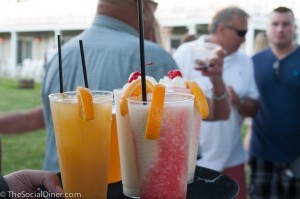 Ocean House, Dennisport: The Ocean House is a fabulous place for dinner and absolutely a favorite for people visiting the Cape. The Ocean House Beach Bar (on the same property) is the place to go for frozen cocktails. Mudslides, Daquaris, Pina Coladas – you name it, they've got it. They'll even do one of my best friend's favorites a Miami Vice which is 50% Pina Colada, 50% Strawberry Daquari and 100% delish! They frequently offer live music right on the lawn, which always makes your sipping experience that much more enjoyable!
The Beachcomber, Wellfleet: Lunch, dinner, late night menu – regardless of the time of day, The Beachcomber is sure to have the food and beverages you're looking for to really enjoy your time on the Cape. Their raw bar is stocked from local fisherman, and you can really taste the difference. Like any good bar and restaurant on the beach, the comber has frozen beverages, beers galore, wine and an extensive cocktail list.
Insider Tip:
They've got something no one else does. And it's called a Goombay Smash. Their website divulges that it includes rums, juices and a myers float. BUT, no one can come close to reconstructing this masterpiece. One sip, and you'll understand why there have been over 3 million sold!
August 14, 2016 by Trish Robinson
Dine like a local when you visit us on Cape Cod! There's not much in life that's better than good food. Well, maybe the beach. Lucky for you, our little part of the world has both. We're going to give you the low down on how to chow down in Falmouth and beyond just like we do.
Outdoor Dining
Añejo Mexican Bistro and Tequila Bar (pronounced Ah-nyay-ho)
BEST spot in Falmouth to people watch. Situated right smack dab in the middle of Main Street, their large outdoor patio looks out onto the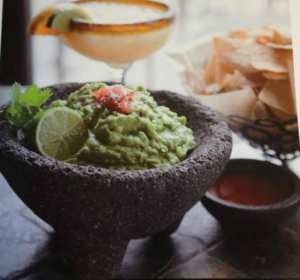 summer bustle taking place on the downtown sidewalks. Cape Cod Magazine voted Añejo best Mexican food AND best margaritas on Cape Cod and we couldn't agree more. We'll start with drinks. If you're in the mood for a margarita (and when are you not) we recommend the house – it's simple and clean the way the margarita gods intended. El Jimador Blanco, Patron Citronge, organic sugar cane and squeezed lime. Not overly sweet, just the way we like it. If you are in the mood for sweet (and a little spicy) try their blood orange margarita made with jalapeño infused tequila. Olé! The menu for lunch and dinner is fantastic. Don't leave without trying one of their tortas, everything needs a side of a lá carte guacamole and throw in some Mexican street corn for good measure – you will not be disappointed. The kicker? It's o.2 miles away. A beautiful 5 minute walk is all that stands between you and the best Mexican food on the Cape when you stay with us! Local Tip: If you head in for a margarita and the place is packed (which it can be on a summer evening) grab a drink at the bar and head out the side door – they've got couches, tables and lights in the side ally between the restaurant and Twigs (an adorable local shop). Sip in peace!
Out-Of-This-World Food
Are you in the mood to be dazzled? Then The Glass Onion is the choice for you. Steps away from your room at The Captain's Manor Inn, you will be amazed at the artful combination of flavors the chef prepares. We recommend the lobster strudel for an appetizer. In case that name alone didn't completely sell you, in addition to lobster, you'll be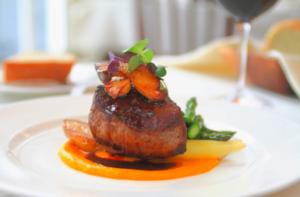 snacking on mascarpone, oven dried tomatoes (which have a roasted sweetness unlike anything else), and of course, what vacation appetizer is complete without a lobster butter drizzle? Is your mouth watering yet? Because we haven't even gotten to the entree! You can choose between filet, shrimp, duck, house made gnocchi, lobster (because there is officially no such thing as too much lobster when you're on Cape Cod) or a nightly special. Whatever you do, leave room for dessert. The Glass Onion has been hand making small batch ice cream for years and with flavors like peach pie and guava… it cannot be missed. If you've overdone it at dinner and simply can't fit another thing… don't worry. We've got you covered.
If you head in during normal business hours and ask the hostess, you can purchase ice cream in a cone and enjoy it on their back patio! So just head back the next day, refreshed and re-hungry!
Summer Vibe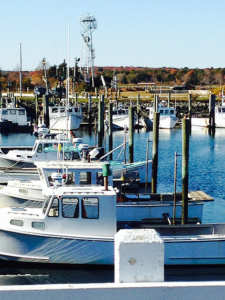 The Pilot House is situated on the Canal in the Sandwich Marina. Beautiful water views combined with a nice big yard and great food will create a memorable afternoon! We recommend heading over for a late lunch or early dinner to take full advantage of the well placed adirondack chairs. Order a cocktail from the outdoor bar, hunker down and enjoy. Don't feel like moving but you're getting hungry? No worries! The waiters and waitresses are happy to bring you menus and you can dine where you sit! If you haven't worked up an appetite yet, you'll notice ring toss, corn hole, and more! Feel free to walk around the spacious lawn and enjoy. Most days there's live music to add to the summer time vibe! This place is perfect for a mouth watering fried seafood plate, crab cakes, calamari, mussels and more! As we mentioned, this restaurant is in Sandwich with is just under a 30 minute drive. If you'd like to test it out before you commit – head over to The Quarterdeck on our very own Main Street (a 10 minute walk from the Inn). Both restaurants are owned by the same family, and both serve delicious Cape Cod fare! Local Tip: Have you been wondering where to get a good lobster roll? Look no further. You've found it.
Take-Out on the Beach
The British Beer Company (The BBC to locals)
Are you in the mood to dine with your toes in the sand? We've got you covered. The local British Beer Company is located directly across the street from Falmouth Heights Beach. As soon as you walk in you'll be transported to a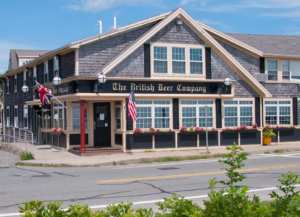 London pub. The decor, the music, soccer on the tele… it's foggy London town! If you're a beer drinker, saddle up to the bar. The BBC boasts one of the best beer lists in town. The taps are ever changing and the bartenders are super friendly and helpful. If you describe what kind of beer you typically prefer, they'll be able to suggest something new to try. If you're not a beer drinker, you don't have to feel left out. They've got a great selection of wine and offering of specialty cocktails. As you sip your pint at the bar, have a look at the menu. This is the British Beer Company, so dishes like fish and chips and bangers and mash are unbeatable. But they've got a wide selection of pizza, burgers, sandwiches and more. Finish your drinks, ask for your food to go and head across the street to the beach. If you time it right, you can watch the sun set as you enjoy a little British food as you sit on the shores of New England. Local Tip: After you're done eating, head back over to the BBC – it's one of the best spots for live music in an intimate setting in Falmouth!
Wood's Hole
Are you in the mood for a beautiful drive down to Wood's Hole? Then be sure to stop into Quicks Hole Tavern for a bite. Open year round and a favorite for Vineyard ferry commuters, Quicks Hole Tavern has everything you could ask
for all wrapped up into a beautiful seaside view. It's one of our favorite places to sit and watch the ferry come in and out. They serve lunch in their upstairs dining room, fine dining on the second floor, and the first floor pub is open seven days a week offering a pub menu. What more could you ask for? The best part about this restaurant besides the views, the cocktails, the ambiance (okay there are a lot of bests) is the inventiveness of the menu. You can try Avocado Toast with chili spiced deviled eggs as an appetizer, whisky rubbed salmon and a bag of donuts for dessert! Whatever you're in the mood for, you will not be disappointed… or bored! This is a great place to head after a nice hike down to The Knob. Local Tip: You've got to try the "Pig Candy," an appetizer made with house-smoked pork shoulder braised in maple syrup and house spices, served on guava puree with celery sprout garnish. It's been described as 'addictive' and we can't agree more!
Again, these are just a few of our favorites. Just to give you a little taste of the local flavor. There are plenty more local favorites, and we'll be happy to share them all with you! But this is just enough to get you started so you can dine like a local when you come to visit!
February 16, 2014 by Trish Robinson
Storm Quintus in Cape Cod was packed with heavy wet snow and strong gusty winds. It is always fun to head out all bundled up after the storm and get some snapshots. The photo collage below was taken as we headed out from The Captain's Manor Inn to Main Street in Falmouth Village. We felt very fortunate to have dodged the bullet of most snow on the Cape which went to neighboring Sandwich with 15.5 inches and also to miss the heavy toll of power outages that hit Yarmouth with 25 percent of the town without power. During the height of Storm Quintus we were getting an inch an hour in Falmouth and down the Cape in Sandwich they were getting over 2 inches and hour.
This is the sixth winter storm for Cape Cod in 2014 which is certainly much more winter weather than we have had since we purchased the inn in 2010. The weather forecasters are predicting a dry and warmer than usual summer and right about now that sounds really good.
January 5, 2013 by insideout
Just a short 1/2 hour drive from The Captain's Manor Inn, Sandwich was the first Cape town settled in 1637 and its name was based on a seaport in Kent, England. What was a small agrarian community changed dramatically when a Boston businessman Deming Jarvis established a glass factory in Sandwich. The Boston and Sandwich glass company grew to be one of the largest glass makers in the nation.
A must see in Sandwich is the Heritage Museum and Gardens. This is the largest public garden in southern New England and it is located on 100 acres of magnificent grounds on the banks of Shawnee pond. This site is especially famous for their Dexter Rhododendrons as well as numerous daylilies, hostas and hydrangeas. In addition the gardens feature nationally recognized specialty gardens, water features and sculpture.
The heritage Museum hosts three gallery buildings with diverse exhibitions. Our particular favorite, housed in a reproduced Shaker Round Stone Barn, is an automobile gallery featuring more than 30 beautifully maintained antique American automobiles. Another fine collection is the American Art & Carousel Gallery which includes an extensive collection of folk art and a working vintage carousel from 1908.
Another site you should visit is the Sandwich Glass Museum. There are displays of more than 6000 different glass pieces created by different glass companies in Sandwich during the 19th and 20th centuries. A highlight of your visit will be the opportunity to view glassblowing demonstrations on site. The glassblowing demonstrations are held daily from 10 AM until 4 PM every hour on the hour.
Other interesting glass shops to visit in Sandwich are listed below:
• McDermott Glass Studio & Gallery (272 Cotuit Road, Sandwich, Ma 02563)
Closed Monday, Gallery Tue-Sun 10-5, Glassblowing Thu-Sat 10-5
• Glass Studio on Cape Cod (470 Route 6A, East Sandwich)
www.glassstudiooncapecod.com
• Pairpoint – Americas Oldest Glass Works (Route 6A Sagamore Ma)
www.pairpoint.com
If you have more time to spare in Sandwich perhaps you would enjoy the Heritage Trail:
May 30, 2010 by insideout
Less than 1/2 hour from our cape cod bed and breakfast, the Heritage Museums and Gardens are sponsoring the Rhododendron festival on June 4th and 5th from 10 am to 4 pm.  Included with a ticket purchase are private garden visits, author and book signings, horticulture seminars, a plant sale and a rare rhododendron auction.  Tickets at $30 for both days.  For more information please see www.heritagemuseumsandgardens.org.