January 31, 2014 by Trish Robinson
Top things to do in Falmouth …well that is a hard list to put together as there is so much to consider. We have done our best to compile the top 5 (in no particular order) based on much input from visitors to Falmouth and our personal experience.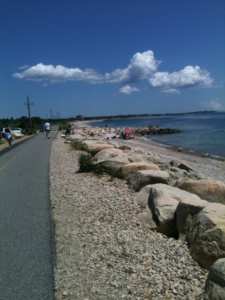 Travel the 10.7 mile Shining Sea Bikeway which spans from the historic seaside village of    Woods Hole up through North Falmouth. This scenic bikeway winds through beautiful marshes and cranberry bogs in the North and along the scenic Vineyard Sound shoreline to the South. The trail is the only bikeway on Cape Cod to skirt the shore. For all who enjoy the pleasure of nature this bikeway is set back off the main roads and follows the Old Colony rail trail avoiding the busy roads except for a few road crossings along the route.
Explore treasures of our 68 miles of coastline surrounding Falmouth. Since you can't see it all we bundled three different coastline locations into this spot on the list of things to do. The three coastline spots are the Knob, Nobska lighthouse and Old Silver Beach. The knob has even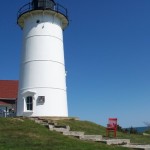 been highlighted by the Boston Globe as a great spot to watch a sunset to cap a Cape Cod vacation. The trail to The Knob overlook is just less than one mile from the parking area and close to 100 bird species have been identified in the area. When you reach the tip of The Knob you will enjoy gorgeous views of Buzzards Bay. Knobska lighthouse is an active U.S. Coast Guard lighthouse which was established in 1829. The views of Vineyard Sound and Martha's Vineyard from the lighthouse are incredible. Old Silver Beach is located in North Falmouth on the Bay side of Falmouth and is known to be the widest beach in Falmouth and featuring the whitest soft sand.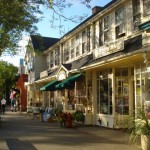 Stroll along the picturesque Main Street in Falmouth Village. The historic village of Falmouth is an absolute treasure of unique locally owned shops and restaurants as well as art galleries. You can find special treats from our very own French bakery or chocolatiers on Main Street or perhaps a good book at the famous Eight Cousins Bookstore who among other activities spearheaded the national Where's Waldo scavenger hunt with local bookstores. Whether you are looking for comfortable or classic dress clothing there are a number of wonderful clothiers in Falmouth Village. The choices are vast for anything you have in mind while strolling Main Street in Falmouth Village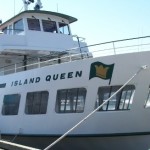 Sail away for a day trip on the Island Queen ferry or Steamship Authority ferry to the island of Martha's Vineyard. This top pick by visitors of things to do while visiting Falmouth is just a short 45 minute trip over Vineyard Sound until you arrive on the shore of Martha's Vineyard. Once on the Vineyard spend the day visiting Edgartown, Oaks Bluff and Vineyard Haven. The gingerbread houses in Oaks Bluff are one of the most photographed spots on the island. Edgartown is known for its beautiful ship captain homes and great shopping and restaurants. If you have time a trip out to Aquinnah would be great with its iconic lighthouse and red clay cliffs.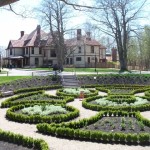 Visit the Falmouth Museums on the Green and Highfield Hall and Gardens to include
Beebe Woods 382 acres of walking trails. Highfield Hall was the home of the historically important Beebe family of Boston and Falmouth. This 1878 home has been lovingly restored and is now a key cultural and community center for upper Cape Cod as well as a special venue for weddings and other celebratory gatherings.
So that is a list of the top things to do in Falmouth yet we would be remiss if we did not suggest spending some time in the village of Woods Hole to visit the Aquarium, and Woods Hole Oceanagraphic  Institute's Titanic education display featuring Alvin the submarine involved in Titanic exploration.
Tags: bed and breakfast, Cape Cod, christmas falmouth, Falmouth Museums on the Green, highfield hall, highfield hall and gardens, Inn, island queen, Knobska Lighthouse, old silver beach, shining sea bikeway, steamship authority, the knob, vacation
Posted in List of Top Things to Do, The Area | Comments Off on Top things to do in Falmouth
March 3, 2013 by insideout
The island of Nantucket is best known for two things. First, its long history of maritime pursuits and secondly it's attraction for celebrities and tourists alike.
When staying at the Captain's Manor Inn and planning for a day trip to the island of Nantucket, we recommend you start your day with a full breakfast at the Inn before heading over to Hyannis to catch the fast ferry to the island.
Nantucket is a unique island unto itself. It is only a small island at 3.5 x 14 miles at its widest points. The island only has one town aptly named Nantucket which is a National Landmark Historic District, with over 800 structures built pre1840. Other than downtown, basically Nantucket is made up of all beach.
You'll feel transported as you walk the cobbled main road. The street was paved back in 1837, using cobblestones from Gloucester, Massachusetts. These very same cobblestones were used as ballast to stabilize ships cargoes back in the day.
Your day trip itinerary might look like this:
9:00 AM  Breakfast at The Captain's Manor Inn
9:45  AM   Head off to Hyannis to catch the Steamship Authority's Iyanough Fast  Ferry to Nantucket.
11:  AM   The Ferry departs from Hyannis
12:00 PM  The Ferry arrives in Nantucket
12:15 PM  Make your first stop Nantucket's Whaling Museum which was renovated in 2005. Do not miss the rooftop observation deck for a special view of Nantucket harbor.
1:15 PM  Time for lunch at any number of wonderful restaurants.  Some favorite's of Captain's Manor Inn guests are – Brotherhood of Thieves or Something Natural for outstanding sandwiches and treats at a reasonable price….Or for something a little more elegant and pricey try Company of the Cauldron or Oran Mor Bistro.
2:45 PM  Now is a great time to walk off or bike off  lunch.  Enjoy all the little side road explorations off Main Street on your own OR  head back to the Whaling Museum and join the Nantucket Historical Association guided 1+  hour walking tour OR take part in the Nantucket Bike Tours History Buff Tour.
5:00 PM  A little treat might be in store at Petticoat Row Bakery known for exquisite baked goods.
5:150 PM A last minute walk to Brandt Point Lighthouse might be just the thing before boarding the ferry to head back to the mainland.
6:00 PM The ferry leaves Nantucket bound for Hyannis.
7:00 PM You dock in Hyannis and head back to Falmouth for dinner on Main Street.
Tags: Cape Cod, Cape Cod Day Trip, Captain's Manor Inn, day trip, Falmouth, Iyanough fast ferry, nantucket, Nantucket Harbor, steamship authority, Whaling Museum
Posted in Day Trips | Comments Off on Nantucket Day Trip
One of the most popular Day Trips for our guests is a visit to Martha's Vineyard during their stay with us.   They love that the island is located only seven miles off the Massachusetts coastline and it is only a 45-minute ferry ride from Woods Hole, Falmouth. We invite you to scroll down for a brief video, as well as some pictures of the Vineyard and a sample itinerary.
There are many ways to get around and explore the island.  For example you can use the Martha's Vineyard transit authority bus system where for $7,
a day pass will take you on varying routes, and you can hop on and off as you please.  You could also opt to rent mopeds, bicycles or a car to explore the island.  In addition to self touring the island there is a popular 2 and 1/2 hour bus tour of the island that many guests take once they get off the ferry and then they use the rest of their day to explore the island on their own.
A   sample itinerary   for a day trip to Martha's Vineyard is provided below:
8:00 AM  Breakfast at The Captain's Manor Inn
8:50  AM   A short walk from The Captain's Manor Inn to the Steamship Authority Ferry Shuttle Bus
9:30  AM   The Ferry departs from Woods Hole
10:15 AM  The Ferry arrives in Oak Bluffs Martha's Vineyard
10:30 AM   Depart on the Martha's Vineyard Sightseeing Tour
1:00   PM   Arrive back in Oak Bluffs following the tour
1:15   PM   Enjoy lunch at Nancy's overlooking Oak Bluffs  Harbor
2:30   PM   Walk about Oak Bluff and explore the Gingerbread Houses by the Tabernacle and visit the beach
4:00 PM  Board Bus #13 to head to Edgartown4:15 PM  Explore Edgartown's shops and beautiful historic homes
6:00 PM Enjoy Atlantic on the Edgartown harbor for drinks and dinner
7:45 PM Board Bus#13 to head to Oak Bluffs
8:15 PM Ferry departs for Woods Hole
Tags: aquinnah, bed and breakfast, Cape Cod, Cape Cod Day Trip, Captain's Manor Inn, day trip, edgartown, Falmouth, gingerbread houses, martha's vineyard, marthas vineyard sightseeing tour, oak bluffs, steamship authority, woods hole
Posted in Day Trips, The Area | Comments Off on Martha's Vineyard Day Trip