July 8, 2015 by Trish Robinson
The Falmouth Arts and Crafts Festival annual extravaganza will be held July 8th from 10am until 6pm. This special annual event is celebrating 35 years on Main Street in the iconic cape cod location of Falmouth Village. There will be over 160 artisans showcasing and
selling their wonderful wares and the many boutique shops along Falmouth Village's Main Street will be open and offering specials for this annual event. Restaurants will be well stocked and looking forward to satisfying that healthy appetite you will create from walking and exploring all that Main Street and the Falmouth Arts and Crafts Festival has to offer.
You can be sure to find fine pottery, jewelry, cape cod cloth belts, paintings, blown glass, mirror art, leather goods, children's hand made toys, unique bird houses and planters, milled lavender soaps and gifts, woodcrafts and so much more.
Be sure to check out the special offerings from Falmouth's own Main Street stores like The Black Dog, Soft as a Grape, Homespun Gardens, Treasure Chest, Port Cargo and more.
Stroll down Main Street and explore Queens Buyway for special items at stores like Vagabond View, Cape Chic, and The Pink Polka Dot.
Only held once a year make sure you do not miss this!!
July 15, 2011 by insideout
Just a short stroll from our bed and breakfast accomodations at The Captain's Manor Inn is lovely Falmouth Village.  This year's arts and crafts street festival on July 13th in Falmouth Village Cape Cod was fantastic.  It was a hot summer day and thousands of people came to enjoy the beautiful handcrafted items and to see many of the artisans performing their craft work.  Main Street in Falmouth was closed down as they do each year for the festival.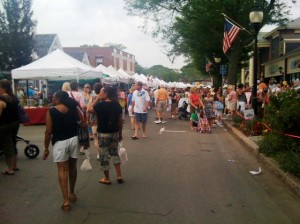 The Falmouth Village shops and restaurants on main street participate in the big day and many set up tables outside their shops and restaurants with great merchandise or nice ice cold water and other snacks.
Pictures of a couple of our favorite artisan booths are shown below.