December 22, 2014 by Trish Robinson
Cider Poached Apples with Cinnamon Yogurt and Caramel Sauce Drizzle is a favorite breakfast fruit dish of customers at our Falmouth Cape Cod Bed and Breakfast and we are happy to share the recipe with you. Each breakfast at the Captain's Manor Inn starts with a fruit dish and scone or muffin before we move onto the main entree of the morning. A fresh fruit cup is always a great way to start and yet as the fresh fruit is less abundant in the spring and late fall/winter this is a great fruit alternative. The recipe below can be modified for a smaller or a larger group based on your needs.
We are providing the ingredients and preparation necessary to Serve 8 guests.
Ingredients
½ Gallon Apple Cider
½ bottle Apple Juice
2 cinnamon sticks
4 Apples (peeled, halved, and cored)
½ cup vanilla yogurt
½ teaspoon ground cinnamon
½ cup chopped pecans, candied
½ cup caramel sauce
Preparation:
1. Bring apple cider, apple juice and cinnamon stick mixture to a boil over high heat. Let boil, uncovered about 25 minutes or until the liquid is reduced by about 1/3.
2. Add Apples, cover and simmer about 15 minutes or until desired tenderness. Remove from heat and let cool. Refrigerate the apples in the cooking liquid overnight.
3. Take your ½ cup of chopped pecans and spread in a single layer on a baking sheet. Sprinkle with a little sugar then toast in a preheated oven at 350 F for 8 to 10 minutes. Use immediately or store in a covered container in the refrigerator.
4. Combine yogurt and ground cinnamon in a small bowl. Pour into a cake decorating bag or a squeeze bottle and then drizzle yogurt on each serving plate. Next place a poached half apple on top of the yogurt sauce. Drizzle more yogurt over the top of the apple and drizzle some caramel sauce then sprinkle with toasted pecans.
We hope you enjoy from all the staff at The Captain's Manor Inn in Falmouth, Cape Cod.
December 7, 2014 by Trish Robinson
Boston accommodations are abundant and our international guests often inquire about where to stay in Boston either on their way to Cape Cod or once they leave Cape Cod.
We have a couple of hotels that we recommend below based on our stays. We suggest you either book directly with the hotel  or check online to see if there is a tripadvisor deal and book through tripadvisor.
One hotel we suggest is the Lenox Hotel. This is a luxury hotel in Boston's back bay at 61 Exeter St, Boston, MA 02116. We booked this hotel directly and selected the king room executive suite with a fireplace (it
was off season so the rate was adjusted accordingly). Upon arrival all service staff were very pleasant and let us know that if we wanted a fire in the fireplace to just call down and someone would arrive to light the fire – we just needed to be present in the room as it is a wood burning fireplace. The guestroom was quite large and in addition to the fireplace there was a large comfortable coach and a desk as well as a good size flat screen tv. The bed was comfortable and the sheets were of good quality. Another benefit was that the guestroom was nice and quiet, unlike at some hotels where the hallways are well traveled and the noise from the hall is very noticeable in the guestrooms. The bathroom was also well appointed. While at the Lenox Hotel we went to Abe and Louis for dinner which was exceptional. Previous guests of the our Inn had suggested we review it for our guests to see if we would recommend the restaurant. After dining there we would enthusiastically recommend it to others. The restaurant setting is very tasteful with a lot of old wood paneling and high ceilings. The bone in rib-eye steak is a fan favorite and Kevin had that for his main entree and I had the filet. We also shared green beens sauteed with crispy shallots and the potatoes au gratin with parmesan cheese and proscuitto which were to die for!
The other Hotel we would suggest is the Omni Parker House Hotel located at 60 School St, Boston, MA 02108. This is a very convenient hotel if you would like to do some sightseeing that includes walking the freedom trail as well as visiting Faneuil Hall and the Boston aquarium. We booked the Omni Parker through tripadvisor where they had posted a special offer. The offer was for free parking and breakfast with your stay. Our booking was for a Saturday night stay and we enjoyed the complimentary parking (usually in excess of $30 per night) and an exceptional brunch Sunday morning in the Parker's Restaurant at the hotel. We stayed in Boston for the lighting of the Holiday Tree at Faneuil Hall before traveling out of town. On Saturday night we did walk to Faneuil hall for the festivities and we had a light dinner at Parker's Bar at the hotel. Parker's Bar has a nice casual pub feel to it and we had excellent onion soup and a sizeable iceberg salad wedge for our light meal. The room at the Omni Parker was a king room yet it was much smaller than the King room at the Lenox Hotel. The Omni also does have more hall traffic that is heard in the guestroom. The bathroom is compact yet has all the amenities you need. One of the draws of the Omni is the great history of the property and grand decor of the main common areas plus its location in the heart of Boston.
October 24, 2014 by Trish Robinson
Falmouth Village Scarecrows make their appearance again this Fall and Halloween season on iconic Main Street. Over 20 different creative oversize scarecrows are located on the lamposts in front of restaurants, retail shops, the local fire station and several bed and breakfasts in Falmouth Village. The scarecrows went up on October 15th and will remain until late November.
Each year the members of the Falmouth Village Association enjoy showcasing their talents in coming up with a scarecrow character to represent their unique business.
This year some of the unique characters include an oompa loompa scarecrow from Willy Wonka and the chocolate factory located in front of Ghelfi's Candies, a cocktail serving scarecrow in front of the Quarterdeck restaurant, a leprechaun in front of Liam Maguire's Irish Pub, and Popeye the Sailor Man in front of The Captain's Manor Inn. We encourage you to take a stroll along Main Street and enjoy the fun and creative scarecrow's while you stop in to shop at our local shops and restaurants.
July 23, 2014 by Trish Robinson
Falmouth Commodores take on the Brewster Whitecaps at their home field in Falmouth Cape Cod. The Guv Fuller Field is located on Main Street behind the Gus Canty Community Center.
May 10, 2014 by Trish Robinson
Falmouth Bed and Breakfast Garden Tour as part of Falmouth Village Blooming Events will be held from 1-3 pm on May 10th Mother's Day Weekend. Four Inns will participate in the free garden tour. The Captain's Manor Inn will be transforming a large garden bed from barren ground to a full garden with assistance from Iscape Landscaping and Property Management and Brick Kiln Farm both of which are local Falmouth companies. The Palmer House will be conducting a session on creating a container herb garden. Bailey's by the Sea will hold a garden open house. The Woods Hole Passage Bed and Breakfast will hold a garden tour and build your own fairy tree house for children.
March 12, 2014 by Trish Robinson
Cape Cod Hurricane Photos from 1944 were part of a number of recently discovered historic photos many featuring The Captain's Manor Inn formerly known as Mostly Hall. We came across a number of very impressive photos while working with the Falmouth Historical Society and we are going to be doing a few postings so we can share with you a little bit of Falmouth history.
In this posting we are sharing pictures of some of the devastation on Cape Cod here at the Captain's Manor Inn during the 1944 Hurricane. This storm carried winds peaking at 145 miles per hour and as a category 2 storm. Because the storm was so massive in both its size and intensity it was given the title the Great Atlantic Hurricane and it was the first storm to get a name by the National Hurricane Center then based in Miami and known as the Miami Hurricane Warning Office. One sad fact is that the storm was famous for sinking what was known as the lightship LV Vineyard Sound killing all 12 men who were on board.
February 1, 2014 by Trish Robinson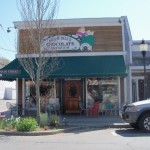 National Chocolate Month is February and it is a time to celebrate for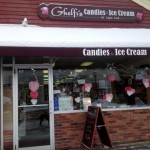 all of us chocoholics! Pretty much a day does not go by that I don't have a little bit of chocolate. We are lucky here in Falmouth, Cape Cod that just a short stroll down from The Captain's Manor Inn on Main Street in Falmouth Village are two great places to satisfy your chocolate cravings.
You may stop in at Ben and Bill's Chocolate Emporium or Ghelfi's Candies or like many guests visit and sample both. At Ben and Bill's many of our guests love the mocha chip ice cream which has the largest pieces of chocolate you can enjoy. A favorite of guests who frequent Ghelfi's Chocolates are there different flavored salted caramels from milk chocolate to dark or white chocolate and even crème brulee.
You don't have to wait for Valentine's Day to search for that special chocolate treat any time this month will do. The healthy benefits of chocolate are being lauded in all sorts of magazines such as Women's Health, and even the Wall Street Journal had a story.
Chocolate is even being talked about as a superfood. Of course for us chocoholics, National Chocolate Month is not even enough. So if you need a reason to justify why you are eating chocolate why not follow the national chocolate day calendar.
THE YEAR IN CHOCOLATE HOLIDAYS

January 3:               National Chocolate-Covered Cherries Day
January 8:               National English Toffee Day
January 10:             National Bittersweet Chocolate Day
January 27:             National Chocolate Cake Day
February:                National Chocolate Lovers Month
February 1:             National Dark Chocolate Day
February 14:           National Cream-Filled Chocolates Day
February 19:           National Chocolate Mint Day
February 28:           National Chocolate Soufflé Day
March (week 3)       American Chocolate Week
March 19:               National Chocolate Caramel Day
March 24:               National Chocolate-Covered Raisins Day
April 21:                 National Chocolate-Covered Cashews Day
May:                      National Chocolate Custard Month
May 1:                   National Chocolate Parfait Day
May 2:                   National Chocolate Mousse Day
May 3:                   National Chocolate Custard Day
May 12:                 National Nutty Fudge Day
May 15:                 National Chocolate Chip Day
June 3:                  National Chocolate Macaroon Day
June 7:                  National Chocolate Ice Cream Day
June 16:                Fudge Day
June 26:                National Chocolate Pudding Day
June 22:                National Chocolate Eclair Day
July 7:                   Chocolate Day
July 8:                   National Milk Chocolate with Almonds Day
July 28:                 National Milk Chocolate Day
August 4:              National Chocolate Chip Day
August 10:            S'mores Day
August 20:            National Chocolate Pecan Pie Day
September 12:      National Chocolate Milkshake Day
September 13:      International Chocolate Day
September 22:      National White Chocolate Day
September 27:      National Chocolate Milk Day
October:               National Caramel Month (with Chocolate)
October 18:           National Chocolate Cupcake Day
October 28:           National Chocolate Day
November 7:         National Bittersweet Chocolate with Almonds Day
December 12:       National Cocoa Day
December 16:       National Chocolate-Covered Anything Day
December 28:        National Chocolate Day
December 29:        National Chocolate Day
Source: National Confectioners Association, Foodimentary, CandyUSA.com.
July 12, 2013 by insideout
Looking to go out and expeience what Falmouth has to offer? Need some time to have a little fun and watch a little baseball? The Falmouth Commodores is a local baseball team in Falmouth composed of top college players who come from all over the country to play in the Cape Cod Baseball  league. The games are held at Guy Fuller Field, which is only a 5 minute drive from the inn, and is located on Main Street, just as the inn is.
The field offers metal bleachers, huge lights, a concession stand, and announcers just as the professionals provide. You experience everything that you would if you were going to a professional league game, but there are less people to create a more serene and welcoming environment. To share a little history on the Cape Cod Baseball league:
the first game ever played in the league was on July 19, 1939,
the two teams to first play each other were Falmouth and Barnstable.
This shows how rich the history of the Falmouth Commodores in the Cape Cod Baseball League truly is.
Gallery: Falmouth Commodores VS. Orleans Firebirds- July 2, 2013
June 29, 2013 by insideout
Ice cream, you scream, we all scream for ice cream!
Falmouth's Main Street has many ice cream shops with many different choices to chose from. Looking for a fun night out with a little dessert specialty to end your perfect night? Well our Main Street has just what your looking for, with many ice cream shops just minutes away.
Ben and Bills Chocolate Emporium:
    Ben and Bill's is a co-owned ice cream shop and chocolate emporium that has been on Main Street since 1992 and has been serving happy customers ever since. They offer 64 flavors of hard-ice cream and 12 different flavored gelatos. They also make their own waffle cones which are a must! If your not in the mood for ice cream, you could also enjoy some of their many handmade chocolates, candies, fudges, or my favorite, butterscotch. Whatever sweets your in the mood for, they're sure to have it!
                                    Ghelfi's Candies and Ice Creams:
Ghelfi's Candies and Ice creams is also located on Main street. It offers a variety of candies and ice cream. It is fairly new to Main Street and offers customers all homeade desserts. Ghelfi's has a kitchen on Cape cCod where they make everything they offer in their stores. You can also go to their website shipchocolates.com to order there treats right to you. Whether you need a gift for valentines day, or sweets for your wedding day, Ghelfi's has it.
Dairy Queen:
Dairy Queen is located a little farther down Main Street, but its worth the five minute car ride. Dairy Queen offers its customers many unique soft serve combinations. From their famous blizzard, which is a mix of ice cream and your favorite toppings, to hot fudge sundaes and banana splits. Dairy Queen is just an ice cream store and offers its customers outdoor benches to enjoy their little piece of heaven.
We love creative minds and thought you would enjoy this video which is part of a wonderful campaign know as the Better Way To Stay featuring Inns and Bed and Breakfasts.  The Inns of Falmouth Cape Cod will be part of a video later this summer.
Please enjoy and more to be shared in the future .