August 14, 2016 by Trish Robinson
Dine like a local when you visit us on Cape Cod! There's not much in life that's better than good food. Well, maybe the beach. Lucky for you, our little part of the world has both. We're going to give you the low down on how to chow down in Falmouth and beyond just like we do.
Outdoor Dining
Añejo Mexican Bistro and Tequila Bar (pronounced Ah-nyay-ho)
BEST spot in Falmouth to people watch. Situated right smack dab in the middle of Main Street, their large outdoor patio looks out onto the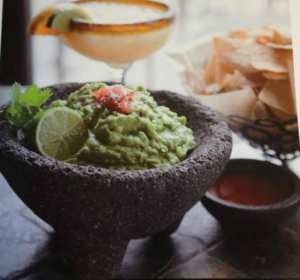 summer bustle taking place on the downtown sidewalks. Cape Cod Magazine voted Añejo best Mexican food AND best margaritas on Cape Cod and we couldn't agree more. We'll start with drinks. If you're in the mood for a margarita (and when are you not) we recommend the house – it's simple and clean the way the margarita gods intended. El Jimador Blanco, Patron Citronge, organic sugar cane and squeezed lime. Not overly sweet, just the way we like it. If you are in the mood for sweet (and a little spicy) try their blood orange margarita made with jalapeño infused tequila. Olé! The menu for lunch and dinner is fantastic. Don't leave without trying one of their tortas, everything needs a side of a lá carte guacamole and throw in some Mexican street corn for good measure – you will not be disappointed. The kicker? It's o.2 miles away. A beautiful 5 minute walk is all that stands between you and the best Mexican food on the Cape when you stay with us! Local Tip: If you head in for a margarita and the place is packed (which it can be on a summer evening) grab a drink at the bar and head out the side door – they've got couches, tables and lights in the side ally between the restaurant and Twigs (an adorable local shop). Sip in peace!
Out-Of-This-World Food
Are you in the mood to be dazzled? Then The Glass Onion is the choice for you. Steps away from your room at The Captain's Manor Inn, you will be amazed at the artful combination of flavors the chef prepares. We recommend the lobster strudel for an appetizer. In case that name alone didn't completely sell you, in addition to lobster, you'll be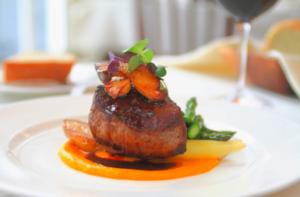 snacking on mascarpone, oven dried tomatoes (which have a roasted sweetness unlike anything else), and of course, what vacation appetizer is complete without a lobster butter drizzle? Is your mouth watering yet? Because we haven't even gotten to the entree! You can choose between filet, shrimp, duck, house made gnocchi, lobster (because there is officially no such thing as too much lobster when you're on Cape Cod) or a nightly special. Whatever you do, leave room for dessert. The Glass Onion has been hand making small batch ice cream for years and with flavors like peach pie and guava… it cannot be missed. If you've overdone it at dinner and simply can't fit another thing… don't worry. We've got you covered.
If you head in during normal business hours and ask the hostess, you can purchase ice cream in a cone and enjoy it on their back patio! So just head back the next day, refreshed and re-hungry!
Summer Vibe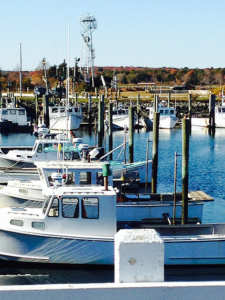 The Pilot House is situated on the Canal in the Sandwich Marina. Beautiful water views combined with a nice big yard and great food will create a memorable afternoon! We recommend heading over for a late lunch or early dinner to take full advantage of the well placed adirondack chairs. Order a cocktail from the outdoor bar, hunker down and enjoy. Don't feel like moving but you're getting hungry? No worries! The waiters and waitresses are happy to bring you menus and you can dine where you sit! If you haven't worked up an appetite yet, you'll notice ring toss, corn hole, and more! Feel free to walk around the spacious lawn and enjoy. Most days there's live music to add to the summer time vibe! This place is perfect for a mouth watering fried seafood plate, crab cakes, calamari, mussels and more! As we mentioned, this restaurant is in Sandwich with is just under a 30 minute drive. If you'd like to test it out before you commit – head over to The Quarterdeck on our very own Main Street (a 10 minute walk from the Inn). Both restaurants are owned by the same family, and both serve delicious Cape Cod fare! Local Tip: Have you been wondering where to get a good lobster roll? Look no further. You've found it.
Take-Out on the Beach
The British Beer Company (The BBC to locals)
Are you in the mood to dine with your toes in the sand? We've got you covered. The local British Beer Company is located directly across the street from Falmouth Heights Beach. As soon as you walk in you'll be transported to a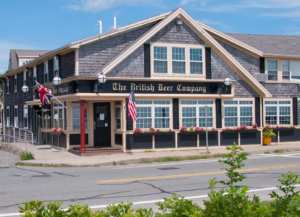 London pub. The decor, the music, soccer on the tele… it's foggy London town! If you're a beer drinker, saddle up to the bar. The BBC boasts one of the best beer lists in town. The taps are ever changing and the bartenders are super friendly and helpful. If you describe what kind of beer you typically prefer, they'll be able to suggest something new to try. If you're not a beer drinker, you don't have to feel left out. They've got a great selection of wine and offering of specialty cocktails. As you sip your pint at the bar, have a look at the menu. This is the British Beer Company, so dishes like fish and chips and bangers and mash are unbeatable. But they've got a wide selection of pizza, burgers, sandwiches and more. Finish your drinks, ask for your food to go and head across the street to the beach. If you time it right, you can watch the sun set as you enjoy a little British food as you sit on the shores of New England. Local Tip: After you're done eating, head back over to the BBC – it's one of the best spots for live music in an intimate setting in Falmouth!
Wood's Hole
Are you in the mood for a beautiful drive down to Wood's Hole? Then be sure to stop into Quicks Hole Tavern for a bite. Open year round and a favorite for Vineyard ferry commuters, Quicks Hole Tavern has everything you could ask
for all wrapped up into a beautiful seaside view. It's one of our favorite places to sit and watch the ferry come in and out. They serve lunch in their upstairs dining room, fine dining on the second floor, and the first floor pub is open seven days a week offering a pub menu. What more could you ask for? The best part about this restaurant besides the views, the cocktails, the ambiance (okay there are a lot of bests) is the inventiveness of the menu. You can try Avocado Toast with chili spiced deviled eggs as an appetizer, whisky rubbed salmon and a bag of donuts for dessert! Whatever you're in the mood for, you will not be disappointed… or bored! This is a great place to head after a nice hike down to The Knob. Local Tip: You've got to try the "Pig Candy," an appetizer made with house-smoked pork shoulder braised in maple syrup and house spices, served on guava puree with celery sprout garnish. It's been described as 'addictive' and we can't agree more!
Again, these are just a few of our favorites. Just to give you a little taste of the local flavor. There are plenty more local favorites, and we'll be happy to share them all with you! But this is just enough to get you started so you can dine like a local when you come to visit!
July 10, 2016 by Trish Robinson
Get away to Cape Cod and have your own drone adventure on Cape Cod with Sky Flik. Working with Sky Flik we created a video of The Captain's Manor Inn and favorite Falmouth Cape Cod landmarks. We thoroughly enjoyed the experience. Now we have a number of great stills photos and a video for potential guests to get a realistic view of our Inn and the Falmouth area. During your next visit to Cape Cod why not add our drone adventure package to your stay? Scroll down our blog to see still pictures from our drone adventure and read about some of Falmouth's favorite landmarks.  In our slightly less than 3 minute drone video you will see aerial views of our grounds, Falmouth Village, Nobska Lighthouse, the Shining Sea Bikeway and The Knob.
Drone Footage of Captain's Manor Inn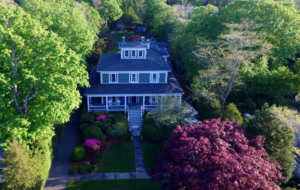 We had a gorgeous spring day for our drone adventure in Cape Cod as we took the footage for the grounds of the Inn and the surrounding area. Our desire was to show the expanse of the grounds because often guests are surprised at the depth of the gardens.  Jason piloted the drone as if you were driving down the driveway to the back gardens and gazebo to provide a true feel of the space. One of our favorite clips is where the drone is returning from Falmouth Village and you get a great view of Siders Pond and you can see how close we are to the ocean.
Shining Sea Bikeway
For bikers, joggers, and walkers the Shining Sea Bikeway is a treasure. You just take a left out of our driveway and then a few houses down take another left to get to the bikeway. We love to walk south on the bikeway to Woods Hole. A nice stop along the way is the Salt Pond bird sanctuary just to your left on the bikeway. Stroll the winding paths around Salt Pond then then hop back on the bikeway headed to Woods Hole.
Drone video
This 11 mile flat bikeway is great in terms of its varied scenery. Heading south you will pass several ponds and you will hug the ocean facing Martha's Vineyard. Your reward at the end could be a baked goodie at Pie in the Sky or a lobster taco at Quicks Hole Taqueria in Woods Hole. When you head north on the bikeway you will traverse beautiful marshes and cranberry bogs.
The Knob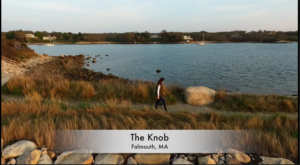 The knob is a tranquil area that has been preserved for Falmouth natives and visitors alike and where you can view incredible sunsets. It was a gift to the Salt Pond Bird Sanctuaries by Cornelia L. Carey in the early 1970s. For many Falmouth natives and visitors alike The Knob remains a bit of a hidden gem. At one time The Knob was part of a 16-acre property purchased by Carey's family in 1877. You can still see some of the former resort buildings that made up the Quissett Harbor House, was a popular resort for nearly a century which closed in 1975.
From our Inn you take a right out of the driveway, then a left onto Woods Hole Road and at your first light take a right onto Quisset Harbor road. At the end of the road you are across from Quisset harbor where you will find about 20 parking spaces. Park your car and you will see the entrance path to The Knob. Walk along the harbor, next to Little Sandy, the first of the three beaches along The Knob.
Your scenic walk on the trail is just under one mile from the start to The Knob overlook. At the end of your walk you will be treated to fabulous views of Buzzards Bay atop The Knob. Based on the weather and how clear the sky is you may also see the Elizabeth Islands to the south.
For the nature lover and romantic we highly recommend a visit to the Knob to view the sunset.
 Nobska Lighthouse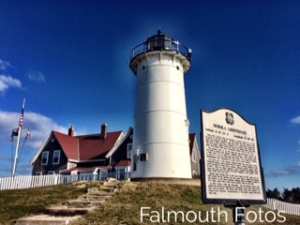 Nobska Lighthouse was established in 1828 to protect sailors in Vineyard Sound and Buzzards Bay.
Just a few miles from our Inn, Nobska lighthouse stands on a bluff overlooking Vineyard Sound. From the bluff you can view Martha's Vineyard, the Elizabeth Islands, and Woods Hole Passage. From 1828 until 1939 the Nobska Point Lighthouse was operated by the U.S. Lighthouse Service. In 1939 the U.S. Lighthouse service merged with the U.S. Coast Guard. The US Coast Guard's Commanding Officer was in residence at the lightkeepers cottage on property until 2013.
In 2014, based on the need for significant repair, the Coast Guard started looking for bidders to assume responsibility for the lighthouse, tower, and land surrounding the structures. There were contingencies to include that the property would continue to belong to the federal government and therefore must be open to the public for free. Through a lot of work and cooperation the Town of Falmouth was the successful bidder. The Town gave responsibility for restoration, maintenance and operation as a museum to the Friends of Nobska Light. The Friends plan to complete restoration work and open the museum and tower not later than 2020.
Drone video
June 17, 2016 by Trish Robinson
Beer Bed and Breakfast Cape Cod celebrates its 3rd year over the November 4-6, 2016 weekend. We are happy to be a part of this November tradition.
Welcome Reception
Your Captain's Manor Inn Beer Bed and Breakfast weekend starts with light hors d'oeuvres and beer in our Bistro on Friday
night from 5-6:30pm. Then take a stroll into town and enjoy dinner at any of our fabulous foodie restaurants. Whether you are in the mood for seafood, italian, mexican, thai, or fine or casual dining you will  find it in Falmouth Village.  Visit our restaurant page to read about some of our guests favorite restaurants.
Saturday morning you will be treated to a multi-course breakfast. After breakfast you may choose to explore Falmouth Village or bike the Shining Sea Bikeway. If you are feeling more adventurous you might hike one of our many scenic trails. When you arrive back at the Inn we will have fresh baked goodies and refreshing drinks for you to enjoy at your leisure.
Beer Tasting Menu
Saturday evening you will  enjoy the highlight of the weekend at Quicks Hole Tavern an award winning restaurant in Woods Hole While dining, can enjoy beautiful views of the sunset and the Martha's Vineyard ferry while savoring your special Beer tasting dinner. The menu for your evening will include four local craft beers, lobster taco bites, a mini kale salad with corn, black beans and a cilantro cumin dressing, plus slow roasted chicken tacos on a locally made corn tortilla with shredded cabbage, freshly grated sharp cheese, pico de gallo and queso fresco. To top off your beer and light tasting menu you will be treated to a desert specialty of Quick's Hole Tavern namely their famous "bag of donuts".
Your Weekend Souvenir
Sunday morning you'll enjoy another multi-course breakfast. As a souvenir of your Cape Cod Bed and Breakfast weekend getaway you will take home a custom Captain's Manor Inn beer tankard.
The beauty of Falmouth is that it is truly a year round community. Other parts of the Cape have stores and restaurants that close after Columbus day. Our shops and restaurants in Falmouth Village and Woods Hole are open for business. In fact October and early November are becoming increasingly popular as times to get away and enjoy Cape Cod. During late fall, the crowds have thinned out and there is still plenty to do from hiking all the great trails in the area to starting your Holiday shopping at the unique shops in town and of course enjoying top restaurants without the wait you would have in the summer.
All inclusive pricing includes your guestroom, breakfasts, Friday reception, Saturday dinner and Tankard souvenir. A Queen guestroom is $449 plus tax and a King guestroom is $489 plus tax. We do have 3 premium King guestrooms with fireplaces ($529 plus tax) and a 2 story suite ($569 plus tax) if you would like to upgrade.
Check availability and book online click the button below. Then select your room and add on the Beer, B&B weekend package.

June 2, 2016 by Trish Robinson
There's a new bbq on cape cod, located in the waterfront village of Woods Hole, Falmouth. One of the new trends in the culinary  world is the movement of pop up restaurants. Sugs bbq "popped up" when co-founders Nat and Kristan Chalkley brainstormed with Pie in The Sky owner and friend Erik Gura about bringing Nat's passion for smoking bbq to life. As this exciting new venture for Nat takes off he is serving fresh smoked meats and sides right out of his smoker in the Pie in The Sky courtyard on Saturday and Sunday from 1-8 pm all summer long.
The two shining stars of Sug's menu are his brisket and pork ribs, both smoked over night. Each week Nat will include an additional special such as smoked chicken leg quarters or pulled pork. The featured sides are also not to be forgotten including potato salad, corn bread, and coleslaw. To add even more to this culinary experience, there will be live music from 4-6pm and feel free to byob while dining in the courtyard. Feeling like a little surf to add to your turf? Pie in The sky also has a pop up oyster bar on the other side courtyard.
Sugs co-founder, Kristan Chalkley has been a Pie in The Sky bakery fixture for 10 years, even before Erik purchased the bakery.  Nat and Erik having been friends for years fueled the ties between Sugs and Pie in The Sky. Nat is a successful fisherman and finally this year decided to put a different passion on the forefront. With the help of his wife Kristan, friends, and family this summer was his time. Follow their summer adventure on Sugs instagram page @sugs_bbq.
Photos Credit: Steve Atkinson
February 16, 2016 by Trish Robinson
Cape Cod's Jazz Scene
Cape Cod's jazz scene is unlike that of any other area.
Current 2016 Jazz events:
Pre-Season Social!
This Thursday, February 18th, 7-9 PM 
Come to our second social at Quicks Hole Tavern featuring Scott Shetler (clarinet, mandolin, sax, vocals), Bruce Millard (guitar, mandolin) Joe Sutton (guitar, vocals),  and Woods Hole Jazz founder Tom Renshaw (bass).   Enjoy a rousing evening of blues, swing, and gospel in an informal atmosphere. No cover. Tips appreciated.
Thursday, March 3rd – Vocalist/Trumpeter Christine Fawson with Phil Wilson
The talented and entertaining Fawson brings her Berklee mentor, legendary trombonist and Grammy-nominee Phil Wilson. $25, $20 in advance. Learn more.
Wednesday, March 23rd – Dave Zinno Quartet Bassist Dave Zinno returns to Woods Hole with top trumpeter Jason Palmer, Tim Ray (piano), and Steve Langone (drums).
Thursday, April 14th – Nadia Washington (vocals, guitar) One of NYC's top up-and-coming vocalists, a blend of rock star Janis Joplin and jazz queen Nina Simone.
Tuesday, April 26th – Frank Wilkins with Toni Lynne Washington An encore performance by Boston's Queen of the Blues.
Sunday, June 26th – Kate McGarry 
A 2013 Grammy nominee for Best Jazz Vocal album, McGarry effortlessly blends styles with a repertoire that ranges from jazz classics to broadway to folk.
2015 Jazz Fest Falmouth – September 26 – October 4
Enjoy lectures, recitals, concerts, jam sessions, a jazz brunch and a jazz stroll during the eight day celebration presented by Arts Falmouth. The jazz stroll will take place on Friday, October 2nd and promises to be a night full of great music. Downtown Falmouth will come alive on Friday night. The shops and restaurants from Queen's Buyway and along Main Street will showcase an assortment of groups ranging from classic swing to avant-garde with a little blues thrown in. Just wander in and out;  it's all free.  The 2015 line up features both local favorites and award winning ensembles. Each performance time is staggered giving you an opportunity to hear a variety of jazz styles throughout the evening. Click here for the 2015 Jazz Stroll lineup.
September 26:  Robert Wyatt on Louis Armstrong
September 27:  Pianist Jon Weber on almost everything else about jazz
September 30:  Toni Lynn Washington, Queen of the Blues
October 2:  Jazz Stroll along Main Street
October 3:  Denise Donatelli in concert at Highfield Theater
October 4:  Goodis & Glenn Jazz Brunch at Persy's
Woods Hole Jazz – September 30 – November 11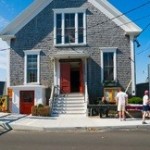 Jazz has been a long standing tradition on Cape Cod and the Woods Hole Community Hall building has been home to jazz music for over thirty-five years. Toni Lynn, known as Boston's "queen of the blues" will be performing in September with the Frank Wilkins Quartet both of whom grew up playing in church so their music has undeniable gospel influences. With one performance per month from September – November, this fall is the perfect time to book a trip. Click here for ticket information and to read more about the musicians.
September 30: Toni Lynn Washington with the Frank Wilkins Quartet
October 20: Donna Byrne
November 11: The Harry Allen Trio
Martha's Vineyard Jazz & Blues Summerfest – September 3-6
Sheila Baptista, founder and producer of the Martha's Vineyard Jazz & Blues Summerfest began the festival in 2008 with only word of mouth marketing and donated a portion of the proceeds to help support regional efforts to spread a vital message regarding breast cancer, early detection, courses of treatment and positive recovery. The festival has grown rapidly each year and has become an event that locals and vacationers alike look forward to each year. The first night is held in Oak Bluffs and the following three nights are held in Edgartown. Click here for ticket information.
September 3: Jazz Giants 25 and Under
September 4: Lisa Fischer, Sharel Cassity, Andrea and James Rohlehr and the Andjam Band
September 5: Women of the World, Sage All Ladies Jazz and Blues
September 6: Nnenna Freelon, Jazz Pianist Yayoi Ikawa, Jazz Gospel Violinist Kersten Stevens
Cape Cod Jazz Festival – September 1 & 2
The twelfth annual Cape Cod Jazz Festival takes place this year at the Wequassett Resort & Golf Club in Chatham. Mary C and the Stellars, performing on September 2 have been featured on MTV, VHI, Bravo, and NBC. Performances are free an open to the public and take place at the resort's garden terrace overlooking Pleasant Bay. Dine alfresco at the resort's restaurant Twenty-Eight Atlantic while you listen to the smooth sounds of the summer.
September 1: The Mark Greel Band
September 2: Mary C and the Stellars
Jazz has been touted as one of America's original art forms, and has been around for over a century. Enjoy the improvisational rhythms and melodies of an American classic on beautiful Cape Cod this fall.
July 25, 2015 by Trish Robinson
The Woods Hole Film Festival is a high point of every summer on the Cape. The eight day festival includes screen writing, music, workshops, panel discussions, parties, special events and more. Although artists come from far and wide, work that features New England, or more specifically Cape Cod are highlighted. Opening night features the festival's filmmaker in-residence, Maya Forbes' directorial debut "Infinitely Polar Bear" which stars Mark Ruffalo and Zoe Saldana. Other highlights promise to be Sally Taylor's (daughter of James Taylor and Carly Simon) presentation of her art installation "Consenses." Taylor travelled around the world interviewing artists and asking that they critique and review each other's work. "Consenses" is the revelation of her findings.
One of the most unique elements of the Woods Hole Film Festival is the creative use of venue space. From the old fire station, to iconic restaurants and marine biology buildings, the venues are part of what makes this event so special. This year, two Falmouth venues have been added, Falmouth Academy and Falmouth Cinema Pub making it even easier to attend. A full lineup of events and ticket information can be found here. This year will be the 24th film festival in Woods Hole and surely its best one yet.
July 16, 2015 by Trish Robinson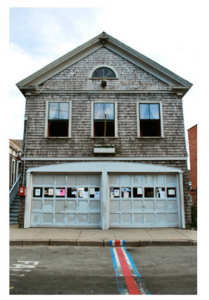 The Woods Hole Film Festival is the oldest film festival on Cape Cod and the Islands and is celebrating its 24th year this summer. Independent and emerging filmmakers will come together and premier over 100 films and 8 short programs. Programs include workshops, master classes, panel discussions and parties complete with live music. Spotlighting the history and beauty of this region is a goal of the Woods Hole Film Festival and those films that feature or have a connection to the Cape or the surrounding New England geography will be especially highlighted. Another way the festival honors the beauty of the area is through their venue choices. From the Old Woods Hole Fire Station, to iconic restaurants and landmarks, you'll watch these films and attend accompanying events in some of the most loved buildings in town. This year, in addition to the Woods Hole locations, Falmouth Academy as well as Falmouth Cinema Pub will also be featuring films.
Opening night will feature Maya Forbes' (Cambridge, MA native) directorial debut "Infinitely Polar Bear" which features Mark Ruffalo and Zoe Saldana. Other highlights are expected to be Richard Ray Perez' film "Cesar's Last Fast," a documentary chronicling Cesar Chavez' struggle to secure humane and fair treatment for America's farmers; and Sally Taylor's, (daughter of James Taylor and Carly Simon) presentation of her documentary. Preparation for Taylor's documentary "Consenses" began when she asked 150 artists over the span of two years to interpret each other's work and share their reactions. The documentary reveals those reactions and evolves into a greater conversation about human reaction and the understanding of art as it pertains to the individual.
There will be multiple events each day, and tickets are available online through Woods Hole Film Fesitval's website. This is a highly anticipated and extremely well attended event each year and 2015 promises to deliver!
March 15, 2015 by Trish Robinson
Best new cape cod restaurant in 2014 was bestowed on Quicks Hole Tavern by Cape Cod Magazine. This is a great new hotspot for our guests at The Captain's Manor Inn or for anyone visiting the Falmouth area.  The owners are major proponents of the Farm to Table movement so you can be assured of fabulous fresh and delicious entrees.
Year Established
Quicks Hole Tavern was established in 2014 when the team behind Quicks Hole Taqueria (a summer place next door) looked to open a year-round restaurant in Woods Hole. Taking over the space formerly known as the "Leeside," owner Beth Colt renovated and upgraded the kitchen before opening in March offering lunch and dinner seven days a week year-round. Her partner of five years, Chef Stephanie Mikolazyk, pulled together a killer team in the kitchen, and next thing you know there was a line out the door.
Unique Location
The Quicks Hole Tavern is a three story building located right on the waterfront in Woods Hole, next door to the Steamship Authority ferry to Martha's Vineyard. The dining rooms feel like a ship, with sails adorning the ceilings, arresting black and white photos of old Woods Hole on the walls and great water views of the busy ferry terminal and Woods Hole harbor beyond.
The story behind the name/logo
Quicks Hole is a passage between the islands much like Woods Hole, just a few miles west between the Elizabeth Islands. The original Quicks Hole is a remote spot, great for fishing, and the preferred passage for the fishing vessels of New Bedford as they head out for the catch. Quicks Hole Tavern is dedicated to local sourcing, but Colt also liked that the word Quick was in the name, as the ferry crowd is often in a rush.

The horseshoe crab in the logo for Quicks Hole is a tip of the hat to Woods Hole history – scientists here discovered that this crab's blood was precious as a tester for human blood purity, and blue horseshoe crab blood is now harvested and used in blood banks around the globe for that purpose.
Fan Lunch Favorite
The most popular lunch item is the "MBL-t" a Mahi, Bacon, Lettuce and Tomato sandwich on artisan bread from Pain D'Avignon in Hyannis that makes reference to the Marine Biological Lab ("MBL") one of the famous science institutions that dominate the Woods Hole waterfront. Another favorite is the Angus Burger, smothered with grilled onions, peppered bacon and Grafton cheddar. There are seasonal salads with delightful dressings and a choice of proteins like steak, scallops, salmon and more.
Unique Offering
The Tavern is best known for it's "Pig Candy" appetizer, a roasted pork shoulder drizzled in maple syrup, cayenne pepper and a garnish of fresh celery sprouts. It's totally addictive.
The Lobster Croissant (available in summer) is probably the most popular item, with fresh local lobster meat lightly tossed in mayonnaise, lemon and basil served on a freshly baked croissant with choice of green salad or fries.
Live Music
Woods Hole has a busy music scene, and the first floor pub at Quicks Hole Tavern has become one of the places to see interesting jazz, folk and blues. Luke Vose of Crooked Coast plays Thursday evenings, and Ben Patterson performs acoustic on Saturdays, both with no cover. Joe Sutton Band also plays occasionally.
Interesting Trivia
Cape Cod Magazine named Quicks Hole Tavern one of the best new restaurants on Cape Cod in 2014.
On Urbanspoon (a popular review app), Quicks Hole Tavern is number two in the category "Hottest on Cape Cod" which includes all of Cape Cod.
April 9, 2013 by insideout
A nice half day trip while staying at The Captain's Manor Inn is exploring Woods Hole Village a mere 3 miles down the road.  This   quaint seaside village and is home to the internationally acclaimed Woods Hole Oceanographic Institute (nicknamed WHOI) and the Marine Biological Laboratory (MBL) which is an international center for research, education, and training in biology.
Take a leisurely walk or bike ride down the Shining Sea Bikeway or hop on the Falmouth SWOOSH trolley to travel the 3 miles to the Village.  Enjoy a walk down Water Street for some window shopping or to check out the famous popovers at Pie in the Sky Bakery or the lobster tacos at Quicks Hole.
Some of must sees are:
Woods Hole Oceanographic Institution
MBL's Marine Resources Facility
March 26, 2013 by insideout
Remote-controlled sailboats will once again patrol the shores of Eel Pond in Woods Hole the weekend of April 13 and 14th.  Hosted by the Woods Hole Historical Museum, this biennial event celebrates the science and artistry of model boat building.  Historical representations of racing boats, yachts, tug boats, and military vessels are explained with displays, lectures, and hands-on activities.  The Coast Guard will host an exhibit of US Coast Guard vessels, along with a presentation on the history of the Woods Hole Coast Guard.
Models range from a few inches to six feet and showcase the designs of boats and ships of all kinds.  Five to six hundred model boat enthusiasts are expected to attend the event and the village of Woods Hole will graciously offer free parking  for the weekend.
The American Model Yacht Association and the Vintage Model Yacht Group will be exhibiting throughout the village.  Models and model kits will be available for sale during the event, and talks by expert modelers and scientists from the Woods Hole Oceanographic Institution will take place during the weekend.  Admission is $12 per adult and $25.00 for families.
Visit the charming Woods Hole Community Hall and the old fire station, the Woods Hole Oceanographic Exhibit Center, the Woods Hole Public Library, and the Historical Museum.  An easy walking tour of the village includes quaint shops and coffee houses as well as restaurants.  All this is happening just a short ride down Woods Hole road from our inn!  As part of your nautical weekend at the Captain's Manor Inn,  we will include a complimentary bottle of wine with your reservation. For more information on the event go to :  Woods Hole Historical Museum Boat Show link
"There are good ships, and there are wood ships, the ships that sail the sea."
"But the best ships are friendships, and may they always be." Old Irish Saying