Meet the Innkeepers
Trish and Kevin Robinson, Owners and Innkeepers of The Captain's Manor Inn in Falmouth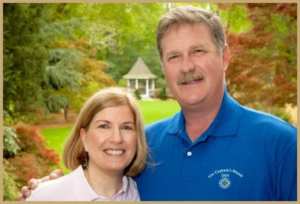 Trish and Kevin Robinson met in high school. They had several mutual friends but never dated until graduation night, when a chance offer of a ride to party turned into a first date. Kevin attended school at the University of Long Island – C.W. Post University while Trish attended The College of the Holy Cross in Worcester, Mass. After a 5-year, long-distance romance, they married in 1982.
About Kevin
Kevin went on to earn his law degree and establish his own law practice. He subsequently joined with two other partners and practiced real estate law for 12 years before "retiring" to take care of our children, Kevin Jr. and Laura. Kevin also established Robinson Realty Renovators, specializing in residential and historic renovations. The beauty of these years was marked by Kevin's ability to renovate while the kids were in school, then be there for them after school as both a dad and head weight coach for their track team. Just prior to purchasing the Inn, Kevin built our dream home. His beautiful landscaping transformed our 8 acres and our house included all sorts of wonderful amenities, such as a geothermal heating and cooling system.
About Trish
Trish, meanwhile, was busy balancing family with earning her MBA and climbing the corporate ladder in the financial services industry. She held leadership roles in Marketing, Public Relations, Government Relations, Employee Communications, Corporate Human Resources, Customer Service, Information Technology, Corporate Strategy, Insurance Risk Management, and more before retiring from the corporate world as a Senior Vice President at MassMutual Financial Group. Throughout her career, one of Trish's passions was to mentor and coach individuals and celebrate their successes. In October of 2009, Trish began the intensive process of becoming certified as an Executive, Career, and Life Coach. In June of 2010, Trish was designated a CPC (certified professional coach).
Trish and Kevin's B&B Beginnings
Trish and Kevin Robinson have always enjoyed staying at bed and breakfasts during their vacations and had nurtured a dream of having their own inn since 1990. In October of 2009, they decided to take the plunge. An extensive search throughout New England, North Carolina, Virginia, and other locations proved fruitless. Then they found Mostly Hall, a property on the National Historic Registry in Falmouth, Massachusetts, which they renamed "The Captain's Manor Inn." Together they have worked to create a beautiful bed & breakfast that is characterized by simple elegance and a sense of peace. A place where guests from around the corner and around the world can sit and visit. The grand opening of The Captain's Manor Inn occurred on Memorial Day Weekend, 2010
Restoring The Captain's Manor Inn in Falmouth has truly been a labor of love. Trish and Kevin have used their diverse and complementary talents to make your stay a pleasurable one, and they look forward being your hosts.