Monthly Archives:
June 2011
June 30, 2011 by insideout

This year's festival promises to be another great event. Stay at The Captain's Manor Inn and venture down to the many events at the Woods Hole Film Festival from 07/30/11 until 08/06/11.  We are especially happy to share that Patrimony will be showing on August 3rd, 2011 at 7pm.  Many of you may recall that we were privileged to have the stars of the movie – Robert Vaughn and Melissa Errico stay at The Captain's Manor Inn during the filming of Patrimony back in May of 2010.  Congratulations to Don Marcus, director,  and his team – the film was awarded an Indie Soul Special Recognition Award at the Boston International Film Festival!
For more information on the schedule please visit http://www.woodsholefilmfestival.org/2011/
Email: info@woodsholefilmfestival.org
Phone: 508-495-3456
June 28, 2011 by insideout
We are happy to see the ArtMarket begin its 5th summer in Falmouth on Main Street just down the street from The Captain's Manor Inn.  The market runs every Tuesday from 2pm until 8pm beginning today through Labor Day.
About 24 artists and artisans from Falmouth will have their tables set up to show and sell their creations.  There will be painters, jewelers, glassblowers, ceramists, fabric artists, and more, displaying their work and demonstrating their skills, as well as performances by local musicians.
Two new features this year are a display of books by Falmouth authors and CDs by Falmouth musicians.
June 27, 2011 by insideout
In wonderful Cape Cod, just around the corner from The Captain's Manor Inn is wonderful summer theatre!  The College Light Opera Company opens Tuesday, June 28th for its 43rd season at Highfield Theatre.  The 1879 comic opera "The Pirates of Penzance" is the first of many great performances scheduled for the season.  This Gilbert & Sullivan favorite opens on June 28th and runs through July 2nd.
Curtain is at 8pm sharp for evening shows and 2pm for Thursday matinees.
Tickets are on sale at the Box Office at Highfield Theatre and through the mail at P.O. Box 906 Falmouth, Ma. 02541-0906.  Telephone reservations at 508-548-0668.
June 25, 2011 by insideout
There are many wonderful walking tours of Cape Cod throughout the Spring, Summer and Fall. Many guests of The Captain's Manor Inn make it a point to join in on such walking tours during their stay. This coming Thursday, June 30th, 2011 is the walking tour of private cape cod gardens in Hyannis Port Ma. from 9:30am-3pm. The tour features a buffet luncheon by prior reservation at the Hyannisport Club.
$80 Tour and Luncheon (non-member) OR $55 Tour Only (non-member)
To register or for more information, contact 508-888-3300 ext. 111 or ahoxie@heritagemuseums.org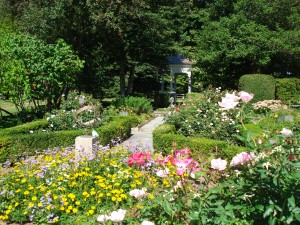 June 22, 2011 by insideout
For a couple of weeks in late June and early July, over 14,000 lavender plants at Cape Cod Lavender Farm burst into purple bloom.  Come stay at The Captain's Manor Inn and venture off to visit this beautiful spot. The farm is on 20 secluded acres, and surrounded by 60 acres of conservation land.  We have had guests who want to take a day trip to Chatham or Provincetown, make the farm a stop on the way to those towns or on the way back to our Falmouth Cape Cod bed and breakfast.
The Cape Cod Lavender Farm is one of only two such farms in Massachusetts — the other is  located in Franklin County and is a smaller lavender farm.  "Lavender tourism" started in the late 1990s in the United States.
Some of the products sold at the Lavender Farm include lavender chocolate ($2.75), lavender shortbread ($8.25) and lavender-lemon marmalade ($8) a jar, lavender soap ($7.50 a bar), hand cream ($7.50), candles ($18), herbes de Provence — a mixture of herbs for cooking sold for $14.95 for eight ounces — and the fresh and dried bunches, $10, and buds, $12 for a half-pound bag.
June 20, 2011 by insideout
Just across from The Captain's Manor Inn is the Falmouth Historic Society on the Falmouth Village Green.  One of the favorite pastimes for visitors is the free 90 minute guided walk past Falmouth's historic homes and places. The walk begins at 10 am starting May 31 and every Tuesday throughout the summer.
One of our guests from Canada last summer took some wonderful pictures of the Museums on the Green and their gardens that are shown below:
The walk starts and ends at the Hallett Barn Visitor's Center on the grounds of the Falmouth Museums on the Green, 55 Palmer Ave.
June 10, 2011 by insideout
Arts Alive is a free three-day arts festival full of events and activities right here in Falmouth, Ma in Cape Cod.
The festival runs from June 17th through June 19th.
Each year seems to get bigger and better. This year there are over 50 performances of Music, Dance, Theater and Film scheduled and over 50 Arts and Crafts Vendors on site just down the street from The Captain's Manor Inn.
June 7, 2011 by insideout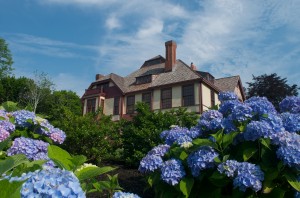 This Saturday, June 11, Highfield Hall will present "Glories of the Garden: A Day of Inspiration for Gardeners."
At The Captain's Manor Inn we have one room available for this Friday night if you are looking for a short one night getaway and the opportunity to enjoy this event at Highfield Hall on Saturday.
The event is expected to be very popular and will include expert advice from Cindy Brockway, Landscape Preservationist and Landscape Designer  and John Forti, Curator, Historic Gardens and Landscapes, Strawberry Bank Museum The Herbalist's Garden that you can apply to your own gardens.
Space is limited for the event so it is suggested that you register by calling 508-495-1878, ext. 308. Cost for the day is $30 per person.  You can bring your own lunch or a box lunch is available for an additional $15 in advance.