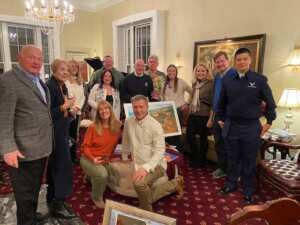 November 12, 2023
This past weekend, the Captain's Manor Inn was honored to host an extraordinary gathering of veterans from various parts of the country. The four-day event was a heartfelt tribute to those who have served, culminating in an insightful presentation by Falmouth Chamber Board member Karen Rinaldo and Mashpee resident Kevin Doyle.
Reflecting on Life's Journey
Karen Rinaldo captivated our guests with her reflections on Falmouth's Veterans Day speaker, Master Chief Jacob Linder. She delved into the profound nature of the paths we take in life and those pivotal moments of decision-making that define us. Her words resonated deeply with our audience, many of whom have faced significant crossroads in their own lives.
A Nod to History
The conversation then shifted to the First Thanksgiving in 1621. Drawing parallels to the morning's remarks, Karen shared intriguing insights, connecting the dots between our past and present. Kevin Doyle further enriched the discussion with his research, shedding light on the early encounters that marked this cornerstone in our history.
A Special Presence
Our event's final day was even more special with the presence of Johan Sebastian Bailon, a recent graduate and the son of our beloved staff member, Marli Bailon. His participation in the gathering added a personal and youthful perspective, reminding us of the continuous thread of service and dedication that runs through generations.
A Weekend to Remember
We were left with profound gratitude and connection as we closed the event. The stories shared, the history revisited, and the personal journeys recounted all contributed to a weekend that was as educational as it was emotive.
At Captain's Manor Inn, we are proud to have hosted such an impactful gathering, and we look forward to many more events where we can honor and learn from those who have given so much for our country.
Stay tuned for more events and stories from Captain's Manor Inn.