Monthly Archives:
August 2011
August 27, 2011 by insideout
Batten down the hatches!!!  Irene is on her way and we have been getting ready.  Yesterday we had the 2nd floor and cupola windows boarded up.  Of course timing is everything…because we have been planning a bridal party for 25 women with the mother of the bride and several of her friends…and Irene decides to join the party.  As you will see in some pictures below they are boarding up the windows while we are setting up the veranda for the bridal shower!!!!!!!!!!!!!
A picture below of the finished product with The Captain's Manor Inn all boarded up.  Who knew staying at our bed & breakfast could be such an adventure 🙂
Kevin also thought he might like to park his truck in the garage and my car under the veranda……..as you can see the car idea was not going to work but a valiant effort.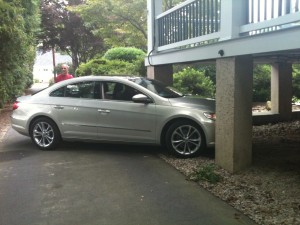 August 21, 2011 by insideout
August 11, 2011 by insideout
On your next visit to The Captain's Manor Inn bed and breakfast,  we highly encourage you to visit Highfield Hall and see one of their newest visions come to life!!!   After much research and work the Sunken Garden is available to view and enjoy.  In its focal location, it is the most visible garden on the property and the one that will be most closely returned to its original historical appearance. For more information go to the Highfield Hall website and read about the full master plan by clicking here.  See my photo as taken on my trusty Iphone below.
August 7, 2011 by insideout
Date night out!  We headed down to Woods Hole for the 20th anniversary of the Woods Hole Film Festival and stopped off at Shuckers for a meal of Sea Food Chowda, Crab Cakes, etc.    Started off eating on the barge but seeing as I get seasick (apparently with even the slightest motion) Kevin suggested we head into the stationary porch overlooking the barge.  (Smart move )  After dinner we headed over to Jimmy's for some great frozen yogurt – black raspberry with chocolate chips.  Then on to see the Woods Hole Film Festival Short Film collage which included:
Patrimony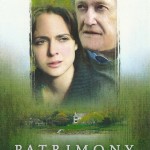 What fun to go and see the short film that Don Marcus shot just over a year ago in Falmouth.  The scenery is gorgeous, the music is beautiful and actors Robert Vaughn and Melissa Errico did a magnificent job leaving all of us in the audience wanting more of the story!!