February 3, 2014 by Trish Robinson
2 for 1 Cape Cod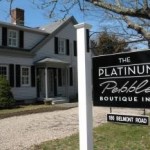 2 Top rated boutique Inns partner to offer you a Cape & Islands Luxury Experience
7days/6nights total cost  $2712.51 including taxes(peak season rate, off season rates lower)
Stay 3 nights in a Luxury Room at The Captain's Manor Inn (Falmouth). During your stay you will receive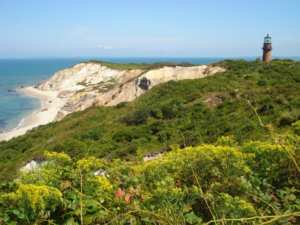 2 round-trip tickets to sail to Martha's Vineyard for a day trip.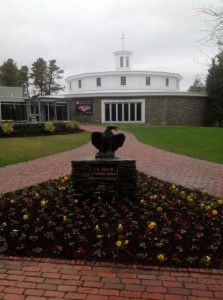 2 day passes for enjoying Heritage Museums & Gardens (Sandwich)
2 bike rentals from Corner Cycle to explore the Shining Sea Bikeway which travels along the ocean of Vineyard Sound in Woods Hole up through the cranberry bogs and marshes of North Falmouth
                                And
Stay 3 nights in a Luxury Room at The Platinum Pebble Boutique Inn (Harwich) and receive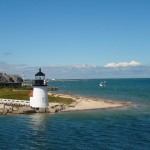 2 round-trip fast ferry tickets to Nantucket
2 Dolphin Whale Watch Fleet Tickets (Provincetown)
and bike the Cape Cod Rail Trail (Harwich- Wellfleet)
This special package gives you the opportunity to experience Upper Cape, Mid Cape and Outer Cape plus the unique Islands of Nantucket and Martha's Vineyard. We can't wait to be your hosts!
Please call (508) 388-7336 to check availability and to book this special package.
December 12, 2013 by Trish Robinson
A Cape Cod mini moon is the perfect way to begin your married life! You may not be able to getaway for a long honeymoon yet that shouldn't stop you from celebrating and enjoying some special romantic time away away together.
Click on the Romance Special button to Check Availabilty
Cape Cod is one of the most romantic and special places for a mini moon and Falmouth is the perfect setting where you can relax and rejuvinate.  Enjoy day trip to Martha's Vineyard, eat in Falmouth Village's outstanding restaurants and more.  Your mini moon package includes:
– A dozen roses upon arrival
– Duval-Leroy French champagne and gourmet chocolates
– 2 round-trip tickets to Martha's Vineyard
– A framed/personalized Giclee print by artist Karen Rinaldo to commemorate your mini moon getaway at the Inn
– A gift basket of mini moon goodies
– $75 gift certificate to your choice of one of 3 top restaurants (The Glass Onion, La Cucina Sul Mare, or Anejo)
– Full breakfast each morning of your stay
 -Afternoon refreshments daily starting at 3 pm
Cost of the package $ 390 is added to whichever guestroom you select. Most Mini Mooners choose the K.L. Bates room, the Robinson room or the Canopy room.
March 28, 2013 by Trish Robinson
Celebrate your honeymoon, anniversary or make any occasion a little more romantic with this Cape Cod getaway.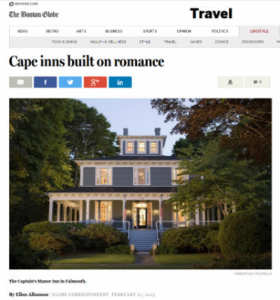 Your package includes:
a dozen roses upon arrival
French champagne and gourmet chocolates from Ghelfi's
2 adult round-trip tickets to Martha's Vineyard
A sunset cruise on the Liberte sailing from Falmouth Harbor OR a $100 Gift Certificate to the romantic Glass Onion Restaurant
Full breakfast each morning of your stay
Afternoon refreshments daily starting at 3 pm
Check date availability by clicking the symbol below: