December 20, 2015 by Trish Robinson
Turkeys on Cape Cod have become a not so uncommon sighting on Cape Cod right here in Falmouth Village. They have been known to stop traffic and be quite brazen about it.
Click on this funny link Huffington Post video to see how one of our local Falmouth postman has taken to carrying a long rod with him to ward off his new "friends".
The turkeys have hit big time most recently with video footage on Boston TV stations such as WBZ as well as a story in the Boston Globe. The highlight of their notoriety though was in the Jimmy Fallon monologue in mid December.
The highlight of their notoriety though was in the Jimmy Fallon monologue in mid December.
One of their favorite hangouts in Falmouth Village early in the morning is at Bear in Boots Gastropub. We recently found out why….someone had left out some peanuts in shells and some corn shaved off the cob. So we are thinking one of our neighbors did a bit of research on favorite foods for turkeys.
You may not know that these birds do sleep up in trees. Many have been caught off guard on their early morning walk down main street when they go by our public library
where we have numerous large trees and all of a sudden a noise is heard and down swoop the turkeys (mind you is is not a graceful flight).
All in all these birds have a rather interesting past as well. I certainly did not know until recently that they were Ben Franklin's choice for the United States national bird.  I for one am very glad that the bald eagle won out and is our national bird seeing as they are certainly a more majestic bird!
Some other interesting facts are that it is only the male turkey that will display his ruffled feathers and fanlike tail. The mail bird also has a bright beard and their gobble has a distinctive sound that can be heard a mile away.  As for the female turkey they may lay 4 to 17 eggs. The mom will feed her chicks after they hatch—but only for a few days. The young turkeys have to learn pretty quickly to fend for themselves as part of  a mother/child flock can be well over a dozen.
So on your next visit to Falmouth be sure to be on the lookout for our famous flock of turkeys 🙂
January 24, 2014 by Trish Robinson
Come celebrate St. Patrick's Day in O'Falmouth where everyone has a "bit of the Irish" in them for the St. Patrick's Day weekend.  The fun and activities begin on Friday, March 14th and continue through Monday, March 17th. We encourage you to keep on top of all the activities by liking the Falmouth Village Association facebook page.
We will also share some of the early plans below as we to tell you about The Captain's Manor Inn St. Patrick's Day weekend package.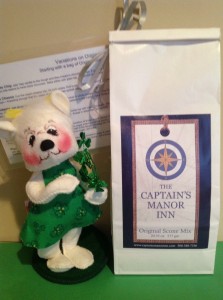 Guests will arrive on Friday, March 15th and find a "Luck of the Irish" welcome basket with a number of goodies waiting in their guestroom. Your innkeepers, Trish and Kevin, will host a wine, beer and snack "Irish Reception" in the Inn's Bistro from 5:30 to 7:00 pm. We encourage everyone to check out Liam Maguire himself serenading diners at Liam Maguire's Irish Pub just a stroll down Main Street from the Inn.
Saturday will be a great day to scavenge for all the great green dot sales found on all variety of retail goods at the unique shops on Main Street in Falmouth Village. On both Saturday and Sunday you can enjoy traditional Irish Music at Liam Maguire's with Rossacroo-Na_Loo starting at 3pm and Shanangan's starting their entertainment set at 9 pm until closing.
Sunday wake up and enjoy a delicious Irish breakfast at The Captain's Manor Inn before heading out to enjoy festivities of the day such as the Irish Step Dancing Demonstration across from the Inn at the Museums on the Green.
Monday there will be a Hat Parade down Main Street sidewalks to the Village Green.