August 19, 2016 by Trish Robinson
Raspberry White Chocolate Muffins – Recipe
Recently here at the Captains Manor Inn, we tried out a new muffin recipe with one of our staple flavor combinations. Raspberry and white chocolate scones are a sweet treat we serve often with a red wine poached pear as a starter. Since the flavors go so well together we went on a search for a muffin version and found the perfect recipe. The outcome was a perfectly moist muffin with good texture and bursts of raspberry flavor ! This base muffin batter recipe can also be used to make any muffin combinations you can think of.
Yields: 12 muffins
Ingredients
2 cups all-purpose flour, sifted
2 teaspoons baking powder
¼ teaspoon baking soda
¼ teaspoon salt
¾ cup granulated sugar
2 large eggs, slightly beaten
1 cup yogurt or sour cream
⅓ cup canola oil (or vegetable)
1 teaspoon vanilla extract
1 cup raspberries, fresh or frozen
⅔ cup chopped white chocolate
Instructions
Preheat oven to 375F/190C. Butter 12 muffin cups or line them with liner papers.
In a large bowl, mix together flour, baking powder, baking soda, salt, and sugar. Set aside.
In a medium bowl, whisk together eggs, yogurt, oil, and vanilla extract. Pour the egg mixture into the flour mixture and fold with a rubber spatula or wooden spoon just until combined. Do not overmix. The batter should be quite thick and lumpy. Gently fold in raspberries (if using frozen, use them straight from the freezer without thawing) and white chocolate.
Divide the mixture between the muffin cups almost all the way to the top. Bake for 15-20 minutes, until a toothpick inserted into the center of a muffin comes out clean. Allow to cool for 10 minutes, then remove from tin and place on a wire rack to let cool completely.
Muffins are best the same day they are made, but can be frozen in an airtight container for up to 2 months. Thaw on the counter or overnight in the fridge.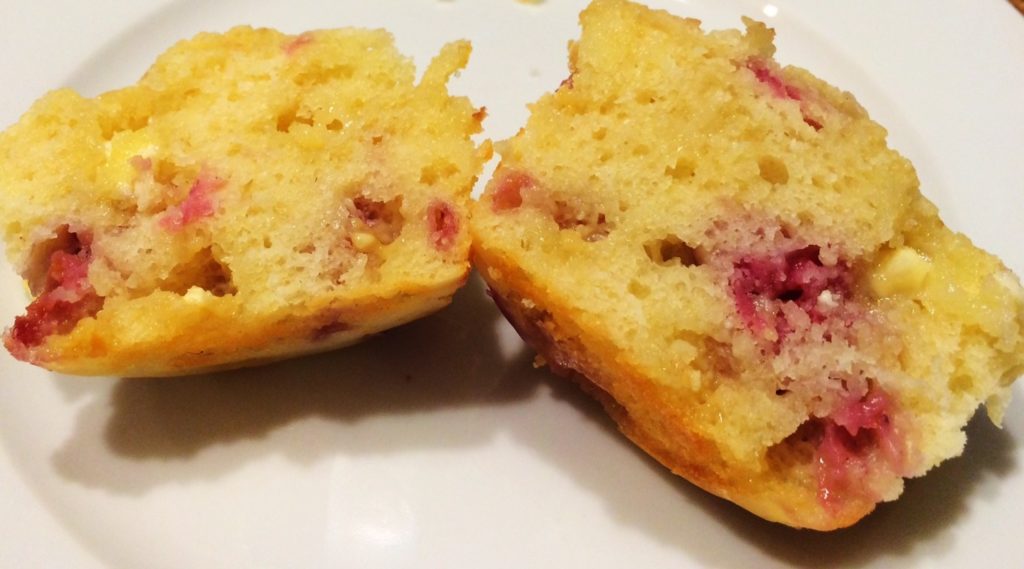 May 21, 2011 by insideout
We are pleased to announce that we have become a member of  Coonamessett Farm in Falmouth, Ma.  Coonamessett Farm is a twenty-acre farming and research enterprise located on Cape Cod in Massachusetts, USA. The operation is organized in three Divisions: Agricultural Production, Research, and Consulting. Coonamessett Farm has been serving public- and private-sector clients locally and globally since 1989.
Our first activity upon joining was to harvest a number of herbs to plant in our herb garden at The Captain's Manor Inn.  Just yesterday we started our breakfast offering with Kevin's wonderful poached pear with raspberry sauce highlighted by fresh mint leaves just picked from our herb garden.  We look forward to more wonderful breakfasts served with fresh fruit, herbs etc. from our garden and from Coonamessett Farm.