September 13, 2011 by insideout
Fall has come early this year thanks to Hurricane Irene (aka Tropical Storm Irene).  This is a picture on Hurricane day taken on Grand Avenue in Falmouth.
We were fortunate at The Captain's Manor Inn compared to so many as we only lost our internet, phones and cable for a little over 24 hours.  The storm stirred up so much salt in the air that the tree leaves were coated with the salt which proceeded to suck the moisture right out of the leaves and they have been falling ever since.  Some pictures of the storm impact are shown below as well as a picture of our son Kevin finally getting to trim the front yard boxwood shrubs after doing storm cleanup.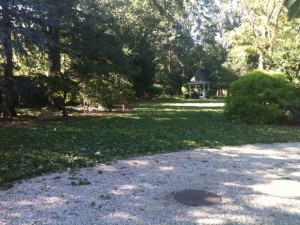 August 27, 2011 by insideout
Batten down the hatches!!!  Irene is on her way and we have been getting ready.  Yesterday we had the 2nd floor and cupola windows boarded up.  Of course timing is everything…because we have been planning a bridal party for 25 women with the mother of the bride and several of her friends…and Irene decides to join the party.  As you will see in some pictures below they are boarding up the windows while we are setting up the veranda for the bridal shower!!!!!!!!!!!!!
A picture below of the finished product with The Captain's Manor Inn all boarded up.  Who knew staying at our bed & breakfast could be such an adventure 🙂
Kevin also thought he might like to park his truck in the garage and my car under the veranda……..as you can see the car idea was not going to work but a valiant effort.