July 14, 2010 by insideout
We are having a wonderful time meeting our guests who are traveling from various states in the U.S. as well as from around the world to join us at the Inn in Cape Cod.  Since opening in May our international guests have been from Australia, Germany, Switzerland, Israel, Ireland, Scotland, Canada, Norway and the U.K.  One uncanny visit was from 2 couples visiting from Melbourne and Sydney Australia.  It just so happened that our daughter was getting ready to travel to Australia for a college tri-mester abroad and she was able to visit with our guests and gain wonderful information on her upcoming trip.   The uncanny part was she was only home for that one night before heading out and our guests just happened to be in Falmouth prior to going to Martha's Vineyard and they found our Inn for their one night stay as they were driving through town.  We are so lucky!!  I have attached some pictures from our new Australia friends who were kind enough to send them when they arrived home.
May 13, 2010 by insideout
Many of you know that we are scheduled to officially open our Cape Cod Inn on May 27, 2010 for Memorial Day weekend.  We just had an unofficial opening with a couple of very special guests.  About 6 weeks ago a movie producer stopped by our Inn to see our renovations and request if we would be able to accomodate a couple of actors for a short film he was producing in May.  We told him we were officially opening the bed & breakfast Memorial Day weekend but we felt that we could open early for his guests.  We are very pleased to let you know that we hosted two wonderful guests over the past four days.  Mr Robert Vaughn and Ms. Melissa Errico McEnroe.  What talented and lovely people.  We thoroughly enjoyed being their home away from home and listening to them practice their lines for the upcoming film "Patrimony" which we understand is scheduled to be premiered at
the Sundance Film Festival next January.  Read a Playbill story on the movie:
http://www.playbill.com/news/article/139057-EXCLUSIVE-Melissa-Errico-Cast-in-New-Film
May 13, 2010 by insideout
The major renovation of our cape cod bed & breakfast veranda is complete!   We are starting to put the rockers and wicker furniture out for all guests to enjoy and it very tempting to take a break and just enjoy the beautiful spring weather.  I can just imagine the original owners in their finery having afternoon tea enjoying the cape cod air and beautiful gardens.
One of the jobs we knew we had to do at our cape cod bed & breakfast was to clean the pink granite pillars at the entrance to the Inn.  After some prep work and then a good power washing the granite looks fabulous.  Below is a before and after picture for you to see.
April 29, 2010 by insideout
The other day I posted a copy of before and after pictures of the Lawrence room at our Cape Cod bed and breakfast.  Today I wanted to share a before and after picture of the Living Room.  After new paint, new carpets, new ceiling fans and new furniture we look forward to hosting our guests for an enjoyable and relaxing time in this beautiful living room at the Inn.
April 26, 2010 by insideout
The Lawrence room is named after H.V. Lawrence who was a well known arborist in Cape Cod and is responsible for the beautiful and unique trees and shrubs on The Captain's Manor Inn property.  The room has recently undergone a significant renovation/redecoration and I am pleased to post a before and after picture for you to see.
ENJOY!
April 24, 2010 by insideout
How exciting…today we picked up the beautiful hand carved sign for the Inn done by local cape cod sign carver Anne Downs.  It was a family affair to get the sign up and in position.  Kevin and I plus son Kevin each had our job to do and after about 2o minutes we had success with the sign in place.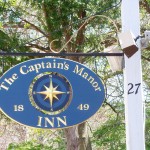 April 21, 2010 by insideout
What a great day.  Spring is in the air and the landscaping has begun.  The crews are busy at work bringing our bed and breakfast park-like lawns back to glory.  An early owner of the property, H.V. Lawrence, was a well known arborist and there are beautiful trees and plantings on the property.  One of the reasons we were drawn to purchase this cape cod bed and breakfast property in January was the beauty of the grounds and our desire to revitalize the Inn property both internally and externally.  The grounds team is working diligently and shared that some of the grounds have not been attended to in several years so the pruning was very much needed.
A few pictures of the work are posted for you to enjoy.
April 12, 2010 by insideout
Our cape cod bed & breakfast was built in 1849 when the horse and buggy were the main means of transportation and as we know that time has changed.  The circular driveway that surrounds Captain's Manor Inn is marked at the front of the entrance and exit by large pink granite pillars and a wrought iron fence.  The pillars were plenty wide enough for a horse and buggy but certainly not for the SUV's and trucks that adorn the roads today.  So following a presentation to the historical commission we received permission to move the inner most granite pillar on the entrance and the exit areas of the driveway by one foot to help make our guests access easier.  Today the work is underway to move the pillars ….