September 18, 2015 by Trish Robinson
Scallop Festival is a three day affair held at the Cape Cod Fairgrounds in East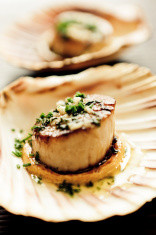 Falmouth to celebrate one of Cape Cod's favorite mollusks. Now in its 46th year, scallop festival has expanded and offers a lot more than scallops! Enjoy a home show featuring over 40 home, landscaping, and decor specialists. There will also be a craft show, tons of food truck vendors serving up scallops every way you could imagine in addition to other festival favorites like traditional barbecue, burgers, hot dogs, chicken and more. Beer and wine will be available for purchase, and there are plenty of shady spots to enjoy the festival fare. For the first time, there will be a corn hole tournament which promises to be tons of fun. Live entertainment will be ongoing throughout the scallop festival and Friday night features the Adam Ezra Group, winner of the New England Music Awards who's energy has been likened to Bruce Springsteen. Of course, it simply wouldn't be scallop festival without the scallops! This year there will be an estimated 6,000 pounds of scallops consumed over the three days. Come hungry and enjoy a quintessentially Cape Cod day. The festival will be held Friday and Saturday from 10am-9pm and Sunday from 10am-6pm. Price of admission is $7 which benefits the communities of the Cape Cod Canal Region Chamber of Commerce & Foundation.
May 10, 2013 by insideout
The Knob is one of the most scenic places in Falmouth to visit. It offers you a nature walk, a trip to the beach, and a relaxing day. The Knob is known for its rocky outpost, in which visitors can walk up steps to the top. Once you reach the top the view is breathtaking. The Knob is also perfectly placed in our beautiful town. It is an 8 minute drive from The Captain's Manor Inn, or an approximate 30-40 minute walk. Riding your bike is also an option and would take about 15-20 minutes. The Knob is located close to downtown Falmouth, the Inn, and is also close to Woods Hole. Here is what your experience may look like:
A soft blue watered, inner harbor when you first walk to the entrance of the Knob, called Quissett Harbor. You can choose to walk the beach way which is a little rocky, but it gets you to the Knob, or the trails through the woods, which have stairs and are easily accessible.
If you decide to take the trails through the woods to get to the other beach and the Knob, you will experience a zen- like walk. The woods are filled with birds, trees, and other little critters. It is a great way to stay in touch with nature and experience living among animals in a whole new perspective. The scenic and picturesque trails seem as if they may have come from a story you heard as a child… a magical trail leading to a fantasy world, which in this case is completely accurate.
The Quissett Bay beach is one place where you can relax and soak up all Falmouth's beaches have to offer you; Peace, quiet, sunshine, and the beach! Enjoy laying on the beach, reading a book, or taking a dip in the water. Whatever you decide to do the choices are endless!
Also from Quisset Bay beach you can see the Knob.  At the top the view of the bay is breathtaking. So what are you waiting for? Book a room at The Captain's Manor Inn and come see it all for yourself!
February 11, 2013 by insideout
It has been a very busy few days especially since we were supposed to be closed.  We fortunately did not lose power so we opened up to provide rooms for a number of past guests, family, and local neighbors who lost power.  In addition NSTAR had contacted us and we housed 5 NSTAR workers some of whom had traveled for days from Tennessee to help our neighbors in Massachusetts.
Yesterday we decided to go for a walkabout and take some pictures to share.  My daughter Laura and my son's dog Gus accompanied me on the walkabout. One great idea we had was to go for part of our walk on the Shining Sea Bikeway which as you will see in the pictures started out plowed but that ended and we got a good leg workout trudging through the snow and drifts 🙂
Wishing everyone restored power soon and back to the normalcy of winter in New England.