October 12, 2015 by Trish Robinson
Cape Cod restaurant week will be back this October from the 12th-18th. Restaurants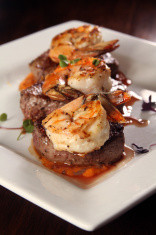 from Falmouth to Provincetown will be offering three and four course exhibition menus for $25, $30, or $35. Whether you decide to dine at one of the participating restaurants only a short stroll down Main Street from the inn or venture off to explore a new town; Cape Cod restaurant week will not disappoint. This is the perfect opportunity to try something new in addition to sampling some of your Cape Cod classics. A favorite event of all the local foodies, this seven day culinary adventure will show you the delicious side of the Cape. Click here for participating restaurants, sample menus and a map.
September 26, 2015 by Trish Robinson
Jazz Fest Falmouth – September 26 – October 4
Enjoy lectures, recitals, concerts, jam sessions, a jazz brunch and a jazz stroll during the eight day celebration presented by Arts Falmouth. The jazz stroll will take place on Friday, October 2nd and promises to be a night full of great music. Jazz Fest Falmouth will help downtown Falmouth come alive on Friday night. The shops and restaurants from Queen's Buyway and along Main Street will showcase an assortment of groups ranging from classic swing to avant-garde with a little blues thrown in. Just wander in and out;  it's all free.  The 2015 line up features both local favorites and award winning ensembles. Each performance time is staggered giving you an opportunity to hear a variety of jazz styles throughout the evening. Click here for the 2015 Jazz Stroll lineup.
September 26:  Robert Wyatt on Louis Armstrong
September 27:  Pianist Jon Weber on almost everything else about jazz
September 30:  Toni Lynn Washington, Queen of the Blues
October 2:  Jazz Stroll along Main Street
October 3:  Denise Donatelli in concert at Highfield Theater
October 4:  Goodis & Glenn Jazz Brunch at Persy's
July 22, 2014 by Trish Robinson
Falmouth Commodores are set to play the Bourne Braves at their home field of Guv Fuller. The Field is located on Main Street in Falmouth behind the Gus Canty Community Center.
June 29, 2013 by insideout
Ice cream, you scream, we all scream for ice cream!
Falmouth's Main Street has many ice cream shops with many different choices to chose from. Looking for a fun night out with a little dessert specialty to end your perfect night? Well our Main Street has just what your looking for, with many ice cream shops just minutes away.
Ben and Bills Chocolate Emporium:
    Ben and Bill's is a co-owned ice cream shop and chocolate emporium that has been on Main Street since 1992 and has been serving happy customers ever since. They offer 64 flavors of hard-ice cream and 12 different flavored gelatos. They also make their own waffle cones which are a must! If your not in the mood for ice cream, you could also enjoy some of their many handmade chocolates, candies, fudges, or my favorite, butterscotch. Whatever sweets your in the mood for, they're sure to have it!
                                    Ghelfi's Candies and Ice Creams:
Ghelfi's Candies and Ice creams is also located on Main street. It offers a variety of candies and ice cream. It is fairly new to Main Street and offers customers all homeade desserts. Ghelfi's has a kitchen on Cape cCod where they make everything they offer in their stores. You can also go to their website shipchocolates.com to order there treats right to you. Whether you need a gift for valentines day, or sweets for your wedding day, Ghelfi's has it.
Dairy Queen:
Dairy Queen is located a little farther down Main Street, but its worth the five minute car ride. Dairy Queen offers its customers many unique soft serve combinations. From their famous blizzard, which is a mix of ice cream and your favorite toppings, to hot fudge sundaes and banana splits. Dairy Queen is just an ice cream store and offers its customers outdoor benches to enjoy their little piece of heaven.
April 18, 2011 by insideout
When you stay at our Cape Cod bed and breakfast you will find an abundant number of wonderful restaurants to choose from in Falmouth, Ma.  We hope you find the link to a walking map below these pictures helpful.   Some pictures of our favorites are shown below the map.  Our guests love the convenience of leaving their car at the Inn and walking to dinner.

Click here to View Falmouth Village Restaurants in a larger map