September 18, 2015 by Trish Robinson
Scallop Festival is a three day affair held at the Cape Cod Fairgrounds in East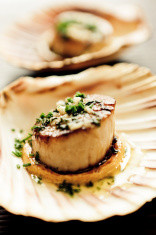 Falmouth to celebrate one of Cape Cod's favorite mollusks. Now in its 46th year, scallop festival has expanded and offers a lot more than scallops! Enjoy a home show featuring over 40 home, landscaping, and decor specialists. There will also be a craft show, tons of food truck vendors serving up scallops every way you could imagine in addition to other festival favorites like traditional barbecue, burgers, hot dogs, chicken and more. Beer and wine will be available for purchase, and there are plenty of shady spots to enjoy the festival fare. For the first time, there will be a corn hole tournament which promises to be tons of fun. Live entertainment will be ongoing throughout the scallop festival and Friday night features the Adam Ezra Group, winner of the New England Music Awards who's energy has been likened to Bruce Springsteen. Of course, it simply wouldn't be scallop festival without the scallops! This year there will be an estimated 6,000 pounds of scallops consumed over the three days. Come hungry and enjoy a quintessentially Cape Cod day. The festival will be held Friday and Saturday from 10am-9pm and Sunday from 10am-6pm. Price of admission is $7 which benefits the communities of the Cape Cod Canal Region Chamber of Commerce & Foundation.
September 23, 2011 by insideout
The 42nd Annual Scallop Festival is set to run from 10 AM this Friday, September 23rd until 6 PM on Sunday September 25th in Buzzard Bay Park just a short drive from The Captain's Manor Inn.  Last year's event was attended by over 55,000 people.  Throughout the weekend a juried arts and crafts show will be provided.  Over 150 kiosks featuring arts and crafts are planned.  The general admission is $5 and there is free parking.  Scallop dinners are provided at $20 and a scallop and chicken dinner for $18.