August 7, 2011 by insideout
Date night out!  We headed down to Woods Hole for the 20th anniversary of the Woods Hole Film Festival and stopped off at Shuckers for a meal of Sea Food Chowda, Crab Cakes, etc.    Started off eating on the barge but seeing as I get seasick (apparently with even the slightest motion) Kevin suggested we head into the stationary porch overlooking the barge.  (Smart move )  After dinner we headed over to Jimmy's for some great frozen yogurt – black raspberry with chocolate chips.  Then on to see the Woods Hole Film Festival Short Film collage which included:
Patrimony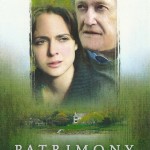 What fun to go and see the short film that Don Marcus shot just over a year ago in Falmouth.  The scenery is gorgeous, the music is beautiful and actors Robert Vaughn and Melissa Errico did a magnificent job leaving all of us in the audience wanting more of the story!!