June 19, 2014 by Trish Robinson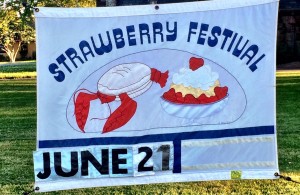 The Falmouth Strawberry Festival 2014 will be celebrated on June 21st marking an official start to the 2014 summer season. This is your opportunity to enjoy beautiful Falmouth Cape Cod on the grounds of St. Barnabas church. The church is located across from the historic Falmouth Village Green and a short stroll into Falmouth Village. Save your appetite so you can enjoy lobster rolls, hot dogs and bbq chicken then finish off with scrumptious strawberry shortcake under the tent on St. Barnabas lawn. After indulging your appetite browse the Arts and Crafts vendors, home baked goods sale, plant sale, face painting, dunk tank, and small children's games. The weather forecasters are predicting absolutely picture perfect weather for the weekend. We make a point of visiting the strawberry festival and filling up on their great bbq chicken while making sure to save room for strawberry shortcake. Our guests love the feel of the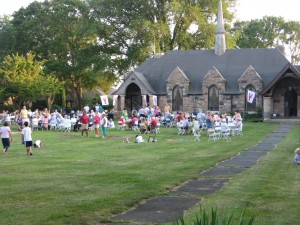 festival as it brings them back to a simpler time of town celebrations with good food and entertainment on the lawn. After the festival take some time to walk into Falmouth Village and explore the many boutique shops with unique gifts and perhaps some salted caramels from Ghelfi's or ice cream for Ben and Bill's Chocolate emporium. As the weather is predicted to be fabulous perhaps a walk to the beach in in order and less than a mile from St. Barnabas.

April 11, 2011 by insideout
A wonderful 50 year tradition takes place June 18th at St. Barnabas in Falmouth, Cape Cod.  Stay at The Captain's Manor Inn and take a short stroll down to our neighbor the beautiful St. Barnabas Church .
Enjoy strawberry shortcake and lobster rolls, hot dogs or BBQ chicken under the tent on the St. Barnabas lawn, across the street from the Village Green. Find a treasure at the Market featuring White Elephant table, antiques, book & CD table, arts & crafts vendors, home baked goods, and a plant sale. All proceeds benefit various local charities. www.stbarnabasfalmouth.org
Click here to read a wonderful history article on the strawberry festival. Cape Cod strawberry festivals enjoy an interesting place in history.
Historic buff trivia   –   The Captain's Manor Inn bed and breakfast was the first summer home built in Falmouth and E. Pierson Beebe of Boston, a director of the Androscoggin Mills in Lewiston, Maine, one of the largest cotton mills in New England, built Highfield Hall in 1878, another of the early summer homes in Falmouth.  E. Pierson Beebe also built St. Barnabas Memorial Church in 1889, as a thank you offering for his financial success.