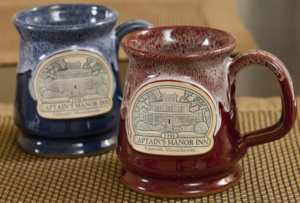 December 3rd, 2015 by Captains Manor Inn
These hand crafted mugs are superior in quality and integrate a crisp detailed emblem that is an artistic rendering of the Inn. Each piece is made at the Deneen Pottery in St. Paul Minneapolis and is touched by over 24 pairs of hands. While the mugs are amazingly uniform, no two are exactly the same. Kiln fired to 2150ºF, each piece is durable and safe for the microwave, dishwasher, oven and freezer. All stoneware is lead free & food safe.
Enjoy a brief video about this remarkable Made in the USA company.

[gallery ids="7426,7427"]
[gallery columns="2" ids="7479,7477"]