Monthly Archives:
March 2011
March 28, 2011 by insideout
Schedule your fun filled getaway at The Captain's Manor Inn bed and breakfast and enjoy one of the summer concert series at the Cape Cod Melody Tent.  The performances range from Huey Lewis & The News to Tony Bennett and closing out the season is The Temptations & The Four Tops.
Schedule:
June 18  Siobhan Magnus                                      July 9 Trace Adkins
July 10 k.d. lang                                                   July 14th   Happy Together Tour
July 16 Pink Martin                                               July 17 Huey Lewis & The News
July 24 Micheal McDonald & Boz Scaggs               August 13 The Beach Boys
August 14 Tony Bennett                                       August 18 Chicago
August 19 Chris Botti                                 August 28 The Temptations & The Four Tops
For further concert information you may go to www.melodytent.org
March 21, 2011 by insideout
The Captain's Manor Inn is offering a lodging package for symposium attendees of 3 days, 2 nights, full breakfast Saturday and Sunday ranging from $318 t0 $358 based on guestroom choice.
A very talented fellow innkeeper, Beth Colt, has developed this symposium in partnership with the Woods Hole Film Festival.  The symposium will take place April 29th – May 1st.
There will be three distinct sessions led, respectively, by actor Sam Waterston, casting director Carolyn Pickman, and talent manager Beth Colt.  The Symposium presents a unique opportunity for actors to enrich their careers through a deeper understanding of the film and television industry provided by experienced professionals.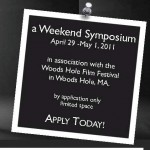 Applications are currently being accepted through the Woods Hole Film Festival Website. Fee to attend is $250 per actor.
March 14, 2011 by insideout
We are so fortunate to have America's Oldest Glassworks (since 1837) just a short drive from our Cape Cod bed and breakfast.  Pairpoint is located just under the Sagamore Bridge and is open daily with glassblowing demonstrations. On Tuesdays and Fridays guided tours are available at 11 am.  All Pairpoint Crystal is hand blown on the premises.  The variety of glassworks is breathtaking and the Anne C. Ross work is especially beautiful.
On a recent visit Kevin and I enjoyed our conversation with Pairpoint owner Tom who is looking forward to seeing guests who frequent our accomodations at future Pairpoint tour and glassblowing demonstrations.
Below are some pictures we took during our visit.  We look forward to hosting you at The Captain's Manor Inn in Falmouth, Ma.
March 4, 2011 by insideout
With Spring in the air are you looking for something fun and different to do? We invite you to come and relax at our Falmouth, Ma bed and breakfast Patriot's Day weekend (April 15-17) and enjoy all there is to offer.
The special event we recommend on the 16 and 17th is the 8th biennial Model Boat Show just down the street in Woods Hole. The show runs from 9 am to 4 pm on Saturday and 9 am to 3 pm on Sunday. There will be over 150 model boats on display including a special tug boat exhibit. There will also be radio-controlled model boat races on Eel Pond. The model boats will be on display in five buildings on Water Street and the Woods Hole Public Library will exhibit hand-crafted boats, including a live demonstration of the restoration of an antique model boat.
The Boat Show will also feature a researcher from WHOI's Deep Submergences Lab and a speaker from the Compass Project GPS Tracked Mini Sailboat Oceangoing Race and Expedition.
Tickets: $12
Contact: The Woods Hole Historical Museum