The Captain's Manor Inn is offering a lodging package for symposium attendees of 3 days, 2 nights, full breakfast Saturday and Sunday ranging from $318 t0 $358 based on guestroom choice.
A very talented fellow innkeeper, Beth Colt, has developed this symposium in partnership with the Woods Hole Film Festival.  The symposium will take place April 29th – May 1st.
There will be three distinct sessions led, respectively, by actor Sam Waterston, casting director Carolyn Pickman, and talent manager Beth Colt.  The Symposium presents a unique opportunity for actors to enrich their careers through a deeper understanding of the film and television industry provided by experienced professionals.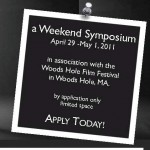 Applications are currently being accepted through the Woods Hole Film Festival Website. Fee to attend is $250 per actor.