April 4, 2012 by insideout
The weather has been beautiful the past couple of days here at The Captain's Manor Inn which is helping us to get some important outdoor work completed on the new construction.  The finishing touches are being done on the new main entrance stairs to the veranda and Kevin has been very busy creating the new brick patio at the base of the stair entrance.  Needless to say his back and knees are a bit sore!
Hope you enjoy these pictures of the progess.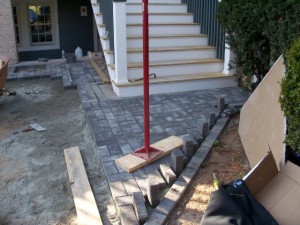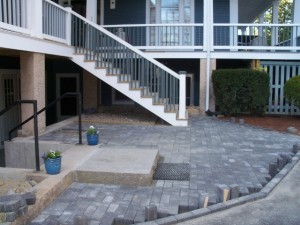 January 27, 2012 by insideout
Spring is right around the corner….Really… What a wonderful time to visit Cape Cod and enjoy all there is to offer before the crowds of summer arrive. Your getaway package includes: simply elegant accomodations, full breakfast, a complimentary bottle of wine and a flower bouquet from Allen's House of Flowers in Falmouth Village.
Highfield Hall is a magnificent restored mansion first built in 1878 and almost lost after decades of neglect.  Following an $8 million restoration effort the home is a wonder to tour.  In 2011 restoration of the sunken victorian gardens were completed and are a delight to behold.
Check availability for your getaway by clicking on this symbol:
After selecting your room you can add the
"April Showers bring May Flowers Package" to your guestroom at check out.

During your stay in Falmouth enjoy beautiful Spohr Gardens where Daffodil Days are celebrated during the last two weekends of April when thousands of flowers are in bloom in the gardens and on the banks of oyster pond. Watch a brief panoramic video of one section of the gardens by oyster pond :
October 17, 2011 by insideout
The remodeling of the Canopy room at The Captain's Manor Inn has begun with the demolition of one of the closets in the room and the bathroom.  A new expansive bathroom will be added onto the Canopy room as part of the broader expansion and renovation of the Inn. Below are some pictures showing the work in progress.
Stay tuned for blog updates and we hope to have a webcam in place later in October to show the work in progress on the exterior of the Inn.  We look forward to sharing all of our updated accomodations news from here in wonderful Falmouth, Ma.
July 15, 2011 by insideout
Just a short stroll from our bed and breakfast accomodations at The Captain's Manor Inn is lovely Falmouth Village.  This year's arts and crafts street festival on July 13th in Falmouth Village Cape Cod was fantastic.  It was a hot summer day and thousands of people came to enjoy the beautiful handcrafted items and to see many of the artisans performing their craft work.  Main Street in Falmouth was closed down as they do each year for the festival.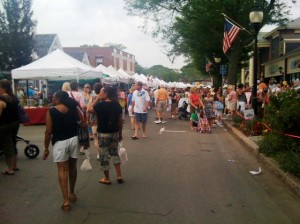 The Falmouth Village shops and restaurants on main street participate in the big day and many set up tables outside their shops and restaurants with great merchandise or nice ice cold water and other snacks.
Pictures of a couple of our favorite artisan booths are shown below.
April 5, 2011 by insideout
Looking for accomodations while attending the Cape Cod art festival known as Arts Alive?  We would love for you to stay at  The Captain's Manor Inn and take a short stroll from our bed and breakfast down Main Street to the Festival.  Arts Alive is a free three-day arts festival full of events and activities.
Arts Alive-Dancin' In the Street
Friday, June 17, 2010    5:00-9:00pm
The three day Arts Alive Festival begins at 5 PM with music under the tents on the library lawn followed by the Town Dance under the big tent on the Shore Street Extension. Everyone is invited to hear local musicians strut their stuff and to dance the evening away.
Arts Alive Festival
Saturday, June 18th 10AM – 9PM
Sunday, June 19th 11AM – 5PM


Festival events, including music, dance, theater, circus, and other types of performances, as well as exhibits and Cape Cod artists and craftspeople offering their works for sale, will be held on Shore Street Extension, adjacent to the Falmouth Library, and on the eastern side of the library lawn facing Main Street. Food and drink will be available.
March 28, 2011 by insideout
Schedule your fun filled getaway at The Captain's Manor Inn bed and breakfast and enjoy one of the summer concert series at the Cape Cod Melody Tent.  The performances range from Huey Lewis & The News to Tony Bennett and closing out the season is The Temptations & The Four Tops.
Schedule:
June 18  Siobhan Magnus                                      July 9 Trace Adkins
July 10 k.d. lang                                                   July 14th   Happy Together Tour
July 16 Pink Martin                                               July 17 Huey Lewis & The News
July 24 Micheal McDonald & Boz Scaggs               August 13 The Beach Boys
August 14 Tony Bennett                                       August 18 Chicago
August 19 Chris Botti                                 August 28 The Temptations & The Four Tops
For further concert information you may go to www.melodytent.org
March 14, 2011 by insideout
We are so fortunate to have America's Oldest Glassworks (since 1837) just a short drive from our Cape Cod bed and breakfast.  Pairpoint is located just under the Sagamore Bridge and is open daily with glassblowing demonstrations. On Tuesdays and Fridays guided tours are available at 11 am.  All Pairpoint Crystal is hand blown on the premises.  The variety of glassworks is breathtaking and the Anne C. Ross work is especially beautiful.
On a recent visit Kevin and I enjoyed our conversation with Pairpoint owner Tom who is looking forward to seeing guests who frequent our accomodations at future Pairpoint tour and glassblowing demonstrations.
Below are some pictures we took during our visit.  We look forward to hosting you at The Captain's Manor Inn in Falmouth, Ma.
February 15, 2011 by insideout
Come stay at our Cape Cod bed and breakfast over the April 29, 2001 to May 1, 2011 weekend and enjoy a stroll to nearby Spohr Garden in Falmouth, Ma where over 34 species of daffodils will be in full bloom.  You might also enjoy a day trip to the island of Nantucket for their famous festival.   Enjoy our simply elegant accomodations while getting your first feel of spring in Cape Cod.
Starting in early April until mid May there are millions of daffodils of every color, size and shape that bloom on Nantucket. One of the many events taking place over the weekend is the 37th Annual Daffodil Flower Show.  The show is free to all and is held at the Coffin School on 4 Winter Street.  Saturday from 2-5 PM and Sunday from 10AM-4:30 PM.  The show features entries in horticulture, arrangement & photography.