Just a short stroll from our bed and breakfast accomodations at The Captain's Manor Inn is lovely Falmouth Village.  This year's arts and crafts street festival on July 13th in Falmouth Village Cape Cod was fantastic.  It was a hot summer day and thousands of people came to enjoy the beautiful handcrafted items and to see many of the artisans performing their craft work.  Main Street in Falmouth was closed down as they do each year for the festival.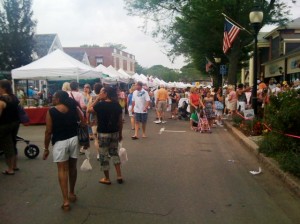 The Falmouth Village shops and restaurants on main street participate in the big day and many set up tables outside their shops and restaurants with great merchandise or nice ice cold water and other snacks.
Pictures of a couple of our favorite artisan booths are shown below.