June 11, 2014 by Trish Robinson
Arts Alive is a free three day event taking place annually in Falmouth Cape Cod. This year the festivities begin on Friday, June 20th and continue through Saturday, June 21st and Sunday, June 22nd.
This year promises to be extra special with over 50 artisans and craftspeople showcasing their wares. From watercolor artists to pottery masters and photographers to stain glass artisans they will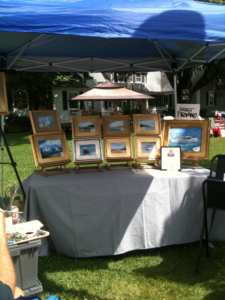 all be on hand to offer you the opportunity to admire their work and purchase a gift for yourself or others.
There will also be over 60 different performances of dance, theater and music to include jazz, folk, fiddle, classical and show tunes. The hours for this year's festivities are on Friday June 20th starting at 5 pm and continuing until 9 pm, then on Saturday, June 21st from 10 am until 9 pm and finishing on Sunday, June 22, from 11 am until 5 pm.
For an up to date schedule of Arts Alive events and participants you can go to the ArtsFalmouth website link dedicated to Arts Alive at  http://www.artsfalmouth.org/d7/arts-alive.   The Arts Alive events all take place in beautiful Falmouth Village near numerous restaurants and boutique shops. Falmouth is a vibrant year round community in Cape Cod that benefits from an incredible amount of activity spearheaded by ArtsFalmouth to encourage art in its many forms to be shared and enjoyed.
June 22, 2013 by insideout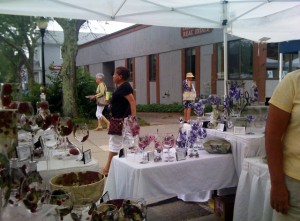 Arts Alive , the Strawberry Festival and gorgeous weather are sure to make today a perfect 10 !  The annual Arts Alive festivities started last night and continue through the weekend.  Today I look forward to going to Arts Alive and visiting Robin Pierson'who did the fabulous window art in our Canopy Guest room.  First Kevin and I plan to walk to the Strawberry Festival just down the street at St. Barnabas church.  We have watched them get the big tent ready for the festivities and we plan to enjoy the lobster rolls, great barbeque chicken and of course some strawberry dessert delights.
June 10, 2011 by insideout
Arts Alive is a free three-day arts festival full of events and activities right here in Falmouth, Ma in Cape Cod.
The festival runs from June 17th through June 19th.
Each year seems to get bigger and better. This year there are over 50 performances of Music, Dance, Theater and Film scheduled and over 50 Arts and Crafts Vendors on site just down the street from The Captain's Manor Inn.
April 5, 2011 by insideout
Looking for accomodations while attending the Cape Cod art festival known as Arts Alive?  We would love for you to stay at  The Captain's Manor Inn and take a short stroll from our bed and breakfast down Main Street to the Festival.  Arts Alive is a free three-day arts festival full of events and activities.
Arts Alive-Dancin' In the Street
Friday, June 17, 2010    5:00-9:00pm
The three day Arts Alive Festival begins at 5 PM with music under the tents on the library lawn followed by the Town Dance under the big tent on the Shore Street Extension. Everyone is invited to hear local musicians strut their stuff and to dance the evening away.
Arts Alive Festival
Saturday, June 18th 10AM – 9PM
Sunday, June 19th 11AM – 5PM


Festival events, including music, dance, theater, circus, and other types of performances, as well as exhibits and Cape Cod artists and craftspeople offering their works for sale, will be held on Shore Street Extension, adjacent to the Falmouth Library, and on the eastern side of the library lawn facing Main Street. Food and drink will be available.