July 12, 2013 by insideout
Looking to go out and expeience what Falmouth has to offer? Need some time to have a little fun and watch a little baseball? The Falmouth Commodores is a local baseball team in Falmouth composed of top college players who come from all over the country to play in the Cape Cod Baseball  league. The games are held at Guy Fuller Field, which is only a 5 minute drive from the inn, and is located on Main Street, just as the inn is.
The field offers metal bleachers, huge lights, a concession stand, and announcers just as the professionals provide. You experience everything that you would if you were going to a professional league game, but there are less people to create a more serene and welcoming environment. To share a little history on the Cape Cod Baseball league:
the first game ever played in the league was on July 19, 1939,
the two teams to first play each other were Falmouth and Barnstable.
This shows how rich the history of the Falmouth Commodores in the Cape Cod Baseball League truly is.
Gallery: Falmouth Commodores VS. Orleans Firebirds- July 2, 2013
June 22, 2013 by insideout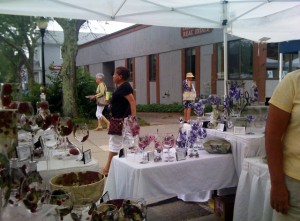 Arts Alive , the Strawberry Festival and gorgeous weather are sure to make today a perfect 10 !  The annual Arts Alive festivities started last night and continue through the weekend.  Today I look forward to going to Arts Alive and visiting Robin Pierson'who did the fabulous window art in our Canopy Guest room.  First Kevin and I plan to walk to the Strawberry Festival just down the street at St. Barnabas church.  We have watched them get the big tent ready for the festivities and we plan to enjoy the lobster rolls, great barbeque chicken and of course some strawberry dessert delights.
May 31, 2013 by insideout
A favorite venture for many of our guests is going on a Cape Cod Whale Watching trip.  Our sister and brother-in-law recently visited from North Carolina and that was a must do on their 25 year anniversary trip.
The options are many depending often on how long you have to spend for the day.  For example you can travel to the tip of Cape Cod, Provincetown, and explore the town prior to jumping on the Dolphin Fleet Whale Watch excursion.  The scenic drive to Provincetown is about 2 hours and offers you the chance to see a great deal of Cape Cod on your way to and from the whale atch excursion.  For our International guests who are staying with us for several days will often choose this excursion.
If you have less time to spare or just would like a shorter drive to and from the Whale Watch excursion you can either choose Captain John's out of Plymouth or out of Hyannis Whale Watcher cruises out of Barnstable Harbor in Hyannis.
The picture below was one of MANY that our brother-in-law took while enjoying their whale sightings.
May 11, 2013 by insideout
Falmouth Museums on the Green opened for the season today with two exhibitions.
The first exhibit called "A Plate Full of History" shares the history of Falmouth as the third largest whaling port on the East Coast.  In fact more that half of the men in Falmouth were involved in the whaling trade in the 19th century.
The second exhibit is entitled "There's a War On: The Falmouth Homefront 1941-45″.  The exhibit features artifacts, posters, clothing and oral histories as shared by local Falmouth residents.
Admission is normally $5 and is free today on opening day.
A little later in the season another exhibit opens entitled "A Little Bit of Luck" which will run from September 1 until October 12.  In partnership with the local Falmouth restaurant , La Civetta, the work of art students who live in Emilia Romagna will be featured.  In Italy a symbol of good luck is the owl (la civetta) and the artwork will feature the owl depicted in paintings, drawings and collage work.
For more information click here to go to the Falmouth Historic Society website
May 10, 2013 by insideout
The Knob is one of the most scenic places in Falmouth to visit. It offers you a nature walk, a trip to the beach, and a relaxing day. The Knob is known for its rocky outpost, in which visitors can walk up steps to the top. Once you reach the top the view is breathtaking. The Knob is also perfectly placed in our beautiful town. It is an 8 minute drive from The Captain's Manor Inn, or an approximate 30-40 minute walk. Riding your bike is also an option and would take about 15-20 minutes. The Knob is located close to downtown Falmouth, the Inn, and is also close to Woods Hole. Here is what your experience may look like:
A soft blue watered, inner harbor when you first walk to the entrance of the Knob, called Quissett Harbor. You can choose to walk the beach way which is a little rocky, but it gets you to the Knob, or the trails through the woods, which have stairs and are easily accessible.
If you decide to take the trails through the woods to get to the other beach and the Knob, you will experience a zen- like walk. The woods are filled with birds, trees, and other little critters. It is a great way to stay in touch with nature and experience living among animals in a whole new perspective. The scenic and picturesque trails seem as if they may have come from a story you heard as a child… a magical trail leading to a fantasy world, which in this case is completely accurate.
The Quissett Bay beach is one place where you can relax and soak up all Falmouth's beaches have to offer you; Peace, quiet, sunshine, and the beach! Enjoy laying on the beach, reading a book, or taking a dip in the water. Whatever you decide to do the choices are endless!
Also from Quisset Bay beach you can see the Knob.  At the top the view of the bay is breathtaking. So what are you waiting for? Book a room at The Captain's Manor Inn and come see it all for yourself!
A Plymouth day trip or 1/2 day trip is a popular excursion that many of our guests enjoy.  Often guests will choose to explore Plymouth on their way to us in Cape Cod or on their way back to Boston's Logan airport to travel home or even  while traveling to Northern New England while on an extended vacation.
Visitors from around the country and around the world are drawn to Plymouth's significant history. Colonial history started here when the Pilgrims arrived in 1620 and the Plymouth rock is one popular visitor attraction (most people remark…."I thought it would be much larger").
Plymouth is proud to be home to a working harbor busy with fishing and lobster industries, shopping and restaurant venues, numerous ocean activities and of course Plymouth Plantation where you can relive the days of the pilgrims.
If you have a full day to enjoy Plymouth's offerings, you can most likely fit in a whale watch on Capt. Johnson's vessels along with various other activities.
Some of the most popular Plymouth activities are:
Pilgrim Hall Museum – This is America's Oldest Museum. Here you can see items that came to America on the Mayflower.
Plimouth Plantation – Here history is brought to life in a fun and interactive setting. At Plymouth plantation and aboard Mayflower II guests enter a living re-creation of America's past. The thatched roof homes, hand carved wooden furniture and simple, metal pots and tools have been authentically reproduced to set the scene of a 17th century Wampanoag home site. The Mayflower II is a full scale reproduction of the ship that crossed the Atlantic in 1620.
Mayflower Society Museum -across the street and around the corner from Plymouth Rock, the Mayflower Society Museum is in the heart of Plymouth's historic district.  It is on one of the five original roads laid out by the pilgrims for their colony. The property overlooks the harbor where a reproduction of the Mayflower is moored. The house was originally built in 1754 by Edward Winslow, who was the great-grandson of Gov. Winslow of Massachusetts and a Pilgrim descendent. An interesting bit of trivia is that Lydia Jackson married American poet Ralph Waldo Emerson in the East parlor of the house in 1835.
Pilgrim Path Walking Tours- toward audio headsets and maps are available at the waterfront visitor information center for these walking tours. You would start at Plymouth Rock and winds through side streets on the matter. You will find homes and Museum celebrating Plymouth's rich historic pass from the 17th, 18th and 19th centuries.
Village Landing Marketplace- located on Plymouth scenic waterfront hear it, you will's have a true New England experience. There is a unique collection of specialty shops and restaurants that are locally owned and operated.
Captain John's Whale Watch-Excursions to Stellwagen Bank, which is one of the primary feeding grounds for humpback whales, minke whales, humpback whales and dolphins, are part of this adventure.
April 20, 2013 by insideout
There is so much to do in Cape Cod much of which might be considered more traditional like visiting the beach, exploring a lighthouse, going on a whale watch.  How about something a little different?  Hence the Plane , Train, Automobile idea.
Plane :  See stunning views of Cape Cod beaches, bridges and canal with customized tours available in a Waco YMF-5 Biplane – a replica of a late 1930's design. Reservations are encouraged but walk-ins are welcome. Check out their website by clicking here.
Train:  Climb aboard for any variety of experiences.  It could be an elegant dinner train , a scenic adventure, or a rail and sail experience.

Automobile:   A favorite outing of guests is The Heritage Museum and Gardens where a fabulous antique car exhibit is on display. In 2013 there is an extra special exhibit at the Museum called "Driving our Dreams:Imagination in Motion".  As part of this special exhibit there will be 15 concept cars on display.

April 12, 2013 by insideout
It's April and Daffodil Days are upon a clear sign of  springtime on the Cape! In Falmouth don't miss  a trip to Spohr Gardens. Less than five minutes away from our Captains Manor Inn,  the garden's  five acres of grassy paths are planted with daffodils, scilla, jonquils, crocuses, and other spring bulbs. Azaleas and rhodendrons follow to round out the season.  While beatiful any time of year, springtime is really when the gardens are in their glory.   Spohr Gardens is a hidden local gem; a beautiful serene oasis just minutes from the ocean. Historic anchors, including one from the HMS Bounty, and a ship's bell are displayed along the waterway. It's a beautiful spot to share a picnic and a great place to take some scenic photos. Grab some coffee or a sandwich from our many Main Street restaurants for a restful picnic on OysterPond surrounded by nature and quiet. There is no charge for admission, though donations are accepted. Daffodil Days: April 20 and 27 10 am to 2 pm
Link to the Gardens: http://www.spohrgardens.org/daffodildays.
April 2, 2013 by insideout
A special weekend full of activities and great food.  We have partnered with Cotuit Cycyling Tours and Woods Hole Inn to create this special weekend with two leisurely bike tours.  Booking is not available online as we have blocked the rooms for this event so please call to book
your reservation 508-388-7336.
Itinerary:
June 20th
3-6:00pm     Check-in to your Inn
5-7:00pm     Wine and Cheese Reception
Evening on your Own
June 21th
8-9:00  Full Breakfast at your Inn
10:00   Falmouth Village Bike Tour Begins
12:00   Lunch
2:00     Cycling Tour Ends
3:00     Afternoon Refreshments at your Inn
6:00     Lobster Taco dinner at Quicks Hole restaurant
Evening on your Own
June 22th
8-9:00  Full Breakfast at your Inn and check out
9:30     Ferry from Woods Hole to Martha's Vineyard
10:15   Arrive in Oaks Bluff and begin cycling tour
12:00   Lunch
2:30     Cycling Tour Ends & Ferry returns to Woods Hole*
*You can return later on your own if you so choose
An additional night accommodation for June 22nd plus breakfast June 23rd can be added to the package
March 26, 2013 by insideout
Remote-controlled sailboats will once again patrol the shores of Eel Pond in Woods Hole the weekend of April 13 and 14th.  Hosted by the Woods Hole Historical Museum, this biennial event celebrates the science and artistry of model boat building.  Historical representations of racing boats, yachts, tug boats, and military vessels are explained with displays, lectures, and hands-on activities.  The Coast Guard will host an exhibit of US Coast Guard vessels, along with a presentation on the history of the Woods Hole Coast Guard.
Models range from a few inches to six feet and showcase the designs of boats and ships of all kinds.  Five to six hundred model boat enthusiasts are expected to attend the event and the village of Woods Hole will graciously offer free parking  for the weekend.
The American Model Yacht Association and the Vintage Model Yacht Group will be exhibiting throughout the village.  Models and model kits will be available for sale during the event, and talks by expert modelers and scientists from the Woods Hole Oceanographic Institution will take place during the weekend.  Admission is $12 per adult and $25.00 for families.
Visit the charming Woods Hole Community Hall and the old fire station, the Woods Hole Oceanographic Exhibit Center, the Woods Hole Public Library, and the Historical Museum.  An easy walking tour of the village includes quaint shops and coffee houses as well as restaurants.  All this is happening just a short ride down Woods Hole road from our inn!  As part of your nautical weekend at the Captain's Manor Inn,  we will include a complimentary bottle of wine with your reservation. For more information on the event go to :  Woods Hole Historical Museum Boat Show link
"There are good ships, and there are wood ships, the ships that sail the sea."
"But the best ships are friendships, and may they always be." Old Irish Saying