June 19, 2014 by Trish Robinson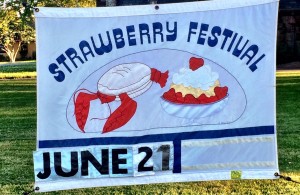 The Falmouth Strawberry Festival 2014 will be celebrated on June 21st marking an official start to the 2014 summer season. This is your opportunity to enjoy beautiful Falmouth Cape Cod on the grounds of St. Barnabas church. The church is located across from the historic Falmouth Village Green and a short stroll into Falmouth Village. Save your appetite so you can enjoy lobster rolls, hot dogs and bbq chicken then finish off with scrumptious strawberry shortcake under the tent on St. Barnabas lawn. After indulging your appetite browse the Arts and Crafts vendors, home baked goods sale, plant sale, face painting, dunk tank, and small children's games. The weather forecasters are predicting absolutely picture perfect weather for the weekend. We make a point of visiting the strawberry festival and filling up on their great bbq chicken while making sure to save room for strawberry shortcake. Our guests love the feel of the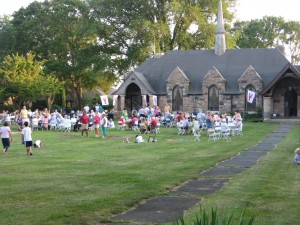 festival as it brings them back to a simpler time of town celebrations with good food and entertainment on the lawn. After the festival take some time to walk into Falmouth Village and explore the many boutique shops with unique gifts and perhaps some salted caramels from Ghelfi's or ice cream for Ben and Bill's Chocolate emporium. As the weather is predicted to be fabulous perhaps a walk to the beach in in order and less than a mile from St. Barnabas.

June 11, 2014 by Trish Robinson
Arts Alive is a free three day event taking place annually in Falmouth Cape Cod. This year the festivities begin on Friday, June 20th and continue through Saturday, June 21st and Sunday, June 22nd.
This year promises to be extra special with over 50 artisans and craftspeople showcasing their wares. From watercolor artists to pottery masters and photographers to stain glass artisans they will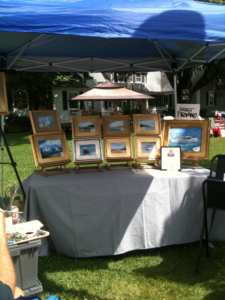 all be on hand to offer you the opportunity to admire their work and purchase a gift for yourself or others.
There will also be over 60 different performances of dance, theater and music to include jazz, folk, fiddle, classical and show tunes. The hours for this year's festivities are on Friday June 20th starting at 5 pm and continuing until 9 pm, then on Saturday, June 21st from 10 am until 9 pm and finishing on Sunday, June 22, from 11 am until 5 pm.
For an up to date schedule of Arts Alive events and participants you can go to the ArtsFalmouth website link dedicated to Arts Alive at  http://www.artsfalmouth.org/d7/arts-alive.   The Arts Alive events all take place in beautiful Falmouth Village near numerous restaurants and boutique shops. Falmouth is a vibrant year round community in Cape Cod that benefits from an incredible amount of activity spearheaded by ArtsFalmouth to encourage art in its many forms to be shared and enjoyed.
June 6, 2014 by Trish Robinson
One Night Wonder Getaways are those rare open single nights especially on a weekend and during the summer in Cape Cod. Perhaps you have a chance for one night, just the two of you, away from the kids or maybe you need to make a business trip to Falmouth and only need to be in town for one night. We may have that one night getaway available and you can enjoy a respite with us in quaint Falmouth Village.
If you find you are looking for just that single night …. check what we have available below and then
Many weekdays in April, May and October are available for 1 day just check the availability calendar.
Specific Special One Night Wonders:
Tuesday July 26th:       Forbes Cupola Suite (2 story King Guestroom)
Wednesday July 27th:     Robinson ( Premium King Guestroom)
Sunday July 31st:            Robinson ( Premium King Guestroom)
Sunday July 31st:           Tuscany (King Guestroom)
Friday August 12th:      Robinson ( Premium King Guestroom)
Monday August 15th:   Tuscany (King Guestroom)
Wednesday August 17th:  Bates (Premium King Guestroom)
Wednesday August 17th:  Robinson ( Premium King Guestroom)
Monday  August 22nd:  Bates (Premium King Guestroom)
Monday August 22nd:  Tuscany (King Guestroom)
Tuesday September 6th:  Nye (Queen Guestroom)
Thursday September 8th: Hatch (Premium King Guestroom)
Monday September 12th: Nye (Queen Guestroom)
Thursday September 15th: Lawrence (Queen Guestroom)
Thursday September 15th: Tuscany (King Guestroom)
Thursday September 15th:  Robinson ( Premium King Guestroom)
Wednesday September 28th: Canopy (King Guestroom)
Thursday October 13th: Nye (Queen Guestroom)
Saturday October 15th: Lawrence (Queen Guestroom)
Thursday October 20th: Hatch (Premium King Guestroom)
May 10, 2014 by Trish Robinson
Falmouth Bed and Breakfast Garden Tour as part of Falmouth Village Blooming Events will be held from 1-3 pm on May 10th Mother's Day Weekend. Four Inns will participate in the free garden tour. The Captain's Manor Inn will be transforming a large garden bed from barren ground to a full garden with assistance from Iscape Landscaping and Property Management and Brick Kiln Farm both of which are local Falmouth companies. The Palmer House will be conducting a session on creating a container herb garden. Bailey's by the Sea will hold a garden open house. The Woods Hole Passage Bed and Breakfast will hold a garden tour and build your own fairy tree house for children.
May 10, 2014 by Trish Robinson
Small Visions by artist Shirah Neuman will be on display at the Falmouth Museums on the Green from May 10th – June 21st.
May 4, 2014 by Trish Robinson
Family Maypole Celebration promises to be a fabulous time for family members of all ages. After a long cold winter and early spring this weekend promises to bring some sunshine and warmer weather. Enjoy crafts, music and games as well as meet artist Alfie Glover and admire The Spirits of the Garden sculpture! The Maypole Dance will take place at 3:00 pm. For more information go to www.highfieldhall.org
April 24, 2014 by Trish Robinson

Falmouth Village Blooming is a celebration of all that is Spring. The spring celebration kicks off on May 1st with a self guided tour through Falmouth Village to view May Baskets on display.
You have a chance to vote on the Falmouth Village Facebook page for your favorite as participants vie for the People's choice award.
Enjoy Flower Power Happy Hours at participating restaurants from 3- 5 pm during the first two weekends of the May. Throughout the Village be on the lookout for Blooming Bargains at all the participating retail shops.
Some of the very special scheduled events include: Cinco de Mayo celebration at Anejo's Mexican Bistro on May 5th, Ring around the Maypole at Highfield Hall on May 4th, Annual Falmouth Beautification Sale on May 10th, Just for Kids Colonial Gardening at Falmouth Museums on the Green on May 10th and the Falmouth Bed & Breakfast Association Garden Tour on May 10th from 1 – 3 pm.
There is something fun for everyone during Falmouth Village Blooming. For the latest information and schedule click here to go to the Falmouth Village website.
March 27, 2014 by Trish Robinson
Highfield Hall Garden Programs start on May 17th from 10-11:30 am with a special lecture by Louis Raymond. His lecture is titled Plays Well with Plants: Creating a Garden of a Lifetime. Louis is a professional landscape designer located in Rhode Island and he has had his work highlighted in major publications as well as being featured on various national and local television shows.
Following the Louis Raymond lecture there is a special fund raising luncheon opportunity being offered at an elegant home in Gansett where you can view gardens especially designed by Mr Raymond. The fund raising for this special event will benefit the plantings and gardens of Highfield Hall.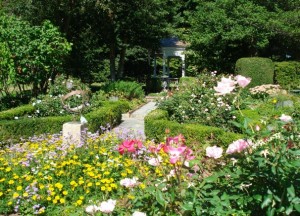 On June 21st the next presentation at Highfield Hall will be held and will be given by rose expert Gretchen Ward Warren. Her presentation is titled Historic Roses of Woods Hole and she will share the remarkable history of the rambler rose varieties which were developed in Woods Hole over a century ago by Michael Walsh. She will also share historic photographs of the rose garden on the Fay estate in Woods Hole where Michael Walsh was the Head Gardener.
March 12, 2014 by Trish Robinson
Cape Cod Hurricane Photos from 1944 were part of a number of recently discovered historic photos many featuring The Captain's Manor Inn formerly known as Mostly Hall. We came across a number of very impressive photos while working with the Falmouth Historical Society and we are going to be doing a few postings so we can share with you a little bit of Falmouth history.
In this posting we are sharing pictures of some of the devastation on Cape Cod here at the Captain's Manor Inn during the 1944 Hurricane. This storm carried winds peaking at 145 miles per hour and as a category 2 storm. Because the storm was so massive in both its size and intensity it was given the title the Great Atlantic Hurricane and it was the first storm to get a name by the National Hurricane Center then based in Miami and known as the Miami Hurricane Warning Office. One sad fact is that the storm was famous for sinking what was known as the lightship LV Vineyard Sound killing all 12 men who were on board.
February 22, 2014 by Trish Robinson
Master chefs teach at Highfield Hall this spring for the sixth year running. During the months of April through June, a number of local and not so local chefs will be on hand at Highfield, teaching the art of cooking.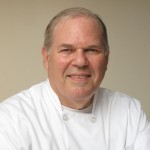 One of the exciting offerings is with Personal Chef, Alan Zox. Allen's recipes will focus on vegetables and are very much in sync with America's growing interest in learning to eat less meat. This is a three-part series or you can opt to register for a single class. The classes include demonstrations, tastings and product information. You will learn how to make featured recipes from the award winning cookbook, Jerusalem . Classes are held at 3 PM on April 2, April 23, and May 14.
Highfield is thrilled to have Chef Jean-Jacques Paimblanc  demonstrate some of his favorite dishes on April 6 at 1 PM. Chef Paimblanc is a founder of the certificate program in the culinary arts at Boston University along with Julia Child and Jacques Pepin.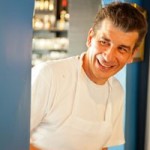 Join admirers of Chef Frederic  Feufeu for a delectable experience. Chef Feufeu is the owner of Blue, an award winning restaurant in Mashpee Commons just a 20 minute drive from Falmouth. This April 27th at 1 pm will mark Chef Feufue's sixth teaching appearance at Highfield.
During June there are three offerings with different experts in the Seafood Specialties Series.
On Sunday, June 1st at 3 pm a Seafood Specialties Series will be conducted. Linda Depres will be your teacher. Linda spent 40 years in our own Woods Hole at the National Marie Fisheries Service as a fishery biologist. She will provide you with insight into how to choose the seafood you purchase and answer any questions you might have on the art of cooking with fish. This cla
ss includes wine tastings along with the seafood offerings.
Come to cook on June 8th at 3 pm with Elaine and Karin Tammi who have shared their extensive experience in the cookbook Scallops.  The class will provide instruction, tastings and a wine pairing focused on all you need to know about preparing and cooking scallops.
The third in the Seafood Specialties Series will be held on June 15th at 3 pm with David Shahzade  the owner of Falmouth Fish, a highly regarded local fish market in Falmouth for over 25 years. This class will include seafood and wine tasting and David will talk about endangered species and local seafood.
For more information or to register for any of these foodie events please click here.